Best Camping Kitchen
In a Hurry? Editors choice: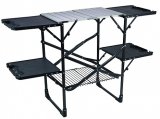 Test Winner: GCI Outdoor

What's better than sitting around an open fire – the stars above you, the solid ground below –
toasting
marshmallows? Well, how about a well-seasoned, freshly prepared meal, and always knowing where your whisk is. Camping kitchens have come a long way since the days of single
gas burners
and mess tins. Now you can get a setup to rival your home kit.
The benefit of a camping
kitchen
is not only being able to cook decent
meals on the road
but having something that keeps you organized and that you can use again and again. Most of the time meals will need to be put together and served more quickly than at home, so you don't need to be starting from scratch with your equipment scattered around in a different setup every time.
Standout Picks
Criteria Used for Evaluation
Top 10 Picks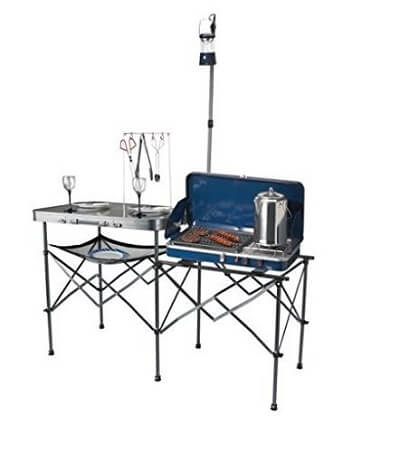 Ozark Trail is under the Walmart family of brands, so they're pretty available in the market and well-trusted. The Deluxe Portable is a classic one-stop-shop camp kitchen, with many of the things you'd look for in a home.
Read more
Size
Length by width by height is 56 x 21 x 72 inches. The seemingly tall height does include the lantern holder.
Use
Points here are scored for the varying height steel cook station and prep station, which means that the latter can double as a table. The stove inserts might not fit all types of cookers and grills, so you may want to check yours first. You can add a flat surface to place it on if there are fit issues. There also isn't a windscreen or guard so the stove area is unprotected.
Portability
The Trail Deluxe packs into a very slim case. Its legs are thinner and work more like a camping chair mechanism, which aids its compactness. It weighs 18 lbs.
As for the mobility, this unit is fixed, it has no wheels. The only adjustable element is the lantern hook.
Storage and Accessories
The utensil hooks are great, and these can't come off the bar, so you won't lose them. There is also a vertical pole which can be used for holding a roll of paper towels. We've mentioned the lantern hook, which is at an adjustable height. This is a really great feature, as a lot of camping meals are prepared in low light. The mesh shelf or net underneath the prep table is practical as it can be used to drain and dry as well as store.
Summary
A great starter kitchen, or one for those who want all the key functionality without the bulk. If you're happy with less storage and don't need a sink, this is a great option. We also like how the prep table is at the right height to double as a regular table to eat off.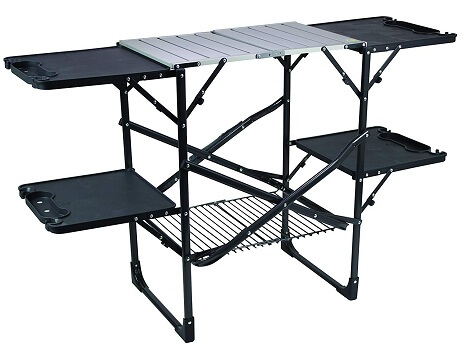 The Slim-Fold might not look like much at first, almost like an inverted camp table, but don't be deceived. It packs a punch in terms of functionality and folds easily to a very convenient size and shape for transporting.
Read more
Size
Length, by width by height, is 52 x 21 x 32 inches. It's a standard size and a good height for cooking and prep.
Use
The top layer comprises a 24 x 16-inch aluminum countertop for a stove (although it will be unprotected from the wind), with side tables at the same height, a lower rack, and two more side shelves. When you list them off, it suddenly sounds like a lot of surfaces - see, didn't we say it was deceptive? The frame is made of powder-coated steel and the shelves are plastic. We'd recommend a rubber mat on these to stop sliding when serving from them.
Portability
The Slim-Fold, true to its name, packs to a small 35 x 21 x 4 (length by width by depth) inches and can be carried like a camping chair. It weighs around 19 lbs. A truly one-piece design, setup and Pack Away is quick like a table or chair at around 10 seconds!
This kitchen is not very mobile, as it is fixed with no adjustable elements.
Storage and Accessories
These really are the bonus elements of the Slim-Fold. Use some or all of the four side tables as storage, and there's the lower rack which can take a cooler. A fantastic feature is the hook capabilities on the sides of the shelves and tables. Each one has notches for holding utensils and cups, or a paper towel holder.
Summary
Not to be underestimated, the GCI Slim-Fold is the kitchen for campers who've tried many others and never found their fit. Great for lovers of storage and quick setup and getaway.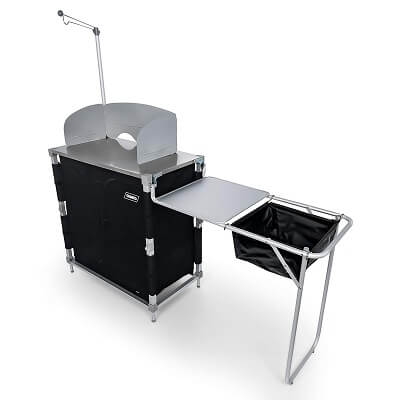 Camco began in 1966 with one employee and one product; they've now got thousands of both, so they know what they're doing when it comes to camping. The Deluxe is a sturdy and functional kitchen - one of the closest to the real thing among our picks.
Read more
Size
The kitchen unit is 65 x 34 inches, which is sizeable. It certainly feels long, with its three distinct surfaces. The stove top area is 32 x 18 inches, the side table is 15 x 17 inches, and the wash basin 12 x 14 inches.
Use
As touched upon, there is a stainless steel stove or grill area, and crucially, this comes with a windshield. There is also a small plastic and aluminum prep station and a sink sack - a great additional feature missing on many camp kitchens. The prep and cook stations are also at slightly different heights for ease of use.
Portability
The Deluxe folds to a respectably-sized 34 x 19 x 6 (length x width x height) inches and comes with its own storage bag. Folding up is common of pretty much all camp kitchens, but worth highlighting here if you take a minute to consider how large this one is when standing. It's on the heavy side at 27 lbs but takes under a minute to set up, which is another surprise considering its bulk.
Not only is the lantern hook angle adjustable, but the feet can also be adjusted for the inevitable uneven surfaces which come with cooking outdoors. This is a great feature.
Storage and Accessories
As well as the aforementioned lantern hook, there is also a set of two shelves inside their own zippered cabinet. These are removable so you can use this space for something bigger if you'd like. In addition, the space under the sink and prep area is free from leg mechanisms and supports so can also be used for storage for a cooler, for instance.
Summary
Overall it's everything including the kitchen sink! If you want functionality and your home comforts, go for the Camco Deluxe.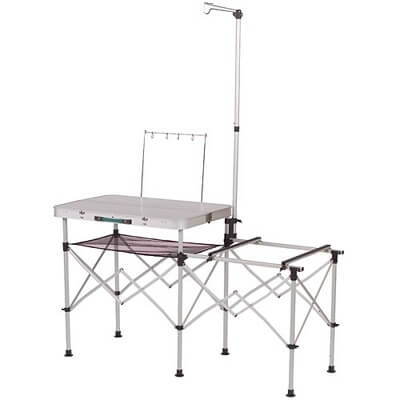 For many, Coleman is the first and last name in camping equipment, and have been making outdoor gear for over 100 years. It's easy to see why they're such a trusted brand with products like the Pack-Away. Packed with features, it's a real home away from home.
Read more
Size
Fully open, the Pack-Away measures 57 x 21 x 66 inches (length x width x height, including lantern hook). While it's narrower than some, don't underestimate what it can fit in a relatively small space. The main prep area is 32 x 21 inches, while the side table is 28 x 21 inches.
Use
Featuring the common setup of the stove top and aluminum prep table, the Pack-Away unusually places the stove area on the lowered side table. In fact, there isn't anything more than a steel two-bar platform here for your stove, which surely cuts down the weight but with adequate strength. It will fit most Coleman stoves and coolers, but check yours if it's not Coleman as they're fairly regularly sized.
Portability
Not just a name, the Pack-Away folds down to a very small and slim suitcase style. It's around 30 by 10 inches, which is one of our smallest. It also weighs only 14 lbs, which is among the lightest of our picks.
It is not a mobile kitchen, as there are no adjustable elements aside from the lantern holder.
Storage and Accessories
As you might expect, there's a lantern holder, utensil rack with hooks, and a second, mesh shelf underneath the main prep area. There is some space underneath, although much of this is taken up with the leg folding mechanisms. However, this concession to its extreme light weight and compatibility is forgivable.
Summary
This updated version of the Coleman Pack-Away seems to have eliminated a lot of users' bugbears and many even replaced the old version with this one, which says a lot about the brand loyalty Coleman commands. It also has a one-year limited warranty. There is a deluxe version, but we chose to include this one as an example of what Coleman can do with less than half the weight.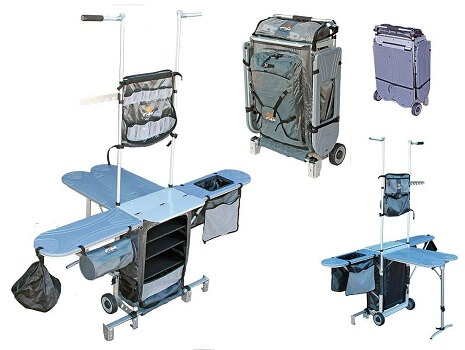 Well, the Grub Hub really is something to behold. They call their kitchen "wildly organized", and it does seem as though there is a place and a use for just about every part of the structure and carry case. It's also won multiple industry magazine awards. Distinctive, functional and sturdy - grub's up!
Read more
Size
Fully opened, it's 74 x 42 x 33 (length x width x height) inches, with the height extending to 80 inches inclusive of the two lantern hooks. It's definitely one of the largest, nearing the size of some compact home kitchens.
Use
The Grub Hub prides itself on using all available space and coming up with handy places for everything, so it's mainly about ease of use. While there will certainly be space for your stove or grill on the central table, beware of heat as all surfaces are plastic. Otherwise, there's a large surface around the back, a side table with a sink sack, and another side table for prep and hanging accessories. It really is a hub, it's unique shape meaning you've got space for multiple cooks around the stations.
Portability
This is where the Grub Hub comes into its own. Unbelievably, the whole thing folds up and becomes a standard wheeled suitcase, with extendable handle; to look at it you wouldn't know the secrets it holds! It's a fairly hefty 32 lbs on its own but can take 90 lbs in extra weight. What's more, the rolling suitcase mode of transportation takes the weight instead of you having to carry it..
The Grub Hub's wheels aren't just for transportation when not in use. The main unit comes with extendable legs for stability; simply lift or retract these and wheel along! All other elements are easily adjustable, so you can use as many parts of it as you need.
Storage and Accessories
This is surely the Grub Hub's other area of expertise. We struggled to think of something that couldn't be stored here. Between the two lantern hooks, there is a material rack for small items and utensils, sitting nicely at eye-level. There is a mesh bag hanging in front of the sink for drying. There is a rubbish sack hanging away from food prep areas, and a cylindrical bag for towels. Wait, the Grub Hub isn't done! You'll find a towel rail and a row of hanging hooks. Below the main unit is a row of four shelves (one with mesh front). In addition, you can still access the inner shelves when it's packed up - meaning it can work as storage and be a set of shelves when not open and in use.
Summary
The kitchen for campers who don't want to sacrifice any of their home comforts. Yes, it's expensive, but if this is the answer to your camp kitchen prayers then it's surely worth it. Think about whether the rolling rather than carrying and the ability to store everything you could possibly need are important factors for you.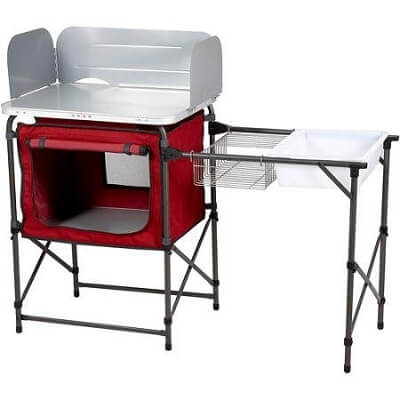 Another pick from Ozark and it's back to simplicity and functionality. For a reasonable price, this one covers all the bases.
Read more
Size
Open, the Ozark Deluxe measures 47 x 17 x 32 (length by width by height) inches, so it is fairly small and narrow.
Use
The frame is steel and the stove top MDF and includes a removable windshield. It's heat-resistant, which is good for safety around the camp. The side area features a suspended drying or storage rack and a wash basin. However, it has to be said that these sit at quite a low height.
Portability
Packs into an impressive 21 x 16-inch carry bag, with if anything, slightly too long carrying strap. The weight is around 14 lbs, which is good for the number of elements included. The setup is extremely easy as there are relatively few elements to contend with.
As for mobility, there are no adjustable or movable elements once the Ozark Deluxe has been set up.
Storage and Accessories
Good storage capability with a large zippered cabinet with a roll-up door. The rack and basin are suspended between the frame of the side area and so can be easily removed for emptying, washing, or packing up.
Summary
We think it's worth its place on the list for the setup alone. Small and simple, this offering from Ozark exceeds expectations. It's got a great price point and will definitely suit middleweight campers looking for ease and simplicity.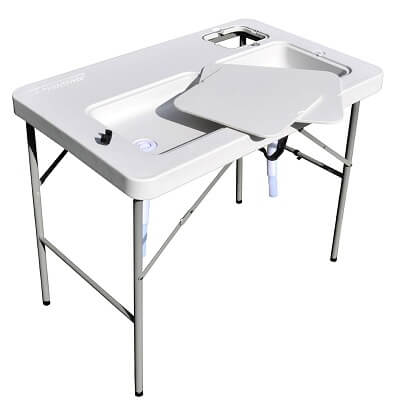 The Coldcreek is our secret weapon of the list. Al real sleeper hit, it doesn't look like much, but don't be fooled - its simple appearance disguises some hidden features. Depending on what you're looking for, it will lack what are essentials for some, but includes those found wanting in other kitchens.
Read more
Size
The Coldcreek is 40 x 26 inches and stands at 33 inches tall, which they claim is the ideal height, ergonomically. The prep area is a great size for what can essentially be a prep area alone if you choose, regardless of its other uses.
Use
The main thing which separates the Coldcreek from others is its functionality. Its injection molded, polyethylene top is a prep table for fishing, with two basins and a built-in ruler for measuring your catch. However, this focus on prep space will appeal to those who don't use a camp cooker or store it separately. This plastic material is also super-durable and easy to keep clean, preserving it for years of use.
Portability
As a relatively simple table design, the Coldcreek folds flat for carrying. It's fairly heavy at just under 30 lbs, but don't forget all that space and quality material.
The table is not mobile, as it is fixed and not adjustable once standing.
Storage and Accessories
There are a few surprise features here. You'll find a hold with snap-clips for a garbage bag and a rotating hose holder. This is especially useful as it means there isn't a fixed faucet in the way if you don't want to use it. But probably one of the best things about this table is that the two (differing height) sinks can be covered with what otherwise double as cutting boards. This means that you can use the whole space for prep, or cover it with a cloth and use as a table.
Summary
The Coldcreek's appeal is in its versatility and is a product especially for those who focus on prep or want to get multiple uses out of their kitchen. Its promise on the materials bears out, with users getting years of use out of it. A favorite with its fans.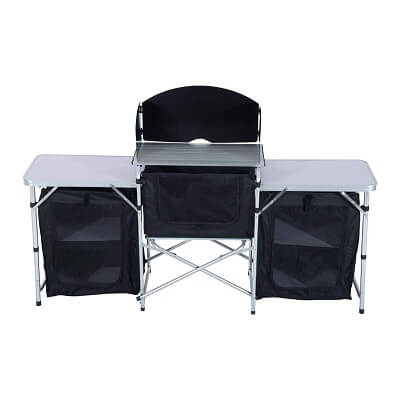 Outsunny is a well-known and trusted brand, and their camping kitchens come in a variety of sizes. We chose the six-foot model to showcase what they can do whilst not adding too much to the weight or price.
Read more
Size
Open and standing, the Outsunny is 69 x 18 x 44 (length x width x height) inches, which is fairly large, especially height-wise.
Use
The aluminum stove top and windshield sit highest, with a moisture-resistant MDF table at each side. The tabletops have a weight capacity of 11 lbs, while the inner shelf units can take 22 lbs. This adds up to an impressive amount of weight across two tables and three cabinets.
Portability
Considering its size, the Outsunny packs to a relatively small 30 x 20 x 5.5 (length x width x thickness) inch carry bag with a handle. And again, given how extensive it is, it only weighs 17 lbs.
The Outsunny is fixed and is not adjustable once set up.
Storage and Accessories
There are three canvas cabinets or units, two of which have two shelves each and extend from the tabletops to the floor. They are mesh-fronted and zippered for ease of organization and access. We found the clips for the canvas to be a little weak, but their weight capacity is impressive, and it's unlikely you'll end up putting that much strain on them.
Summary
An impressive, sturdy kitchen with loads of storage. It's mid-range in terms of price, but its space and size for its weight can't be understated.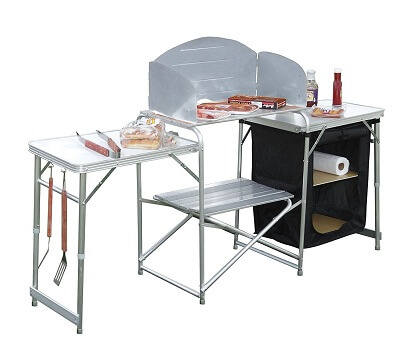 GigaTent isn't a brand we know very well, but they scored highly with users. Their camp kitchen focuses on making prep and cooking easy.
Read more
Size
It measures 69 x 18 x 32 (length by width by height) inches, or 44 inches high including the windshield. It does feel small, but this is traded off with its compactness when packed.
Use
It's got the standard range of functions: two side tables and a stove or grill top with the windshield.
Portability
The GigaTent packs to a small 17 x 8 x 2 (length, width, depth) inches, and weighs around 21 lbs, which are impressive specifications for a kitchen with all the basic functions. Its carry case is also rain resistant.
It is not adjustable once set up. It's in no way heavy duty, but it's sturdy enough for the casual camper.
Storage and Accessories
The features are pretty good for a small model like this. It's got utensil hooks, a metal shelf under the stove top which could take a cooler, and a two-shelf, zippered, rolled door cabinet.
Summary
While the GigaTent isn't going to rock anyone's world, it's a good mid-range, low price point kitchen which has almost all of the required basic functions. Get this if you like the functionality, but don't want the price or weight of, some of the more high specification products in our list.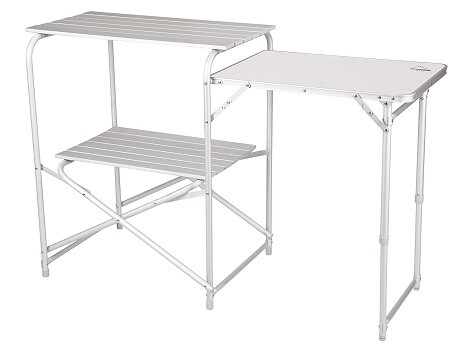 And now for the stripped back, the simple, and the functional. The Alpine is really just a work station because that's all some campers need in their kitchen. It scores highly for its ease, durability and functional nature.
Read more
Size
Altogether, the Alpine is around 49 inches long across the top table and side unit, each being around 26 and 23 inches long respectively. They're almost 14 inches wide, which is a nice size by any camp kitchen's measure. The lower shelf is around 5 inches shorter than the top one. The main platform is 31 inches high, with the side table sitting at around 28 inches from the ground. It was comfortable enough for someone over 6 feet tall to use.
Use
Not much! The Aluminium stove top is rolled for grip, as is its neighbor below. The side prep table sits slightly lower as is traditional with camp kitchens.
Portability
This is where the Alpine excels. Being of such a simple design, it takes seconds to set up and pack away. Although a little stiff at first, we found this a reassuring marker of its stability and is easily fixed with some WD-40 or silicone spray. It folds into a neat 7 x 29-inch carry bag with a handle. Furthermore, it weighs just 10 lbs.
The side table is optional, and can easily be folded in to hang at the side without changing the configuration of the main table and shelf.
Storage and Accessories
Aside from the lower aluminum shelf, there isn't aren't any additional features or further storage.
Summary
So while the Alpine won't be enough for everybody, essentially just being a couple of tables with a shelf, this will be all some campers want. Many will also prefer a discreet, minimal look - it is camping, after all!

Subscribe to our Newsletter