Best Camping Tables
In a Hurry? Editors choice: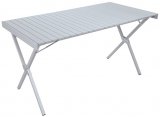 Test Winner: ALPS MOUNTAINEERING DINING

When camping, one of the most frustrating things that can happen is when you get ready to
sit down for a meal
but there is no table and only
a couple of chairs
. Everyone tries and finds a spot around the campfire or are scattered around the campsite. The one piece of gear that can solve this issue and allow you to eat
together as a family
is a camping table. A camping table is easy to transport and makes the world of difference when it is time to eat or you want to sit around the table and play cards with the family. If you have gone camping without a table, then you understand the stress and hassle it can cause. For the individuals that have had enough, and are looking to invest in a camping table, the below guide is for you.
Standout Picks
Criteria Used for Evaluation
Materials
At the forefront of nearly every piece of furniture in the world is how well they are constructed. Make no mistake about it, camping tables are no different. The first key aspect to keep in mind is if you like the design and if it is built to last. As you noticed with the options on this list, there is more than one way to skin a cat. In other words, some great models are built with an aluminum frame and tabletop. While, others, are constructed out of polyester fabric. However, no matter the material choice, they need to be kept at a relatively small weight . As their purpose is for camping and other outdoor activities, they need to be transported around.
But, the one aspect most seem to get right is designing the camping table with an aluminum frame. There are many benefits for this design choice as aluminum is an excellent resource that resists corrosion and increases strength in colder temperatures. Past the material choice, pay attention to the other minor design choices that make an immense difference. For example, camping tables that are scratch, rust, water and heat-resistant.
These benefits will ensure your camping table lasts for as long as possible (and looks just as well for the same period of time). Being scratch-resistant will make the visual appeal stand the test of time, water-resistance will prevent water from damaging the material, rust-resistance will prevent the frame and folding camp table from rusting, and being heat-resistant will ensure the sun does not damage the portable table in any way.
Another nifty and useful feature to look out for, when it comes to design, is if they have non-slip rubber feet. Camping tables with this present will create more traction and will not slip as easily. As you do not want your portable camping table to collapse, and sometimes you must set it up on rough terrain, this is an important feature. Without it, if one side is heavy it may shift the weight and the folding table could come crashing down.
Weight
Quick question, what is the main purpose of any sort of table? This is not a trick question; the answer is a means to be able to place certain components on top of it. Thus, it is critically important to take into consideration the amount of weight they can hold before you start risking damaging them. But, it also depends on what size of camping table you are looking for. If you simply are looking for a camping table to place your drinks and accessories on (basically, using it as a side table), then you are probably going to seek out smaller models. What this would mean if you can't expect the camping table to hold upwards to 100 pounds.
On the contrary, if you are after a family camping table that will seat everyone around it, you could then consider a higher mass capability. For each person, this criterion is going to be different. The important thing to ask yourself is what you plan to use the folding camp table for. Do you want to place extra heavy items (such as grills or coolers) on top or just use it for standard dishes and silverware? As you probably noticed, the weight capacity for certain camping tables varies quite a bit. Whatever you do, do not glance over this aspect, though. The worst possible thing you could do is to exceed the table's weight on a regular basis. Before too long, it will break and you will be going back to the drawing board.
Size
Honestly, you could just copy and paste the section you just read this section. That is how eerily similar these two criteria are, but this one is just as critical as the last. To an average person, the dimensions may just be random numbers that are simply there for a proper product description. Take a closer look, please, as this can seriously be a deal breaker. No matter how incredible the design is and how much weight it can withstand, if you are not satisfied with the table's height, width, and length then you are wasting the money you just spent.
All three areas are important to consider. First, the height. This really depends on how you intend to utilize the camping table. If you are planning on eating meals together with your family (with all of you sitting at the table), then it should be an adequate height. After all, you want some room for your knees so you do not feel squished. Then, there is the width of the portable table. The only question here is, how many items are you going to have on the table at a given time (and how immense are they)? For fully equipped meals for four people, you should have enough room for the dishes, silverware, food and eating space.
Finally, you need to consider the length. This plays along right with the width, with the longer a table being the more you can place on top. It seems simple, doesn't it? Guess what, it is simple you just need to remember to take the dimensions into consideration.
Portability
For a normal dining room table that is designed to stay indoors, this is not much of an issue. But, when it comes to a camping table this is as important as any of the other criteria in this list. For each camping trip, you can expect to open, close, and put together the folding table at least twice (once when you get there and once when you leave). However, if you plan to go on certain adventures while camping, you may pack it and unpack it even more. Thus, they need to be accommodated for portability. Meaning, they need to be simple to construct and to disassemble.
It was a constant theme throughout the list, as all the elite models are extremely easy to transport around. But, a lot of them achieve this is different ways. For example, some of them are designed to simply fold down and fold up. Others will simply roll up into a small package, fold up after you unlatch the buckles or snap-together with ease. The best aspect is each one of these design choices will more than suffice and all will accomplish what they set out to do.
For extra convenience and portability, some camping tables will come equipped with a storage bag or a handle for easy carrying. The ones that do are even easier to travel with as you do not have to worry about awkwardly carrying the portable table by itself. However, those that do not, may also come with a handle on the side for easier transport.
Top Ten Camping Tables
1

. ALPS MOUNTAINEERING DINING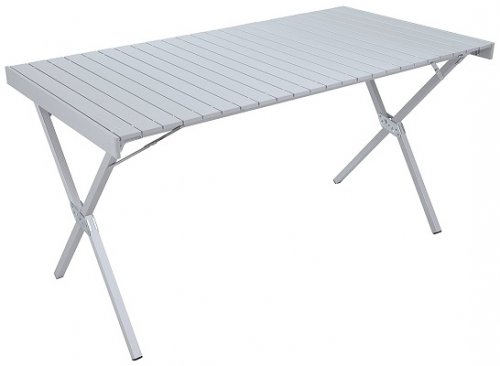 ALPS Mountaineering has also designed a traditional dining, camping table. Much like their fabric version, this model is above-average.
Read more
Materials
While it is very lightweight in nature, the anodized aluminum frame ensures that it remains sturdy.
Weight
It does not look like it, but this folding table is very sturdy. But, it is not recommended to exceed 50 pounds on a normal basis.
Size
There is the extra-large version (which is the one that was documented), a medium version (with dimensions of 28" x 43" x 28") and a square version (31" x 31" x28").
Portability
When wrapping up a camping trip, it is very easy to pack this camping table away. Simply unfold it and it will lock in place with its corner braces. The biggest accessory here is the included storage bag. With a strong and lengthy carry strap, you can easily carry this with you anywhere you go.

2

. ALPS MOUNTAINEERING ECLIPSE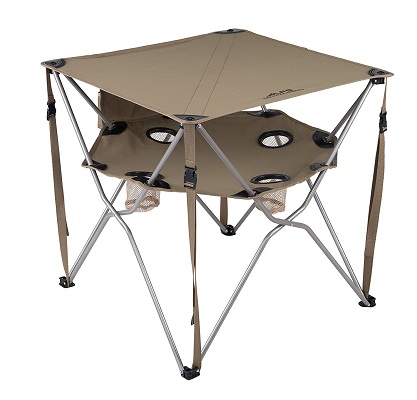 An extremely competent model in its own right, the Eclipse Table from Alps Mountaineering is very unique.
Read more
Materials
Instead of a tabletop that is designed with aluminum, plastic, or wood, the Eclipse is designed from durable 600D polyester fabric. However, the corner buckle design offers adjustable tautness and an extremely quick set-up.
Weight
Being fabric, it is going to give. Although there is not a set limit, you may want to avoid placing heavy items on it.
Size
There are two levels to this camping table and the underneath level has four built-in beverage holders. Also, there is a pocket organizer on the side.
Portability
The fabric does come into play with portability, as all you need to do is unlatch the buckles and place it inside the accompanying storage bag.

3

. COLEMAN OUTDOOR COMPACT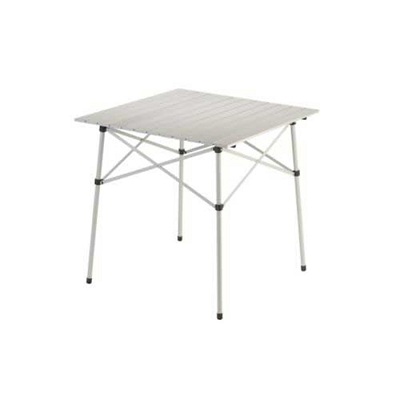 This and the Kamp-Rite table were really close, hence the duplicate score. Much like the Kamp-Rite, the Coleman Outdoor Compact Table is simply tremendous.
Read more
Materials
Designed with a steel frame and aluminum top, this camping table is built to last for years to come.
Weight
It is recommended that you do not exceed 100 pounds, but anything less than that is fair game.
Size
27.5" x 27.5" x 27.5"
Portability
The frame is equipped with a fancy snap-together design that allows for easy disassembly and assembly. In addition, it can be easily fitted inside the included storage bag. The camping table itself is very standard (which is not a bad thing) and does not possess and extra accessories. However, the storage bag you receive will fit in most trunks.

4

. OUTRY LIGHTWEIGHT FOLDING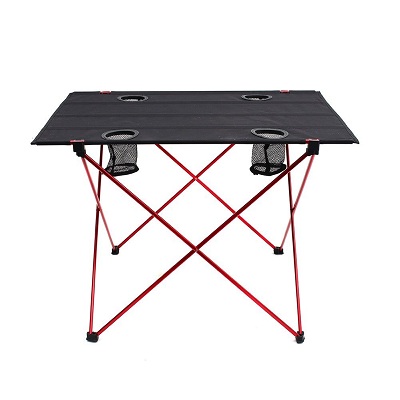 OUTRY also designed a camping table with fabric instead of aluminum or plastic. Much like the previous one, this one manages to hold up tremendously.
Read more
Materials
To increase traction, the feet on the legs have been equipped with an anti-slip rubber. While the frame is aluminum, the tabletop is made from 600D nylon fabric.
Weight
Again, the fabric is not as durable as plastic or aluminum. Be careful how much you place on top and try not to exceed 25-30 pounds.
Size
This is the large version, but there is also a medium version available. It is a little smaller (22" x 17" x 15") and only has two cup holders instead of four.
Portability
Much like the competition, this camping table excels when it comes to portability. It is both easy and quick to set-up and can be placed in the carrying case.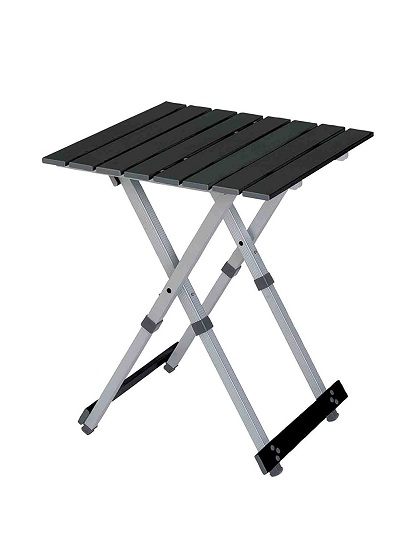 The GCI Outdoor Camp Table 20 is perfect to use for an extra stand. While not ideal for multiple people, it succeeds at what it was designed to do.
Read more
Materials
As the elite models that have proceeded it, the GCI Camp Table 20 is built with an aluminum frame and tabletop. A nifty feature, for easier transportation, also implemented is the telescoping leg design.
Weight
For a little stand, this can hold an incredible 60 pounds or less.
Size
18" x 20" x 24"
Portability
As previously mentioned, the telescoping leg design allows the portable camping table to be easily folded with little to no hassle. In your vehicle, it will take up no room at all.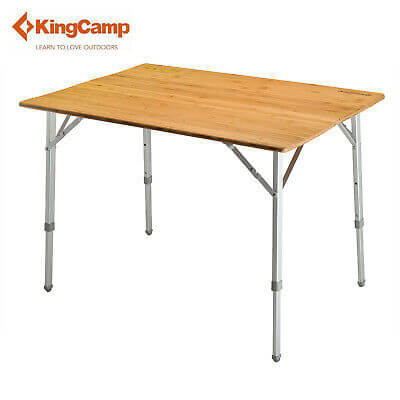 This camping table from KingCamp is not only highly rated amongst previous customers but also comes with a sleek design that is highly portable. If you are looking for a camping table to simulate a close as possible the table from your kitchen, this may be the portable folding table for you.
Read more
Materials
This camping table from KingCamp is made from an anti-UV and water resistant bamboo top and an aluminum frame to ensure that it is not only lightweight but also durable to last you many camping trips to come.
Weight
This camping table comes with a carrying case and weighs around 10 pounds. It is fairly light and folds up nicely so you should have no issue transporting it to your campsite.
Size
This portable table when folded is quite compact and easily fits in its storage bag for easy transport and storage. When unfolded and being in use this folding table measures in at 2 ft x 2ft. It is a great camping table for you and a friend but if you are looking for a table that will fit the whole family, you may want to look at some other options we have on our guide.
Portability
This camping table weighs in at only 10 pounds makes it a great portable table to bring with you to a campsite. The carrying case also makes it great and compact for even easier transportation. If you are looking for a portable table to take backpacking you may want to look at a table that is a little more compact and lightweight.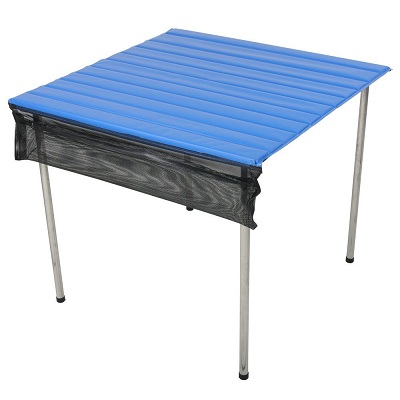 The Camp Time Roll-A-Table is not only beautifully designed and sturdy but is also a great camping table for everyone in your family to use.
Read more
Materials
While the legs are made out of aluminum, and easily screwed on, the tabletop is made from an eloquent strong wood hinged inside waterproof fabric. At one given time, four people can sit at this folding camp table with plenty of leg room for everyone.
Weight
Keep the components on the table under 100 pounds, and you are in the clear.
Size
Right at the end of the camping table, a gear pouch is present to hold all kinds of utensils and accessories. Plus, when it is rolled up, this securely holds the frame inside.
Portability
While a bag is not included, this camping table will easily roll up into a small package and can then be placed anywhere in your vehicle.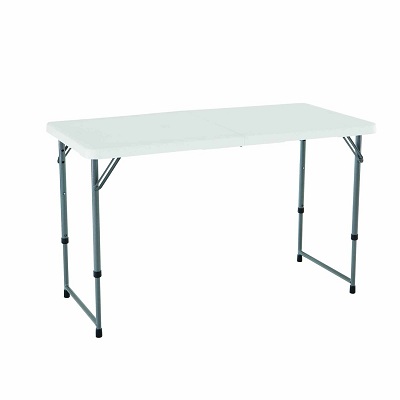 There were a few camping tables that could have taken the top spot, but the Lifetime Utility Table managed to be rated the best of the best.
Read more
Materials
Although the camping table is made of plastic, the design is still stellar. Built with a powder-coated steel and high-density polyethylene plastic, this portable table is both durable and scratch-resistant.
Weight
For average use, it is good to keep the capacity from going beyond 75 pounds.
Size
What puts this over the top is its adjustable height settings. To accommodate several people, there are three different height settings (22", 29" and 36").
Portability
When traveling with the Lifetime camping table, you can easily fold it in half and carry it with a convenient handle.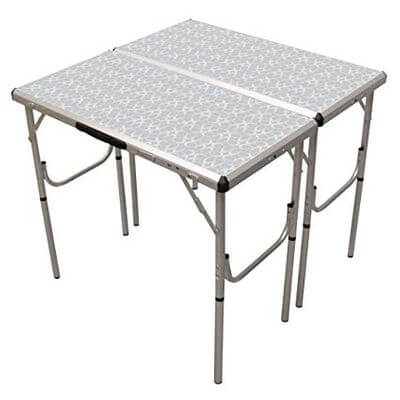 This is another great product from Coleman. It is a durable and compact camping table to allow you and your family to have a comfortable place to sit and eat together or play games. If you were looking for a durable, affordable, and compact table, this just may be the camping table for you!
Read more
Materials
This camping table is made from aluminum and laminate to ensure it will hold up over the many years you plan on taking it camping and to ensure it is easy to transport.
Weight
This portable table is still considered light coming in at around 13 pounds but it is also one of the heavier tables on our list. It is great if you plan on taking it to your campsite as there is little transport that needs to be done.
Size
This folding camp table is able to be adjusted to three different heights for maximum convenience and comfortability. It also is a 4-1 table which means it can be used in four different ways.
Portability
This camping table is great and easy to transport if you are simply moving it from your garage to your car and then to your campsite, but if you are transporting it long distances, it can take a toll and cause some discomfort as it weighs around 13 pounds.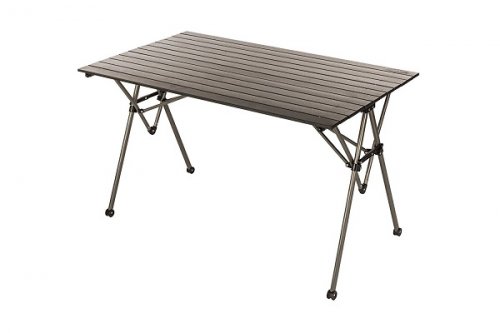 The Kwik Table from Kamp-Rite is simply incredible. There are no distinguishable features present, just a stellar table.
Read more
Materials
To ensure durability, the frame is constructed of aluminum and the feet have non-skid rubber to prevent slipping. The tabletop is water-resistant and there is one aluminum support leg for extra strength.
Weight
It is capable of holding up to 70 pounds.
Size
27" x 25.5" x 45"
Portability
Kamp-Rite designed this folding camp table for easy storage. The camping table will roll up in mere seconds and can be stored in the accompanying storage bag. A storage bag that comes equipped with a shoulder strap to ensure the easiest travel possible.

Subscribe to our Newsletter