Best Bike Frames
In a Hurry? Editors choice: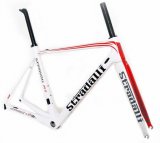 Test Winner: STRADALLI R7 SL

Perhaps you are an individual who is feeling ambitious and wants to build and create their own custom bicycle. If this is something that you are planning on attempting, though, a crucial component is going to be the frame. In fact, this is basically the foundation of any bike and is going to dictate the overall performance that is achieved (or at least it will help significantly). The most important decision you will need to make, outside of the size, is the material. There are several different metals and alloys out there so you need to be knowledgeable about them. Then again, there are other factors to keep in mind so, without further ado, let's get this bad boy rolling.
Standout Picks
Criteria Used for Evaluation
Materials
Picking the material you want is like picking the name of your child; that is how important it is going to be.
Outside of the size, and this was alluded to at the beginning of this guide, the most important decision for you to make is to decide what material you want. This will go hand-in-hand with the next section and for this section, let's break down the four most common materials that bike frames will be comprised of. Firstly, you have the most traditional of the materials and that is steel. Part of the reason why it is traditional is it combines an excellent duo of durability and affordability. In addition, steel itself is easy to bend and shape. Now, this metal can rust if you are not careful and it is also heavier than other materials.
Another common metal you will see often is aluminum. Out of all the common metals, aluminum is the lightest and is its greatest advantage. Oh yeah, and aluminum is also not going to rust (and is also affordable). But, there are also a few top-end materials; the first of which being titanium. The beauty of titanium, outside of its excellent longevity, is many experts feel it combines the properties of all the other frame materials out there. But, it is not cheap for designers to develop titanium frames and that means you will pay the price for them. Lastly, you have carbon fiber. Now, this is actually not a metal and is merely a fabric that is impregnated with resin. While expensive, carbon fiber is light, durable and very stiff.
Effectiveness
The last thing you want is a frame that can't deliver the bike ride you desire.
A majority of what is going to dictate the performance of your bicycle ride is the frame and what is going to dictate the performance of that are the materials. So, in other words, the better the materials, the better the performance and that is what we want to look at. Starting with steel, part of the reason why riders adore this metal is that it provides springiness to the ride because it is able to achieve an ideal amount of flex. While this presents a problem for aluminum, it is lighter as mentioned before. However, aluminum frames can provide a harsher ride. The reason for this is the lack of vertical compliance. Now, modern technologies have worked around this issue a little bit with suspension.
As far as titanium, as mentioned before, many experts believe this metal combines the properties of various other materials. So, while you pay the price, the performance makes it worth every penny. Wrapping up with carbon fiber, this is ideal for unconventional frames as it can be molded to virtually any shape. Of course, the fibers of carbon are extremely strong and stiff and this results in a superior ride. One last thing and this has nothing to do with the materials. Keep in mind that there are traditional and compact frames. The former is known for its stability and comfortability while the latter is known for its responsiveness and speed.
Size
Much like when you are purchasing footwear, the size of the frame can make all the difference in the world.
Much like when you go to buy a pair of shoes, the size is going to dictate everything. Indeed, that is going to be the case here, as well. If you buy a frame that is not of the proper size for you, it could result in a very uncomfortable ride and a horrible experience overall. As for how they are sized, in the first place, it is based on the height of the bike. Some are measured in metric units (road bikes) and others are measured in imperial units (mountain bikes). But, how do you know what size to get?
To do so, you will first need to know some measurements (your height and your inseam length). Now, the inseam will be the most important and this is the distance from your crotch to the end of your pant leg. If your inseam length is greater than the stand-over height of the frame, for example, you know you will comfortably be able to stand over the bike. Now, if your height and inseam have you in between sizes then rely on your reach. In short, if your arm span is greater than your height than go with the larger of the two sizes that you are stuck between (and the smaller of the two if your arm span is shorter than your height).
Features
Do not forget some of the subtle features that you need to keep an eye out for.
Admittedly, buying a bike frame can be stressful due to the various amounts of variables that come into play. During your buying process, though, you can't overlook some key features. Some of them will be standard while others could end up being game changers. As an example, let's start with what should be standard (though this is not guaranteed). Most models should come with essential features such as headsets. While an entire guide could be dedicated to analyzing headsets, do note that most modern models will feature threadless headsets that are internal, external, or integrated.
There are various other features, such as an internal cable routing system and drilled dropouts, to look for, as well. You will need to mount some brakes on your frame so you will need pre-drilled holes to do so. No matter if you decide to go with caliper or cantilever brakes, look out for this feature. In regard to the internal cable routing system, this can be a lifesaver. With this feature, you can run your cables in a convenient manner that will protect them from accidentally being damaged.
Style
All you are really looking for here is a finish that is stylish and high in quality.
With all of the essential factors covered, it is now time to address the finish. There are really two characteristics that you need to look for here. Firstly, analyze the actual design of the finish and any decal that is present. While this is merely for aesthetics, you want a bike that you are proud of and that means you will probably want it to be visually appealing. Most of the time, you will be able to re-paint the frame however you see fit (if you want to go with that option).
Secondly, the finish needs to be applied effectively. With a cheap and thin coating, the paint will begin to chip off and then you will have no other choice than to re-finish it.
OUR TOP PICKS FOR THE BEST BIKE FRAMES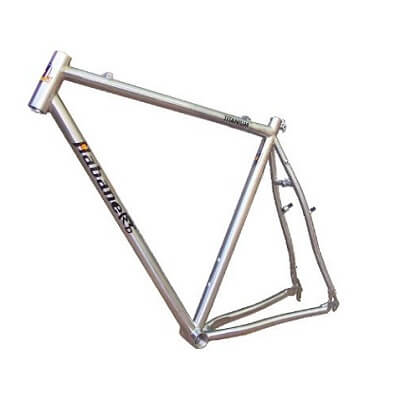 Carbon fiber is not the only top-end manufacturing material that is used to construct bike frames as titanium is another one. As you guessed, that is exactly what this next model is made of.
Read more
Materials
Yep, the Cyclocross Frame is indeed made of titanium and this makes it a fantastic choice for the long haul. Much like with carbon fiber, though, you are going to pay for the titanium construction.
Performance
Overall, the ride provided from this model will be quite stiff (in a good way). Also, the titanium insert in the top of the seat tube strengthens the overall foundation of this model.
Features
To keep all of your cables in the most convenient location possible, this allows you to run them on the top tube. In addition, there are dropouts drilled for fender and rack mounting.
Sizing
There are multiple sizing options available but the true talking point here is that the seller mandates a short conversation. This way, you can be 100 percent sure you buy the correct size for your needs.
Finish
The brushed finish is utterly marvelous and the welds have all been completed cleanly. Overall, not too many of you will have issues with the style.
Overall
It is not hard to see why Habanero Cycles is so respected. Not only is their bike frame here expertly designed but they also take the time to ensure you receive the right size.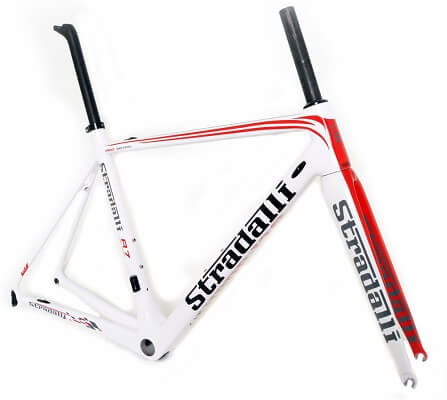 If you are serious about your project and seek the best of the best, then you may want to consider the R7 SL Team Edition. As with most top-end frames, it is comprised of carbon fiber.
Read more
Materials
As was just mentioned, this is indeed made of carbon fiber. As the designer points out, it is, in fact, the smoothest riding frame that they have ever produced (at the time of its release).
Performance
In addition to the natural smoothness of this model, the power transfer from the crank to the wheels is increased due to the headtube design. Also, the thin seat stays allow for enhanced vertical compliance.
Features
Past the thin seat stays, this frame is also built around a BB30. What this does is maximize the power transfer from the rider to the wheel.
Sizing
There are four sizing options that are available for you to select from. Those choices are 48, 52, 54 and 56 centimeters.
Finish
The white finish of this model is absolutely brilliant and it is accented by the red and black graphics. This is truly a visually appealing design if there ever was one.
Overall
Literally, it is not going to get much better than this at this price point. Yes, the price point is still quite high but the quality is certainly worth it for hardcore bikers.

3

. HABANERO TEAM ISSUE NUEVO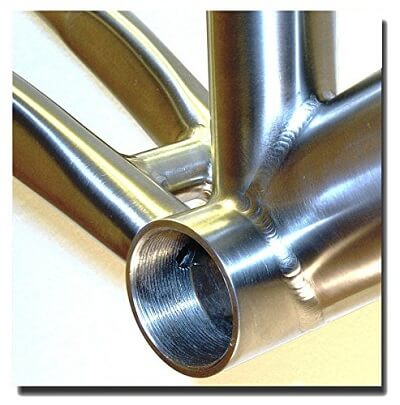 This is another option from Habanero Cycles and, yes, it is also designed of titanium. Of course, the craftsmanship that is at play here is marvelous with the seamless and aerospace-grade tubes.
Read more
Materials
The brilliant craftsmanship was already alluded to and, yes, Habanero Cycles once again designed a model with titanium. Due to the seamless and aerospace-grade tubing, also, the durability is enhanced.
Performance
What is so fantastic about this model is that it rides like it is steel yet weighs like carbon. For those seeking stiffness, additionally, this is definitely that.
Features
Some nice accessories and features are included here such as a titanium chain hanger, slotted and welded titanium cable guides, and welded titanium seat post binders.
Sizing
As with the other option from this seller, the customer service is excellent and you will know which size is right for you (with various sizes from 50 to 64 centimeters available).
Finish
While there is no special colorization that has been integrated, the brushed finish of the titanium naturally looks fantastic.
Overall
If you are willing to spend the money, then you need to seriously consider this as your custom bike frame. It goes without saying, however, that this will not be feasible for everyone.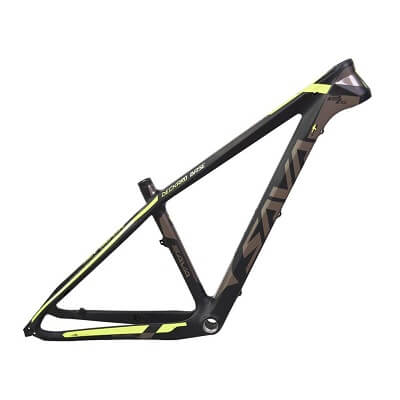 Though this is yet another model that is made of top-end material, you would never know it from the price. Affordability and quality is a rare combination but it is one that is on full display here.
Read more
Materials
The beauty of carbon fiber is on full display here. For the record, this is specifically full T800 carbon fiber that only weighs around 1.1 kilograms.
Performance
First off, the tapered head design allows you to achieve better handling on your ride. Secondly, the design of the short rear triangle improves the stiffness and also enhances the control.
Features
Not only is the internal cable routing system that has been integrated convenient but it is also a safety feature (for your cables). With this, you can route the cables inside the frame and protect them from being damaged.
Sizing
There are two sizing options for you to pick from (either 15.5 or 17 inches).
Finish
Of the three finish options, all of them are terrific. Each has a unique color decal that makes them stand out from each other.
Overall
For this price point, this is going to be a top contender for anyone. However, not a ton of feedback is available but the construction is superb.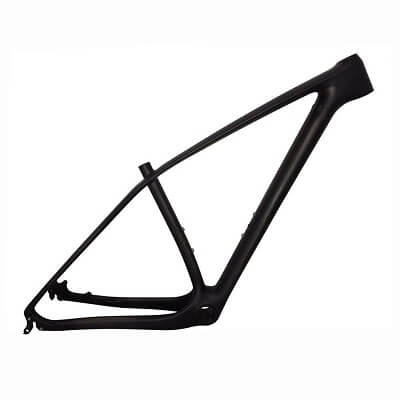 Although this is yet another premium model that is made of carbon fiber, there are some slight flaws that you should be aware of. They do not take away from the quality as a whole, however.
Read more
Materials
Due to the fact that this is made of carbon fiber, it is going to withstand a lot of abuse. However, it manages to be lightweight in the process, which is nice.
Performance
As with most carbon fiber models, this frame is going to deliver a very stiff and high-performance ride.
Features
What is nice is this is designed with internal routing in mind and it also comes with accessories such as a headset, rear dropout adapters and a bottom bracket. Of course, the installation is not the most intuitive process due to the cable channel system.
Sizing
To give riders more options, the seller of this model allows you to buy their model in a wide range of size options (from 15 to 21 inches).
Finish
This is nothing but a solid black frame. While you can't go wrong with black, what is really nice is you can paint it a different color if you wanted to.
Overall
Overall, this is an excellent choice simply due to the fact that it is carbon fiber. As has been detailed, though, some slight flaws are present.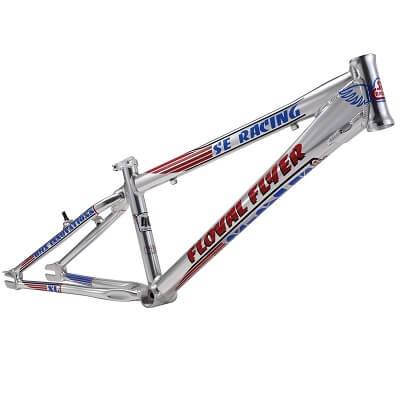 If you are still looking for a lightweight frame but do not want to spend a fortune then aluminum is an excellent choice for the material. And, it just so happens that the Floval Flyer is one of the best aluminum frames around.
Read more
Materials
Indeed, this is not made of carbon fiber or titanium but, instead, aluminum. This is the lightest of all the popular frame materials and it is not going to rust like steel, so that is nice.
Performance
To ensure maximum stiffness, this has been engineered with 3D forged dropouts, tapered rear stays, a bi-oval down tube, and a floval top tube.
Features
In addition to the longer top tube, this model also has been designed with a sealed tange integrated headset.
Sizing
The specific model that is before you is 24 inches in size. When converted to centimeters, this works out to be right around 61.
Finish
At the end of the day, it really is hard to go wrong with the red finish. It even has a unique decal that makes it stand out even more.
Overall
An aluminum frame is an excellent option for those of you who are looking for a reduction in weight. And, this design has been specially engineered for maximum stiffness.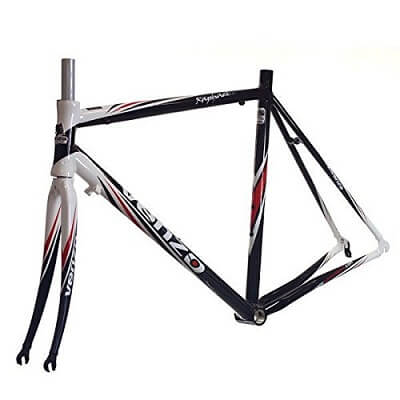 Look, it was mentioned briefly before but not all of you can afford top-end bike frames. This is a good example of a high-quality model that, while having some limitations, is affordable.
Read more
Materials
Venzo engineered their model with alloys. While the lower price is indicative of this, the quality is pretty solid as a whole (although one user did claim the frame broke within a year).
Performance
For an alloy fork, this is quite stiff. In fact, above all else, that is what most users laud about this particular design.
Features
There is some good news and some bad news here. The good news is the headset and the seat clamp do come with your purchase. However, cable adjusters are not included and this can only fit 23cc tires.
Sizing
Venzo designs this in sizes ranging from 54 to 60 centimeters (with options also for 56 and 58 centimeters).
Finish
The combination of the white, black, and red finish and the decal make for a design that is quite visually appealing.
Overall
Some additional features would have been nice but, overall, it is hard to scoff too much at this option. The alloy construction is quite impressive, all things considered.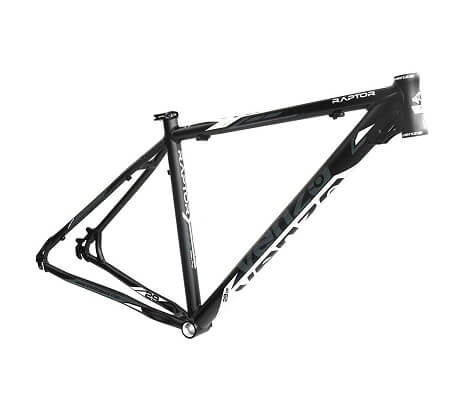 Much like with the last Venzo model, the Raptor is a highly affordable option that still delivers on the performance end of things. For most of you, this is going to do just fine for casual riding.
Read more
Materials
Once again, this is another Venzo model that is made of alloys (60601 alloys, in specific). However, as some users point out, some of the components are dated (such as the straight steerer).
Performance
Due to the angle of the headtube, you will be provided with a more responsive ride. Also, the fact that this is rigid also helps to improve the riding direction.
Features
A quality headset and a seat clamp are included for your convenience. However, the headset is not the best because it can be easy to warp the cups when you press them into the headtube.
Sizing
You have two sizing options at your disposal. You can either go with the 29-inch by 18-inch version or the 29-inch by 20-inch option.
Finish
In addition to the fantastic black finish, there is also implemented decal that is white. This combination really stands out and makes for a great appearance.
Overall
For some of you, the Raptor is just not going to cut it. It is not as if it is poorly designed but some of the components are dated and it shows. Then again, it will be suitable for the average rider.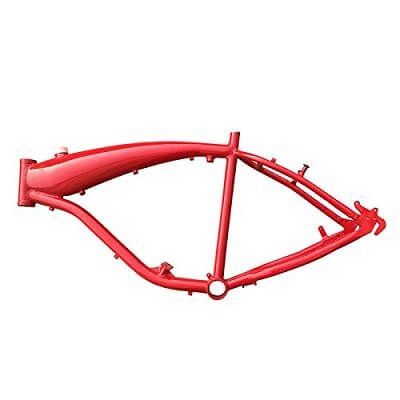 This list concludes with a very unique model that is unlike any other on this list. The reason for this is because it is specifically designed for gas bicycles that are running two-cycle engines.
Read more
Materials
This is actually made of aluminum. And, although it is designed for two-cycle engines, this makes it lightweight, as a whole.
Performance
Unlike most bike frames, the performance of this model is not too much of a talking point.
Features
Both the rear disc brake bracket and the front mount pedestal work very well with eight-millimeter gas motor front mounting bolts. Also, this does sport a built-in 2.4-liter gas tank.
Sizing
Understand that this is specifically designed for two-cycle engines (48cc, 66cc and 80cc) with anywhere from 40 to 50 millimeters of front mount stud spacing.
Finish
While the red finish is beautiful, it is applied poorly and is very thin. Due to this, it may start chipping which is a bit of a disappointment.
Overall
For normal bicycles, this will not be compatible. Only a certain demographic is going to be interested in something like this, so keep that in mind.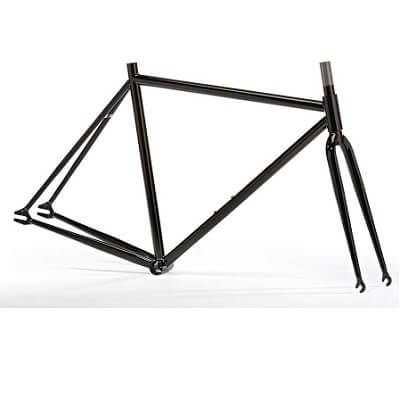 It only seemed right to include a steel frame on this list and that is what on display here. In spite of some quality control issues, this is still a highly suitable model that will meet anyone's budget.
Read more
Materials
Overall, steel is a pretty good metal for bike frames. Yet, do be aware that some users have had issues with the tubes bending.
Performance
One of the advantages of steel is it manages to absorb shock to soften the ride a bit. Also, this is designed to throw down speed on the streets.
Features
Though you may need longer reach brakes for the front, this is outfitted with holes that allow you to mount brakes.
Sizing
Small, medium and large size options are available. For the record, this is 50 centimeters, 54 centimeters, and 58 centimeters, respectively.
Finish
Be wary because some buyers have received their frame with scratches. If you do not, both the matte black finish and gloss black finish are quite appealing.
Overall
Really, this entry explains itself. It is not made from high-end materials and because of this, it is affordable. Some quality control issues do hold it back, with that said.

Subscribe to our Newsletter