Best Folding Bikes
In a Hurry? Editors choice: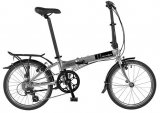 Test Winner: Dahon Mariner D8

Have you ever tried to bring your bike on a crowded train? Or to stuff your metal bike in the trunk of a car, only to find out you'll have to remove the
wheels
to close the trunk? The answer to all of these issues is the folding bike. These bikes can be folded down (sometimes) as small as the two wheels together. They are great for
travel
and easy to store. Whether you are using the bike as a mode of
transportation
, enjoyment, or sport, being able to bring it with you everywhere, despite its size, is a joyful convenience.
Standout Picks
Criteria Used for Evaluation
Top 10 Picks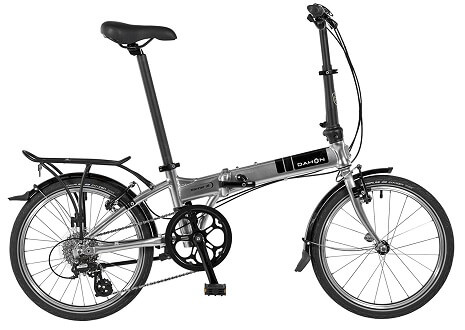 Get ready to see Dahon a lot on this list and if you know anything about elite bicycles, this should not come as a surprise as they may be the kings. But, their Mariner D8 just so happens to be the best model they have ever released, which is saying something.
Read more
Ease of Use
When all is said and done, when you fold this down to its dimensions (25.6" X 31.1" X 12.6") it is very easy to store in any compact space that you could imagine. Plus, at only 26 pounds it is not too heavy.
Materials
The frame of this bike is constructed from a lightweight Dalloy Sonus tubeset. Meanwhile, the wheels feature 20-inch aluminum single-wall rims.
Features
There are eight different speeds that you can scroll through giving you a wide range of options for different terrains and slopes. Plus, shifting through the gears is done fluidly and you should not have to worry about the gears locking up.
With the integration of fenders in both the front and the rear of the bike, it manages to block any road spray that comes up while riding. In addition, the brakes are made from a reliable Winzip aluminum.
Capacity
Dahon recommends that no one over the weight of 230 pounds ride this bike. It is not as if the seat will fall through if you immediately sit on it but over time, you may risk your safety if you eclipse this weight. For height, they recommend between 4' 9" and 6' 3".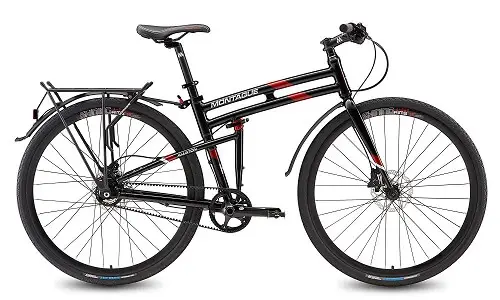 The price may wall you but rest assured, this bike is worth every penny that you spend on it. So many awesome design features are at play here, such as a grease-free carbon belt, an included cargo rack, and an internal gear hub that is protected from potential damage, that you will quickly forget about the price tag.
Read more
Ease of Use
When folded, this measures 36" X 28" X 12" and with a weight of only 30 pounds, it is fairly easy to transport.
Materials
Instead of a traditional chain that is used in most bikes, integrated here is a carbon belt which is grease-free and requires less maintenance than a chain. Plus, the 38mm tires provide comfort over the roughest of terrain.
Features
The 11 different speeds would have been great enough but the gear hub is located inside the rear hub which protects is from moisture, dirt and any potential damages.
Both the hydraulic braking system, which delivers a superb stopping power, and the RackStand, which allows you to attach cargo, deliver admirable safety and convenience when riding.
Capacity
There are two different sizes available. One is the medium version (19") and the other is the large version (21"). The medium is suitable for people between 5' 3" and 5' 10" while the large version is ideal for heights of 5' 11" through 6' 4".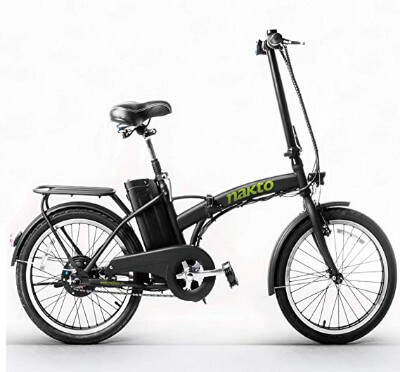 As opposed to all other bikes on this list, the Nakto Electric Bike not only allows you to bike traditionally but it also has a built-in motor. Thus, giving you the capability of riding a bike without ever putting forth any effort. That is unless the lithium-ion battery needs charging.
Read more
Ease of Use
While this is a foldable bike, the weight can be an issue for people. Thanks in large part to its electric nature, it weighs in at 76 pounds, which is the heaviest bike on our list.
This Shimano 6-gear shifter makes going up or downhill a breeze.
Materials
The frame of this bike is made from iron and aluminum alloy. At its peak, this bike can deliver 300 watts of power, which is great for lightweight people, or women. If you are heavier, or a larger person in general, you may prefer a stronger motor. Additionally, the 36V Lithium battery is able to last for a maximum range of up to 25 miles per charge.
Features
This bike features a bell and an electric horn to keep you safe on the roads. Additionally, the maximum speed of this bike is about 30mph, so you shouldn't have issues controlling the bike. The battery of this bike is removable, but the ignition key needs to be in the correct position to remove it, as an added safety feature. Clearly, this is significant because of its integrated battery-operated motor. As such, you can reach decent speeds without exerting any effort. But, the downside here is the portability is questionable. While it will fold, you need to eat your vitamins to lug this beast around.
Capacity
This bike is recommended for people between 4'9 and 6'6. As for the weight limit, it is between 250-300 pounds.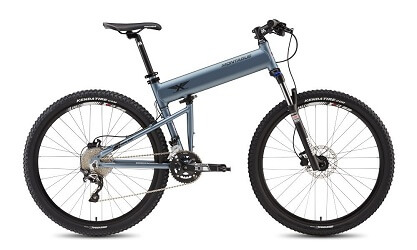 To give you an idea of how impressive this next bike is, under a grant from DARPA, it has a patented folding design that was designed to allow soldiers a way to drop out of airplanes and onto the battlefield. Let's just say that quality is of the essence here, no doubt.
Read more
Ease of Use
At just over 30 pounds and with a folded size of 36" X 28" X 12", most should find that this bike will be fairly easy to transport around.
Materials
Integrated here is a front suspension system and what this allows is the bike to seemingly glide over all obstacles and off-road terrain that you travel on. But, one issue is that the front splash guard tends to rub against the wheel.
Features
With so many speeds to mess around with, 24 in total, every single person will find an ideal speed for them. To be honest, 24 speeds may not be needed for some but it is nice to have.
Additionally, the mechanical disc brakes featured in the Paratrooper allows for a quick response with an exceptional amount of stopping power. In addition, a work stand and a cargo rack are included.
Capacity
Three versions (small, medium and large) have been designed and all three adapt to different heights. In short, the small model is ideal for kids, the medium for average-height adults, and the large for tall adults.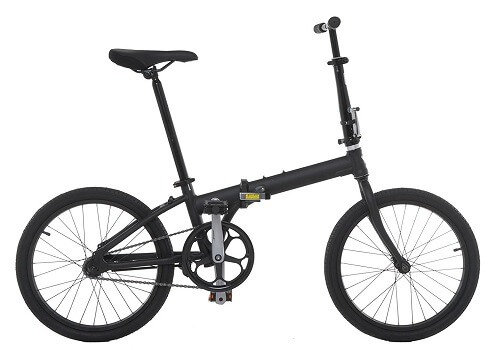 What is terrific about the Urbana Bike from Vilano is it weighs in at only 21.5 pounds, making it one of the most lightweight bikes you will find. Unfortunately, some of the design components are not as great as some of the higher end models but the portability is insanely good.
Read more
Ease of Use
Seriously, this is one of the lightest bikes in the world today, period. Weighing in at only 21.5 pounds, it is super compact. Reviewers claim that this bike is also incredibly easy to assemble.
Materials
The aluminum frame is nice as it is lightweight without sacrificing strength. But, overall, most of the components (while not bad) could have been made with superior material.
Features
Again, only one speed is present here so there is no need to worry about the smoothness of shifting gears or how many there are.
What is really nice is there are no brake cables or shifters; so, very little maintenance is required on your part.
Capacity
At only 200 pounds capacity, this is not a bike for larger people.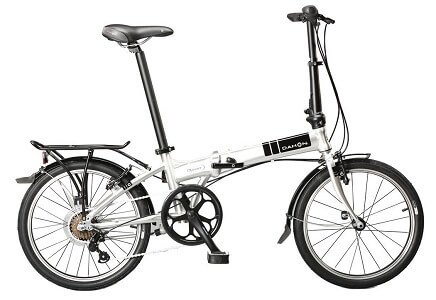 Consider this the prequel to the Mariner D8 and this is nearly as impressive. The D8 has given fans a reason to completely forget about this model, but that should not be the case.
Read more
Ease of Use
The portability is highly impressive with only a weight of 26 pounds and a real compact frame when it is folded. Some have claimed that it has only taken them 15 seconds to fold it and that says it all.
Materials
What aids in the lightweight nature of this bike is its 7005-aluminum frame. Plus, it is rust-resistant and the handlebar height is adjustable.
Features
The ability to switch through seven different speeds is fantastic, but the integrated rear derailleur is truly notable as it allows for fast and fluid shifting.
With the rear stand that has been implemented into this bike, there is a convenient location to store your luggage and baggage.
Capacity
Just like their D8 model, it is recommended by the manufacturer that the rider does not exceed 230 pounds. But, as far as height, it properly adapts for heights between 4' 8" and 6' 4".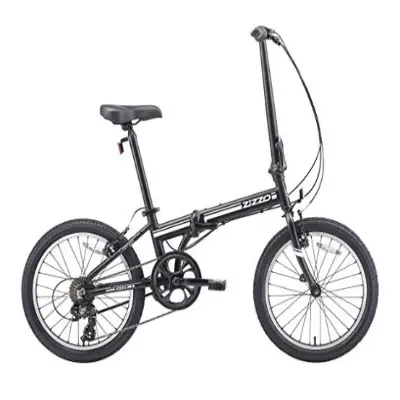 The Campo is one of the most affordable folding bikes on our list. It is available in three different colors and weighs only 28.5-pounds. With strong Shimano components and adjustable features, and seven speeds, there was no way our list would be complete without this addition.
Read more
Ease of Use
After a few practice runs, this bike is very easy to fold and unfold. The frame bends in half and the stem folds down to create a small portable bike package. There s a magnetic catch that ensures the bike stays folded. The overall weight of the bike is 28.5-pounds.
As far as the initial set up, there is no need to purchase the expert assembly. This bike is totally assembled, with the exception of one pedal. The tool to attach this pedal is included.
Materials
This lightweight and compact bike is made from strong aluminum metal. The multi-terrain tires are two inches wide and have received a bit of criticism from dedicated cyclists. Reviewers have said that if you plan to bike over ten miles at a time, you'll want to replace the tires. They have not proven to be as durable as desired.
Features
The Campo is outfitted with Shimano components, including a seven-speed tourney derailleur and Revoshift grip style shifter. The front and rear alloy V-brakes are strong and work well. For comfort, the handlebars and the seat are both adjustable.
The bike also includes a kickstand, reflectors, and water bottle mount.
Capacity
The capacity of this bike is up to 240-pounds. There is no specific height capacity. Reviewers over six feet tall have said that with a few adjustments of the handlebars and seat, the bike is comfortable.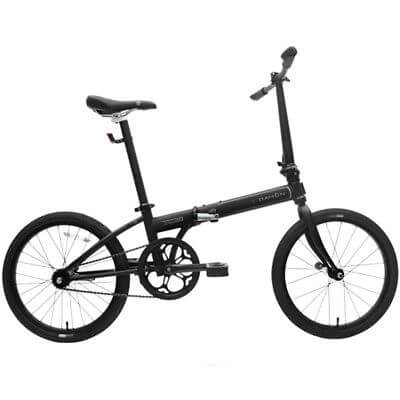 Did you honestly think that you had seen the last of Dahon? They make exceptional models past their Mariner and the Vigor P9 is one of them. While it is not ideal for off-road biking, it will suffice for most everyday rides.
Read more
Ease of Use
As this is a horizontal folding frame, it is user-friendly in terms of packing it. Plus, the 25.8 pounds it weighs makes it suitable to carry around when need be.
Materials
Overall, the aggressive frame is very sturdy and is built of high-quality. Unfortunately, the handlebar's height is not adjustable. Plus, the 20-inch wheels are not the best for off-road riding.
Features
No matter if you need to climb hills or any moderate incline you approach, the nine speeds should adapt to the situation perfectly.
As Dahon decided to utilize internal cables, there is no need to worry about maintaining them. In addition, the cable themselves are protected by metal rings. Thus, avoiding potential damage when you fold the bike.
Capacity
Granted you are under 231 pounds and 6' 5", you will easily be able to fit on this bike and feel secure while you are riding.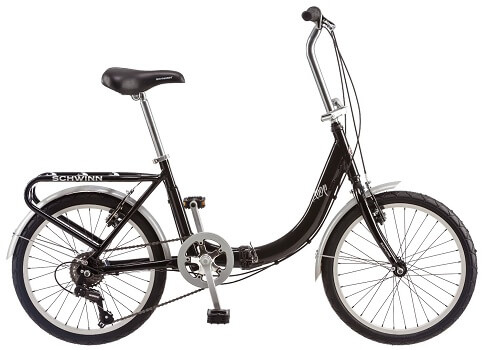 This is sort of the stretch that turns from highly-priced models to more affordable models. But, make no mistake about it, affordability does not indicate that the bike is cheaply made. A great example that debunks that theory is this bike from Schwinn.
Read more
Ease of Use
This easily folded and can be taken with you practically anywhere with folded dimensions of 32.5" x 26" x 16" and a weight of 33 pounds. But, the included nylon bag is an utter joke.
Materials
Nothing over the top here but everything is still made of solid quality. For example, the alloy rims and the adjustable seat. But, the 20-inch alloy wheels may not be the greatest over rugged terrain.
Features
With seven speed changes and a rear derailleur, there are enough speed settings for most with a smooth transition between each gear.
The brakes are hand-operated and work as well as you could ask. Meanwhile, the fenders will keep your clothes free from dirt and debris and the included rear rack is a great location for baggage.
Capacity
Schwinn states their user weight capacity is 230 pounds, so ensure you are not far over that total.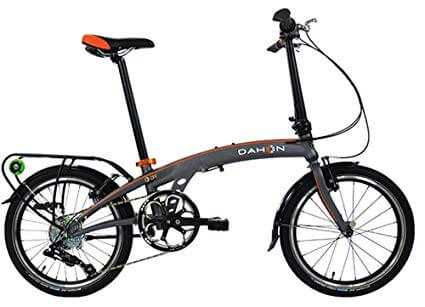 Dahon has made some extremely high-quality and technical bicycles, but this one is terrific for beginners and starters as it only has one speed. While the caveat to this is a bike that is only ideal for paved terrain, some may appreciate never having to concern themselves with the gear hub.
Read more
Ease of Use
Folding this bike is a piece of cake and can be done within seconds. However, some variations of this bike utilize a strap to hold the two wheels together which is not as great as a magnetic locking system.
Materials
The frame is crafted from steel, making it very durable but it is rather thin which could be a concern down the road (depending on what you put your bike through).
Features
As there is only one speed, this is really suitable for paved roads and not rough and uneven terrain.
Instead of individual braking handles, Dahon only designed one brake handle and it is connected to both the front and rear brakes.
Capacity
As with their other models, Dahon suggests users who ride this are under 230 pounds and between 4' 8" and 6' 4".

Subscribe to our Newsletter