Best Ratchet Straps
In a Hurry? Editors choice: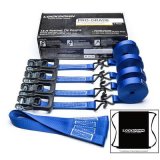 Test Winner: Lockdown

Now, if you have been living in a world of
snapping
bungee cords and unsecured cargo, then it is about time to start looking into investing in a great pair of ratchet straps. Also known as tie downs, ratchet straps are essential to securing heavy cargo and keeping them in place during
transport
. These are also used to provide stability and keep piled-up items stationary. These straps are better than other types of tie downs (like bungee straps) because of its sturdiness and
tension
control. With these by your side, you will not have to worry about your cargo falling off or shifting out of place.
Standout Picks
Criteria Used for Evaluation
Materials
A ratchet strap is an essential component in finding the right ratchet. Webbing is the first thing you see when you check the strap. Since these items are intended for hauling and better security than ropes, ratchet straps are usually made of polyester or nylon.
There are different kinds of straps serving varying functions. Their use is also mandated by law especially when you're carrying heavy loads. If you're caught on the highway driving without securing your cargo, you could pay a hefty fee for this. Punishments are more severe if one of your cargos falls off due to loose ropes or unsecured load.
Ratchet straps that have polyester webbing tend to perform better than nylon ones. These are usually built for durability for its weather and abrasion resistant feature. Most polyester types tend to be more expensive than other types.
Polypropylene straps tend to stretch more than 50% under a certain load. Nylon stretches between 20 to 30 percent under a 2500 lbs. load. Polyester, on the other hand, only stretches 5 to 10 percent with heavy loads.
Polyester material is also resistant to intense UV rays and can withstand prolonged heat exposure. It also has weather-resistant features that keep mildew and water from losing its quality.
Nylon and polypropylene tend to lose its capacity to tie down cargos if there's a tear in the webbing. With polyester, it is abrasion resistant and does a significant job at securing loads.
Capacity
This is the maximum weight of a load the straps can tie down. It is a very important feature to take note of, to ensure that you keep your cargo safe. It may include safety of the cargo despite unexpected forces from higher speed, road bumps, and windy conditions. It is also a standard that working load limit should be 1/3 of the break strength.
The break strength is the integrated strength of all components in the ratchet assembly. Say your ratchet strap accommodates break strength of 11,000 lbs., the hook can carry up to 10,000 lbs and the webbing can accommodate 12,000 lbs.
These details are required by the Federal D.O.T as well as Web Sling Association to be attached on the straps. A typical strap length for light to medium weight loads would be around 10 feet. For heavier loads, it would be approximately 15 to 20 feet in length.
Features
Here we focused on the design features of the product, as well as additional perks that may be included.
Compared with traditional ropes, ratchets are tools used in these straps to keep loads secure. It uses a lever to easily adjust tightness or release the straps. Ratchets are separate from the straps and come in either plastic or metal. For most users, the metal types have more grip than plastic ones and are more favorable for heavy duty use.
The end fitting is where the hooks are found. There are usually two types: J hooks and S hooks. The painted ones are not favorable for carrying items with painted surfaces like motorcycle and ATVs. On the other hand, you can use rubber-coated ones for these types of cargo.
Some of these straps come with soft loops as additional straps. These are suitable for handling delicate surfaces like motorcycle handles and bikes from the rough straps.
Some manufacturers also add storage bags to keep straps after use. And, for some ratchets with metal buckles, it is advisable to oil it regularly to keep it from rusting.
Top 10 Picks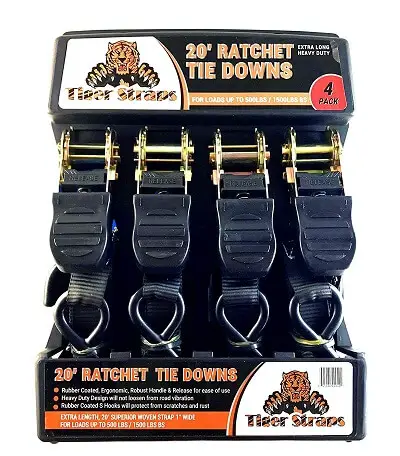 For users that needed the extra length without compromising sturdiness, the Tiger is a good investment. This is a good strap to have on hand for fastening extra-large cargos (like boats) securely on a trailer.
Read more
Material
It is made of industrial-grade polyester webbing. It is weather resistant to maintain the strap's integrity even with intense conditions of sun and rain. It doesn't stretch or hold moisture so you can use this as a staple when moving huge items.
Capacity
Each strap has the capacity of 500 lbs. of working load limit. These are best suited for heavy duty jobs in it for a long haul.
The break strength for the straps is 1500 lbs. Each strap is 20 feet in length for an added extra for large cargos.
Features
Extra-long webbings ensure that you can provide enough length to secure bigger loads. Custom strap handles make ratcheting comfortable and easy. All 'S' hooks are rubber-coated so it won't scratch off paint or dent your vehicles, furniture, and other equipment leaving it pristine when rubbed against.
The tiger straps come in a pack of 4 straps measuring 20 feet in length and 1-inch in width. Extra length provides better security for extra larger loads like jet skis, boats, and building materials. This weighs 5 lbs.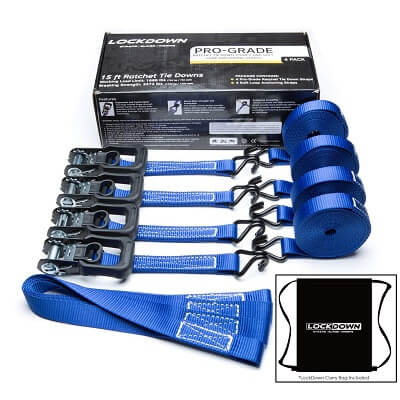 These are quality straps you can use to haul ATVs and motorcycles. This ratchet strap comes in a set of 4 with soft loops to hold it down and find no issue of scratches or dents. Rubber J hooks ensure that your motorcycles are anchored securely in the vehicle.
Read more
Material
Polyester webbing is made of quality materials that are twice as thick compared to standard straps. The thickness compensates to minimize stretching to give added security to items hauled in the vehicle.
Capacity
It can sustain up to 1,686 working load limit. Straps can sustain tension and stabilize cargos like a motorcycle, bikes, kayaks, and other household appliances from tipping over during transit.
Each strap is 15 feet in length, with a break strength of 3,372 lbs. It can sustain some bumps during a long haul.
Features
This product features a larger molded finger-through handle for easier handling. Its release lever is comfortable for grip and better strap tension to secure goods and cargos. The handle lever and lock release are coated by rubber for a more comfortable grip.
This set weighs 8.92 lbs. This ratchet strap type is designed for medium to large cargos like ATVs, motorcycle, and equipment. It also includes a carry bag to keep all straps neatly placed after use. Each package comes with 4 straps, 4 soft loop anchoring straps for extra support, and a carry bag to store these traps.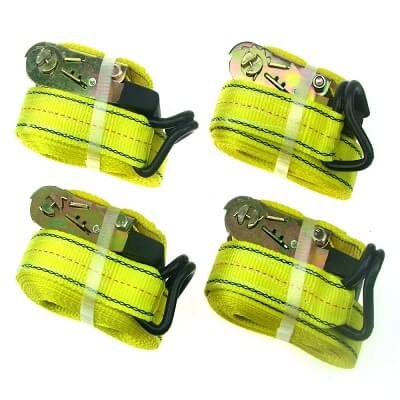 Cost-efficient and easy to use, the HFS is an all-around strap fit for light to medium weights. It is a camper favorite since it is budget-friendly and securely holds cargo set for camping trips.
Read more
Material
The straps are made of soft polyester weather-resistant webbing. It is designed to prevent scratches off painted surfaces and still keep the cargo intact during transport.
Capacity
It can withstand a 1,000 lbs. load limit. It works best to hold heavy equipment, ATVs, and motorcycles.
The break strength of these straps is 3,000 lbs. Each strap measures 15 feet long and 1-inch in width.
Features
Painted steel double-J hooks give a more secure latch and won't bend like 'S' hooks. Buckles are made of metal for a tighter grip.
Polyester webbing is made of bright yellow color for visibility. Straps are soft enough to not leave any smudges or dents on painted surfaces like furniture, motorcycle, and ATV. It is sturdy for a soft strap and weather resistant to withstand intense heat and damp weather. This set weighs 8 lbs.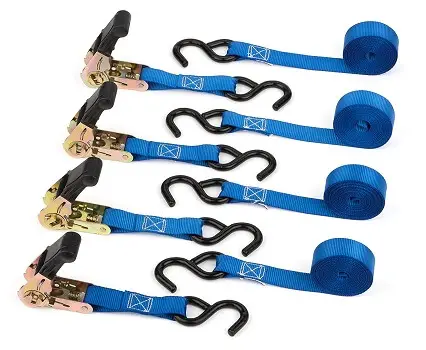 This is the ultimate all-around straps built for long-lasting use. It is a favorite for many because of its multi-purpose use, sturdy webbing, and ease of use.
Read more
Material
It is made of industrial-grade nylon to hold cargo safely. Each strap is 1-inch wide for added security.
Capacity
This ratchet strap carries a 500 lbs. working limit. It can snugly fit medium to large cargos.
The strap's break strength is 1,500 lbs. and measures 15 feet per strap. It can secure bikes, motorcycles and other equipment on your trailer, car or SUV.
Features
These straps come with rubberized 'S' hooks. It is attached with an ergonomic handle for a more comfortable grip.
These straps come in a packet of 4 straps in a carry bag. This set weighs 4.1 pounds. Straps are easy to store after use. It can carry heavy loads such as furniture and kayaks on top of the roof racks. It easily wraps around any cargo since straps are longer.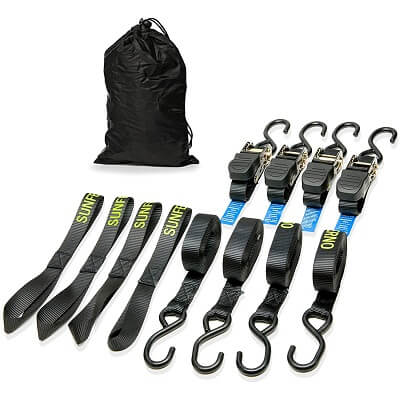 This is a strap intended to secure motorcycles minus the scratches and dents. The straps are sturdy for the haul but delicate enough to not leave any marks.
Read more
Material
The polyester straps are 1-inch in width and 15 feet long. It is made of industrial-grade materials with intricate sewing pattern for grip. It also UV ray resistant for longer use.
Capacity
The working load limit for the Sunferno is 1,100 lbs. It can secure motorcycles, bikes, equipment, and kayaks (on the roof rack).
The straps have 3,300 lbs. break strength. Straps also measure 15 feet each. It works well to secure heavy cargos.
Features
It is easy to use in securing heavy loads. The rubberized hooks ensure that you're not leaving marks and scratches off any painted surfaces. It uses closed S-hooks for added grip on the straps.
The Sunferno secures and stabilizes any load. When you're moving furniture, mattresses, motorcycle, kayaks, lawn equipment, and motorcycles, the straps keep your items from moving about during transportation. Each packet contains a storage bag, 4 straps with hooks, and 4 soft loops. This item weighs 3.97 lbs.

6

. Keeper 0422 Heavy Duty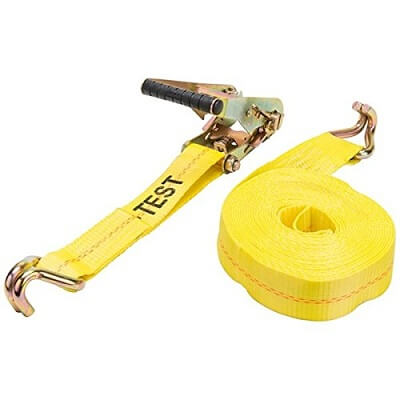 This is good strap intended for heavy-duty jobs that come with towing. With a high break strength and work load limit, it ensures cargos like motorcycles and ATVs throughout transportation.
Read more
Material
It is made of Hi-Test webbing (polyester). It consists of 3 layers of industrial grade material. It is intended for heavy-duty loads. The webbing is weather resistant and abrasion-resistant without compromising the quality of the grip and support.
Capacity
The working load limit for this strap is 3,333 lbs. This is intended for hauling heavy equipment and securing large cargo for transit.
The break strength is 10,000 lbs. with 27 long and 2 inches wide straps. It's suitable for bigger and heavier hauls.
Features
This brand comes with different hooks: Double J hooks, flat hooks, flat hooks with EZ release, double J-hooks with EZ release, and chain ends with grab hooks.
This product is made of high-quality industrial-grade webbing to ensure heavier cargos from slippage or de-stabilizing during a long haul. The straps weigh 4.89 pounds.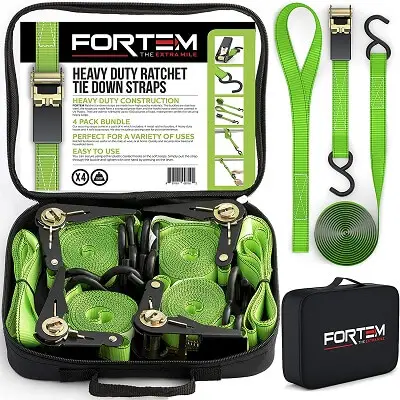 This one is favored by movers. These are reliable items to have in moving cargos in the truck for the long haul.
Read more
Material
The straps are made of industrial-grade polyester fiber. It's ideal for securing and handling bikes and camping gears on the roof rack.
Capacity
It has a 500 lb. working load limit. It can hold medium to heavy-duty load jobs.
The break strength of this strap is 1500 lbs. The length is 15 feet, an adequate length for wrapping around huge cargos.
Features
The straps are designed with metal buckles for extra security. Plastic-coated metal hooks ensure that it won't scratch painted surfaces such as those in motorcycles. This package also comes with a storage bag for easy packing after use.
Intended for heavy-duty jobs, the Fortem is made of industrial strength webbing. Metal is used for a more secure tightening mechanism. Highly visible neon color makes it easier to see these straps in dark environments with minimal lights. This packet comes with a storage bag, 4 15-feet long straps, 4 metal buckles and 4 soft loop straps for extra security. This product weighs 4.5 pounds and measures 10.5 X 8.5 X 3 inches.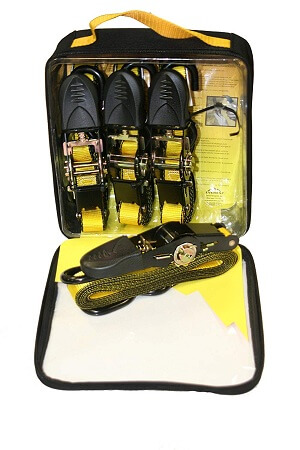 Users favor this because of its quality and cost. The Everest Ratchet tie down is a good product to have with multiple usages at a budget-friendly cost.
Read more
Material
The straps are made of industrial-grade webbing fit for securing equipment and motorcycles. Straps are 1 inch wide and 10 feet long.
Capacity
It has a 300 lbs. working load limit. It can hold cargo like lawn equipment and appliances.
Break strength is 900 lbs. break strength with a strap length of 10 feet. It may have limitations on working with heavier equipment like piano or kayaks placed on top of a vehicle.
Features
The Everest comes in a set of 4 packs with a storage bag. Rubber 'S' hooks ensure that it secures weight-specific cargos without scratching them.
The Everest Premium is made holding down the motorcycle and other household equipment. Rubberized hooks come in 5 per package so you get a spare if it breaks. This set weighs 4.35 pounds with 8.2 X 8.2 X 3 inches in measurement. The handles are made of rubber for a more comfortable grip.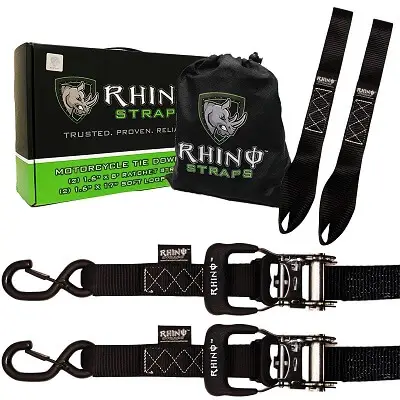 The Rhino is another favorite for moving medium to heavy loads. Lifetime warranty and strap length are two big pluses for this product.
Read more
Material
The straps are made of quality polyester for sturdier hold especially on motorcycles. It keeps the cargo stable with bumps and swerving. The straps are 1 ½ wide.
Capacity
It has a 1736 lbs. working load fit for heavy duty cargos. It can hold Honda GW and other cruiser bikes.
The break strength is 5,208 lbs. meant for heavy-duty use. These straps come in 8 feet and 15 feet long with the shorter ones intended for strapping ATV, motorcycles, and UTV.
Features
The Rhino is designed with chrome S-hooks and coated steel ratchets. It is intended for stabilizing heavy loads requiring sturdier supports.
The Rhino weighs 4.98 pounds and measures 96 X 16 X 0.1 inches. This ratchet comes in 3 packages: 2 ratchets + 2 soft loops, 4 ratchets + 4 soft loops, and 8 ratchets + 8 soft loops. The polyblend webbing is suited for durable use and regular wear and tear with soft loops for additional support.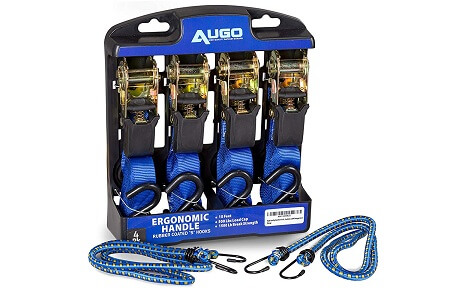 The Augo is designed to tie down heavy loads. It is favored by most users because of its reliability, well-made hooks, and ergonomic handles.
Read more
Material
It is made of quality polyester for a stronger hold. It provides enough tension to keep moving items during transit and long-lasting use.
Capacity
The load capacity is 500 lbs. It can tie down refrigerators, washing machines, bed frames, beds with headboard, and clothes dryers.
This is a 15-feet strap webbing that can carry up to 1,500 lbs. The strap can secure small and large equipment. Straps are about 1-inch in width for added grip.
Features
It is made of a unique molding that keeps the handles from falling off the straps. S-hooks are rubber-coated to prevent scratches on the equipment and rusting. Top grade steel is used for the metal for a stronger hold.
This strap is about 4.5 pounds with a measurement of 11.9 X 10.3 X 8 inches. The AUGO comes with 4 straps with 2 bungee cords for additional security.

Subscribe to our Newsletter