Best Ratchet Straps
In a
Hurry? Editors choice: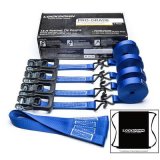 Test Winner: Lockdown

Now, if you have been living in a world of
snapping
bungee cords and unsecured cargo, then it is about time to start looking into investing in a great pair of ratchet straps. Also known as tie downs, ratchet straps are essential to securing heavy cargo and keeping them in place during
transport
. These are also used to provide stability and keep piled-up items stationary. These straps are better than other types of tie downs (like bungee straps) because of its sturdiness and
tension
control. With these by your side, you will not have to worry about your cargo falling off or shifting out of place.
Standout Picks
Criteria Used for Evaluation
Materials
A ratchet strap is an essential component in finding the right ratchet. Webbing is the first thing you see when you check the strap. Since these items are intended for hauling and better security than ropes, ratchet straps are usually made of polyester or nylon.
There are different kinds of straps serving varying functions. Their use is also mandated by law especially when you're carrying heavy loads. If you're caught on the highway driving without securing your cargo, you could pay a hefty fee for this. Punishments are more severe if one of your cargos falls off due to loose ropes or unsecured load.
Ratchet straps that have polyester webbing tend to perform better than nylon ones. These are usually built for durability for its weather and abrasion resistant feature. Most polyester types tend to be more expensive than other types.
Polypropylene straps tend to stretch more than 50% under a certain load. Nylon stretches between 20 to 30 percent under a 2500 lbs. load. Polyester, on the other hand, only stretches 5 to 10 percent with heavy loads.
Polyester material is also resistant to intense UV rays and can withstand prolonged heat exposure. It also has weather-resistant features that keep mildew and water from losing its quality.
Nylon and polypropylene tend to lose its capacity to tie down cargos if there's a tear in the webbing. With polyester, it is abrasion resistant and does a significant job at securing loads.
Capacity
This is the maximum weight of a load the straps can tie down. It is a very important feature to take note of, to ensure that you keep your cargo safe. It may include safety of the cargo despite unexpected forces from higher speed, road bumps, and windy conditions. It is also a standard that working load limit should be 1/3 of the break strength.
The break strength is the integrated strength of all components in the ratchet assembly. Say your ratchet strap accommodates break strength of 11,000 lbs., the hook can carry up to 10,000 lbs and the webbing can accommodate 12,000 lbs.
These details are required by the Federal D.O.T as well as Web Sling Association to be attached on the straps. A typical strap length for light to medium weight loads would be around 10 feet. For heavier loads, it would be approximately 15 to 20 feet in length.
Features
Here we focused on the design features of the product, as well as additional perks that may be included.
Compared with traditional ropes, ratchets are tools used in these straps to keep loads secure. It uses a lever to easily adjust tightness or release the straps. Ratchets are separate from the straps and come in either plastic or metal. For most users, the metal types have more grip than plastic ones and are more favorable for heavy duty use.
The end fitting is where the hooks are found. There are usually two types: J hooks and S hooks. The painted ones are not favorable for carrying items with painted surfaces like motorcycle and ATVs. On the other hand, you can use rubber-coated ones for these types of cargo.
Some of these straps come with soft loops as additional straps. These are suitable for handling delicate surfaces like motorcycle handles and bikes from the rough straps.
Some manufacturers also add storage bags to keep straps after use. And, for some ratchets with metal buckles, it is advisable to oil it regularly to keep it from rusting.
Subscribe to our Newsletter