Best Ratchet Straps
last updated:
Oct 01, 2020
Now, if you have been living in a world of snapping bungee cords and unsecured cargo, then it is about time to start looking into investing in a great pair of ratchet straps. Also known as tie downs, ratchet straps are essential to securing heavy cargo and keeping them in place during transport. These are also used to provide stability and keep piled-up items stationary. These straps are better than other types of tie downs (like bungee straps) because of its sturdiness and tension control. With these by your side, you will not have to worry about your cargo falling off or shifting out of place.
This is the best product on our list that is currently in stock: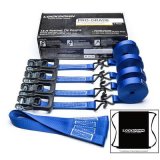 Lockdown
Why is it better?
Package already include soft loops to prevent scratches on delicate paint surfaces
You won't need to purchase a storage bag for the straps since it's already provided by the manufacturer
In a
Hurry? Editors choice: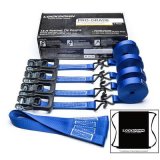 Test Winner: Lockdown

13
Researched Sources
1,980
Reviews Considered
15
Hours Researching
16
Products Evaluated
Materials
Capacity
Features
By Default
Criteria Used for Evaluation


Materials
A ratchet strap is an essential component in finding the right ratchet. Webbing is the first thing you see when you check the strap. Since these items are intended for hauling and better security than ropes, ratchet straps are usually made of polyester or nylon.
There are different kinds of straps serving varying functions. Their use is also mandated by law especially when you're carrying heavy loads. If you're caught on the highway driving without securing your cargo, you could pay a hefty fee for this. Punishments are more severe if one of your cargos falls off due to loose ropes or unsecured load.
Ratchet straps that have polyester webbing tend to perform better than nylon ones. These are usually built for durability for its weather and abrasion resistant feature. Most polyester types tend to be more expensive than other types.
Polypropylene straps tend to stretch more than 50% under a certain load. Nylon stretches between 20 to 30 percent under a 2500 lbs. load. Polyester, on the other hand, only stretches 5 to 10 percent with heavy loads.
Polyester material is also resistant to intense UV rays and can withstand prolonged heat exposure. It also has weather-resistant features that keep mildew and water from losing its quality.
Nylon and polypropylene tend to lose its capacity to tie down cargos if there's a tear in the webbing. With polyester, it is abrasion resistant and does a significant job at securing loads.


Capacity
This is the maximum weight of a load the straps can tie down. It is a very important feature to take note of, to ensure that you keep your cargo safe. It may include safety of the cargo despite unexpected forces from higher speed, road bumps, and windy conditions. It is also a standard that working load limit should be 1/3 of the break strength.
The break strength is the integrated strength of all components in the ratchet assembly. Say your ratchet strap accommodates break strength of 11,000 lbs., the hook can carry up to 10,000 lbs and the webbing can accommodate 12,000 lbs.
These details are required by the Federal D.O.T as well as Web Sling Association to be attached on the straps. A typical strap length for light to medium weight loads would be around 10 feet. For heavier loads, it would be approximately 15 to 20 feet in length.


Features
Here we focused on the design features of the product, as well as additional perks that may be included.
Compared with traditional ropes, ratchets are tools used in these straps to keep loads secure. It uses a lever to easily adjust tightness or release the straps. Ratchets are separate from the straps and come in either plastic or metal. For most users, the metal types have more grip than plastic ones and are more favorable for heavy duty use.
The end fitting is where the hooks are found. There are usually two types: J hooks and S hooks. The painted ones are not favorable for carrying items with painted surfaces like motorcycle and ATVs. On the other hand, you can use rubber-coated ones for these types of cargo.
Some of these straps come with soft loops as additional straps. These are suitable for handling delicate surfaces like motorcycle handles and bikes from the rough straps.
Some manufacturers also add storage bags to keep straps after use. And, for some ratchets with metal buckles, it is advisable to oil it regularly to keep it from rusting.
Expert Interviews & Opinions
Most Important Criteria
(According to our experts opinion)
Experts Opinion
Editors Opinion
Users Opinion
By Default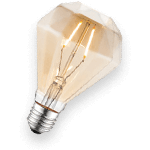 How to Store the Straps
Properly storing your ratchet straps can drastically increase their longevity and durability. Keeping the straps in a clean, dark, and dry place is ideal. The elements can really take a toll on the straps. Avoid storing them in direct sunlight or rain. The materials of the straps can easily grow mold and mildew and there's almost no going back after that.
Break Strength
The break strength is tested by the manufacturers before the straps are sold. This tells you how much weight the straps can handle before breaking. Typically, the hardware gives out before the actual straps, but either way, that's a bad thing. The WLL (working load limit) is 1/3 of the break strength. Only using your straps to this limit will ensure stability and keep your items safe.
Other Factors to Consider


Versatility
These straps are also versatile. Some use these to hold outdoor items during windy conditions. It is also easy to use even for a non-technical person. It is an easy pull, hold and release lever. Storing it will not require much conditioning and maintenance. However, some metal buckles might require some oiling once in a while.
If you're moving furniture to a different apartment, having this on hand will be of great help. The strapping mechanism of a ratchet strap does better in securing load for transport.
Most straps come in sets of 4 straps, 4 buckles, and 4 hooks. The hooks may vary in design. Most manufacturers make use of 'S' hooks because it latches better on mounted parts of a vehicle. However, some may find that 'J' hooks do a better job since it's easier to mount than 'S' hooks. Depending on your preference, go for whatever does the job and you're comfortable using for the next one to three years.


Model
They are reliable when it comes to transporting any cargo. There are cheaper alternatives that won't require that much workload limit that comes with heavy duty types.
In choosing the right straps, you need to first know the weight and dimensions of your cargo. Some users complain that the straps are not long enough. However, with proper measurement, you can anticipate the strap workload limit and break strength you'll need to look for. Always make sure that the strap's workload load limit is more (if not, equal) to the weight of the cargo to ensure maximum safety. Heavy-duty polyester straps will be better for transporting items like furniture, lawn equipment, and boats safely.
Frequently Asked Questions
q:

How do I use a ratchet strap?

a:

From the bottom of the assembly, thread the strap into the center of the spool of the ratchet. Then pull the strap through, removing any loose ends. Lowering and raising the ratchet handles tightens the webbing.

In releasing the ratchet, look for the top assembly and pull and hold the tab. This releases the strap from its tension. Then fully open the ratchet until it is flat. Grab the end that's not fixed to the ratchet and pull to take the strap out.
q:

How do I store them when not in use?

a:

To keep the quality, proper storage can potentially prolong your use of this item. Though polyester straps are weather resistant, cleaning them off after a rainy day will hasten the drying of the straps, keeping moisture from damaging the webbing. Some users suggest that you separate the straps from the assembly. Fold the webbing neatly and wrap it with an industrial grade band to keep it from falling away from the bundle. Most of these polyester types are expensive so it wouldn't hurt to do regular maintenance.
q:

Are all ratchet straps the same?

a:

This depends on the kind of transportation you're going to use the strap for. In the case of shipping cargos, the straps will be exposed to heat and wet conditions like that of sea travel. In this case, a sturdy polyester strap might be a good choice since you will need something that will keep the cargo from sliding around the ship. In the case of keeping an item stationary in your storage room, it is not exposed to as much rain and heat. A nylon or polypropylene might be a cheaper option that still does the job.
q:

How many straps do I need to secure a cargo?

a:

You need to check on the workload limit and break strength to that of the cargo length, weight, and type. Using four straps on cooler might be overkill. However, using 3-4 straps on a Honda motorcycle for a long trip should be sufficient.

If you're unsure, you can sum the working load limits of the straps. It should be 50% of the weight the cargo you're going to transport
q:

Can these straps be used for lifting?

a:

There are still varying views to this. Many say that because of the strap's construction, lifting loads using straps may not be secure and should only be used to tie down objects. This is because the user can just release the ratchet tab to release the load hence can lead to accidents. While it may be a cheaper option than having to buy more expensive tools to lift cargo, safety essentially wins the day.
Subscribe to our Newsletter