Best Bike Grips
In a Hurry? Editors choice: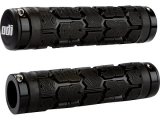 Test Winner: ODI Rouge

No matter if you are a beginner
cyclist
or an advanced cyclist the fact remains that you will need durable and comfortable bicycle grips.
Bike
grips give the rider the ability to control and steer your bicycle comfortably and efficiently.
Bike
grips do get worn down if you do quite a bit of riding, so make sure that you invest in some quality grips to get a little longer life out of them. If you are on the hunt for a new set of bicycle grips, below we have done the research and listed the top ten on the market. Below we are confident you will not only find the perfect bicycle grips for you and your bike but will have a comfortable ride all summer long.
Standout Picks
Criteria Used for Evaluation
Bottom Line
For a bike, the handlebars are one of the most important elements. So, it is only natural that the bike grips you choose will be just as important. Ask yourself this, what exactly are these grips designed to do? Without a doubt, outside of improving the overall ride, they are designed to provide you with enhanced grip and control. As such, it only seems fitting to begin this section by addressing the literal grip that these products deliver. Now, there are several different variations out there and each of them can differ when it comes to texture and grip.
For example, you have lock-on grips which are increasingly becoming the standard on most MTB bikes. But, there are also traditional models that are nothing more than rubber sleeves. With these, they can sometimes be troublesome when they get wet (whether via rain or sweat from your hands). Along the same line, some manufacturers will engineer their product with an ultra-tacky rubber compound to provide enhanced traction.
Fit
One of the reasons why it is so easy to invest in new bike grips is because most of them will fit onto your current handlebars. Now, it can't be guaranteed that you will never find a pair that does not fit properly. Still, though, most push-on and lock-on models will work for a wide range of bicycles. Speaking of which, these two different types of grips do function differently. It is important to understand the distinction between them; so, let's dive deeper into this.
Starting with push-on models, these are comprised of all rubber and typically use either compressed air or a liquid adhesive for installation. Of course, the easiest way to install them is to apply either hairspray or spray paint inside and then insert them over the handlebar. As for lock-on grips, these will slide easily onto your handlebars as they have a hard plastic core with a molded rubber grip. When on, they are held in place with clamping lock rings to keep them secure.
Comfort
Everyone in the world can agree on this simple fact. No one enjoys being uncomfortable. If you do, then you are probably a masochist. But, 99.9 percent of the population will probably feel this way and thus, comfortability comes to the forefront. In addition to their grip, this is probably the second most vital characteristic to assess. But, personal preference can also come into play in this sense. Not all grips will be engineered in the same manner; with some being thicker, thinner, firmer, and softer than others.
But, the type you prefer is entirely up to you. With thicker and firmer grips, the theory is that the foam's grip will be maintained more efficiently and deliver a more secure hold. Then again, a softer exterior can be more comfortable for riders to hold. Additionally, you want to look for models that offer vibration dampening and those that are ergonomic. The former will help minimize body fatigue while the latter will feel more natural when holding onto.
Durability
It seems to be the million dollar question for new bikers and that is how long the grips will actually last. When you take into consideration how they are used and what they are comprised of, they are going to wear down over time. There is just no way to get around this. But, that does not mean that each pair will last the exact same time, as that would be practically impossible. It also depends on how rough you are with them. If you enjoy vigorous riding on bumpy and pot-hole infested trails and roads or simply pay no mind to the grips, they may not last as long as you desire.
Ironically, though, some bikers will replace them when they do not even need to be replaced. Sometimes, bikers will simply get tired of their current grips and look to invest in new ones. Let's just say that if you notice the knurling coming off or notice general wear and tear, it may be time for new ones. Given their forgiving price, most of the time, you could simply buy them in bulk, anyway.
Top Ten Bike Grips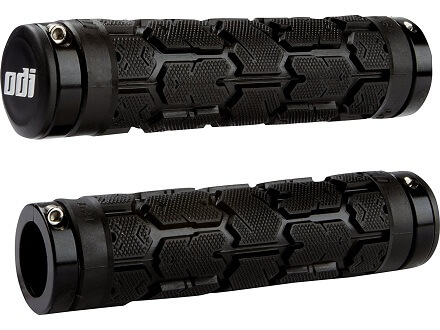 Right off of the bat, it is important to note that the Rouge Lock-On's are thicker than your average model. Of course, this adds to their overall grip, durability, and comfortability.
Read more
Provided Grip
In addition to the 100 percent slip-free performance that is guaranteed, the extra-large pads of proprietary compounds ensure that you have enhanced grip when you are riding.
Installation
One user explained that these were longer than the standard grips that their bike came with. But, even then, all that was needed was a bit of adjustment of the brake levers.
Comfortability
Not only are the proprietary compounds of rubber designed to enhance the overall grip of this model, but it is also ideal for enhancing the shock absorption. In addition to this, the extra-large raise also helps.
Longevity
Most user experiences point to this being a fairly durable product. One of the aspects that assist with this is the deep grooves as they help channel away dirt and debris.
Color Options
While there are not a ton of color options available to select from, the black and lime green variations are visually appealing.
Overall
It really is important to know that these are going to be thicker than your average bike grips. If you know that this will not be an issue, then there is no reasoning behind not seriously considering this model.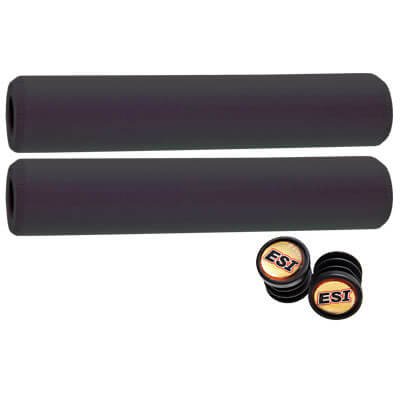 As great as this next model is, you need to be cautious when installing it. But, after they have been installed correctly, you can reap the benefits of one of the better models in the world today.
Read more
Provided Grip
Even though some buyers have expressed that these can become slippery when they get wet, they are crafted of silicone. Silicone itself is a texture that delivers an optimal amount of grip.
Installation
As these are actually thicker on one side than the other, you need to ensure that you install them correctly. This is even more important as when you install them, they are not going to come off easily.
Comfortability
Probably the main reason the silicone craftsmanship of this product is ideal is that of the vibration dampening that the material provides. Silicone is very efficient when it comes to canceling out high-frequency vibrations.
Longevity
It seems buyer's experiences have been right down the middle here. While some claim the durability can be an issue, others report that the foam stands the test of time.
Color Options
To be honest, the color options will either be a hit or miss here. While there is a strong variety, you will either appreciate or dislike the vibrancy of the colors.
Overall
What clearly stands out with this model is the silicone construction. ESI was wise to choose this as their main material because as was seen, it offers specific performance advantages.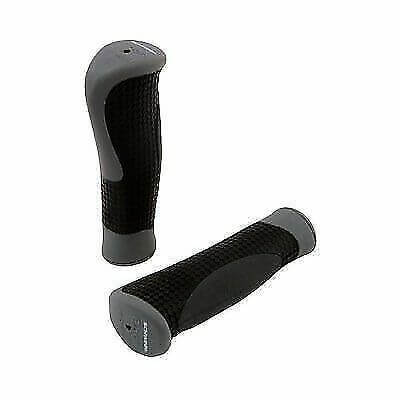 Those who are on a very strict budget will most likely appreciate this next pair. Though they are on the cheaper side with regard to the price, their quality is substantially greater than you might expect.
Read more
Provided Grip
To improve the traction and grip you are provided, the top portion is comprised of a textured pattern.
Installation
It is worth noting that these grips could end up being too long for your handlebars, as some buyers have expressed. If so, you may have to move the cables on your handlebars.
Comfortability
On longer rides, you may begin to feel numbness in your hands. However, the extra gel later and large palm area add comfort and vibration dampening.
Longevity
Even though some consumers have questioned the long-lasting nature of this product, it is made of a Kraton compound for durability.
Color Options
No matter what style of bike you have, the gray and black appeal of these grips should match the décor. Truthfully, who does not like the combination of gray and black?
Overall
There is a reason why these just barely cracked this list. Now, they did make it so no matter what, you at least know that they have redeeming qualities.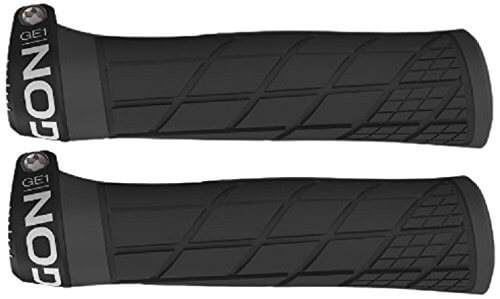 In the world of bike grips, it does not get much better than the Ergon GE1's. Even when your hands are sweating profusely or are in a raging downpour, they will still perform admirably.
Read more
Provided Grip
On top of the optimal performance that is provided even while the grips get wet, their slim profile actually allows your grip to be loose but secure at the same time.
Installation
To ensure that the installation process goes as smooth as possible, there are included instructions that inform you of the correct positioning that needs to be present.
Comfortability
To increase the vibration dampening system, this has been engineered with two different rubber compounds and also a cutout in the internal skeleton.
Longevity
Even though the quality control of this model is very good, there is still a bit of concern over the durability in the long run.
Color Options
There is a strong variety of colors available and among them include black, blue, green, grey, white, and pink.
Overall
The GE1 Grips really do stand above the rest of the competition. While it is difficult to find a pair that will last a long time, while these last, they offer impeccable performance.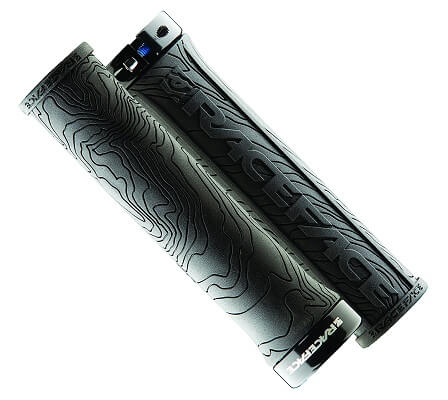 Even though some riders may feel that the plastic end caps are the downfall of this product, it is also hard to ignore the moisture resistance and overall performance that is present here.
Read more
Provided Grip
RaceFace really nailed it with the grip as their product is not too soft but also not too firm. The end result is the perfect rubber compound blend for bikers around the world.
Installation
Be wary, the cheap hardware has been alluded to by some buyers. Due to this, the grips may still end up being a little loose even after they are clamped down.
Comfortability
Due to the slim profile and spot-on pattern of these grips, they feel terrific. Plus, the move to a single inboard locking system actually increases the comfort even further.
Longevity
Thanks to the engineering of the rubber compound, which is not too soft, it will not wear out within a few months. It could definitely fill the void for a year-round grip.
Color Options
The best way to sum up the color options of this model is to state that they come in a rainbow of colors. That is, nearly every major color is covered.
Overall
RaceFace deserves a lot of acclaim for their design here. But, that praise aside, there are some legitimate issues that could end up being the deciding factors for you.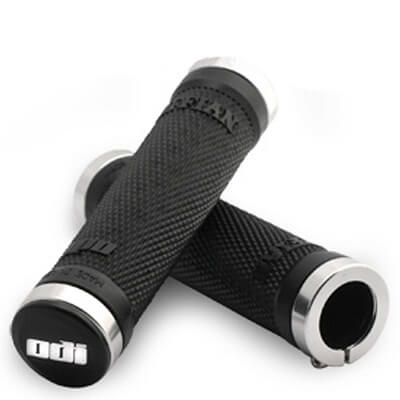 ODI utilized a brand-new soft rubber compound for their Ruffian and the result is the utmost comfort and grip. Then again, this soft rubber may not hold up as well as other materials.
Read more
Provided Grip
Again, the newly engineered soft rubber compound of the Ruffian is able to provide optimal grip. This is true even in the instance when the grips get wet.
Installation
Included with your purchase are new snap cap end plugs that can be installed when the grips are. Overall, they measure 130 millimeters so keep that in mind.
Comfortability
While there are no ribs that will isolate your hands from massive vibrations, rubber engineering does a fairly suitable job of preventing pain by dampening the effect of higher frequencies.
Longevity
Indeed, the main tradeoff of the softer rubber is the durability. Then again, even though the rubber will wear down quicker, it still holds up to abuse quite well.
Color Options
Everyone should be able to find a color combination that is suitable for their bike. For example, there are different variations of black and other colors and also separate vibrant color choices.
Overall
ODI was willing to sacrifice the durability of these grips a bit to improve the overall comfort and grip. Heck, given their price point, you could even stock up on a bunch of them.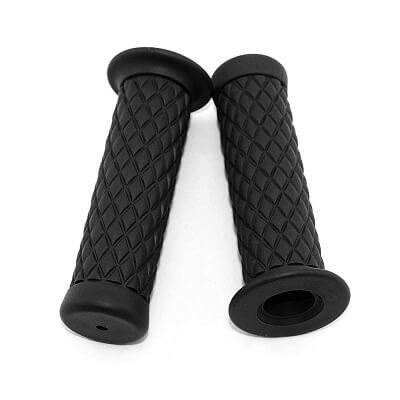 If you are not a fan of grips that are extra firm, you may want to look elsewhere. But, rest assured that the shock-resistance that is provided more than makes up for the firmness.
Read more
Provided Grip
Thanks to the integration of skidproof TPR rubber, the grip you are provided will be optimal for hours on end.
Installation
These grips are ideal for 7/8-inch and one-inch handlebars for the left and right, respectively. Overall, this will account for a wide range of bike brands.
Comfortability
Overall, the provided grip ensures optimal comfort and shock-resistance. That said, one buyer put an emphasis on the fact that these were harder than they were accustomed to.
Longevity
Rest assured that only high-quality rubber was used in the manufacturing process of these grips. Thus, they are both low-temperature-resistant and corrosion-resistant.
Color Options
One buyer reported that the color they received was not as bright as the photos indicated. All in all, the available color options are solid.
Overall
Let's just be brutally honest here; some riders will not tolerate grips that are this firm. Of course, if you look at it with a different pair of lenses, the durability is also fantastic.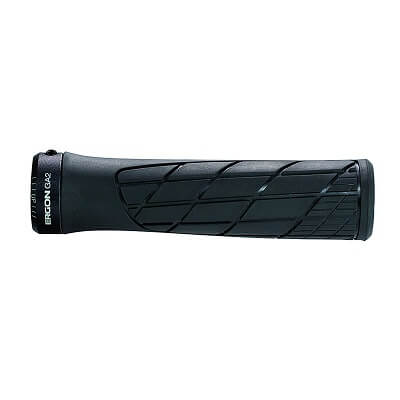 Though not without its slight issues, the GA2 Grips from Ergon are great because even when it begins to rain or your hand begins to sweat, they are tacky enough to still provide you ample grip.
Read more
Provided Grip
The tackiness of these grips is right on the money because they are tacky enough to prevent your hands from slipping in the rain but not so much to feel like your hands are glued down.
Installation
Even though you may need to adjust them a bit after they are installed, the clamp that is provided makes it easy to install them.
Comfortability
To allow for greater dampening, these grips actually vary in internal thickness. In addition, the rubber compound engineered into the GA2's is very soft.
Longevity
Due to the softness of the rubber, the durability takes a bit of a hit here. It may get roughed up by simple falls and may not be suitable for rougher rides.
Color Options
Even if you are not a fan of any of the vibrant color options that are available, with there being quite a few, you can stick with the traditional black.
Overall
Ergon could have addressed a few issues with their GA2 Grips and they could have ascended higher on this list. As it sits, though, they are great bike grips with some flaws.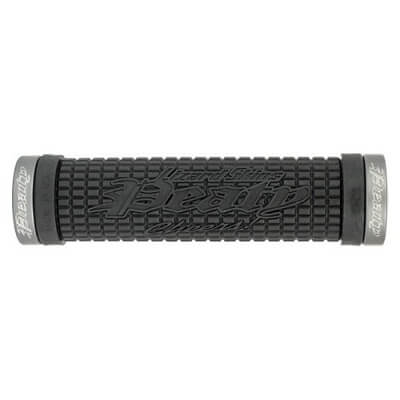 Rest assured that Lizard Skins only used the highest quality material to design their bike grips. Then again, they do not perform as well as they should when they are exposed to moisture.
Read more
Provided Grip
Everything seems to be fine; until the grips are exposed to moisture. Whether it is via the rain or your hands sweating, things can get slippery when you try to hold on to them.
Installation
If these do not fit on your current handlebars then you are truly an unlucky soul. Due to the fact that they are lock-on grips, they will fit 99.9 percent of all handlebars.
Comfortability
This product is more on the firmer side of the spectrum than softer. That said, the lock-on design is going to eliminate any unwanted movement which will maximize the comfortability in the long run.
Longevity
Lizard Skins ensures their consumers that they only used the highest quality materials and processes when developing their product. Only time will tell, though.
Color Options
For the benefit of the consumer base, there is a terrific blend of color options to choose from. There are some vibrant colors and also some subtle options.
Overall
Everything is included for installation and you would be hard-pressed to find a bike that is not compatible. But, they are one of the firmer models on this list, so keep that in mind.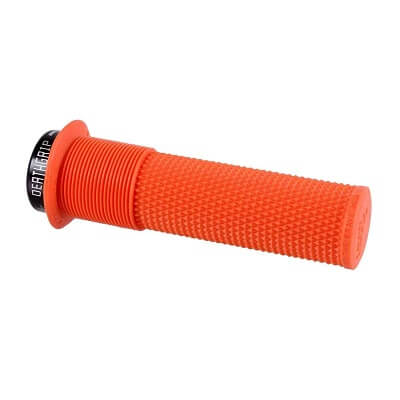 This is one of the more unique models on this list as it was actually designed as a collaboration between DMR and Brendan Fairclough. From that, you can all but expect the quality to shine.
Read more
Provided Grip
For enhanced grip, DMR integrated a combination of knurl and waffle patterns. Also, the entire design is meant to be ergonomic which also increases the grip.
Installation
There have been a few buyers who have alluded to the fact that these can go on tight. As such, you may need to exert some force to install them all the way.
Comfortability
First off, this is an ergonomic grip and what that means is it is outfitted with the human hand in mind. Also, the mushroom pattern on the flange side enhances overall comfort.
Longevity
What is nice is the knurl pattern that is integrated into these grips provides superb all-weather protection. Even still, though, the longevity has been brought into question from some buyers.
Color Options
While this specific model comes in orange, there are other color options available from DMR including yellow, blue, red, black, and gum.
Overall
It really is easy to marvel at this collaboration and all things considered, DMR hit the nail on the head. Any bike owner would be proud to install this on their ride, let's just say that.

Subscribe to our Newsletter