Best Commuter Bikes
In a
Hurry? Editors choice: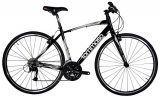 Test Winner: Tommaso La Forma

If you have ever thought about trading in your car for a morning commute with your
bicycle
you know it is a great way to be good to the planet, get in a morning workout, and save money - all at the same time.
Bikes
are a great way of getting to your destination quickly without the worry of filling up the tank or waiting in traffic. Now if you have made the choice to ride your
bicycle
for your commute, but haven't found your perfect bicycle yet, then you have come to the right place. Below we have listed the top ten commuter bicycles of 2019 and explained why these bicycles will get you to where you need to go quickly and hassle-free.
Standout Picks
Criteria Used for Evaluation
Comfort
Let's get something straight right away; there is no one on this planet that wants to commute on an uncomfortable bicycle. If you do, you are either a masochist or you seriously despise your job to death and literally do not care. Speaking for the vast majority of people, the comfort of your bike is almost everything. However, it is more in-depth than you may initially believe. Sure, basic design features such as a highly-cushioned and comfortable seat and comfortable handlebars are important. But, two other factors that come into play when determining the comfort of a bike are the suspension system and the frame construction.
As you might suspect, the suspension system is primarily important to delivering a smoother ride by absorbing most of the impact from bumps and shocks. Yet, if the suspension system is not high-quality, you may not notice a difference and clearly, this is what you want to avoid. As far as the frame construction is concerned, this can aid in how easy it is to pedal and how your body fits on the bike.
Style
When you assess the safety of a bicycle, much like you would with a vehicle, the primary component you are looking for is the brakes. For the most part, you are either going to see a bike with rim brakes or disc brakes. We are not here to debate which system is superior but just know that their major difference is how the force is applied. For rim brakes, the calipers on the outer edge of the rim apply the stopping force and disc brakes move this braking away from the rim to the rotor.
Arguably, disc brakes are preferred simply by their incredible stopping power. But, they do come in two slightly different variants; either being mechanical disc brakes or hydraulic. Between the two of them, hydraulic disc brakes tend to be a bit more expensive as they utilize sealed hydraulic fluid to control the brake pads. Meanwhile, mechanical disc brakes use a wire to connect the brake caliper and brake lever. Over time, a mechanical system will require more maintenance than a hydraulic system.
Speed
When you were growing up, if your parents bought you a bike, you probably experienced what it was like to ride a single-speed bike. To be blunt, they are not for everyone and are limited in their speed options. Sometimes, you may desire multiple speeds as this can accommodate for different types of terrain. The important detail to assess is the drivetrain on a commuter bike and how many speeds it possesses; in addition to how it is designed in the first place. For instance, let's look at two common drivetrain designs. Firstly, the internal gear hub. What is nice about this design is not only are all the gears sealed and protected from the elements, but you can also shift gears while you are stationary.
Yet, you will find a majority of commuter bikes with an external drivetrain. As opposed to an internal gear hub, this design has all the gear sprockets on the outside of the bicycle. But, what if you have no interest in multiple speeds? In this instance, you could simply settle for a single-speed bike to eliminate the concern. However, this does extremely limit your riding.
Features
What good is a bicycle that does not possess high-quality wheels and tires? They are another critical design feature of bikes and without a doubt, one you should spend a considerable amount of time on. Firstly, you need to assess the wheel sizes. Most commonly, you will see wheels that have a 700c rating (which simply indicates the tire's diameter). On top of that, they will also have differing widths. In actuality, smaller wheels offer improvements in strength and are also easier to maneuver with. But, wider tires can aid in traction and can be better suited for off-road riding; which is important if your commute requires that.
Over time, though, the current tires on your bike will wear down and need to be replaced. When you need a new tire, you can then buy one based on the type of commuting you do.
Subscribe to our Newsletter