Best Commuter Bikes
In a Hurry? Editors choice: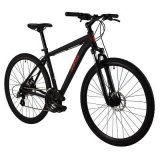 Test Winner: Nashbar Dual-Sport

If you have ever thought about trading in your car for a morning commute with your
bicycle
you know it is a great way to be good to the planet, get in a morning workout, and save money - all at the same time.
Bikes
are a great way of getting to your destination quickly without the worry of filling up the tank or waiting in traffic. Now if you have made the choice to ride your
bicycle
for your commute, but haven't found your perfect bicycle yet, then you have come to the right place. Below we have listed the top ten commuter bicycles of 2019 and explained why these bicycles will get you to where you need to go quickly and hassle-free.
Standout Picks
Criteria Used for Evaluation
Comfort
Let's get something straight right away; there is no one on this planet that wants to commute on an uncomfortable bicycle. If you do, you are either a masochist or you seriously despise your job to death and literally do not care. Speaking for the vast majority of people, the comfort of your bike is almost everything. However, it is more in-depth than you may initially believe. Sure, basic design features such as a highly-cushioned and comfortable seat and comfortable handlebars are important. But, two other factors that come into play when determining the comfort of a bike are the suspension system and the frame construction.
As you might suspect, the suspension system is primarily important to delivering a smoother ride by absorbing most of the impact from bumps and shocks. Yet, if the suspension system is not high-quality, you may not notice a difference and clearly, this is what you want to avoid. As far as the frame construction is concerned, this can aid in how easy it is to pedal and how your body fits on the bike.
Style
When you assess the safety of a bicycle, much like you would with a vehicle, the primary component you are looking for is the brakes. For the most part, you are either going to see a bike with rim brakes or disc brakes. We are not here to debate which system is superior but just know that their major difference is how the force is applied. For rim brakes, the calipers on the outer edge of the rim apply the stopping force and disc brakes move this braking away from the rim to the rotor.
Arguably, disc brakes are preferred simply by their incredible stopping power. But, they do come in two slightly different variants; either being mechanical disc brakes or hydraulic. Between the two of them, hydraulic disc brakes tend to be a bit more expensive as they utilize sealed hydraulic fluid to control the brake pads. Meanwhile, mechanical disc brakes use a wire to connect the brake caliper and brake lever. Over time, a mechanical system will require more maintenance than a hydraulic system.
Speed
When you were growing up, if your parents bought you a bike, you probably experienced what it was like to ride a single-speed bike. To be blunt, they are not for everyone and are limited in their speed options. Sometimes, you may desire multiple speeds as this can accommodate for different types of terrain. The important detail to assess is the drivetrain on a commuter bike and how many speeds it possesses; in addition to how it is designed in the first place. For instance, let's look at two common drivetrain designs. Firstly, the internal gear hub. What is nice about this design is not only are all the gears sealed and protected from the elements, but you can also shift gears while you are stationary.
Yet, you will find a majority of commuter bikes with an external drivetrain. As opposed to an internal gear hub, this design has all the gear sprockets on the outside of the bicycle. But, what if you have no interest in multiple speeds? In this instance, you could simply settle for a single-speed bike to eliminate the concern. However, this does extremely limit your riding.
Features
What good is a bicycle that does not possess high-quality wheels and tires? They are another critical design feature of bikes and without a doubt, one you should spend a considerable amount of time on. Firstly, you need to assess the wheel sizes. Most commonly, you will see wheels that have a 700c rating (which simply indicates the tire's diameter). On top of that, they will also have differing widths. In actuality, smaller wheels offer improvements in strength and are also easier to maneuver with. But, wider tires can aid in traction and can be better suited for off-road riding; which is important if your commute requires that.
Over time, though, the current tires on your bike will wear down and need to be replaced. When you need a new tire, you can then buy one based on the type of commuting you do.
Top Ten Commuter Bikes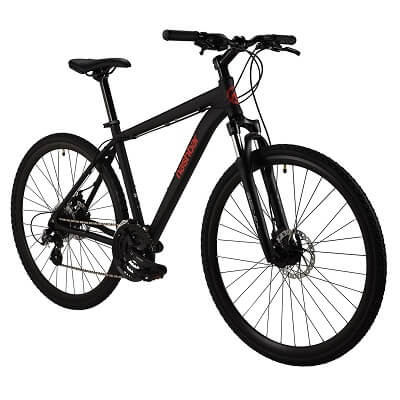 Besides the fact that the jet-black design, with a touch of red, looks absolutely marvelous, this is another hybrid bike that offers unparalleled performance. In addition, with several specific design integrations, riders will appreciate the emphasis on comfort.
Read more
Comfortability
Indeed, the comfort of this bike was clearly emphasized here. Not only is the bike tailored in a more upright position, the fork suspension system delivers a smooth ride over bumps and divots in the road.
Safety
To provide an ample amount of stopping power in any weather condition, the mechanical disc brakes work in conjunction with the 160mm rotors. The result is a much safer and secure ride.
Gear System
Nashbar did not hold back with providing you different speeds. The drivetrain features a 3 x 8 gear system which provides you with over 20 different speeds to choose from while riding.
Wheel Design
What is really nice about the Kenda tires on this bike is they have a file tread pattern. This means you will be provided with enough traction on dirt; while having low rolling-resistance on asphalt.
Sizing
All riders should be able to find a size that suits them. Nashbar provides you with five different sizing options and unless you are abnormally tall or short, one should work for you.
Overall
Besides the fact that your co-workers will be raving about the design of your Dual-Sport bike, you can also explain to them how well it performs. A location to mount a front rack would have been nice but hey, beggars can't be choosers.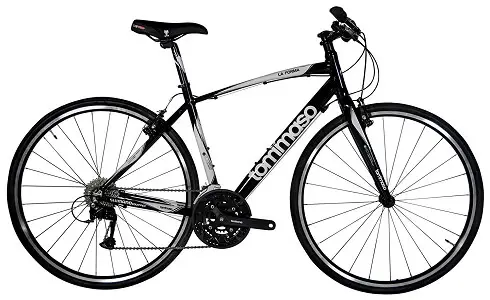 This is one of the most versatile bicycles on the planet; whether you want to commute to work or simply want to go for a joyride. It features a 3 x 9 gear system, it is a hybrid model and there are sizing options that make it suitable for heights of 4'10" to 6'3".
Read more
Comfortability
Much like several other designers in the world, Tommaso aimed to optimize the comfort of their bicycle as much as possible. Thanks to its upright geometry and flat handlebars, for the most part, this is achieved.
Safety
The brake set included on this model is very reliable and will perform admirably when called upon. No matter the situation, you can take comfort in knowing these brakes will deliver.
Gear System
Perhaps the most impressive aspect of the La Forma is its gear system. Being equipped with a 3 x 9 groupset, the number of speeds you can achieve are enormous. Plus, the rapid-fire shifters ensure fast and efficient shifts every time.
Wheel Design
Inside of the 32mm tires, which deliver a superb amount of control and balance in their own right, are 28 spoke alloy rims. These add to the design by providing necessary strength and dependability.
Sizing
While it can't be promised Amazon will have all sizes available at all times, this bike is available from XX-small all the way to extra-large. This accommodates all riders from 4'10" to 6'3".
Overall
Granted your specific bike does not arrive with issues, which has been a notable issue for various consumers, this is simply a superb design. Whether you want to commute or simply enjoy a classic ride, this is fantastic.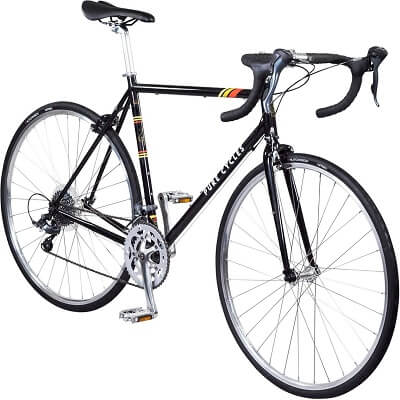 To say Pure Cycles designed their road bike looking to optimize the comfort as much as possible is an understatement. Three different design elements aid in the overall ride and the result for you is a better start to your day.
Read more
Comfortability
The steel frame is complemented by the butted seat tube perfectly for an ideal amount of comfort. Also, the handlebar is adjustable and padded with gel for additional comfort.
Safety
Integrated into this road bike are front and rear alloy caliper brakes and you should be satisfied with their performance.
Gear System
There happen to be some complaints about this bike but one thing is for sure, they do not stem from the gear system. Thanks to the 16-speed drivetrain with light-action shifting, you will probably have too many speeds to handle.
Wheel Design
Both the 17mm-deep dish alloy rims (with stainless steel spokes) are covered by Hutchinson Nitro II tires. Besides delivering an adequate amount of response, they also feature an all-weather tread design.
Sizing
Nearly any and all riders are accommodated for thanks to the plethora of sizing options available. All in all, there are six different sizes that cover people 4'11" to 6'4" in height.
Overall
If you can overlook the potential issues with the tires being finicky, according to some reviewers, you can get a lot out of this design. Considering how optimized it is from a comfortability standpoint, you can certainly understand why.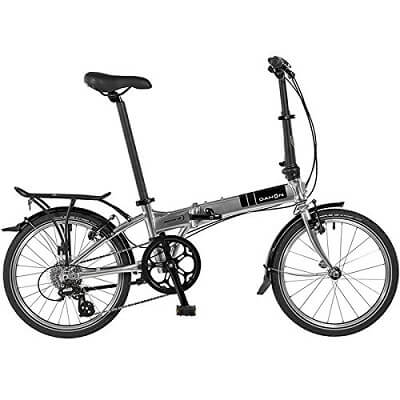 One of the premier aspects of the Mariner D8 is that it can be folded. When commuting, this allows you to fold up the bike when you arrive at your destination. Then, when you combine this with the performance of the Mariner D8, you have a combination sure to make your co-workers envious.
Read more
Comfortability
The combination of the adjustable handlebars, high seat, and 20-inch wheels make this a very enjoyable ride. Additionally, when you ride over bumps it does so very smoothly.
Safety
Bike brakes are the key to a bike's safety and with Winzip aluminum V-brakes on both the front and the rear, that mission is accomplished. Plus, the action to engage the brakes is sudden and you can stop whenever you need to.
Gear System
As the gear system has been fitted with the brake lever, it is incredibly easy to shift through them. Furthermore, there are eight different speeds to provide an ample amount of flexibility.
Wheel Design
Implemented on this bike are two 20-inch racing tires that deliver an impressive amount of versatility.
Sizing
Thanks to the adjustable saddle seat, riders from 4'9" to 6'3" can properly ride on the Mariner D8. As a side note, though, it is recommended that the maximum user weight be 230 pounds.
Overall
At first look, you may think this bike is too wonky for you. Yet, it delivers everything you need from a commuter bike and as a bonus can even fold up when you arrive at your destination.

5

. Raleigh Carlton Mixte 8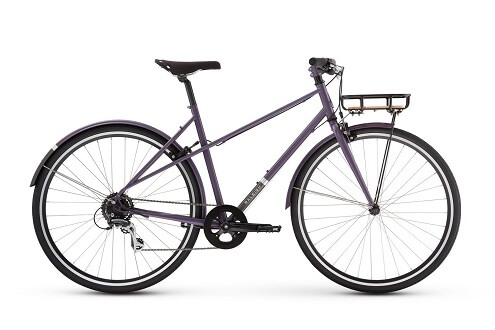 The Carlton 8 is one of the newest models on this list and offers a very smooth ride to and from work. Plus, if you happen to work the night shift, reflective decaling on the downtube allows you to be seen and provides necessary visibility.
Read more
Comfortability
Not too many users have had negative things to say about the comfort of the Carlton 8. Overall, the ride it delivers is very smooth and comfortable for long journeys.
Safety
While the power of the three-piece alloy crank system gets you up and moving, the Promax dual-pivot brakes are able to stop you at a moment's notice.
Gear System
An eight-speed drivetrain has been utilized for the Carlton 8 and while that is not an overbearing amount of speeds, it will be just enough for the average commuter. In addition, the rear derailleur and trigger shifter handle the shifting.
Wheel Design
Making up both the wheels are 32mm Kenda tires and inside of them are 700c high-profile alloy rims. This combination provides optimal strength and traction on multiple surfaces.
Sizing
There are actually two types of frames that come in different sizes. The one presented to you comes in small to large sizes which will accommodate riders from 5'3" to 6'.
Overall
When trying to assess valid reasons one should not buy this bike, they are few and far between. Perhaps the lack of adjustability could be one but with the overall comfort provided in the first place, that even could be a stretch.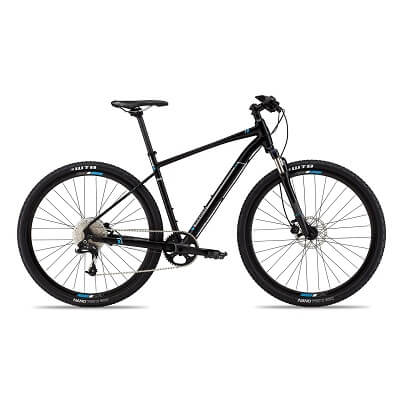 When you merely glance around the web, you will not come across too much user feedback in regards to the San Rafael DS5. From top to bottom, it is expertly designed with terrific design implementations; yet, just know it could be a slight risk.
Read more
Comfortability
While the 63mm of suspensions assists in minimizing the shock you absorb over uneven terrain and potholes, the frame is designed in a way to improve the comfort of your riding experience.
Safety
Marin decided to go with hydraulic-disc brakes for their San Rafael DS5 and it is safe to say that was a strong call on their part. Besides being an efficient braking system, they also have all-weather performance meaning you can stop with confidence every single time.
Gear System
Sometimes, too many gears can be overwhelming and all some people want is a few to select from. Being powered by a 1 x 10-speed drivetrain, Marin accomplishes this quite well.
Wheel Design
If you ever need to ride this bike off of the beaten path, so to speak, the 700 x 40c WTB tires and double-wall rims deliver the muscle and traction that you will need.
Sizing
Unfortunately, it appears that this model only comes in extra-small. Clearly, because of this, the San Rafael DS5 will be limited to a far less amount of people.
Overall
Speaking from a technical standpoint, this appears to be an absolutely fabulous piece of equipment. Yet, there has not been too much feedback from users and consumers and as such, this could be a risky purchase.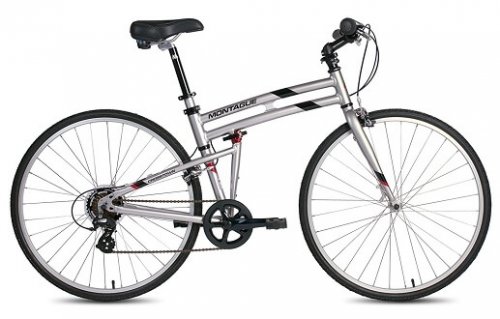 Much like the number one commuter bike on this list, the Crosstown can be folded down into a compact design. Additionally, credit needs to be given to Montague as they perfectly optimized their bike to be comfortable for hours of riding.
Read more
Comfortability
Without the need for a tool, you can adjust the Octagon handlebar within seconds on your ride. Furthermore, both the sizing and geometry have been expertly implemented for a comfortable ride.
Safety
While one user claimed they had to adjust the brakes when the bike arrived, the dual-pivot caliper and quick release side pull ensure a safe and secure experience.
Gear System
For hills, there is actually an extra-low MegaRange gear. At its core, though, this sports a drivetrain with seven different speeds and that should suffice for most riders.
Wheel Design
Do not worry; there is no limit to the terrain you can traverse when on this bike. If the path to your destination is a little rocky, the 35mm semi-knobby tires will easily get you there.
Sizing
From all the way from small to large, Montague has you covered. The smallest size can adapt to heights as low as 4'8" and the largest heights of 6'4".
Overall
Folding bikes are logically ideal for commuting; granted you have a special location you can leave your bicycle. But, past this feature, you will fall in-love with the Crosstown because of its comfort and safety.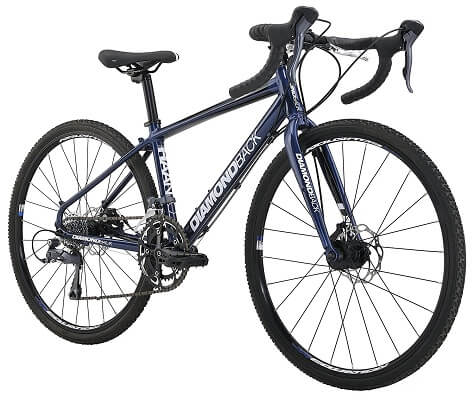 What is interesting about this next commuter bike is it is designed for kids. If your child is looking for a better way to get to and from school, the Haanjo from Diamondback could be an ideal choice. However, get them a lock with it to protect the investment.
Read more
Comfortability
The junior equip saddle gives your child much-needed support and the robust head tube does an admirable job of absorbing most of the shock and toughness from the road.
Safety
Rest easy knowing your kid is on a bike with all-weather brakes. Plus, in conjunction with the 140mm rotors, they will be able to stop at a moment's notice when they need to.
Gear System
While you may desire a plethora of different speed options, knowing your child is merely reduced to eight might be what you are looking for. At the same time, this provides them with enough speeds for enough versatility.
Wheel Design
Despite the fact that the alloy disc-brake wheels are lightweight, they are also durable enough to handle country roads and rough terrain
Sizing
Even though it has been mentioned multiple times that this is a kid's bike, do not confuse this for an adult bike. If you are short enough, it could arguably work for you but it is specifically designed for youngsters.
Overall
Do you like your kid enough to spend this much money on them? All joking aside, this is not only a fantastic way for your child to get to school and back but it has enough versatility to be used as an everyday bicycle for them.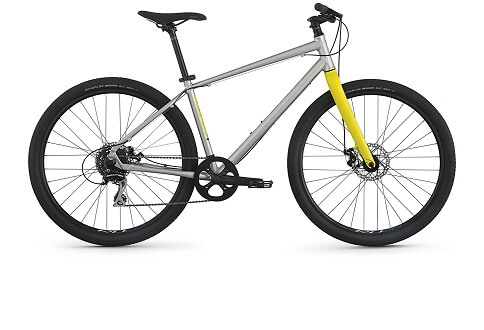 Commuting is what the Redux 1 does best. You may not be able to achieve surreal amounts of speed riding on this bike but due to the superb mechanical disc brakes and all-terrain tires, the ride will be safe and comfortable.
Read more
Comfortability
Thanks to the Big Ben tires and the suspension system of the Redux 1, you will not feel a majority of bumps and divots on rough roads.
Safety
It is irrelevant whether you plan on biking on rainy days or when there is not a cloud in the sky, the mechanical disc brakes of the Redux 1 can handle it. They provide ideal stopping power in any weather condition.
Gear System
Up front, there is a single cog and up to eight gears to choose from. While some users have criticized this drivetrain claiming it should be upgraded, it is far from insufficient.
Wheel Design
As was mentioned in the comfort section, the Big-Ben all-terrain tires can really handle it all. They are built to withstand encounters with potholes and any roadblock you make contact with.
Sizing
This is probably not the best bike for short riders as the smallest size is recommended for people no shorter than 5'3". Of course, if you are only off by an inch or two you should be okay.
Overall
Despite the fact that some riders will feel the drivetrain is a bit limited, the Redux 1 is going to a tremendous addition to most everyone's daily routine. This is especially true when you take the bike's superb tires into consideration.

10

. State Bicycle Elliston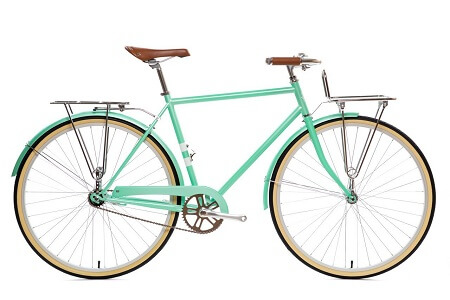 While this may look like a bicycle you envision your grandma riding back in her day, it is actually quite a specimen. Certain design elements could have been improved but in the end, the Elliston Deluxe Bike is perfect for all types of riders.
Read more
Comfortability
State Bicycle has revamped their previous designs to create The Elliston Deluxe which features superior tires for a cushier ride. However, one user reported that both the handlebars and seat were not padded enough.
Safety
Each of their Elliston bikes has been equipped with a coaster brake that not only provides a clean aesthetic but also delivers fantastic stopping power.
Gear System
While you can upgrade to a three-speed bicycle, this is actually a single speed bike. As such, this is only going to tailor to a specific demographic of riders.
Wheel Design
Again, with the integration of the 35c tires, the ride and experience are improved and much more comfortable in the long run.
Sizing
There are three different sizes that you can select from. From small to large, riders between 4'9" to 6'1" in height can find an adequate size for them.
Overall
Is a single-speed bike worth the money? It simply depends on your preferences as it certainly can be. Sure, a single-speed bike is limited in some respects but as can be seen with this design, it certainly does not insinuate it is bad.

Subscribe to our Newsletter