Best Hybrid Bicycles
In a Hurry? Editors choice: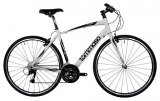 Test Winner: Tommaso La Forma

If you are an avid cyclist then you most likely enjoy a variety of different terrains to ride on. Maybe you love the thrill of road bicycling, or maybe the endurance needed for mountain biking, or maybe you enjoy
putting in the miles touring
, no matter what you enjoy doing most of the time you need a different bicycle for each terrain as each is built to help you perform your best. But that can get quite expensive if you need a different bicycle for each terrain, right? That is where a hybrid bicycle comes into play - it is a single bicycle that is built to handle all terrains, no matter where you feel like biking that day. Check out our expert guide on the best hybrid bikes.
Standout Picks
Criteria Used for Evaluation
Ride
When it comes to cycling, the size of the wheel rims and the overall thickness of the tires can play an important part in how comfortable the bike is to use, and the efficiency and speed of the ride overall. Simply put, wider and larger tires and rims often mean a more cushioned and comfortable ride if perhaps a slightly slower one. A thinner tire, but one that has a larger diameter for the rim will often help the rider to cover more distance at a faster rate. In comparison, a thicker tire will often provide more traction overall and allow for a more nuanced ride.
For the most part, hybrid bike tires range in the same sizes seen in most street bikes when it comes to wheel diameter but tend to be slightly thicker or wider when it comes to the size of the rim itself. The idea is to marry the best of both worlds – street biking and mountain biking to make a bicycle that is both comfortable and versatile.
Motion Control
Most hybrid bikes have the ability to shift between gears. The number of gears can vary widely, usually somewhere between one and twenty-seven gears, although there have been some with more than even that. The best hybrid bikes, not surprisingly are designed with a few basic ideas in mind when it comes to gear shifting. First, it needs to be easy to do. Most people who make use of a hybrid travel through a wide range of riding environments, so having a gear that shifts easily, often with a single hand is a great way to reduce the amount of stress overall while riding. Secondly, the actual shifting of the gears should be smooth overall. The last thing you need is to have a jarring sensation in your knees or hips because the shifting mechanism of your hybrid bike is malfunctioning.
Thankfully, many of the gear mechanisms presented here in these hybrid bikes have been designed for both ease of use and smooth operation. After all, these hybrid bikes are meant to be a good choice for many different environments and riding styles.
Shock Absorption
For the most part, the suspension systems on hybrid bikes are divided into two main categories. These bikes either have no suspension or front suspension. Depending on your riding style, there are advantages to both of them. As expected, a bicycle with front suspension will often provide a bit more cushioning and protection against the jarring motion that can sometimes happen during a bike ride. However, they can make the bike a bit heavier overall. And while those hybrid bikes created without suspension are lighter and can often travel somewhat faster, they aren't as always as comfortable as they could be.
Use
And finally, it's important to take a look at the overall riding performance of the hybrid bike. This can be a difficult characteristic to quantify, since how well a bicycle performs depends on a great number of factors including construction, the condition of the bike, the rider, and of course the riding environment. However, by taking into account all the previously listed factors, as well as the overall hybrid bike construction, we can safely determine what the overall riding conditions could potentially be like for the average consumer.
Top Ten Hybrid Bikes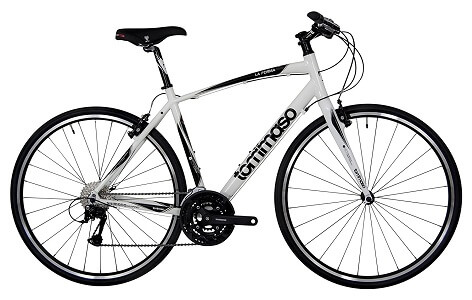 If you're looking for a lightweight bike that is easy to handle in a wide range of riding situations, and fairly comfortable to boot, you'll want to take a closer look at the Tommaso La Forma Hybrid Bike.
Read more
Wheel Size
This hybrid bike features the standard size wheel rim of 700 centimeters, and the included tires are approximately 32 mm in width.
Gears and Shifting
The gear shifting mechanism on this bike is one of the smoothest and easiest to operate that we've seen hands down. There are a total of twenty-seven different gears, and the Shimano Acera Rapid Fire shifting system allows for quick and easy shifting. The drivetrain of this hybrid bike also features an 11/32T cassette and a 48/36/26T crankset for a wide array of gears to use.
Suspension
The suspension on this bike is minimal but effective. The HCT Carbon fork provides great dampening of road vibrations, and the cushioned seat provides additional support when needed.
Type of Brakes
The brakes featured on this hybrid bike are the Tektro's RX1 V-Brake. These V-Brakes are relatively tough and rigid due to their forged aluminum construction. They are certainly reliable and will provide a great deal of stopping power when needed.
Riding Performance
Overall this hybrid bike performs well in normal riding and at normal speeds provided that the bike has been adjusted properly. It is strongly suggested by the manufacturer that you get a professional to assemble and adjust the bike as needed. There have been reports, however, of slight instability at speeds higher than fifteen miles per hour.
Summary
If you need a strong yet lightweight commuter bike that won't break the bank, the La Forma Hybrid bike from Tommaso is certainly a good choice. We were slightly disappointed at the need for professional assembly and the slight instability at higher speeds. However, all things considered, this is a viable choice at a great price.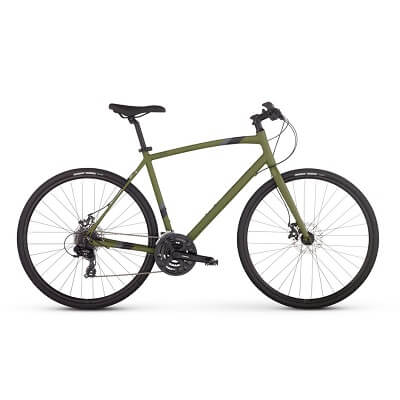 Sporting an updated braking and shifting system from its predecessor, the Raleigh Cadent 2 offers a wide range of speed options and great stopping power, all in a lightweight and affordable package.
Read more
Wheel Size:
The Cadent 2 offers four-wheel sizes: 15", 17', 19", and 21". The 35c tires are wide enough to provide the traction you need for a comfortable ride.
Gears and Shifting:
Raleigh used a Shimano Tourney 24-Speed (8x3) drivetrain for the Cadent 2, allowing it to tackle any terrain. This along with the 35c tires also make it ideal for any sort of weather conditions, even rainy days.
Suspension: Front fork suspension allows for some shock absorption, though no rear or seat suspension means this bike is better used for smooth ground. The 35c tires are wide which does help a little bit as well.
Type of Brakes:
The Tektro mechanical disk braking system is easy to maintain, great for beginners and has great stopping power in all weather conditions. Disk brakes also tend to provide more control than linear-pull brakes, allowing you to stop on a dime if necessary.
Riding Performance:
You'll get a nice smooth ride in most conditions, and the aluminum frame makes this bike lightweight yet sturdy. The wheels are quick and efficient, while the tires are designed to provide traction in any weather conditions.
Summary:
The Raleigh Cadent 2 is a lightweight bike with strong breaks and breadth of gear options, making this great for those who prefer pavement or smoother trails.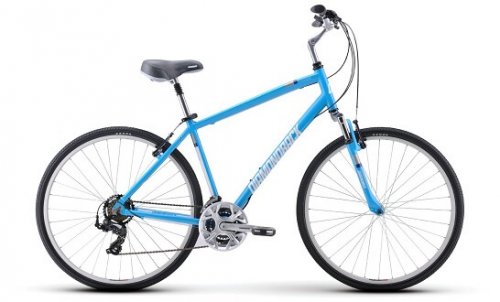 If you're more of a Sunday hybrid bike rider, where casual fun is the name of the game, one of the best bikes out there in our opinion is the Edgewood Hybrid Bike from Diamondback Bicycles.
Read more
Wheel Size
The wheel rims are a standard 700 cm in size and feature a tire that is somewhat smaller in width and more geared toward road cycling or use on gentle paved trails.
Gears and Shifting
This hybrid bike features Shimano EF-50 8 speed EZ-Fire shifting mechanisms. While most people found the shifting it to be smooth overall, some found that shifting became clunky and cumbersome over time, especially on inclines.
Suspension
This bike features a 63 mm suspension fork and a minimal amount of suspension in the seat for added comfort. This hybrid bike is clearly designed for riding on smoother surfaces or gentle trails. We wouldn't recommend that it be used on off-road trails without additional adjustment.
Type of Brakes
This particular hybrid bike features Tektro Linear brakes. These brakes are well known in cycling circles as being very responsive and durable.
Riding Performance
This hybrid bike offers a fairly smooth and comfortable ride overall, provided that the terrain isn't too harsh or difficult. The seat and handlebars may need some fine tune adjustment, but overall most people can ride it fairly easily just out of the box.
Summary
Overall this hybrid bike is clearly meant for the easy trails or the Sunday ride about town. The tires, frame and shifting system aren't really suited for more strenuous activities, but for the person who only rides a few times a week or enjoys the occasional trail ride, this is a great choice.

4

. SixThreeZero EVRYjourney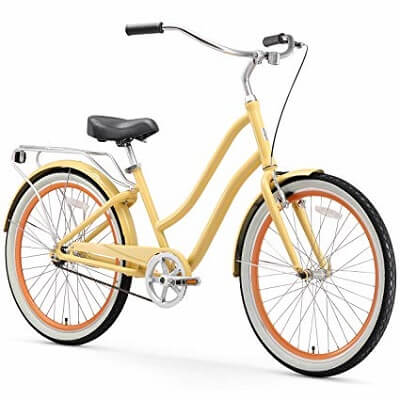 SixThreeZero touts the EVRYjourney as a "bike for all occasions," and we'd have to agree with them on that. The women's version of this bike has a low frame and step-through design to accommodate for various heights, and the tires, pedal system, and Shimano gear hub ensure a smooth ride even for long distance.
Read more
Wheel Size:
The women's version of this bike comes in 24" and 26" wheel sizes. The 2" semi-slick tires are designed to ride curves with precision and safety, so you won't have to worry about sliding around sharp turns, or transitioning between pavement and off-road trail.
Gears and Shifting: The Shimano 7-speed hub makes shifting easy and smooth, allowing this bike to be used for longer rides without any jarring.
Suspension:
The one area where this bike is lacking is the suspension system. Without a robust suspension system, the bike doesn't absorb shock very well, so you're likely to feel all of those little bumps and vibrations. The tires somewhat alleviate this, but not to the extent some users would like.
Type of Brakes:
The standard linear-pull brakes are nice and simple, though unlike disc brakes you may not be able to stop in a hurry, so take care when going downhill or at high speeds.
Riding Performance:
The shifting system and semi-slick tires provide exceptional control over your ride, whether that's a leisurely ride along the beach or rushing to get to work on time. The bike is designed with a low center of gravity, allowing the user to ride in an upright position and prevent excess straining on your back and neck.
Summary: The SixThreeZero ERVYjourney is a comfortable bike with a stylish design and smooth ride, that's made to accommodate those who may feel they are too short or too tall for some other bikes.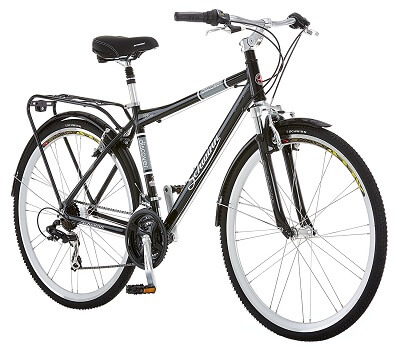 Not surprisingly, the Schwinn Brand is considered an American icon in the world of cycling, and with good reason. For over a century, Schwinn bicycles have been known for both quality and innovation. The Discover Hybrid bike is their latest attempt to follow that tradition into the hybrid bike world.
Read more
Wheel Size
The wheels feature the standard hybrid bike size of 700 ccs, and feature tires that are slightly thinner and best suited for an urban cycling environment. The wheel rims also feature a multiple spoke pattern, which unfortunately did have spokes that broke easily for a number of customers, sometimes puncturing the tires. However, Schwinn was routinely great with customer service, and replacements were relatively easy to obtain.
Gears and Shifting
This hybrid bike features a 21 speed SRAM grip shifter that when used offers a relatively smooth shifting between gears. The one consistent complaint we saw was that the placement of the gear shifting mechanism on the handlebars caused some discomfort because of the need to rotate the hand forward to an unnatural angle for use.
Suspension
The seat suspension and aluminum forks on the front and rear tires produced great shock distribution through the bike and provided for a fairly comfortable ride overall. While this hybrid bike is not designed for rougher trails, on paved roads it offers great overall suspension.
Type of Brakes
This hybrid bike features linear pull brakes that are fairly durable and offer quick responsiveness once they are properly adjusted. However, evidence indicates that they will most likely need to be adjusted and inspected for wear and tear on a regular basis.
Riding Performance
Most found the overall performance of this bike more than adequate for daily commutes through the city, or for use on gentle paved trails. However, for rougher terrain, it really failed to live up to the quality standards usually seen in a Schwinn bicycle.
Summary
If you're looking for a solid and dependable bike to use for your daily commute through the busy city streets, the Schwinn Discover Hybrid Bike is certainly a viable option. While we wouldn't suggest using it on anything but paved roads or smooth trails, for most people it offers great comfort and dependability.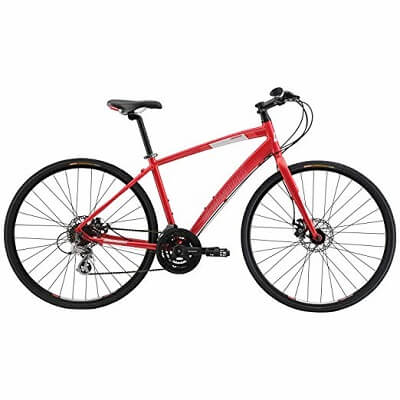 A significant improvement over the original model, the Diamondback Clarity 2 features a Shimano 24-speed gearing system, mechanical disc brakes, and three wheel sizes.
Read more
Wheel Size:
This bike offers three wheel sizes: 16", 18", and 20". The tires are double-walled for improved durability against punctures and damage. If mountain biking is more your style, the wheels will easily accommodate wider tires for this purpose.
Gears and Shifting:
Sporting a 24-speed Shimano drivetrain, the Clarity 2 is able to shift gears intuitively without fuss or jarring.
Suspension:
This bike does lack a front suspension, so while riding on flat terrain or pavement will be smooth, this bike may not perform as well on rocky paths or in forested areas.
Type of Brakes:
The Clarity 2 uses a mechanical disk system for the brakes, rather than the linear-pull style seen in most Diamondback bikes. This allows for more precise control, which is paramount when coasting downhill and slowing down.
Riding Performance:
This bike performs very well on pavement and smooth trails, though the lack of a front suspension may not make this ideal for more forested areas.
Summary:
If you want a bike that will perform well on smooth terrain and can stop on a dime, the Diamondback Clarity 2 is definitely one to consider. While the suspension on this bike is underwhelming, it's still a great choice as a casual or commuter bike.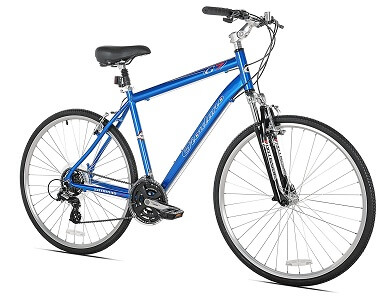 The Giordano G7 Hybrid bike is a great choice for a general all around the town type of bicycle, especially if you're a larger person who needs a bike that stands a bit taller than the rest. Fairly comfortable to ride and very easy to use, this is one hybrid bike that is a joy to use.
Read more
Wheel Size
The wheel size on this hybrid bike matches the standard 700cc and measures approximately 29 inches in diameter. The tires themselves are of medium thickness overall, slightly more substantial than a road tire, but not reaching the level of a mountain bike tire. Overall they provide great traction and support when navigating through city streets or open trails.
Gears and Shifting
This hybrid bike features a twenty-one gear system that features a Shimano shift mechanism and derailleurs that offer a very smooth transition from one sprocket to the next.
Suspension
This hybrid bike offers a moderate amount of suspension, both in the seat and front suspension for added comfort and control overall.
Type of Brakes
The brakes on this bike are of a linear pull design. They exhibit fantastic stopping power when needed and are fairly easy to adjust when necessary.
Riding Performance
This hybrid bike performs remarkably well in both street and easy trail conditions. The Shimano shifting system allows for a maximum amount of flexibility and once adjusted properly, the frame and handlebars offer a great deal of stability and comfort. The only real complaint we had was that assembly and adjustments are probably best left to a professional due to their somewhat complicated nature.
Summary
If you don't mind having your bike assembled by a professional bike shop, the Giordano G7 Hybrid Bike is a fantastic choice overall. Lightweight and responsive, it easily handles both the urban environment and open trails.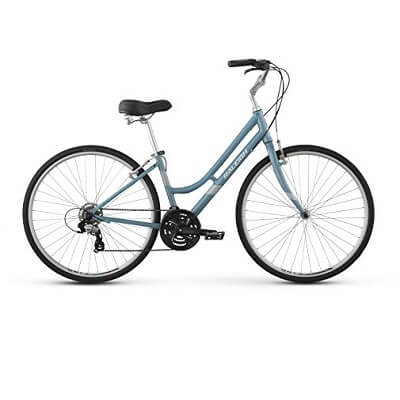 The Raleigh Detour 2 is made to be the perfect mix of form and function; the step-through design and low bar allow for an upright riding position, and the lightweight aluminum frame and narrower tires make this bike both easy to control and comfortable for long rides.
Read more
Wheel Size:
The wheels come in three sizing options: 15", 17", and 19". The 35c Kenda tires are made to provide a smooth ride on both pavement and off-road trails.
Gears and Shifting:
Using a Shimano EZ Fire 21-speed shifting system, the Raleigh Detour 2 offers a breadth of speed options while being able to shift between them smoothly and effortlessly.
Suspension:
The one area where this bike (along with most other Raleigh hybrid models) is lacking a bit is the suspension. The front fork suspension is very good, but without any rear or stem suspension, forested areas or rocky trails made lend to a bumpy ride.
Type of Brakes:
The ProMax alloy V-brakes are made to allow ideal control over momentum and are durable thanks to their aluminum construction. They offer great stopping power at a moment's notice.
Riding Performance:
This bike performs best on pavement and off-road paths, with the front suspension and lightweight construction providing a comfortable ride while being able to move and stop quickly.
Summary:
While this isn't a significant update from its predecessor, the Raleigh Detour 2 is a solidly built bike that will do you well with smooth paths and long rides. The aluminum frame and alloy braking system are made to be durable and require little maintenance.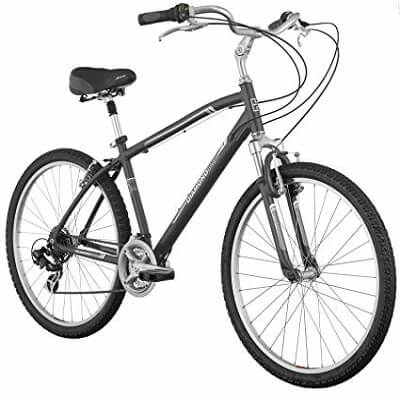 With an affordable price point and four wheel sizes, the Diamondback Wildwood is an accessible bike for most everyone and performs well on both pavement and off-road trails.
Read more
Wheel Size:
This bike comes in four wheel sizes: 15", 17", 19", and 21". Diamondback used Kenda Comfort tires for the Wildwood bikes, which offer ideal traction for both pavement and off-road trails.
Gears and Shifting:
Using a Shimano 21-speed drivetrain and SRAM Twist MRX shifters, the gear system is made to be high-quality, responsive, and fast. This allows for optimal control over shifting without any jarring.
Suspension:
This is a comfort bike, which are made to prioritize good suspension systems for a smooth ride. The Diamondback Wildwood uses a 44mm fork suspension in both the front and rear to absorb shock, so you'll have a smooth and comfortable ride regardless of bumps or vibrations. The seatpost also offers a suspension system for comfort.
Type of Brakes:
The Wildwood features linear-pull breaks, more commonly known as V-Brakes. Based on user reports V-Brakes allow them more control over the bike, especially when coasting or slowing down.
Riding Performance:
This bike does best on smooth terrains such as bike paths or pavement, and the suspension system provides a comfortable ride.
Summary:
If you don't mind something that's a little heavier than most comfort bikes, Diamondback's Wildwood is a comfortable option that has great suspension and is easy to assemble in about half an hour.

10

. Fortified City Commuter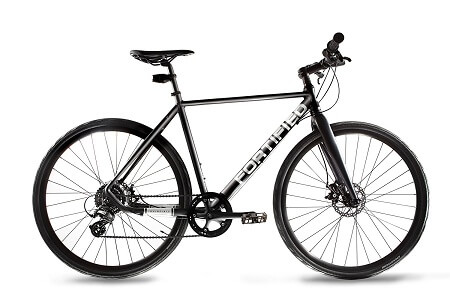 If your commute takes you through some tough weather and tougher riding conditions, you'll definitely want to consider taking a second look at the Fortified City Commuter Hybrid Bike. Designed to be tough and agile, this bike is the answer for those who love to bike year round.
Read more
Wheel Size
The wheels are a standard 700 cm in diameter and are approximately 32 mm in width. They are made from a puncture resistant material and feature a unique set of mounting bolts and screws, which make theft somewhat unlikely.
Gears and Shifting
There are only eight gears on this bike, which is somewhat less than what is commonly seen on these types of bikes, but the Shimano Altus Trigger Thumb shift chain makes for a fairly smooth operation overall.
Suspension
This hybrid bike offers a good deal of suspension and support for the average rider about the city including front suspension, and a fairly substantial seat shock absorber.
Type of Brakes
This hybrid bike features Tektro MD-280 Mechanical Disc brakes that are fairly responsive and can easily stop the bike on a moment's notice.
Riding Performance
When it comes to navigating city streets that are full of potholes, busy cars, and inattentive pedestrians, this particular hybrid bike does very well. However, there were two main complaints that we saw that may make an avid cyclist think twice before getting it. One, it has quite a few proprietary parts, which makes finding replacements when needed a bit of a hassle. Second, the bike itself is fairly heavy, making it somewhat difficult to carry. If you regularly attach your bike to city mass transportation or need to carry your bike up or down stairs, you may want to consider other options.
Summary
This hybrid bike from Fortified is tough, nimble, and very responsive to the needs of the commuter cyclist. While we would have liked to see a lighter bike overall and less specialized equipment, if you're braving the city streets this is certainly a viable choice

Subscribe to our Newsletter