Best Enduro Bikes
In a
Hurry? Editors choice: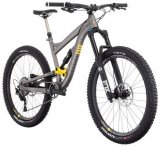 Test Winner: Diamondback Bicycles Mission 2

If you enjoy fast paces, high drops, and racing, then enduro bikes may be your next favorite thing. Enduro biking is a relatively new sport that many are peddling to be a part of; it is a form of
mountain bicycle racing
where the biker is timed on their downhill descents, and not timed on uphill climbs.
Now the
essential accessory of this sport
is the bikes, and this is why riders expect enduro bikes that offer maximum speed on their descent without sacrificing control over their bike. If you have decided that regular biking is just not cutting it anymore and want to venture into the extreme sport of enduro biking, but do not know where to start in finding great enduro bikes, check out our top ten picks below and hit the road!
Standout Picks
Criteria Used for Evaluation
Traction
Tires are the things that are making contact with the mountain terrain, so it's no surprise that this was an important aspect when considering the best enduro bikes. 29ers are generally considered to be the best tires for mountain bikes because they are thick and are able to glide over rocky and uneven terrain effortlessly.
However, when it comes to enduro biking, you want your bike to not only be rugged and able to scale treacherous obstacles, but you also want it to be agile enough to to make quick turns when needed. In this instance, the 27.5-inch tires are going to be your best bet. Luckily, most enduro bikes come with standard 27.5-inch tires. However, if you feel more comfortable in 29ers, they can all be easily switched out to meet your specific needs.
Durability
When you are racing down hills at high speeds, you want to ensure that the frame is constructed from sturdy and high-quality materials. Ideally, carbon fiber is considered to be both the most durable materials available on the market.
If the enduro bike is constructed from carbon fiber, it often makes it much more expensive than bikes made out of anything else, but it also makes it more lightweight and sturdy than others.
If you aren't willing to pay top dollar for your bike, you could save some money by opting for models made from aluminum or other alloy medals. Keep in mind that if you choose to take this route, your bike will be significantly more substantial than those constructed with a carbon fiber frame.
Brand
Bikers tend to find a brand of bike that they like and stay very loyal to that brand. Brand recognition is essential because many of the more trusted names have been in the bike game for over 100 years. Brands such as Diamondback, Raleigh, and Eagle are some of the most trusted brands currently on the market.
Of course, these brands tend to be more expensive than lesser known brands, but you know that when you purchase a bike from these brands that you are not only receiving the best bike that is made with the best components, but you can also know that they typically come with a guarantee that they will stand behind their product.
Features
Many of the enduro bikes are on our list are incredibly lightweight and have a short rear section and steep steering angle make for great agility. The most notable additional feature about some enduro bikes is their ability to be folded to keep in storage or for transport.
This feature makes traveling to distant locations a simple and easy feat when your bike can fit in the trunk of your car or on the train. One might assume that the gimmick of foldability would mean that the bike isn't a serious enduro bike- and they would be wrong. These bikes are made from some of the best components on the market.
Subscribe to our Newsletter