Best Cycling Accessories
In a Hurry? Editors choice: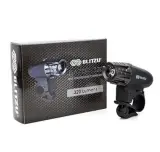 Test Winner: Blitzu Gator USB Rechargeable Bike Light

The demands of the
cyclisy
are many- especially if you are the type of cyclist that isn't held back by weather conditions or traffic. Bike accessories have come a long way since the days of baskets and bells, with some really neat Bluetooth enabled items, such as odometers and headlights. With the proper
accessories
, you can not only make your rides more convenient and exciting, but you can also make rides on warm summer nights safer. With everything that is available on the market today, there shouldn't be anything holding you back from hitting the
trails
.
Below, we have compiled a list of some of the best cycling accessories that are currently on the market. Some are things that you know that you could need, and others are things you might not have known even existed.
Standout Picks
Criteria Used for Evaluation
Use
The bike has come a long way from just simple bells and baskets. Many accessories utilize features from your phone and have Bluetooth capabilities to make your rides more enjoyable and safe. We like to select accessories that solved a specific problem that cyclists often run into, such as keeping track of how many miles they have traveled, keeping an added eye on the road, or keeping wallets and keys in a safe and secure place.
Overall when looking at any cycling accessory to add to your gear you want to make sure it will bring some sort of benefit to your ride. Most of the time after getting a bike you will start to realize some accessories that would best fit your ride and where you live so get those accessories that will best fit you and your bike.
Value
It was important to select accessories that don't break the bank. All of the accessories that make this list all fall under a certain price point making them affordable enough to buy more than one if you are unable to decide which one you would want. It's also important to keep prices down because that just means more money that you will have to spend on a new bike.
Overall when looking at accessories for your bike they can range in price depending on the brand and what you are after. So if you want to stick to a budget, figure out the accessory that will make your ride easier and narrow down different brands of that accessory until you find one that works and is in your price range.
Safety Hazards
Whenever you are out the trails or on the road, keeping safe is your number one priority. Accessories that enhance your spacial awareness will not only make you are a more confident rider, it will also make you safer. Phone mounts keep your hands free and ensure that you never become lost, and repair kits will keep you from breaking down far from your car and having to push your bike all the way back home.
Overall when looking for new accessories for your bike you want to make sure they do not casue a safety hazard and will make your ride more convient and easy. Check out the customer reviews of products that intrest you to see if they worked for other riders and casued a safe riding environment.
Features
What was important about these accessories is that they did something just a little bit differently than many of the other products on the market. For instance, the ROTTO Bike Frame Bag has a clear plastic window on the front so that you can keep your phone out and visible. Many of the other bike bags on the market did not come with this feature. It was important to select items that came with features cyclists may have not even known existed.
Top Ten Cycling Accessories
1

. Blitzu Gator USB Rechargeable Bike Light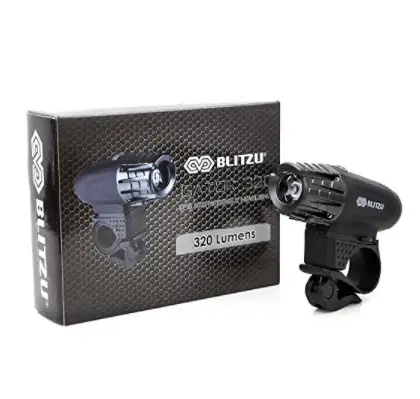 While navigating you way down busy streets on warm summer nights, it's incredibly important that you stay safe. Light, reflective clothing is always a good idea, but the BLitzu Gator Light Set will ensure that you will be noticed by motorists far in the distance. Plus, the USB rechargeable feature makes it simple to ensure that your lights are always charged without the need for batteries.
Read more
Design
This headlight looks like it was lifted right off of a motorcycle, and shrunk down to fit onto a bicycle. It hooks on to the front of your bike to provide a front facing headlight on night rides. The side of the headlight fits about in the palm of your hand, and comes in only one color: black.
Ease to Install
What makes this headlight so great is how easy it is to install. It comes with a simple plastic loop with a screw (no tools are necessary, you can screw this in with your hands). All you need to do it hook the loop over the front bar to your bike, and then tighten it into place with the screw. The actual headlight slides into place on the mount, making it a slide on and off when you are done to bring the headlight inside to charge before your next ride.
Price
The price of the Blitzu Bike Light is offered at an incredibly affordable price, and runs about the same amount that you would spend to take a friend out for lunch. Additionally, since this headlight doesn't have to be fed batteries constantly, it makes for a great investment in your bike and in your safety.
Function
Sometimes you can't break away from your desk until after the sun goes down, but you don't want the sun from keeping you off of your bike. With this great headlight, you can hit the roads at night and feel confident that you are being noticed by all of the other cars on the road. Once you have arrived back home, simply slip the light off of your bike, and pop it on a simple USB charger for your next ride. This light only takes 2 hours on the charger to reach a full charge. Some users find this light so great that they also use it for a simple flashlight to carry in their pocket or purse.
Summary
Staying safe out there is the most important thing, and this bike light will keep drivers and other cyclists ever aware of your location. It's a snap to install, recharges quickly, and comes at an incredibly price point. It also looks incredibly sharp and will transform the look of your bike into a man-powered motorcycle.

2

. Kitbest Multifunction Cycling Kit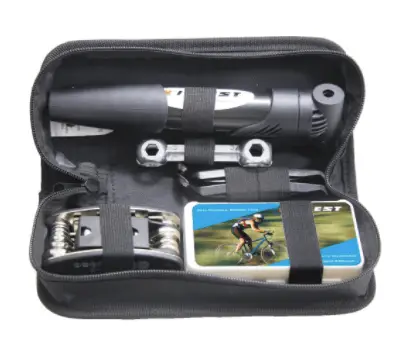 If you are a cyclist that has even been on a long ride miles and miles from your home or car, you know that the further away you travel-n the higher the probability that something will go wrong. Flat tires or loose chains never happen next to toolboxes. To help you maintain peace of mind while on those long rides, the KitBest Multifunction Cycling Kit will ensure that you will never have to defeatedly walk your bike back to your car ever again.
Read more
Design
The measurements of this bag measure 2.6 inches deep, 3.9 inches wide, and 8.7 inches long. It only comes in one color- black. For this kit, utility and function trump design. This kit is meant to be compact enough to kept out of the way while riding, but easily accessed when needed.
Ease to Install
This kit is simple enough to install with one hand, and will fit onto almost any size of bike frame. It has two velcro hooks that wrap around the frame, so it can be placed wherever the user feels it will be out of the way the most.
Price
Something that can prevent you from becoming stranded is priceless- but in this instance, this kit is pretty inexpensive. It costs slightly less than the Blitzu Bike Light- which is an incredibly deal when you consider all of the accessories that come with this bag.
Function
The most impressive accessory that comes in this kit is the hand pump bike tire. There is nothing worse than being out on the trail and getting a flat tire. What if you ran over a nail on the trail? This kit not only comes with a pump, but it also comes with a tire puncture repair kit. In addition to the tools that will help you keep your tires functioning to get you back home, it also comes with a tool that resembles a swiss army knife that was specially designed with the needs of bikers in mind. This bag also comes with a 3 year money back guarantee.
Summary
If you have even been out on a trail far from your car and have suffered a flat tire, you know that having the proper tools could take a horrible situation and turn it into a mildly inconvenient situation. Given the incredibly affordable price point, there is no reason for you not to have a kit like this affixed to your bike.

3

. Mirrycle Mountain Bicycle Mirror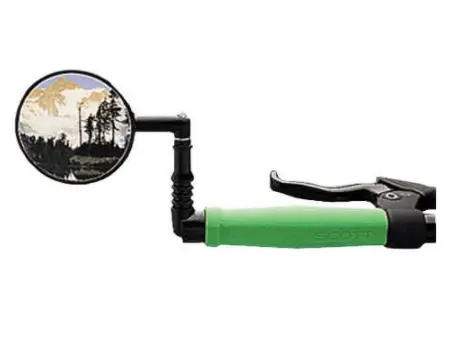 Any bike accessory that makes you more safe is always a good idea. When riding or driving any type of vehicle, having a good spacial awareness will make you and your other travelers safer on the roads or trails. The Mirrycle Bicycle Mirror is easy to install and will provide added safety to all of your rides.
Read more
Design
The design of this mirror is simple and to the point. It affixes to the end of the handlebar. It is a round, convex mirror that allows the driver to gain an excellent picture of the ground they are trailing behind them. It is able to be adjusted to accommodate what feels right for you.
Ease to Install
Unfortunately, you will have to use tools to install this mirror, but luckily the wrench that you will need is provided with the purchase of this item. This fits on the inside of handlebars that measure 13.75 to 22.5 mm in diameter. If you happen to have rubber grips over your handlebars, you will have to cut off the end of the grip to slip this mirror into the base. Once it is in place, all you have to do is tighten it, adjust it to your liking, and then hit the road.
Price
Offered at an incredibly affordable price, there is no reason not to add this feature to your bike rides. It costs about the same price as it would cost you to buy a cup of coffee for you and a friend.
Function
Safety is the name of the game when installing a mirror. This mirror is great when traveling on busy streets in the city to keep a constant eye on your surroundings, or if you are traveling on a trail and need to get over because there is someone coming up behind you. Where these mirrors really come in handy is when you are riding in cold weather and are bundled up tight from head to toe and you don't really have the same range of motion to check your surroundings like you normally would without the extra gear.
Summary
For cyclists that are concerned with safety on busy city streets, on on the trails during colder weather, the installation of a bike mirror can make all the difference when you have a keen understanding of your surrounding. Considering how reasonably priced this mirror is, you might have some money left over to indulge in some of the other accessories found on this list.

4

. Bodyguard Bike Wheel Lights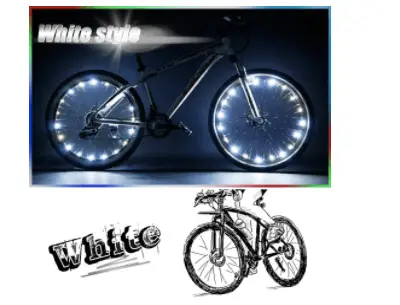 These Bodyguard Bike Wheel Lights seamlessly marry safely and style. They are powered by 2 AA batteries, and the colorful LED lights turn the wheels of your bike into colorful light shows. If you love taking your bike out on the road at night, you will most certainly never be overlooked by other drivers on the road. While sporting these lights, be prepared to be stopped by people who want to know where you got your unique bike lights.
Read more
Design
The sleek and modern LED lights that affix to the wheels of your bike will make passerbyers wonder if you are a cyclist that is visiting from the future. They are available in many different colors such as blue, red, green, white, and multi-color. Unlike some wheel likes on the market that just affix to the spokes, these wrap all around the inside of the rim.
Ease to Install
Installation of these light is pretty easy. First, users should mount the battery pack next to the bicycle steel wire, and then run the lights around the inside of the rim. They require the use of two double A batteries.
Price
Due to the fact that one package only contains enough lighting to illuminate one tires, the cost seems to run up a bit when buying two. The price of two sets of lights costs about the same amount as taking a friend out to lunch. It runs about the same amount as many of the other accessories on this list, it's just a tad bit more expensive.
Function
The basic use for these wheel lights to make it so that you are noticed, which is a good thing when you are navigating your way through town at night time. They are offered in four different flashing speeds. The design is also waterproof so you will not have to worry about your wheels while splashing through puddles or getting caught in a rainstorm.
Summary
If you are a rider that likes to be unique and trendy while also ensuring that you are safe and noticed on those late night rides in the summer, the Bodyguard Bike Wheel Lights are an excellent choice to add some personality to your bike.

5

. TaoTronics Bike Phone Mount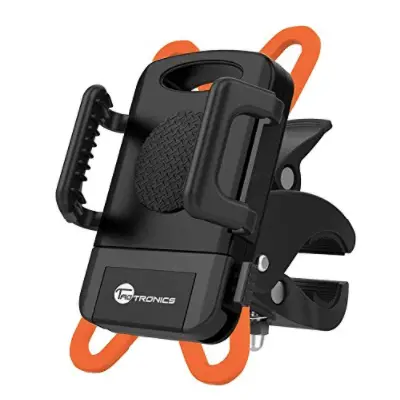 If you are looking for a place to display your phone to utilize your GPS, or just to ensure that you don't miss an important call, the TaoTronics Bike Phone mount is designed to keep your expensive phone incredibly secure and safe even when the trail gets bumpy. It is made from high quality materials, is simply to install, and is offered at a price that will not break the bank.
Read more
Design
This model is available in orange and black thick and durable plastic. It has the addition of a silicone web that is intended to help cradle the phone and secures the phone in four corner. It is versilite enough to accomodate most phone sizes, even phone that have bulkier cases.
Ease to Install
Affixing this holder to your bike is simple enough to do with one hand. It has a claw that is coated in silicone that not only to keeps it from scratching your frame, but also provides a steady surface to prevent slipping and falling down. One you have determined a good place to affix the mount, all you have to do it screw it into place with your hands, and flip down the secure switch.
Price
What makes this bike mount great is that is comes at a great price. It costs about the same amount that you would spend if you bought you and a friend a cup of coffee. Given the excellent quality, reliability, and versatility to fit most bikes and most phones, this is an excellent deal.
Function
Mounting your phone to the front of your bike can really improve the quality of your rides. You can become more adventurous and go places you wouldn't normally go using a GPS. There are also many biking apps available that offer useful information that riders could benefit from. It also makes it so that you never have to miss a call, and you will have simply access to all of your music library or podcasts so that you are never bored.
Summary
For cyclists that want to keep their phones close by, and want to ensure that they are secure and protected from falling, the TaoTronics Phone mount is an excellent decision. Plus, it's offered at a low enough price point that you will have some extra money to buy some of the other neat accessories making this list.

6

. UShake Water Bottle Cages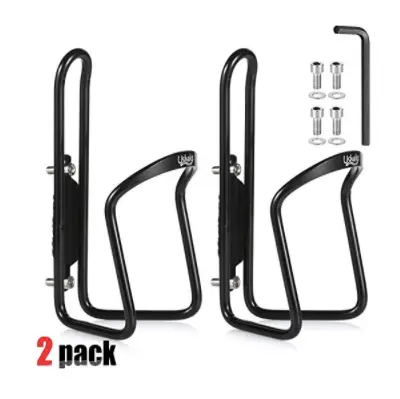 Some bikes come with water bottle cages installed right on the frame when you buy it, but others are not. If you don't have a place to keep a bottle of water on those long rides, it is worth it to invest the time and money to install a cage to ensure that you are never without water on a hot day.
Read more
Design
The design of this model is simple. It is made from heat treated aluminum alloy to ensure that these cages will not add any unnecessary weight to your bike. They measure approximately 5.9 inches long, and 2.36 inches wide. The U-shaped hook that holds the bottle in place is able to be adjusted to hold various sizes of bottles.
Ease to Install
All of the hardware that you will need to install these water bottle cages is included with the purchase of this product. It is a little bit more complicated to install these cages, because drilled holes are required to install. Many bikes already have these holes already on the frame. If that's the case, all you will need to do is place the cage over the holes and screw them into place with the screws and washers that are included. If you do not have the drilled holes on your bike, it may be in your best interest to head down to your local bike shop to ensure that they are installed professionally.
Price
The price of these bottle cages are the most affordable accessories that are available on this list. If your bike didn't already come with a bottle cage, it is definitely worth the little bit of money to have one installed.
Function
Cycling can be taxing, and can deplete a lot of water from your body- especially on hot summer days. The last thing that you want is to be caught far from home without having water to replenish lost fluids of hot days. A proper cage that is placed out of the way that hold a water bottle is a very smart move.
Summary
For very little money, you can make sure that you are never caught in the middle of nowhere without any water. As much as we love and take care of our bikes, it's equally important to take care of our bodies as well and make sure we are always hydrated.

7

. Venstar Portable Speaker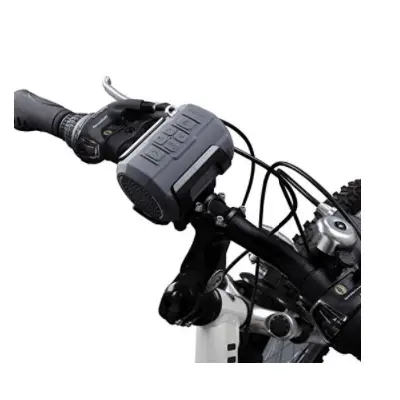 Turn your rides into a party on wheels with the Venstar Portable Speaker. If you have ever listened to music via ear buds on your rides, you are all too familiar with the very specific brand of rage that comes along with accidently ripping one out of your ear while adjusting your arms. You can free yourself of that frustration by installing a bluetooth enabled speaker right onto the handlebars of your bike.
Read more
Design
The design of this speaker is sleek and looks like it was built with the bike right off the assembly line. It affixes to the handlebars right next to the brakes, and has soft rubber buttons to make adjustments to the sound, or even take a call. The unit is cylindrical, and the speaker is at the bottom of the cylinder. The speaker is easy to take out, and the mount can be used for a bottle holder on days that you don't need an speaker.
Ease to Install
The mount of this speaker easily affixes to the handlebars. The hook grips wrap around the bar, and then the user secures it into place by using an allen wrench. When the speaker is not in use or left at home, the mounting unit is versititle enough so that it can be used to hold a bottle of water.
Price
This may be one of the more expensive biking accessories to make this list. It runs about the same price as a nice dinner for two at a steakhouse. Given its durable design, ease of use, and all the additional features, this is a great investment to liven up your long rides.
Function
Before use, this speaker can be charged at home via a micro USB charger, and then popped on the mount when ready to hit the trails. It syncs to most phones via bluetooth, and riders can adjust the volume from the phones or directly on the speaker itself. If you intend on leaving your phone at home, it also has a built in digital FM radio, or you can listen to your music via an SD card. Each charge is able to last for approximately 8 hours of bluetooth play.
Summary
This is a great accessory to keep rides run and exciting. Plus, listening to music through a speaker is safer than listening to earbuds. With earbuds, you are blocking out many sounds that you need to hear- like the bike bell of a bike that is coming up on your left. With this speaker, you will be able to really take in the landscape around you while still listening to your favorite riding music or podcasts.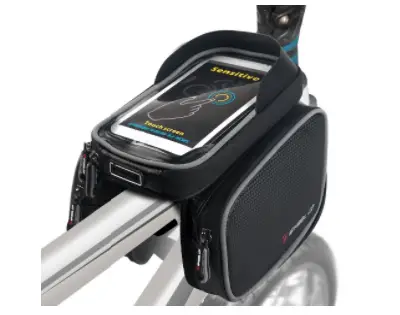 The ROTTO Bike Frame Bag is interesting because it sports a clever design that not only keeps your phone safe and accessible, but also provides more storage space than some of the other bike bags that are currently on the market. It is a great product for those that want a great place to put their phone while also storing things such as car keys, protein bars, and sunglasses.
Read more
Design
The design of this bag is what makes it truly unique. There are three distinct compartments that make up this bag. The center compartment sits on top of the frame right below the handlebars- keeping it in sight at all times so that you never miss an important phone call. The other town compartments hang down over the side and are able to hold addition items. The front compartment that displays the phone is made from waterproof TPU material that makes it still able to be accessed without taking it out of the bag.
Ease to Install
Due to the way that this bag is designed, it is only able to be mounted to the front of the bike under hand handlebars. Installation is a cinch and is able to fit almost all types of bikes. To install, all you have to do is unfasten the bottom straps and wrap them around the frame of the bike until they feel tight and secure.
Price
The price of this bag is not a much as you might think. It costs the same price as it would cost you to take out a friend for a nice lunch. With the excellent design made from superior materials, this is an excellent deal for such a great bag.
Function
The PU materials and waterproof zippers make this bag perfect to ride in all types of weather, and still keep all of your belongings safe and dry. The front phone window is made from a material that makes it still be able to be touched and utilized without taking it out of the bag. Additionally, there is a headphone port so that you can still listen to all of your favorite music, or even take a call without taking you phone out of the bag. The pockets on the side are able to hold protein bars, sunglasses, small tools, and or even a compact bottle of water. This bag also has a reflective boarder to make you more visible to drivers when the sun goes down.
Summary
If you need a place to store your belongings on those long rides, this is a great option. It may be a little bit bulkier than some of the other bags on the market, but the innovative design makes everything easily accessed without having to get off of your bike, unlike some bags that hang off of the back seat.

9

. JOY COLORFUL Bicycle Bags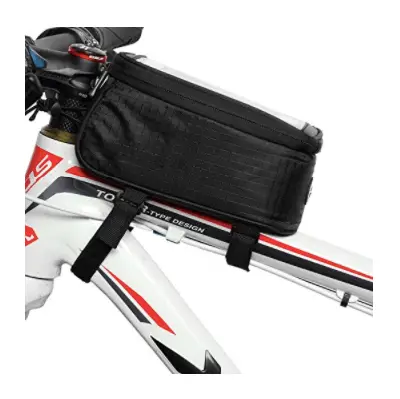 It can be a difficult task to find a safe place to store your belongings when hitting the trails on your bike. Putting things like keys and phones in your pockets is a terrible idea, because they have a tendency to slip out without your knowledge. Front baskets are a fun idea to store things, but if you are hitting any hardcore trails or bumpy trails, they are not the best. The JOY COLORFUL Bicycle Bag offers a well designed and intuitive bag that affixes to the seat, and comes in many stylish colors.
Read more
Design
These bags are designed to be functional as well as fun. They are available in black, as well as vibrant colors such as blue, red, and yellow. It has a front window that is made from PVC that displays the face of your phone, and it comes in three different sizes (small, medium, and large) to accommodate most sizes of phones.
Ease to Install
If you are able to buckle a seatbelt, you will have no trouble installing this bag. It has an elastic strap the hugs the bar below the seat, and two additional straps that affix to the frame and are held in place by velcro.
Price
The price of this bag is incredibly affordable. It runs about the same cost as it would run you if you bought a cup of coffee for you and a friend. Considering that is bag is made from quality materials and sports an innovative and fun design, it is a great deal, and affordable enough to buy one in every color.
Function
What makes this bag unique is the clear PVC plastic window that displays your phone is able to be touched while still in the bag. This means that you will be able to use your phone and reply to messages without even taking your phone out of the bag. It has has a headphone port so that you can still listen to music on your phone without leaving the zipper unzipped and leaving your belongings exposed. The bag is big enough to carry small bike tools, sunglasses, car keys, or protein bars.
Summary
If you need a secure place to keep your things while on a long ride, and want something that looks stylish and innovative, this is a great choice. The bag is waterproof to keep your phone and belongings safe if you happen to get caught in a rainstorm. Offered at a great price point, it's an excellent addition to serve any type of biker.

10

. West Biking Cycle Computer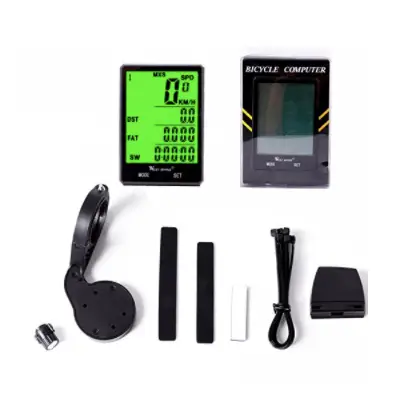 On the dashboard of your car there is a panel for all of the pertinent information such as time, speed, and gas left in the tank. Why shouldn't you have such a device on your bike? The West Biking Cycle Computer provides cyclists with exactly that with a sharp and easy to read device that affixes directly to the handlebars.
Read more
Design
The design of this product is functional above all else. It has an FSTN screen that displays information clearly to the driver. It comes in a simple black color that affixes to the handlebars, and has a green backlight when used on nighttime rides. The size of the screen will not distract your from the road, and runs slightly smaller than a credit card.
Ease to Install
This unit and fit onto most bike handlebars that measure between 25 to 31.5mm in diameter. A hook screws onto the front of the handlebars (no tools necessary) to affix the computer unit to. Additionally, a magnet is placed on the back tire that wirelessly transmits information to the main unit.
Price
The price of this unit is incredibly affordable considering just how helpful and handy this device can be on your rides. It runs about the same price of the Blitzu Bike light.
Function
The screen tell bikers how many calories they have burned, the distance in which they have traveled, the speed they are travelling, and the time they have been out. There is no on/off switch. Instead, this computer is motion activated, so all you have to do it hop on and the unit wakes up and immediately starts tracking your progress. It is also waterproof, so you don't have to worry about getting caught in the rain.
Summary
There are apps that you can put on your phone that will give you the information of this unit, but they all also attached to your very expensive phone that is probably not waterproof. Plus, the whole reason of hopping into your bike is to leave stress and responsibility behind, even if just for a moment. The West Biking Cycle Computer allows you to leave your phone behind and track your progress simply and easily.

Subscribe to our Newsletter