Best Cycling Accessories
In a
Hurry? Editors choice: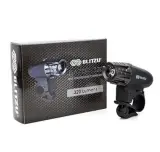 Test Winner: Blitzu Gator USB Rechargeable Bike Light

The demands of the
cyclisy
are many- especially if you are the type of cyclist that isn't held back by weather conditions or traffic. Bike accessories have come a long way since the days of baskets and bells, with some really neat Bluetooth enabled items, such as odometers and headlights. With the proper
accessories
, you can not only make your rides more convenient and exciting, but you can also make rides on warm summer nights safer. With everything that is available on the market today, there shouldn't be anything holding you back from hitting the
trails
.
Below, we have compiled a list of some of the best cycling accessories that are currently on the market. Some are things that you know that you could need, and others are things you might not have known even existed.
Standout Picks
Criteria Used for Evaluation
Use
The bike has come a long way from just simple bells and baskets. Many accessories utilize features from your phone and have Bluetooth capabilities to make your rides more enjoyable and safe. We like to select accessories that solved a specific problem that cyclists often run into, such as keeping track of how many miles they have traveled, keeping an added eye on the road, or keeping wallets and keys in a safe and secure place.
Overall when looking at any cycling accessory to add to your gear you want to make sure it will bring some sort of benefit to your ride. Most of the time after getting a bike you will start to realize some accessories that would best fit your ride and where you live so get those accessories that will best fit you and your bike.
Value
It was important to select accessories that don't break the bank. All of the accessories that make this list all fall under a certain price point making them affordable enough to buy more than one if you are unable to decide which one you would want. It's also important to keep prices down because that just means more money that you will have to spend on a new bike.
Overall when looking at accessories for your bike they can range in price depending on the brand and what you are after. So if you want to stick to a budget, figure out the accessory that will make your ride easier and narrow down different brands of that accessory until you find one that works and is in your price range.
Safety Hazards
Whenever you are out the trails or on the road, keeping safe is your number one priority. Accessories that enhance your spacial awareness will not only make you are a more confident rider, it will also make you safer. Phone mounts keep your hands free and ensure that you never become lost, and repair kits will keep you from breaking down far from your car and having to push your bike all the way back home.
Overall when looking for new accessories for your bike you want to make sure they do not casue a safety hazard and will make your ride more convient and easy. Check out the customer reviews of products that intrest you to see if they worked for other riders and casued a safe riding environment.
Features
What was important about these accessories is that they did something just a little bit differently than many of the other products on the market. For instance, the ROTTO Bike Frame Bag has a clear plastic window on the front so that you can keep your phone out and visible. Many of the other bike bags on the market did not come with this feature. It was important to select items that came with features cyclists may have not even known existed.
Top Ten Cycling Accessories
Subscribe to our Newsletter