Best Bike Panniers
In a
Hurry? Editors choice: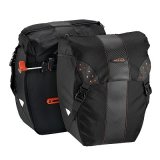 Test Winner: Ibera PakRak

If bicycling is your main form of transportation, you can benefit from a bike pannier. Honestly, there are plenty of choices out there for how you can
carry what you need
while you ride, but when it comes to versatility and comfort bike panniers are the way to go. Panniers sit on either side of the front or rear tires, although most prefer to install them in the rear. Perfect for the
urban bike commuter
, they work well for carrying school or work materials, groceries, and anything else a city rider might need.
Standout Picks
Criteria Used for Evaluation
Ease of Use
Mounting a pannier on your bike means that you need to have a bike rack. Most modern bike panniers are compatible with almost any bike rack. They attach using clips, hooks, or straps on the top, and typically have a bungee system on the bottom that keeps them tightly in place as you ride. This is incredibly important, as a loose pannier is not only a nuisance but can be a real danger to you and those around you if it were to fall off. Before purchasing a pannier thoroughly do your research on how the bag will mount to your bike rack. It is likely that your bag will be compatible, but it never hurts to be sure. If the bag only works with certain racks it is likely that this will be stated in the product description.
The other thing to think about when it comes to mounting your pannier is how easy the bag is to take on and off the rack. If you are buying a touring bag, this type of easy access if less important since it is unlikely that you will need to remove your panniers from your bike very often. In fact, you may want to look for a bag that is harder to remove since this will mean it is more secure as you clock mileage. For the bike commuter though, a pannier that can come off hassle-free saves time, energy, and makes for a more pleasant commute. Although every bike commuter doesn't need to bring their panniers inside, many do and it's important to know what this process will look like before purchasing a bag.
Capacity
Before buying a pannier take some time to think about not only what activities you will be doing with this bag, but also precisely what you will need to bring with you when you engage in these activities. Panniers come in a variety of sizes, and with increased capacity comes increased weight. Considering how much space you need before purchasing the bag ensures that you will not be stuck with a heavy bag you never fill. This can be problematic for two reasons. Firstly, the heavier the bag, the more difficult it will be to lug it around. Secondly, an empty bag can be floppy, which is not only unattractive but can also be a nuisance getting in the way of the tires and peddles as you ride.
It is of course also important that you don't buy a saddlebag that is too small and won't fit everything you need. Make a list of all the items you will regularly be bringing with you and try to think about how many liters you require to fit everything comfortably. Also, think about any small things you may have for which you would like extra pockets. Taking all of this into account before you buy your pannier will ensure that the bag you end up with is the best one for you.
Water Resistance
The first question to ask oneself before buying a pannier is what you will primarily be using this bag for. There are a few types of biking for which panniers make the most sense, and each requires the bike panniers to perform slightly different functions. It is also possible that you will be using this bag to engage in multiple types of biking, something that should be taken into account as well.
The most typical use of pannier bags is for bike touring, an activity that involves riding long distances to get to a specific destination. Bike tours usually travel over paved roads and can include rides that range from a day or two to ones that last weeks and cover thousands of miles. The bag one picks for these kinds of trips needs to be fully waterproof, as encountering lousy weather is very likely when on the road for an extended period. If the touring pannier you choose is not waterproof, make sure it comes with a rain bag.
Bike panniers are also very popular within the community of bike commuters. These are people who use their bikes daily to get to school, work, or wherever else they may need to go. Typically, for city dwellers, it is unusual for a bike commuter to travel more than 20 miles in one day. If this is the type of biking you will be doing, look for a bag that is water-resistant (most are), but full waterproof capabilities are less critical as it is easier to avoid heavy downpours when you are merely using your bike to get around town.
Features
Extra pockets are also handy for the bike commuter, who will need to access their wallet, keys, and phone more regularly than someone on a bike tour. Touring bike panniers should also be simple in design and very sturdy. They often only have one large pocket for storing everything, which works great when your primary concern is clocking mileage on your bike.
The final primary consideration for a commuting pannier is whether or not you need to take your bag with you when you arrive at your destination, and therefore how easy this bag is to carry. Many panniers come with shoulder straps or handles that make them easily transportable off of your bike. You are going to be bringing this bag into your job or classroom every day make sure it has a comfortable strap. Otherwise, this will turn into a major hassle.
Subscribe to our Newsletter