Best Bike Bags Reviewed & Rated
In a Hurry? Editors choice:
Test Winner: Sci Con AeroComfort Travel Bag

There is a fundamental question you need to ask yourself; what kind of bike bags do you require? Let this question settle in for a second, as it is going to play a massive role in this buying guide. What you will soon realize is there are a plethora of different options that you can go with.
From bags that actually
attach to your bike
to bags that physically carry your bike, there is a wide variety out there. The good news, however, regarding how you go about buying them, is they are not going to differ that much.
No matter what you need them for, bike bags will almost be a necessity. So, it will behoove anyone interested in cycling to pay close attention to this guide as it breaks down what it takes to buy the best bags for the activity.
Standout Picks
Criteria Used for Evaluation
Style
As you are going to realize, there are quite a few different types of bike bags out there.
First and foremost, you need to figure out what you need in a bike bag. Determining that is going to make the overall buying process all that simpler. And the best way to figure this out is to analyze all the different diverse bag styles that you will find on the market.
If you need to account for quite a few larger items, you may want to consider panniers. A few of these appeared on the above list, and they will typically mount onto your bike with some attachment system. But, perhaps you do not need larger bags. That is okay because you can also opt for saddle packs.
These will be designed to fit under your bike seat and can allow for quick and easy access to some of your bare essentials. Along the same line, you can also look for frame bags (which simply attach to your bike frame).
Of course, you also have dedicated bags that will physically carry your entire bike (when disassembled to some degree). The higher-end options will come with ample padding and protection. However, you will need to account for this with the cheaper soft bike bags.
Features
Keep your eye out on some key features. It is going to benefit you to do so.
When assessing the critical features to look for regarding bike bags, it will depend on the style you go after. In specific, let's start with dedicated soft bags that are used to carry your bike physically. Some of the most advanced designs will also double as assembly stands.
Given the fact that you will need to disassemble your bike before you stow it inside, this type of stand can make things easier for you. On another note, these bags will also often come with separate compartments for your wheels.
Now, what about other types of bags? Well, for those that are just for transporting some goods on your bike, how are their zippers designed, and do you want small pockets for better organization? Answering these questions will go a long way for you.
Also, one last thing, at some point, you may need to carry your bags. Finding those with adjustable and possibly even detachable shoulder straps could be in your best interest.
Materials
Unless you want your new bag to only last a few months, you will want to pay attention to the materials.
Most of the time, you are going to find that bike bags will either be made out of polyester or nylon. While other materials can also come into play, these are the two that you need to be most familiar with. Though knowing the origins of both synthetic fabrics is not necessary, you should at least have a keen understanding of what they are.
For the record, they are both lightweight, durable, and synthetic. When it comes down to it, both are excellent choices to be used as the core for your bags. Out of the two, however, it is worth noting that nylon is the strongest. But, again, they both can last for an incredibly long time.
However, there is also something else you need to understand. Have you ever heard of denier? It is a unit of measurement that is going to determine how thick the individual threads are of a fabric. The higher the denier, the thicker the material is going to be. Any bike bag over 600-denier can be considered heavy-duty.
Weather Resistance
You never know when you are going to get caught in the rain, right?
It is worth pointing out that this next section here can be a bit subjective. But, if there is one thing everyone can agree on, Mother Nature can be somewhat unpredictable at times. You never know when a rain cloud is going to come in and ruin your ride. So, it may behoove you to check out some bags that can handle such weather.
For the record, this may be needed more for bags that attach to your bike. For those that are used to transport your bike, they will typically be indoors most of the time. However, either way, most models out there will, at the very least, be water-resistant.
Nylon and polyester both, while not waterproof, are somewhat water-resistant. If you want a fully waterproof bag, however, you will need it to be coated and sealed. The zippers and stitches will need to be sealed, and a waterproof coating will need to be applied. But, for most of you, this type of water protection is not going to be necessary (unless you plan to bike in the rain).
Capacity
The bag or bags you buy need to hold what you need them to, as obvious as it sounds.
Alright, so there is another critical question that you need to answer. It is quite the simple one, too, so you do not need to worry too much about it. For the bag or bags that you want to buy, what do you want them to carry? Yes, this is similar to the question you already were asked.
The difference here is, now, you need to answer it regarding how much you need them to carry. Let's elaborate on this a little bit. For example, if you need a bag to stow your bike into, it needs to be large enough to do so. As obvious as this is, not all bags will adequately fit your bike. The best reference you have is your wheel size, as this will be the largest component you will need to worry about. If interested in different types of wheels make sure you read our guide on the best mountain bike wheels.
As for saddle packs or panniers, you also need them to be large enough for your needs. While you can assess their internal volumes (which will be measured in liters), you can also glance through consumer feedback. This will give you a good idea of what the specific bag or bags can handle.
Our Top Picks for the Best Bike Bags
1

. Sci Con AeroComfort Travel Bag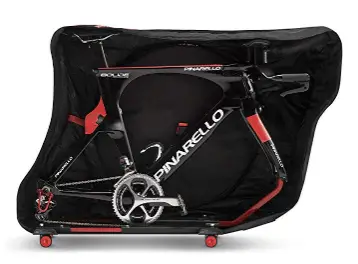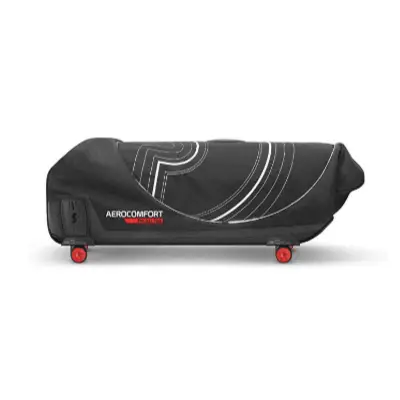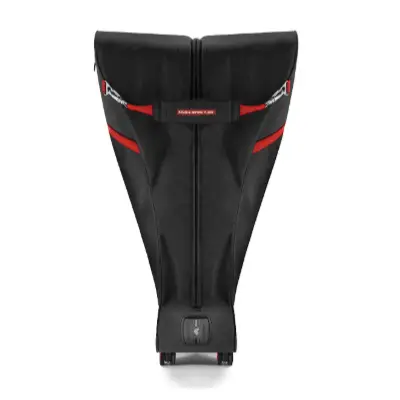 If you are looking for a heavy-duty bike bag to actually transport your bicycle from location to location, you got it here. Be warned, though, this beast does come at quite the steep price.
Read more
Design Style
This is designed to transport your bike safely from one place to another. It is padded from top to bottom, basically, and is going to protect your bike from any damage.
Features
In addition to the fact that this doubles as a bike stand, it has also been equipped with eight ball-bearing wheels. The internal frame is also going to protect your bike from any impact.
Materials
With its 840-denier nylon shell, this is not going to rip and tear very easily. This is important as when you see the price, you would expect nothing but high quality.
Weather Resistance
While not completely waterproof, this is going to repel water quite well. This is not too big of a deal as there is no reason why you would need to expose this bag to that type of inclement weather.
Capacity
Most of you will love the fact there will be little disassembly necessary for your bike when you go to stow it in this bag. Really, all you will need to do is remove the wheels and you will be good to go.
Overall
There is no reason to sugarcoat it; this is a bag that is ideal for avid cyclists. It simply will not be worth the money if you only use it maybe once or twice a year (or even every other year).

2

. Thule RoundTrip Pro XT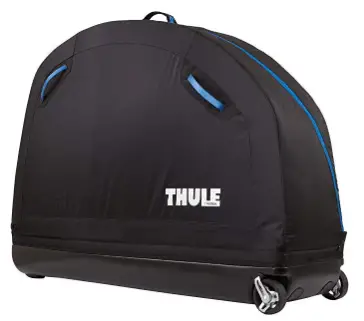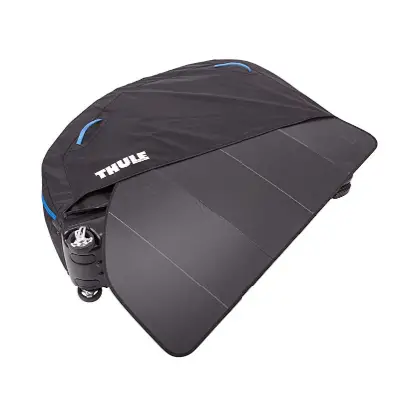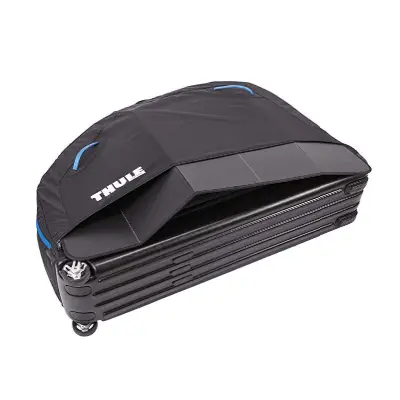 What is so convenient about the RoundTrip Pro XT is it doubles as an assembly stand. Thus, on top of storing your bike, this bag also makes it easy for you to assemble and disassemble it.
Read more
Design Style
To make storage of your bike more straightforward, there are removable protective side panels equipped here. Additionally, this is a softshell case and also doubles as an assembly stand.
Features
Outside of the assembly stand, there are also integrated wheels and handles to make your life easier when you go to transport this case.
Materials
Not only are the materials utilized to protect your bike but they also are long-lasting. This includes the nylon, shell, aluminum base, and hard polyethylene tub.
Weather Resistance
Again, as with the last bike bag, this is not waterproof but it is going to resist water and rain to some degree. Just do not expect it to keep your bike dry if it is exposed to downpours.
Capacity
For the record, this is going to fit mountain, Cyclocross and road bikes with wheelbases up to 46 inches in size.
Overall
This is another model that is perfect for cyclist aficionados. It is going to protect your bike incredibly well and is also going to allow you to easily assemble and disassemble it when needed.

3

. Ibera Quick-Release Bag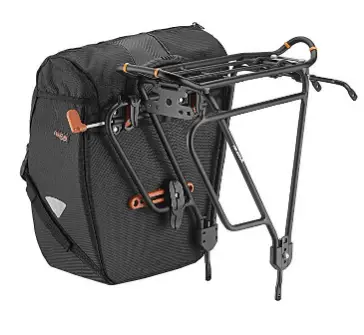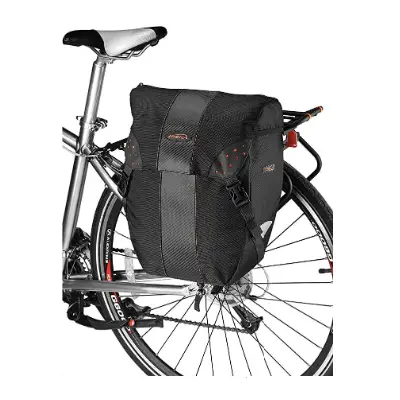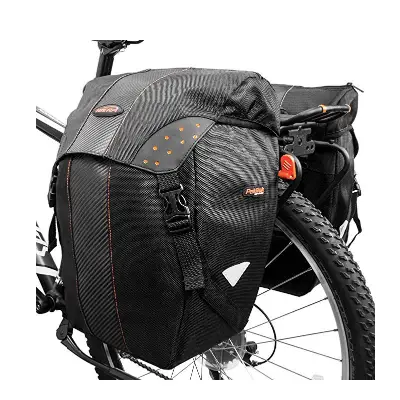 In addition to the fact that you get a pair with your purchase, these bags are also designed with a quick-release system. This makes mounting them on your bike all the more easier.
Read more
Design Style
Thanks to the quick-release system that was just alluded to, you can attach and detach these bags at will. They do not have to be used for cycling, though, just to note.
Features
While there are two larger pockets that will hold some of your essentials, there is a lack of attachment points with these bags. Admittedly, this will be disappointing for some of you.
Materials
What is astounding about these bags is they sport 1680-denier nylon shells. That is an incredibly high denier count and it makes these cores more durable as a whole.
Weather Resistance
In addition to the fact that the nylon core is going to resist water quite well, this also comes with an all-weather rain cover. Yeah, let's just say that this can handle the weather.
Capacity
Each bag provides 15 liters of space. And, for another measurement, each one has a load capacity of 19.8 pounds.
Overall
Yes, there is a lack of attachment points but you can't deny how terrific these bags are. Past their incredible build quality, they also have enough space for several of your goodies.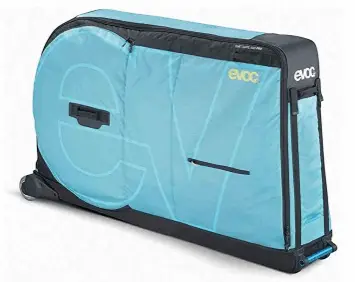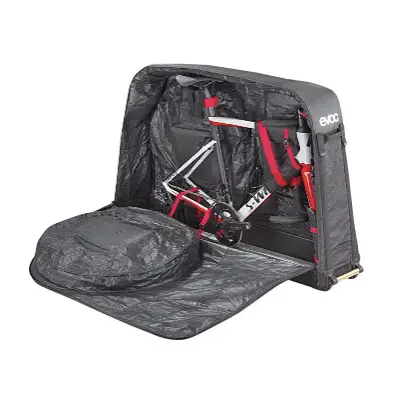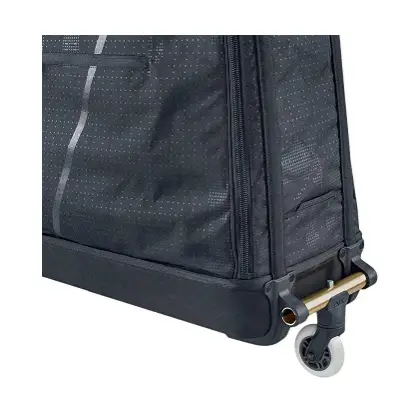 There is no surprise as to why this travel bag is on the top of everyone's lists. In addition to the protection, it provides for your bike, it also sports a waterproof polyurethane coating.
Read more
Design Style
This is designed specifically for your bike, for the record. Due to the subpar instructions, however, you may need to consult an online tutorial to figure out how to assemble it.
Features
To make lifting and carrying this a heck of a lot easier, it has been engineered with numerous handles that have been cleverly positioned. There are also inline skate wheels too.
Materials
Even though the top is somewhat flimsy, this has been made with ripstop nylon. If you know anything about this material then you know it can handle some abuse.
Weather Resistance
The same ripstop nylon has been finished with a polyurethane coating. This is going to protect the outer shell from weathering and it vastly improves its weather resistance as a whole.
Capacity
With ease, this is going to hold several different types of 29-inch bikes (only one at a time). Anything larger than that and you are probably going to be pushing your luck with this bag.
Overall
Waterproof and well-made, this is going to last for you for several seasons. It is best for those of you who actually need to transport your bike from location to location safely.

5

. Coteetci Rear Seat Carrier Bag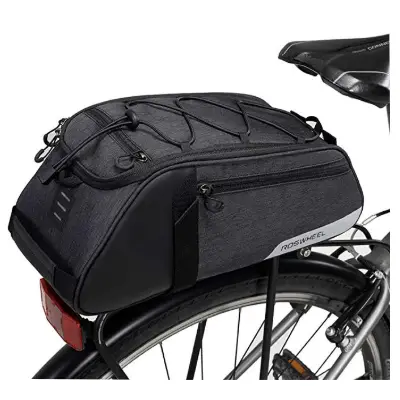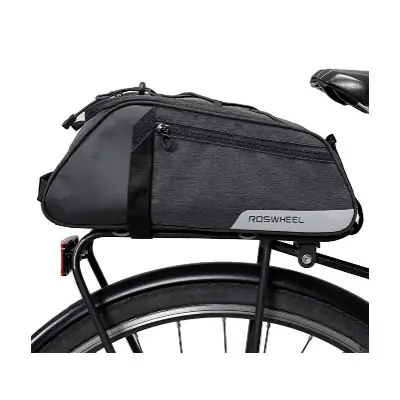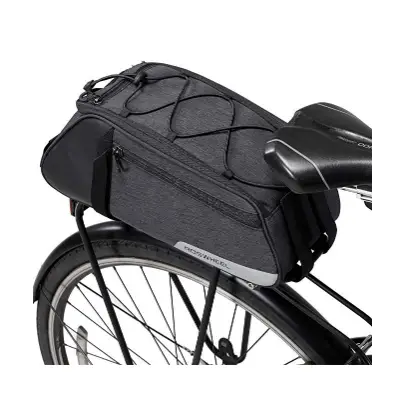 Perhaps you are looking for some cargo bags on your bike rides. Past the fact that these will account for most of your gear, they are also built to last with 1000-denier polyester canvas.
Read more
Design Style
These are "trunk" bags in that they can be attached to the back of your bike. There are six strap fasteners, in fact, that will allow you to secure each one of these to your rack.
Features
You can easily convert these into shoulder bags when the time comes where you need to carry these around. Additionally, the wide reflective tape allows these to be seen at night.
Materials
As noted, these sport 1000-denier polyester canvas cores. In other words, they are going to last a long time unless you treat them with no care in the world.
Weather Resistance
It is noted that these cores are "rainproof". While torrential downpours may affect them, they are going to protect your belongings in most types of rain.
Capacity
The adjustable strap can extend this bag to a capacity of 50 liters (which is quite a lot). And, in addition, it is going to be able to handle up to 130 pounds.
Overall
As commuter bags, these work incredibly well. Past the fact that they can hold a ton of items, they are also going to withstand the test of time. Oh yeah, they are also rainproof, as well.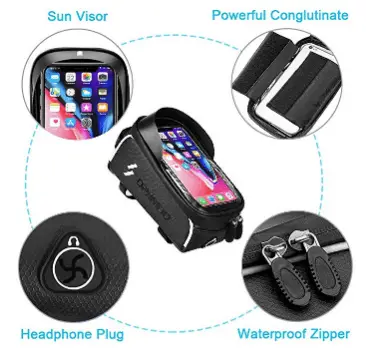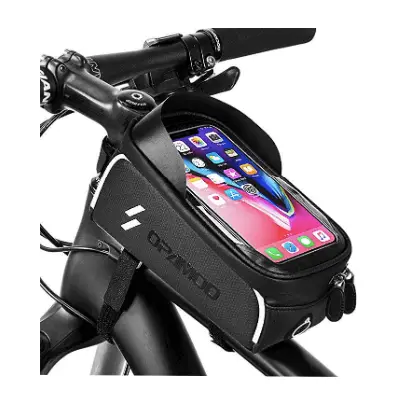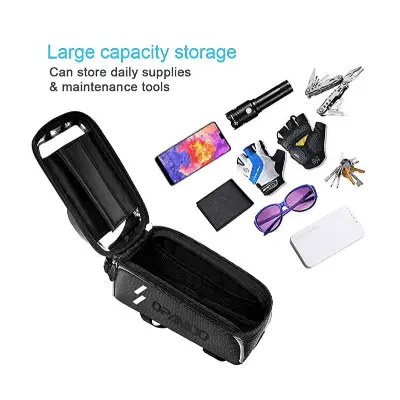 Okay, so this is something totally unique from everything else on this list. And, given the fact that many of you are addicted to your smartphones, it is something you will probably be quite fond of.
Read more
Design Style
As you can see from the photos, this is tailored to allow you to access your smartphone while you are riding. With that in mind, the included straps will allow you to install it underneath the handlebars. Of course, the straps are a little long.
Features
There are features galore here. This includes the hidden earphone jack, sun visor for enhanced visibility, reflective tape on both sides, and the touchscreen cover (which does not work the greatest).
Materials
With its combination of TPU, composite carbon leather, and polyester, it is safe to say that this bag is built to last.
Weather Resistance
When the rain begins to fall, this bag has you covered. The waterproof polyester (it has been coated) and waterproof zippers will keep it dry when the time comes.
Capacity
The bag itself is going to have enough space for some of your smaller items (such as electronics and tools). As for the phone compatibility, it will fit smartphones less than 6.5 inches in size.
Overall
For all you, smartphone, and cyclist junkies out there, this is such a great buy. The ability to visually see your smartphone (safely) on your bike is going to be appealing to quite a few of you.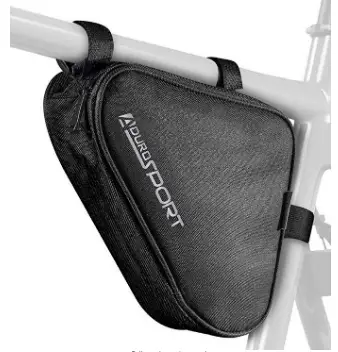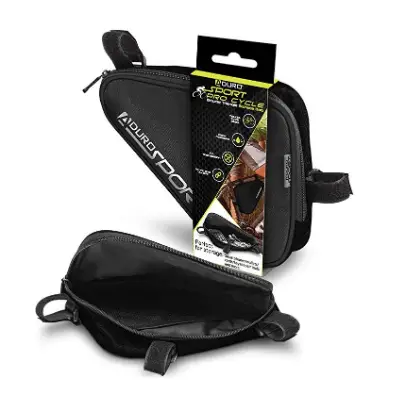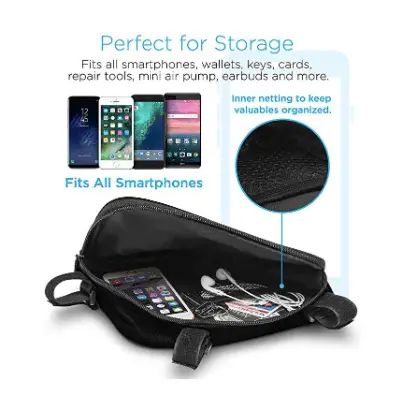 This here is a smaller bag that is actually designed to be mounted to your bike frame. As such, it is going to work perfectly for storing items such as your keys, wallet, phones, etc.
Read more
Design Style
As noted, this storage bag can actually be mounted directly under your bike frame. This makes for convenient access to all your items that are stowed away inside of it.
Features
What is nice is there is an inner pocket that allows you to organize your items. Of course, some of you may not like the fact that the zipper is on the left.
Materials
Being made of sturdy and durable polyester, you can expect this to keep up with your adventures. It is not necessarily extraordinarily rugged but it is solidly made all the same.
Weather Resistance
Yes, this bag is water-resistant but it is not waterproof. This means that on top of being unprotected against submersion, it is also not ideal during downpours.
Capacity
Relatively speaking, this is a reasonably small pouch. It is better suited for some of your smaller essentials such as cable locks, repair tools, your wallet, keys, etc.
Overall
For the right users, this is going to be an excellent addition to biking adventures. It is just the right size to fit on most bike frames (not all) and can hold some of your biking essentials.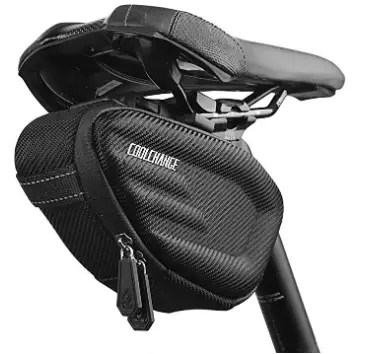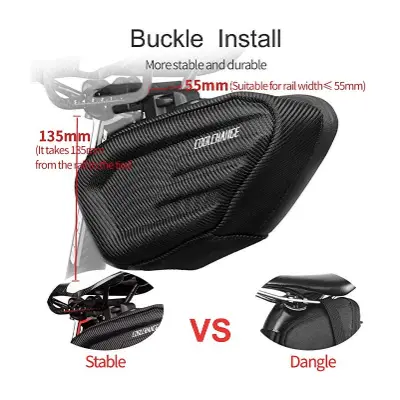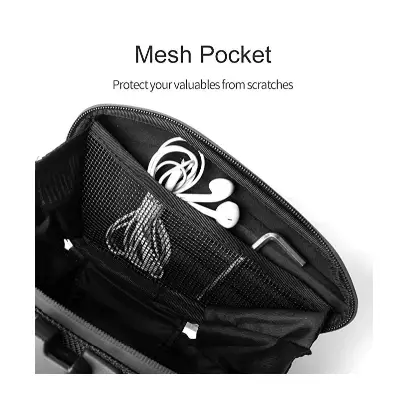 While this saddle bag is not 100 percent waterproof, it has been engineered to be resistant to rain and moisture. This will be reassuring on those bike rides where the sun does not want to come out to play.
Read more
Design Style
The patented angle wing shape, coupled with the quick-release clip, allows this to easily fit right underneath your seat. Albeit, the included hardware could have been better.
Features
This is not an overly complicated design, and it does not need to be. The side opening is really nice, though, as it allows you to quickly find your items inside.
Materials
To match the high standards that your bike has, this has been engineered of hard EVA. Not only that but a 3D die-casting process has been implemented to further the longevity.
Weather Resistance
Do note that the stitches are not actually waterproof. However, the zipper is seam-sealed and the shell is water-resistant. This will still do well during light rains.
Capacity
There are small and large size options available, for the record. In addition to holding your smartphone, both sizes can also account for a plethora of your smaller items.
Overall
For those of you who are actually in the market for a saddle bag, this is a really good option to consider. Its convenience and practicality alone make it extremely compelling.

9

. B&W International Bike Sack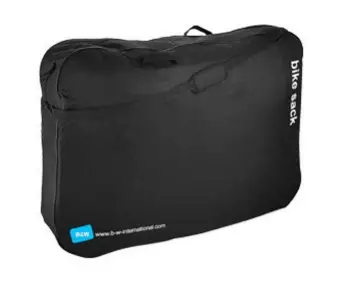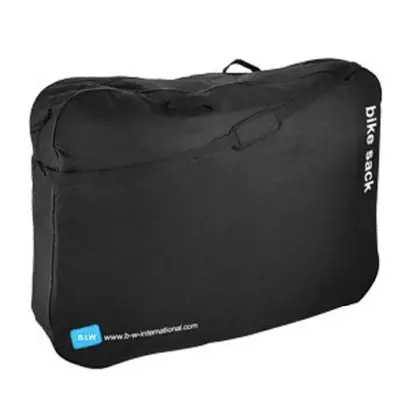 It is fair to say that some of you will not want to spend an arm and a leg on a bag that carries your bike. If this sounds like you then you may want to take a closer look at this option right here.
Read more
Design Style
With bike bags like these, you will have to provide the padding for yourself. This will carry your bike safely as long as you invest in some type of protection for it.
Features
To hold your wheels, there are actually a couple of interior pockets. Additionally, there is an adjustable and removable shoulder strap for easier carrying.
Materials
The robust nylon construction is quite ideal. However, speaking for the bottom of the bag, you will want to reinforce it but that is the price you pay with a bag of this nature.
Weather Resistance
Do not leave this bag (with your bike inside) out in the rain as you will be sorry. With that said, you could still get away with transporting this through light rain for a little while.
Capacity
Do not be fooled by the photos; this bag is larger than you would think. Of course, some of the room is going to be taken up by the padding you place inside (as it is advised to do so).
Overall
While this may not be the best choice for those of you who own really expensive bikes, it can be terrific as a casual bike bag. And, that may be what several of you are looking for.

10

. Topnaca MTB Travel Case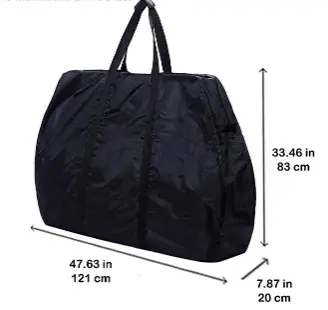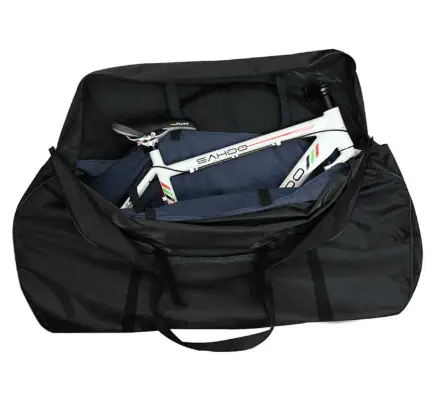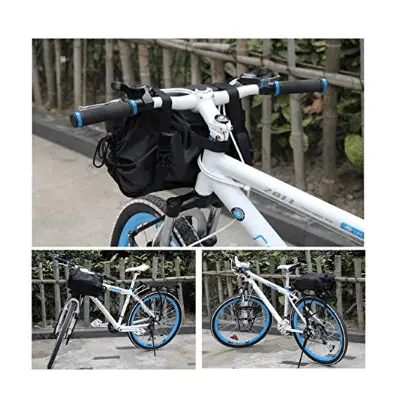 Alright, so not only can this be used to transport your bike but it can also be attached to it. While it is not expertly crafted, it is quite the practical little sucker and that is what really matters.
Read more
Design Style
Some additional padding will be recommended on your part. However, this travel bag will still effectively fit and store your full-size bike.
Features
All sorts of features are implemented here, such as the shoulder strap and the Velcro straps. These straps allow this bag to be attached directly to your bike when need be.
Materials
Even though some users have noted this is somewhat cheaply made, it is made of 420-denier nylon. While not premium, it is still a solid core overall.
Weather Resistance
The nylon core has been made to be waterproof. Though you should not push your luck, this is a lovely addition to have.
Capacity
While this is not going to be suitable for geometric bikes, it will fit most bikes up to 28 inches in size.
Overall
Really, for the price of admission, many of you should be quite happy with this travel case. It does come down to you but we feel this is a really good choice.

Subscribe to our Newsletter