Best Saddle Bag
In a
Hurry? Editors choice: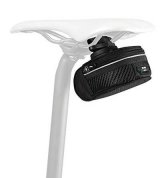 Test Winner: SCICON Vortex 480

The best saddle bags could be cyclists' life-saver since they can pack it with important gears. This is very convenient because it eliminates the bulky feature of a pannier or that of a weighty backpack. You can get the best saddle bags that offer just the right storage for some of your essential tools or a larger one that could carry all your gears to survive an overnight adventure.
Regardless if you use your bike to take long trips, do some errands, or to commute, you will require something to carry your essentials. This ranges from a compact repair kit to complete camping equipment. However, choosing the best saddle bags could be a very confusing task because of the wide range of brands and models being offered in the market.
Standout Picks
Criteria Used for Evaluation
Materials
The most important factor that you have to take into consideration when choosing the best saddle bags is the material used in making the bag.
It is essential that you carefully evaluate the type of material and its components to know the quality of the product. Most of us would always choose something that is of high-quality, will last for a long time, and will give value to our money.
Most of this type of bag being offered in the market today is made of polyester, synthetic rubber, nylon, and leather. Synthetic rubber excels because of its water-proof feature. Bags made of leather are known for their durability and are usually used on the external part of the bag. Nylon has the ability to wick away moisture and other liquids. Polyester, on the other hand, is durable and resists tearing.
Capacity
Another significant point to consider is storage capacity.
The primary concern of why most cyclists want to have the best saddle bags on their bicycles is for them to store away their important things. Getting a bag that comes with an extra compartment is a great bonus and could really be a big help in organizing your essentials.
If you check the market today, you will find a wide variety of manufacturers producing this type of bag in various sizes. This is very helpful since you can choose the right size of the storage that you really need. The size of the bag in this context could also mean the volume. Most of the time, manufacturers indicate the capacity of the bag in terms of liters.
If you are the type that aims to store your essentials for a brief ride, most likely you will just need a small-sized bag. It could hold an inflator, an inner tube, and a carbon dioxide canister as well as tire levers. With a small bag, you will keep the simplified and slim appearance of your bicycle.
The largest size available for this type of bag is the supersize, which many calls the saddlepacks. This type can carry approximately 15 liters of load. Often, cyclists use this as a replacement to the customary pannier. It is much lighter and less obtrusive compared to the rack and the pannier because it does not increase the bike's width.
Weight
The weight, as well as the size of the bag you choose, will greatly affect the type of the attachment.
Bags that are compact and lightweight can be simply fastened using a thin Velcro strap. If well maintained, this attachment is more than enough. If you have a larger and heavier bag, it will, of course, necessitate more support.
This means that larger bags could have plastic mounts linked to the saddle or hooks that can be attached to the post of the seat for extra security. These attachments will add more weight. However, if you are on the road and has packed a sleeping bag and a tent, adding some more weight would only be a minimal concern.
There are traditional models that utilize a zip to make sure that the contents are safe and will not get lost along the way. There are several others that are equipped with buckles, roll-up cases, and even clasps. If you like to park your bike in public places, you will most likely bring the gear along with you.
There are several models that can be attached to the racks using hooks that are spring-loaded. There are some others that utilize bungee cords, clips, and quick-release brackets.
Subscribe to our Newsletter