Best Bike Toolkits
In a Hurry? Editors choice: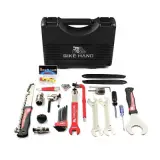 Test Winner: Bikehand

No bike enthusiast's toolbox is complete without a bike
tool kit
. That isn't to say that we endorse needless spending. If you use your bike often, you are going to need frequent tune-ups and
checkups
. That gets costly! Avoid all that nonsense by learning how to do it all yourself and purchasing a kit that is perfect for your needs! Toolkits come in two general categories: those that are portable and those that aren't.
Each one has its own advantages and disadvantages, but mostly, it comes down to whether you are looking for a toolkit for out on the trail with you, or back at your home
garage
. Once you know what you are looking for in general terms of use, you can begin to filter down through this list. Below we have reviewed the top ten best bike toolkits in the market today including detailed criteria for each product to help you decide which toolkit suits you best.
Standout Picks
Criteria Used for Evaluation
Use
Use is where we lay out the tools and what is included with the purchase. We don't include any opinions or consumer reviews in this section, we just lay out the tools as they are listed to us in our research. If you are interested to learn more about the tools, like the size and how to use them, we suggest digging deeper and checking out the specs on one of our affiliate links listed. If you already feel that you are reading to do the repairs and upkeep on your bike, you'll be able to tell from this section if the tools will be conducive to your needs or not.
Features
Most kits already come with a lot of tools and gear, but it is always nice to know what else is included- like a carrying case! What the tools are kept in shouldn't make you- or stop you- from buying any specific toolkit, but when it is included it is usually always well received. Some kits include more than others- this section just lets you know if and when a purchase includes more than just the tools themselves- or if it includes any specialty not included with most competition.
Portability
Portability can be extremely important if you plan on carrying the tool kit with you when riding. When going uphill, our own body weight is already fighting against us and we don't want to add any more strain than we have to. Some of the kits on our list are small enough to fit in your pocket, while others are more like a briefcase and would be difficult to carry with you. If you are a bike enthusiast and have the confidence that you can fix all bike-related issues, it may be worth it to you to have one portable kit and one kit for the house. This way, while riding, if you're in a pinch, you will be prepared to make a quick fix. Then, when you get home, you can get down to the root of the problem and make sure it never happens again.
Top 10 Picks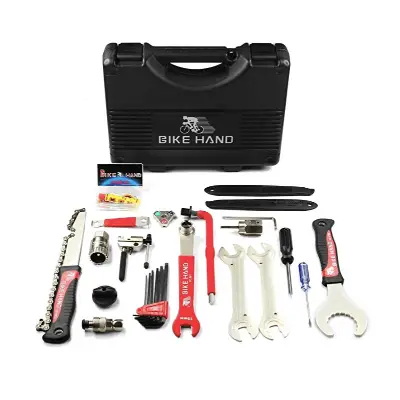 If you are new to biking and you want to start collecting the gear necessary to tune up your bike- and maybe even your friends then this is it. BikeHand has been in the bike game for a minute, and they have learned a thing or two in that time- this company is a solid choice every time.
Read more
Bike Hand has been around since 1988. That may not seem like that long, but that has been plenty of time to see the evolution of biking as a pastime and a very competitive sport. You can't do well in any market unless you stay up with the times and Bike Hand has done just that. This basic toolkit is all that the beginner will need to start tuning up their own bikes from the privacy of their garage.
Use
18 items all together- chain rivet extractor; dust cap wrench; flat and Phillips screwdrivers; pedal wrench; tire lever; bottom bracket wrench; chainring nut wrench; hex key wrench 8mm; patch kit; spoke wrench; freewheel turner; cartridge B.B. tool; and crank puller.
Features
Unlike portable versions, you can use your whole hand to crank on these tools- or one in each hand if need be! While it is not compact like some kits, this one is sturdy and you can use separate tools at the same time unlike with the compact versions. This kit also comes with 18 items including a carrying case that keeps it all nice and tidy and safe.
Portability
This kit covers all your basics and does it in under 6 pounds; it's not a minimalists dream come true, but for all it does in that little amount of weight- we think it's pretty great.
Durability
Comes with a 1-year warranty- that's product backing! The carrying case that it comes in is also made out of durable plastic. The kit is durable- but it is also a kit. This is a great way to start, but as the tools break you are probably better off buying the tools individually- the quality will be much higher.
Value
The price is not bad when you think about all that you are getting with this one purchase- it won't cover everything you would need for a tune-up, but it will more than cover the basics!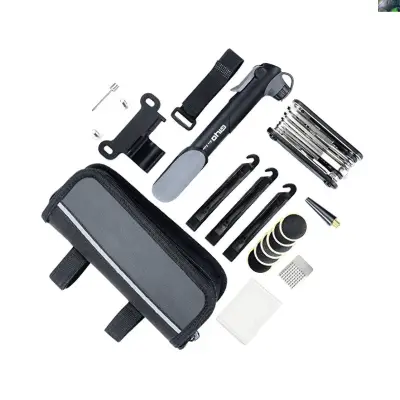 When you are on the trail you never know what kind of problems that you could run into. With this all-in-one purchase whether your tire goes flat pops a hole, or has chain problems- this single purchase, and a reasonably priced one at that- will cover all your needs!
Read more
You never know what might happen when you set out on a biking trail- especially if you ride alone at times. Ease your mind with this all-encompassing single purchase- inflate your tires on the go or at home, patch up a hole in your tire without glue, or fix a number of problems on the frame- this purchase covers most everything!
Use
There is 16 in one functions on this puppy, when you need it in an emergency this bike kit is there for you!
Features
Comes loaded with extras! Namely a portable bike pump which is good enough for even regular use- not just emergency inflation. Also includes a tire repair kit and it all comes bundled in the lightweight bike bag! With all the features of this purchase you are getting a lot, and you can find a time to use all the equipment either in a home garage or while out peddling around.
Portability
The bike pump and carrying case are meant to be lugged around on your bike- the toolkit itself is very small and only weighs 2.89 ounces!
Durability
The toolkit, pump, and repair kit all seemed to meet consumer satisfaction- some consumers did find a problem with the adhesive on the repair kits, but that could also be how they were stored- keep that in mind when packing your gear.
Value
This price is great when you consider all that you are getting. 16-1 toolkit plus all of the great additional equipment?!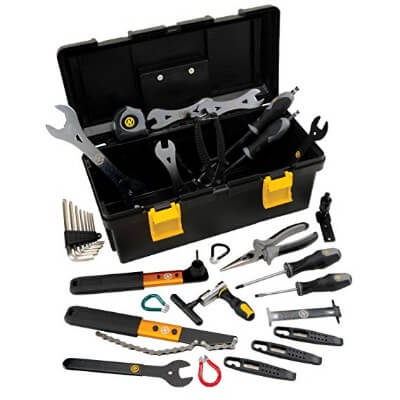 Includes a collection of 18 tools that will more than be sufficient for your basic and more occasional routine needs. With this bike repair kit, you may find that it replaces some of your other items in your other toolbox.
Read more
This kit is great for any level of biker. Be it that you are learning your way and even if you are even slightly more serious than the beginner, or more knowledgeable we should say than you will want to shop for some higher end tools.
Use
This updated model features stronger steel and more multi-use tools. In this kit, you will find a hex wrench, spanners, tire levers, screwdrivers, needle-nose pliers, multiple cone wrenches, a measuring tape, and wire cutters.
Features
Use both hands with separate tools if need be, they are lightweight but they will keep your bike up and running. This kit also comes with a steel/plastic carrying case so everything can stay together, safe and dry.
Portability
While we haven't been able to find the weight of this updated kit, the previous model weighed not even 6 pounds, making it very lightweight. We assume that this model is similar is size and weight. While it can help you through any situation, it isn't quite small enough to bring along with you.
Durability
These upgraded tools are stronger than ever! The metal components are made from high-quality steel and are built to last.
Value
This kit does come with a higher price tag, but the price is reflected in the quality of the product. If this is your first kit and you aren't sure if this is a phase or hobby, this isn't for you. This kit is ideal for die-hard cyclists who want to make their own repairs.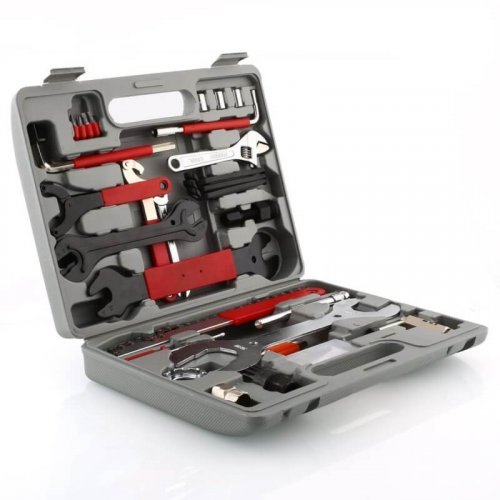 Premium repair kit for the premium individual that you are. Covering more than just your basics, this kit has some heavy duty tools that will get your bike up to running shape once more- or keep it there!
Read more
Customers love this premium quality repair kit- covering most of your cycling needs you won't need to turn to a bike shop every time you run into a problem, instead, your friends will be coming to you for their repairs!
Use
You are going to get 37 items with this purchase, that's a lot to list- but just know that it encompasses it all- except for a torque wrench.
Features
You will find yourself using this all the time. It also comes with a convenient carrying case- but doesn't include a torque wrench. For the price though, not bad!
Portability
It only weighs 6.4 pounds, that is not much at all! And with the carrying case, you may not be biking with it on any trails, but you will be able to take it nearly everywhere else without any problems.
Durability
These tools are remarked at being quality made and sturdy. Not the sturdiest tools on the market, but still very good.
Value
Quality tools at an affordable price, even without a torque wrench you can save that money and go and buy a better individual wrench.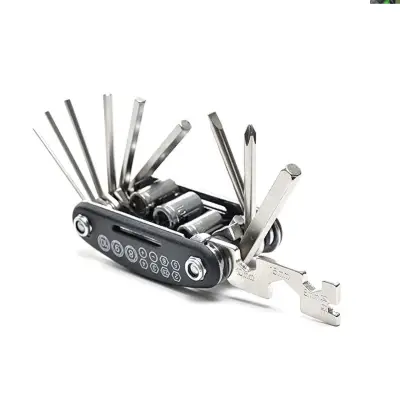 It's like your favorite army knife- but for bike repairs! This Amazon Choice list winner is able to do up to 16 different functions all from the convenience of traveling in your pocket! It is a ridiculously cheap tool, so cheap that you will likely buy it for yourself and ask your loved ones for other items in your Cart for gifts.
Read more
Everything that you need to be done in a pinch, from your cycling bag. This kit is so small and lightweight that you almost forget that it is there. And for the price that you pay, you can forget that you ever spent any money on it- two weekly coffees have paid for it!
Use
Socket hex wrenches, S slotted and Phillips screwdriver, socket extension, solid wrenches, hex key and spoke wrenches. Whether it is your bicycle or motorcycle this tool will always be packed in your gear for handy use- 16 different functions in all!
Features
Can only use one tool at a time in one place- if you need to do multi-hand repairs to your bike for any reason, this toolkit will not do what you need. If you just need something within your reach in a pinch to tighten something up really quickly- this is perfect. The tool comes all by its 16-function self- it folds in on itself and your pocket is its case.
Portability
Weighs less than half a pound and will even almost fit in average women's pants pockets.
Durability
Despite it's lightweight it does have a durable feel to it so you can crank away without feeling like you are playing with a child's toy.
Value
2 tools for a buck with this low purchase-virtually. It is a durable feeling and lightweight, light in price, and perfect for your emergency kit while on the go.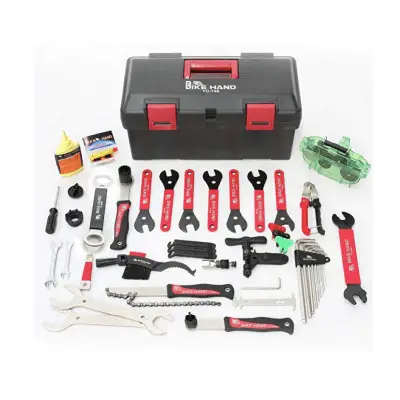 You're no novice to biking, but your toolbox could use an upgrade! Bikehand the brand that has been around since 1988 has an affordable toolkit that is complete with all the tools and equipment that the smaller and more portable version lacks. If you want to boost your toolbox with anything that our bike might need, this is it.
Read more
Bikehand made this list twice because their products are just that good. While the other kit is better for beginners, this kit is for the true biking enthusiast- tune-up and upgrade your bike from the comfort of your own home, on your own time, with your own budget!
Use
Includes a hex wrench set, some bottom brackets, and the installation tool, open-ended wrenches, chain cleaner tools, 7 different profession shop cone wrench, headset wrenches, flat and Phillips head screwdrivers, spoke wrenches- professional grade, tire levers and a couple handful more of items as well. This set will cover all your needs- except for a torque wrench.
Features
All the tools are independent of one another and can be used separately or together. Doesn't include a torque wrench, however, which it is sorely missing. Also, this kit comes with a carrying case so that all your tools can stay in one- safe- place together.
Portability
The toolbox that all the tools come in is 9" in Wide x 10" in Tall x 18" in Long and all together it weighs 16.5 pounds- getting this kit around the yard or the garage is no problem, the weight is pretty great too.
Durability
Some tools will see more use and therefore be more likely to break or bend. These work great as upgrade tools- but if you are looking for professional grade than you will want to shop each tool individually.
Value
For all that you get, the asking price is reasonable. You don't get a torque wrench with this kit, which it should really have included, but it covers everything else.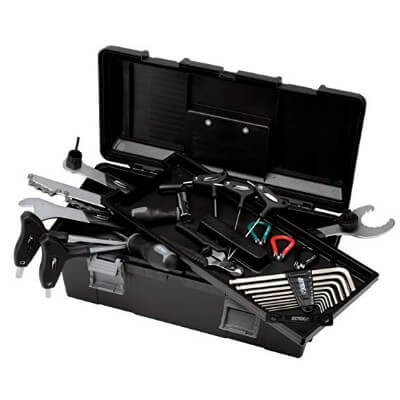 Has everything that you could want in a kit- several Hex wrenches; flat and Phillips screwdrivers; integrated bracket wrench- and more! Spin Doctor will have you out spinning your wheels in no time- anytime your friends have a problem they'll be calling you up to fix their bikes from now on!
Read more
If you are sick of taking your bike to the shop everytime you come down off the trails- then you really should consider saving money by buying a toolkit for yourself. This isn't going to be the toolkit that you can hand down to grandkids, but it will be the set that allows you to save up and buy the more quality made tools and still save money by doing repairs yourself!
Use
There is too much to list with this one, but you will find everything that you need to be tucked up in this convenient carrying case that will stand up to time and beatings. All the tire levers, spoke wrenches and screwdrivers that you could need are included.
Features
Everything that you are looking for is already included- counting the carrying case it is all stored in. This was just what consumers were looking for when starting out collecting tools for themselves. It was remarked that more quality material was put into the case rather than the tools- which is a shame, you want tools to be sturdy not the case. Still, it's nice that the case is nicely made.
Portability
This kit weighs in at 9.3 pounds, so it isn't heavy the heaviest on our list but as far as taking it out to the trails with you- that's another story, but you will have everything you need for your home garage.
Durability
This isn't the set of tools that you will hand down to your children's children- but it will be the starter kit that you are looking for while you save up to buy the more quality made tools on the market. Will get you through your basic needs.
Value
This kit costs slightly more than we would like to pay, but it's pretty darn reliable. For everything that is included in this kit, you get a lot at a good price- only a hand full of tune-ups and this kit will have more than paid for itself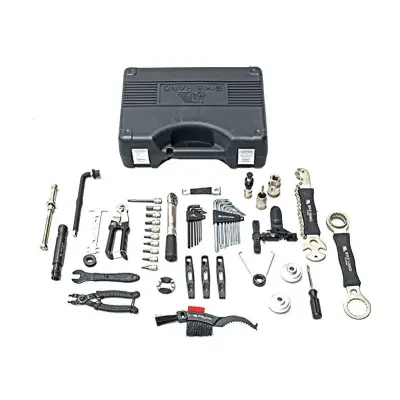 If you are into heavy duty work, or you put your bike through rigorous trials while on the trails, this is the kit that will deliver on all your needs. Pricier than the other two Top 3 winners this set isn't meant to travel everywhere with you, this is meant for your home tune-up garage. You get what you pay for with this kit- consumers couldn't get enough.
Read more
Forget going to the tune-up shop every time your bike needs to be fiddled with- this kit will be your go-to for all your home repair needs. Get the satisfaction of doing it yourself. It will be a little bit of an investment at the startup, but it quickly pays for itself. The torque wrench that is included is awesome because it allows you to get the perfect factory setting tightness every time.
Use
Comes with 23 items altogether, everything that you need to regularly maintain your bike is packed up in this purchase- that also includes a torque wrench- get the perfect factory setting strength tightness every time you tune your bike!
Features
Take your bike apart and put it back together again with this kit- you can! Consumers genuinely love this kit!
Portability
It weighs in at almost 12 pounds, so it doesn't travel the trails well- but it is perfect for your garage and tuning up your bike at home!
Durability
The steel that this kit is made of is treated with heat so that it is extra tough and long-lasting.
Value
Although this is pricier than some of the other competition- it isn't meant to be portable, so you are buying individual strength and durability, opposed to one tool doing it all- the more material a tool has the pricier it gets. But honestly, for all that is included this price is not bad at all- not for the amount of time that this will last in your toolbox over the years! Coming in Top 3 is Shimano.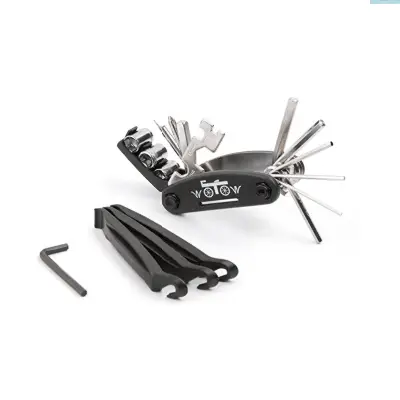 WOTOW is an Amazon Choice List winner; that means that lots of consumers are very satisfied with their purchase. At an unbelievable price, what is there to lose by just trying it out? 16 functions in 1, you will find that most of your needs are met while you travel the trails, natural or urban. Coming in our Top 3 is WOTOW!
Read more
When reviewing these products we couldn't believe the incredibly low price that this tool is currently listed under- with 16 functions you are essentially buying a handful of tools in various sizes for a handful of bucks- it's nuts! If you are looking to do heavy duty work on your bike- or you plan to repeatedly work on your bike- you will find that stronger material tools that are sold individually will do you more good. If you are looking to have gear with you at all times no matter where you go, this is it!
Use
Includes Allen Keys 2, 2.5-6; socket wrenches; slotted and Phillips screwdrivers; an extension for the socket; 8/9/10mm solid wrenches; 2/2.5/3/4/5/6mm Hex wrenches; and a wrench for the spokes. All said and done these tools add up to a pretty awesome 16-function toolkit.
Features
Most consumers find this tool a great addition to their biking gear when they jump on their bike and cycle away. It has lots of functions so it can replace a few tools in one convenient lightweight object. If you have to do lots of work on your bike you will want separate tools- but if you want to travel with a handy tool, this is it.
Portability
This will fit in your pocket and you won't even notice that it is there. It weighs 8.5 ounces- at just over half a pound that is nothing!
Durability
This tool is not meant for heavy duty cranking of any sort- but light bike work of nearly any kind will easily be handled by this kit.
Value
We can't get over the price of this toolkit. True it isn't meant for heavy duty use, but it is surely enough for what most consumers are looking for when in a pinch out on the trails.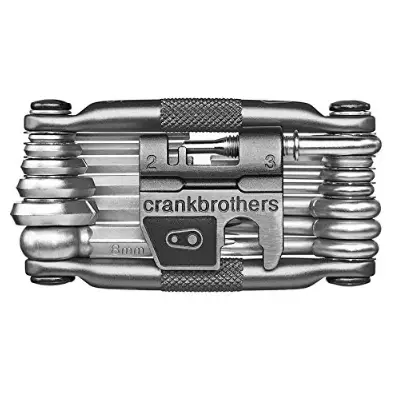 Crank Brothers- we feel like there is a joke to be made in there, but we'll let it lie. This kit has 7 different kinds of hex wrenches, a smattering of spoke wrenches, Phillips and flatheads, open wrenches and more that all add up to 19 different functionalities on this beast of a toolkit. Coming in as a #1 Bestseller on Amazon, as well as #1 on our Top 10 Best Bike Tool Kits, is Crank Brothers!
Read more
If you hit the trails regularly and you always seem to run into problems, this is the perfect solution. This piece of gear has over 19 different functions which will cover almost anything you could need while biking; it's lightweight and easily goes with you, even in a pocket if need be; it's also very reasonably priced, especially for all you are getting; oh, and it's stylish and comes in a variety of colors.
Use
This bike tool all in one kit has 7 hex wrenches, 4 spoke wrenches to choose from, large and small flathead and Phillips screwdrivers, and for the disc brakes a T-25 Torx driver, 8 and 10mm open wrenches, and a universal chain tool that serves all your needs short of full-on constructing a bike.
Features
This bike kit will do it all- everything that you are looking for short of building a bike up from scratch- this kit will handle. While you are out on the trails fret not when you have this incredible Crank Brothers tool packed. Additionally, this kit comes with a flask made out of durable aluminum, especially for your toolkit. The flask keeps water and erosion out so the kit stays beautiful longer and works like a charm the whole time.
Portability
This kit is small and lightweight- only 8 ounces kinda lightweight- it does 19 different vital functions- this will easily go with you and get the job done.
Durability
Made from steel- high tensile strength kind of steel- that's durable. It will go the miles that you do! It is not made from a corrosion-resistant material, however, so this will likely develop rust with time- but that won't detract from the functionality.
Value
This kit is an excellent price- It is lightweight and portable- It comes in 6 different colors so it is stylish- it has a ton of functions, 19 to be exact!

Subscribe to our Newsletter