Best Bike Toolkits
In a
Hurry? Editors choice: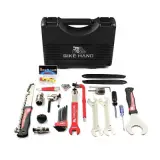 Test Winner: Bikehand

No bike enthusiast's toolbox is complete without a bike
tool kit
. That isn't to say that we endorse needless spending. If you use your bike often, you are going to need frequent tune-ups and
checkups
. That gets costly! Avoid all that nonsense by learning how to do it all yourself and purchasing a kit that is perfect for your needs! Toolkits come in two general categories: those that are portable and those that aren't.
Each one has its own advantages and disadvantages, but mostly, it comes down to whether you are looking for a toolkit for out on the trail with you, or back at your home
garage
. Once you know what you are looking for in general terms of use, you can begin to filter down through this list. Below we have reviewed the top ten best bike toolkits in the market today including detailed criteria for each product to help you decide which toolkit suits you best.
Standout Picks
Criteria Used for Evaluation
Use
Use is where we lay out the tools and what is included with the purchase. We don't include any opinions or consumer reviews in this section, we just lay out the tools as they are listed to us in our research. If you are interested to learn more about the tools, like the size and how to use them, we suggest digging deeper and checking out the specs on one of our affiliate links listed. If you already feel that you are reading to do the repairs and upkeep on your bike, you'll be able to tell from this section if the tools will be conducive to your needs or not.
Features
Most kits already come with a lot of tools and gear, but it is always nice to know what else is included- like a carrying case! What the tools are kept in shouldn't make you- or stop you- from buying any specific toolkit, but when it is included it is usually always well received. Some kits include more than others- this section just lets you know if and when a purchase includes more than just the tools themselves- or if it includes any specialty not included with most competition.
Portability
Portability can be extremely important if you plan on carrying the tool kit with you when riding. When going uphill, our own body weight is already fighting against us and we don't want to add any more strain than we have to. Some of the kits on our list are small enough to fit in your pocket, while others are more like a briefcase and would be difficult to carry with you. If you are a bike enthusiast and have the confidence that you can fix all bike-related issues, it may be worth it to you to have one portable kit and one kit for the house. This way, while riding, if you're in a pinch, you will be prepared to make a quick fix. Then, when you get home, you can get down to the root of the problem and make sure it never happens again.
Subscribe to our Newsletter