Best Mess Kits
In a Hurry? Editors choice: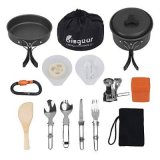 Test Winner: Bisgear

Chicken Cordon Bleu by the fire, why not? Mess kits were invented to take this issue out of camping, backpacking, or various other outdoor adventures. They are comprised of specific utensils and
cookware
for you to utilize anywhere you go.
Generally, they are designed to be comfortable and straightforward to carry with their compact nature. Besides being convenient, these kits are also great for the environment. They avoid the use of plastic plates and silverware. Below we have listed the top ten best equipment in the market currently including detailed criteria for each product to help you decide which ones suit your cooking needs best.
Standout Picks
Criteria Used for Evaluation
Top Ten Mess Kits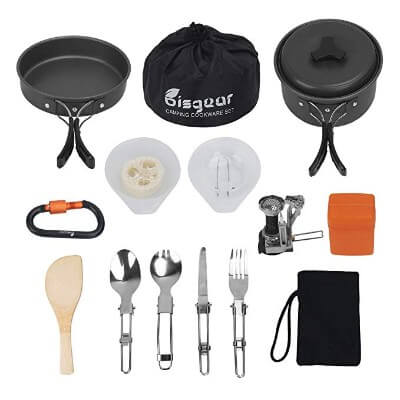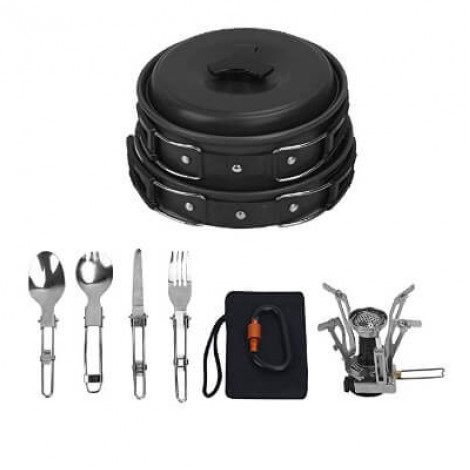 With this kit from Bisgear, the only accessories you'll need to supply are the propane tank and the food. You are set up for success with this 16-piece kit that includes a mini-stove, bowls, a pot and pan, and silverware. Everything fits together nicely into the included nylon mesh bag and weighs only 1.46-pounds.
Read more
Accessories
With a total of sixteen accessories, this kit provides you with just about everything but the kitchen sink. In this set, you'll find a pot, a pan, a lid, folding silverware (fork, spoon, fork, and knife), 2 BPA-free bowls, a soup spoon, a rice ladle, a loofah, and a miniature "stove" and a nylon carrying case with a carabiner. The kit is available in four different colors, but choose carefully, as they offer different items!
Portability
Every item has its place here. The silverware pack up together, the pots and pans pack up with items stored inside, and the stove has its small pouch. Afterward, there is a mesh bag to store everything in together. When it's all packed, the nylon mesh bag and its belongings weigh only 1.46-pounds. You can store this inside your pack or clip it to the outside.
Ease of Use
This set is straightforward to use and to clean up. The pots and pans are non-stick, but should not be put in a dishwasher. The stove is simple to use as long as you purchase the correct propane tank size, which is not included. One frequent customer gripe is that the bowls are too small. While this is annoying, it is just as easy to eat right out of the pot.
Durability
The Bisgear set was made for camping and to endure extreme conditions. With proper care and cleaning, you can expect this set to last you for a long time. The pots and pans are made out of FDA-approved aluminum, and the silverware is made from stainless steel.
Overall
I don't think that you need any more convincing to see why this kit is at the top of our list. With so many accessories and easy cleanup, we can look past the fact that the bowls are almost uselessly small. Otherwise, this is a great option.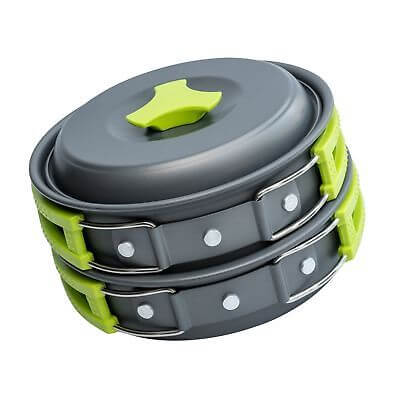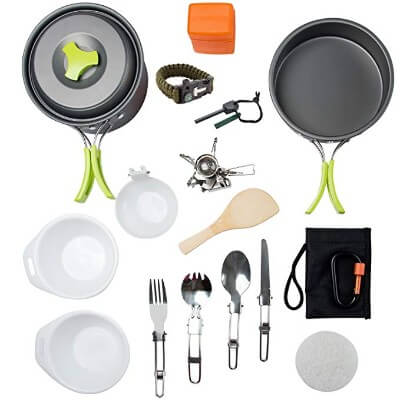 Each cookware kit is going to feature different cookware and dishes, but there may not be one on the planet that offers more content at a higher quality than MalloMe. Even with 10 different pieces to utilize, this still manages to be incredibly compact.
Read more
Accessories
MalloMe provides you with a pot cover, nonstick pan, 2 BPA-free bowls, a BPA-free soup spoon, a wooden spoon, a spatula, a stainless steel spork, and a one-liter nonstick pot.
Portability
This entire mess kit will collapse into a small bundle making it easy to transport. Plus, because MalloMe includes a nylon travel drawstring pouch with the order, you can easily place all the contents inside.
Ease of Use
What was not included in the contents section was a cleaning sponge, which is provided for you. While it is only useful for a few cleans, the cookware and dishes are fairly easy to clean.
Durability
All the contents that are included in this mess kit are built-to-last. The anodized aluminum, which is non-toxic, manages to conduct heat very quickly while extending the shelf life of the cookware.
Overall
If you happen to be displeased, even in the slightest, with this mess kit than MalloMe stands behind their 100 percent satisfaction guarantee and will address any issues that you are experiencing. The manner in which all these dishes are stored is rather ingenious and makes for an incredibly easy transport process. But, it manages to do so while providing you with 10 pieces of high-quality equipment.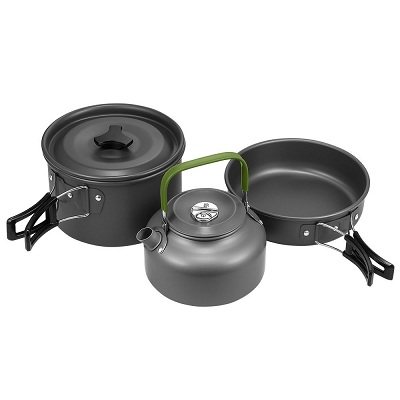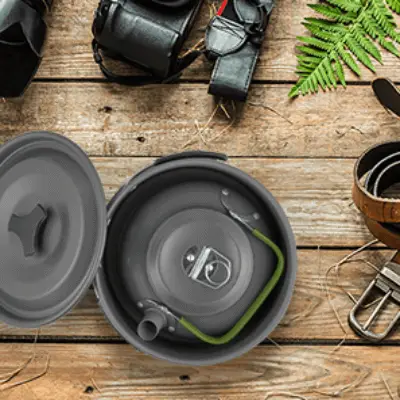 Terra Hiker certainly took their time to craft their kit to be as safe as possible. With heat-resistant handles on the aluminum cookware, you will not burn your hands. But, they should have taken more effort into the cleaning phase. Unfortunately, cleaning it can be a major hassle (but that truly is the only downside).
Read more
Accessories
Everything you need is included here such as a teapot, serving ladle, lid, boiling pot, frying pan, bamboo spoon, and three bowls. Each piece of cookware is useful in its own right here, but the pot conveniently boils 400ml of water in less than three minutes.
Portability
Not only is a nylon mesh bag provided for a feasible means of transport but Terra Hiker designed this in a way to pack up as tiny as physically possible.
Ease of Use
While they advertise this to be non-stick which would ease cleaning, many have stated otherwise. As such, cleaning these pans can be a major hassle especially if you make messy dishes.
Durability
While the boiling pot, frying pan, and teapot are all constructed from a non-toxic aluminum, the bowls and serving lade are made from non-toxic food-grade plastic. Plus, there are thermally insulated plastic handles that protect your fingers from burning.
Overall
It is funny, it seems like every time you see a product dubbed as non-stick it does not hold up to its moniker very well. If you simply spray the pan, this issue will be resolved and you can begin to enjoy the luxuries that this kit delivers to you.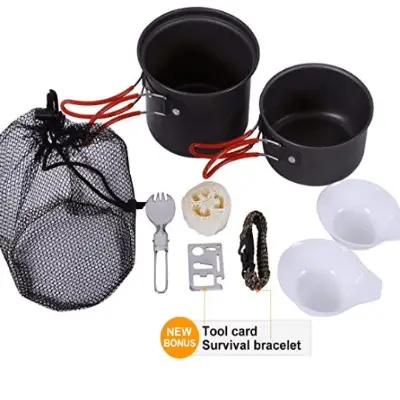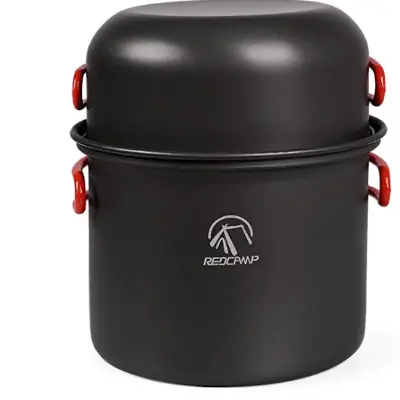 The Redcamp is a great option for one person. Besides the food and the fire, you're all set. Overall, customers have been pleased with this set and amazed by its light weight. However, the silicon handles must be kept away from the flame, as they will (and have) catch on fire.
Read more
Accessories
This set is available in multiple sizes including 9, 12, 13, or 23 pieces. However, for this review, we are going to focus on the 9-piece set. This is a great set for one person. It includes a 1,000ml pot, a pan, two bowls, a folding spoon, a loofah, a mesh bag, a survival bracelet, and a tool card.
Portability
As you would assume, the less amount of items, the more portable it is. This set is very lightweight and portable. It weighs only .57 pounds and when packed up, it measures only 6.7" x 5" x 5". There is also a little bit of room left in the pot to slightly customize the kit as well. However, keep in mind that customization will change the weight.
Ease of Use
As the trend goes, these "non-stick" pots and pans aren't as simple to clean as it sounds- the food sticks sometimes. The handles of the pot and pan are plastic, so you will need to remember to keep them away from the fire. Overall, it's a simple system, easy to use, and pack. The contents should only be hand washed.
Durability
The pot and pan are both made from FDA-approved aluminum. Even though this kit weighs less than one pound, it is quite durable! Additionally, this set comes with a one-year warranty. Just don't forget to keep the handles away from the fire- they will catch on fire.
Overall
The tool card and safety bracelet are two welcomed additions that we don't often see in these kits. The kit is relatively easy to clean and has just about every accessory that you need. As long as you are cautious when cooking over an open flame, you'll be set.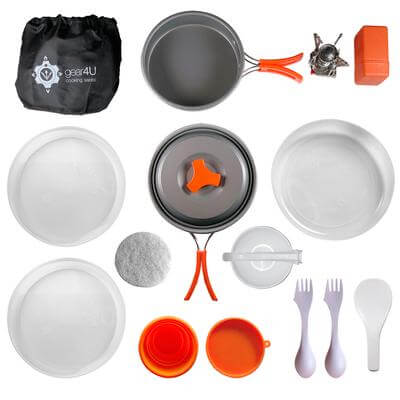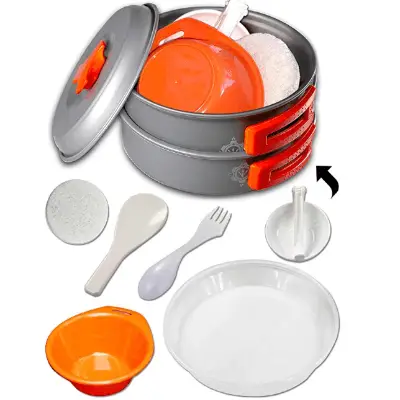 This kit succeeds in all areas you would expect and unfortunately, fails in common areas, as well. With the combination of its compact and lightweight nature, anodized aluminum construction, and FDA approved cookware, it is worth the money spent.
Read more
Accessories
The total package is present here and included is a non-stick pot and lid, 2 BPA-free bowls, two silicone folding cups, two stainless steel sporks, a BPA-free spoon, a bamboo spatula, and a non-stick frying pan.
Portability
All the items in this kit stack together and store as compactly as you could imagine. For even more convenience, there is an included nylon bag that you can utilize for carrying.
Ease of Use
All the bowls, cups, soup ladle, sporks, and spatula, are dishwasher safe. Also, Gear4U includes a sponge to ensure easy cleaning. Of course, you can also clean it with your sponge.
Durability
Made from the highest quality anodized aluminum on the planet (which is both durable and non-toxic) and being FDA-approved, this kit is both safe and built-to-last.
Overall
Gear4U, just as a few other manufacturers, backs this mess kit with their 100 percent satisfaction guarantee. In the instance where you are not satisfied with the kit, simply inform them about it. No doubt, what is more convenient and handy than anything is the manner in which this compacts down. As there are a lot of cookware and dishes included, this is key to prevent transport from being a pain.

6

. Light My Fire Meal Kit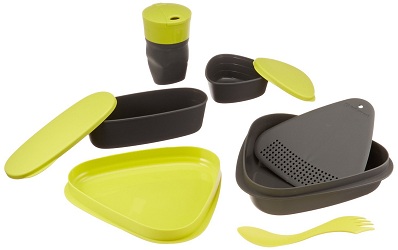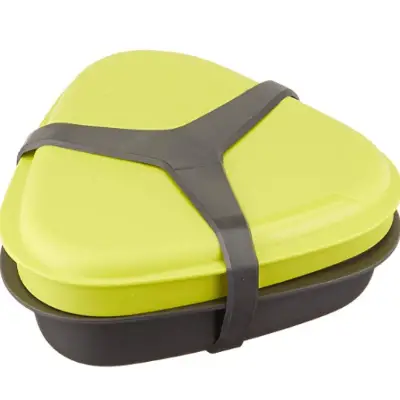 Does this kit feature cookware craft from stainless steel or aluminum? No, but the polypropylene construction is beneficial in a couple of ways. One, it does not soften at high temperatures and it is BPA-free.
Read more
Accessories
8-pieces of cookware and dishes are included. This features one plate, one bowl, one SnapBox, one cup, one cutting board (which also works as a strainer), one SnapBox oval, one spork, and a harness.
Portability
To make the kit as portable as humanly possible, all the pieces store inside of the bowl and the lid. Also, the cup will expand when you need a drink and collapse when you need to transport it.
Ease of Use
For those who have one installed in their home, the cookware and dishes present in this kit are dishwasher safe meaning you do not have to hand-wash them.
Durability
All the SnapBoxes feature snap-lock lids and are waterproof. Conveniently, the cutting board is also designed to be a strainer. Also, the spork is designed in a way that will not scratch the cookware.
Overall
One thing to note is that the elastic strap that is included to secure the kit is not durable and will not last you very long. If you can live with eventually needing to design a new way to secure it, nothing else should be a concern. There are multiple color options available.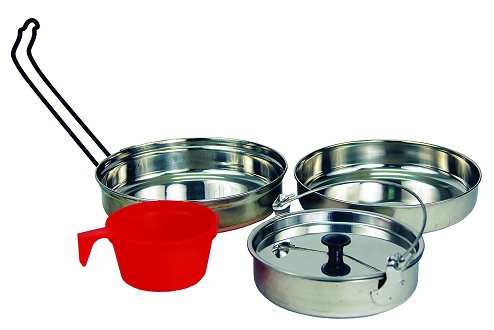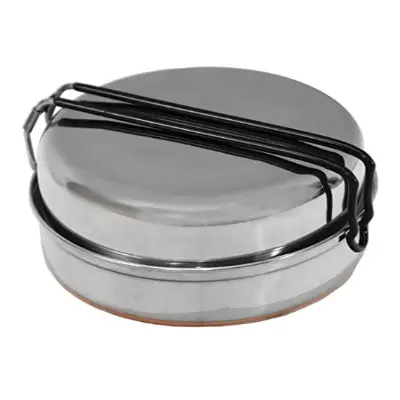 What more could be said that has not already been said? You know what to expect at this point, so nothing the Texsport Outdoor Kit provides is going to shock you. But, is this really a bad thing when you stop and think about it for a second?
Read more
Accessories
The bare essentials are included here to deliver meals for breakfast, lunch, and dinner. This includes two frying pans, a boiling pot with a lid and one plastic cup. For both of the frying pans, the handle is interchangeable, which saves space as you do not have to store multiple handles.
Portability
All the pieces nest together, and you can store them in the included sack.
Ease of Use
Texsport claims that all dinnerware is "easy to clean" and for the most part, soap and water tends to suffice.
Durability
The large frying pan is coated with polished stainless steel and a copper bottom. Though, it would have been nice for the other cookware to feature this.
Overall
Nothing but quality here, with nothing but minor gripes to concern yourself with. But, nothing could prevent this from being a high recommendation.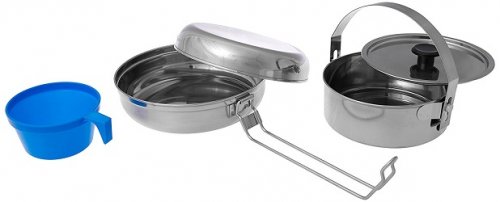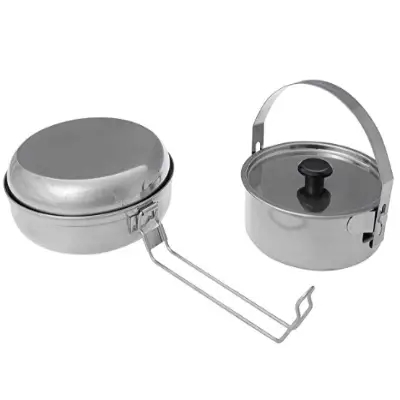 While this kit may not necessarily be enough for you on a long camping trip, it still provides you with enough cookware for basic cooking necessities. But, this does make it incredibly easy to store and clean.
Read more
Accessories
You receive a pot, pan, and a measuring cup/bowl. Again, this does not seem like a lot, but with these three dishes, you can create just about anything you can think of.
Portability
The amount of cookware alone makes this ideal for portability, but the clamshell design with a folding wire handle and lightweight steel also aid in its compact nature.
Ease of Use
As this is stainless steel, all three pieces of cookware/dishes are incredibly easy to clean. Only the cup/bowl is not made of stainless steel, but it is also easy to wash.
Durability
Indeed, for long-lasting shelf life, the cookware is crafted from stainless steel which has a natural high-tolerance against rust. Because this is crafted from stainless steel, you need not worry about potential toxins entering your food.
Overall
Clearly, the combination of its lightweight nature and stainless steel construction make this a high recommendation. Sure, it is not perfect as it would have been nice for the plastic cup to be made from stainless steel, but it will still suffice.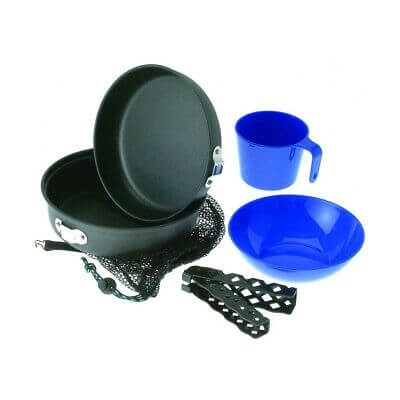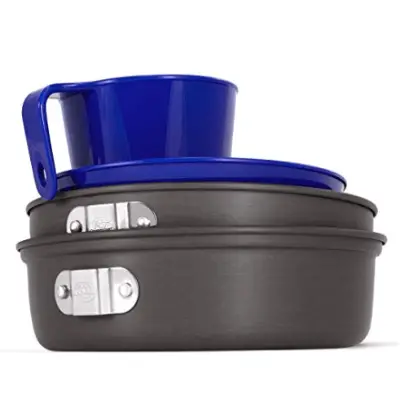 Even though it does not land at number one on this list, this mess kit from GSI Outdoors is practically just as amazing (hence the same rating). A feasible way to latch the contents together would have been nice, but you can DIY that issue.
Read more
Accessories
Included in this kit for you is a frying pan and lid (that has multiple uses), a Diamond Back handle, a cup, a bowl, and a cooking pot. To provide a secure handle while you are cooking, the Diamond Back handle will come into play. As this can clamp onto the exterior brackets of both the pot and frying pan, you can utilize it for a far more convenient experience.
Portability
Unbelievably enough, the total weight of this kit is only 19.2 ounces. If that was not enough, the manufacturer includes a mesh stuff sack for you to carry all the dishes in.
Ease of Use
This section will always depend on what you are creating, but, overall, the clean-up process should not give you any hassle. Most of the time, a soaked paper towel will get the job accomplished.
Durability
Just because this kit is super lightweight, it does not mean that it suffers from a lack of quality and durability. On the contrary, the hard-anodized aluminum cookware is not cheaply made.
Overall
Truthfully, the only real drawbacks to this kit are revolved around transporting it. The mesh bag is great, but there is no way to latch the cookware together, and the pans tend to rattle around. But, performance-wise, not too many complaints are present.

10

. Coleman Stainless Steel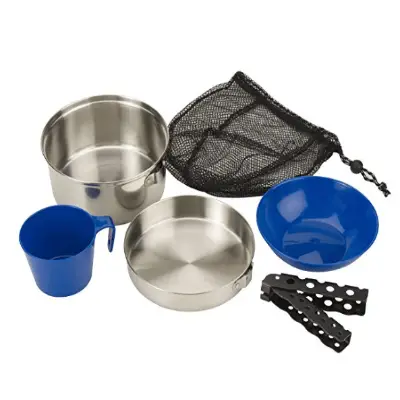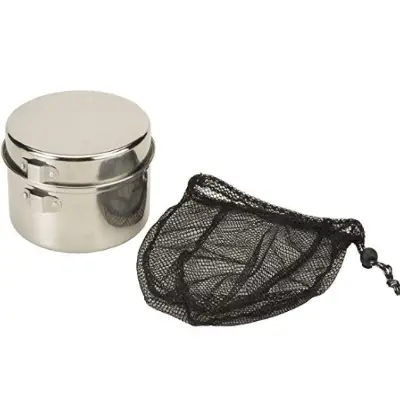 This stainless steel kit is missing a few necessities, but it's a great starter kit. Luckily, there is a little bit of extra room inside the two-quart stockpot to add in a couple of spices or a utensil. The most alluring feature of this kit is its durability.
Read more
Accessories
This six-piece kit is great for one to two people. It comes with a two-quart stockpot, a lid which can also be used as a frying pan, one bowl, one mug, a detachable handle, and a black mesh carrying bag.
Portability
Toting this along is quite simple. However, the two-quart stockpot is bigger than most pots that are included in a camping cookware kit. All of the included accessories fit comfortably inside the stockpot. Reviewers say that there is even some extra room to add utensils or salt and pepper. With everything packed and in the mesh bag, the overall weight is 1.35-pounds.
Ease of Use
Unfortunately, many reviewers have noted that this kit is not very easy to clean because it doesn't feature non-stick surfaces. However, the BPA-free bowl and mug can be machine washed when you get home. Additionally, Coleman suggests that you can use the mesh bag for dip-cleaning. That won't sufficiently clean the pot, but it's a good way to dust off the set.
Durability
The pot and lid/pan of this kit are made from stainless steel, making them very durable. This is a kit that you will be traveling and camping with for many years.
Overall
This is an excellent basics kit. It needs a bit of customization and extra accessories to make a full meal, but it's an excellent place to start. The stainless steel construction of the pot and pan are what makes this kit shine.

Subscribe to our Newsletter