Best Bike Locks
In a
Hurry? Editors choice: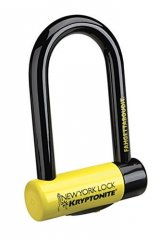 Test Winner: Kryptonite New York Fahgettaboudit Mini

Coming from someone who recently had their bicycle stolen, A LOCK IS VERY IMPORTANT! A bike lock can keep your cherished two-wheel bicycle safe from potential thieves, and ensure that you can find it in the same place you put it the next time you go for a ride. There are endless options when it comes to bike security, and while the initial function is simple, reliability is a must. Not every person believes that they need a bike lock but it is
a great piece of gear
to invest in for the price, as it will ensure the safety of your bicycle. Even though they all have the same basic job, the different designs offer a lot more flexibility than bike locks used to offer only a few years ago.
Standout Picks
Criteria Used for Evaluation
Brand
There are several big brands on the list, with the most recognizable being the granddaddy Master Lock. Founded in 1921, they aren't the first company people think about when they want a bike lock. But as a leader in security products, it only makes sense for them to have some skin in the game for bike locks. Their inclusion on the list is a result of improving on their best bike lock, one that has more use than all of the other products on the list. Sometimes having a product that has multiple uses is valuable, since it keeps you from having to purchase multiple products.
The other brands on the list take a direct approach to protect bikes, and the surprise with the competition is that a lot of them are newer companies. A good bulk of the companies on the list got their start with Kickstarter and other fundraisings and eventually turned into full-fledged projects. Bitlock, in particular, had strong backing by thousands of users, who of course consisted of several people from the bike community. The bike lock industry over the years has been shaped by the users themselves, with millions being active in deciding the core features of major products. With that in mind, Master Lock is not a part of that movement, so their inclusion on the list is really remarkable. It goes to show just how useful their products are, even in an industry that has been leaning towards modern bike locks for the consumers.
Features
Bike locks have really come a long way. Who would have ever thought that, for one, you would need to charge a bike seat, and two, that you could solar charge it? Our list of locks includes many locks with features we had never even thought out. Another one, for example, is Seatylock, the bike lock that doubles as a seat replacement. Hiplock is another product that offers a totally different experience. This lock can be worn around your body when you're not using it. Aside from these examples, we researched each lock thoroughly and detailed the features of each in its own section. Some only feature an extra key or a super-tough material, but others are quite fascinating.
Protection
Presumably, the most important criterion here is the protection of the bike! If you choose a traditional bike lock, we looked at the materials and closing method to decipher how difficult it would be to break or cut. For the more modern locks, we investigated the electronics inside the lock and how well they function. There are some locks that we considered that had issues connecting with the smartphone and wouldn't lock or unlock properly. If the bike lock can't offer your bike the proper protection, it is absolutely useless.
Subscribe to our Newsletter