Best Bike Locks
In a Hurry? Editors choice: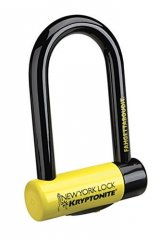 Test Winner: Kryptonite New York Fahgettaboudit Mini

Coming from someone who recently had their bicycle stolen, A LOCK IS VERY IMPORTANT! A bike lock can keep your cherished two-wheel bicycle safe from potential thieves, and ensure that you can find it in the same place you put it the next time you go for a ride. There are endless options when it comes to bike security, and while the initial function is simple, reliability is a must. Not every person believes that they need a bike lock but it is
a great piece of gear
to invest in for the price, as it will ensure the safety of your bicycle. Even though they all have the same basic job, the different designs offer a lot more flexibility than bike locks used to offer only a few years ago.
Standout Picks
Criteria Used for Evaluation
Brand
There are several big brands on the list, with the most recognizable being the granddaddy Master Lock. Founded in 1921, they aren't the first company people think about when they want a bike lock. But as a leader in security products, it only makes sense for them to have some skin in the game for bike locks. Their inclusion on the list is a result of improving on their best bike lock, one that has more use than all of the other products on the list. Sometimes having a product that has multiple uses is valuable, since it keeps you from having to purchase multiple products.
The other brands on the list take a direct approach to protect bikes, and the surprise with the competition is that a lot of them are newer companies. A good bulk of the companies on the list got their start with Kickstarter and other fundraisings and eventually turned into full-fledged projects. Bitlock, in particular, had strong backing by thousands of users, who of course consisted of several people from the bike community. The bike lock industry over the years has been shaped by the users themselves, with millions being active in deciding the core features of major products. With that in mind, Master Lock is not a part of that movement, so their inclusion on the list is really remarkable. It goes to show just how useful their products are, even in an industry that has been leaning towards modern bike locks for the consumers.
Features
Bike locks have really come a long way. Who would have ever thought that, for one, you would need to charge a bike seat, and two, that you could solar charge it? Our list of locks includes many locks with features we had never even thought out. Another one, for example, is Seatylock, the bike lock that doubles as a seat replacement. Hiplock is another product that offers a totally different experience. This lock can be worn around your body when you're not using it. Aside from these examples, we researched each lock thoroughly and detailed the features of each in its own section. Some only feature an extra key or a super-tough material, but others are quite fascinating.
Protection
Presumably, the most important criterion here is the protection of the bike! If you choose a traditional bike lock, we looked at the materials and closing method to decipher how difficult it would be to break or cut. For the more modern locks, we investigated the electronics inside the lock and how well they function. There are some locks that we considered that had issues connecting with the smartphone and wouldn't lock or unlock properly. If the bike lock can't offer your bike the proper protection, it is absolutely useless.
Top 10 Picks
1

. Kryptonite New York Fahgettaboudit Mini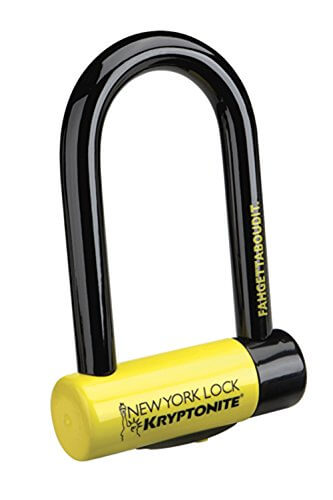 Arguably the most popular brand in bike locks these days, Kryptonite's Fahghettaboudit boasts a classic 'U' shape but offers great strength and security for your ride.
Read more
Brand Recognition
Kryptonite has one of the most recognizable names in the industry, and not because of the Superman reference. Their products are often measured against some of the top tiers in the bike lock world.
Features
With a max performance steel shackle, it resists both bolt cutters and leverage attacks. One of the three keys is lighted and has a swappable battery for when it dies. This lock is quite average in weight at 5.7 pounds.
Protection
This lock is made from top-notch materials, such as hardened steel, a max performance steel shackle, and a high-security disc cylinder. This blend of materials makes it nearly impossible for someone to break or tamper with it.
Summary
The 'U' shape allows for easy locking in just about any location. This convenience combined with the thief-proof strength of the Kryptonite will have most bikers feeling satisfied.

2

. Kryptonite Kryptolok Series 2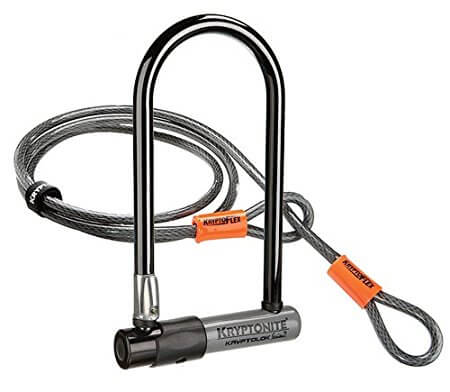 Kryptonite's first appearance on our list is with the Kryptolok. This is a serious piece of technology. Made with 13mm hardened steel, this bike lock will repel most thieves.
Read more
Brand Recognition
Kryptonite is a serious competitor in the lock game. It's made our list more than once and offers some of the best locks out there.
Features
The lock also comes with a 4' extension cable. Some might find this useful while others think it was an unnecessary afterthought. The lock itself weighs in at 3.59 pounds.
Protection
Made from 13mm hardened steel, this lock will hold up against most bike thieves.
Summary
Buyers that are looking for a lower cost for a product that will still keep your valuables safe will find this a good option.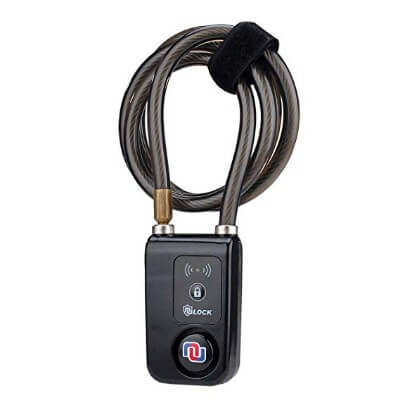 Buyers should consider this the most innovative bike lock to come into the industry in years. This lock requires no keys or combinations, just your smartphone. And yes, even if you do not have a signal, you can still unlock the device.
Read more
Brand Recognition
Nulock is made by a brand called Nunet and they fly fairly under the radar. Their headquarters is located in Southern California and they are committed to creating electronics to help make life easier.
Features
As mentioned, the key to this bike lock is your smartphone. It is compatible with iPhone 4s and above, Android 4.3 and above, and Bluetooth 4.0 and above. If someone tampers or attempts the braided steel, a 110db alarm will sound. Because this is an electronic device you may wonder how it works in extreme weather conditions. The Nulock can be in temperatures from -14 to 140 degrees Fahrenheit and is splash resistant. Depending on the length you purchase, this item weighs around 1 pound.
Protection
This lock is available in different lengths, ranging from 15-71 inches. The chain combines 7 lines of braided steel, which are each individually made from 19 braided steel. It is .4 inches in diameter and would be extremely difficult to break. Additionally, if someone did try to remove your lock, an alarm would sound and most likely scare off the thief.
Summary
Don't let the low brand recognition turn you away from this innovative bike lock. Some people complain that the lock beeps when you lock it, but we think of that as a peace of mind knowing that it is functionally locked.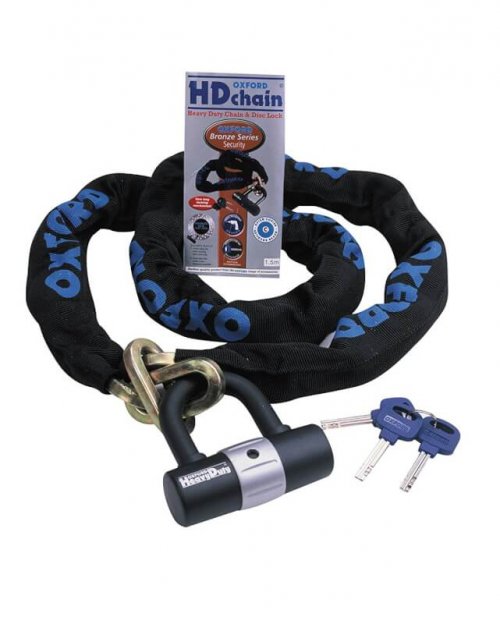 The Oxford OF159 is a more expensive bike lock but definitely not the most expensive on our list. Buyers have said it's worth every penny but before making your purchase, check over our list to find the best lock for you.
Read more
Brand Recognition
Oxford has an assortment of traditional and non-traditional bike locks. They are a respected world brand that always brings their best for the customers.
Features
This bike lock is a bit heavier than others on our list. It weighs 8 pounds. The chain link is covered in cloth to avoid chipping the paint of your bike. One of the most impressive and unique features from this Oxford lock is the key replacement service.
Protection
This standard chain lock is made of a hardened 9.5-millimeter square link chain. The padlock doubles as a disc lock. There is also a key replacement service that can get you out of a tight spot if needed.
Summary
This pretty standard chain lock is a great addition to your kit if you can afford the price tag.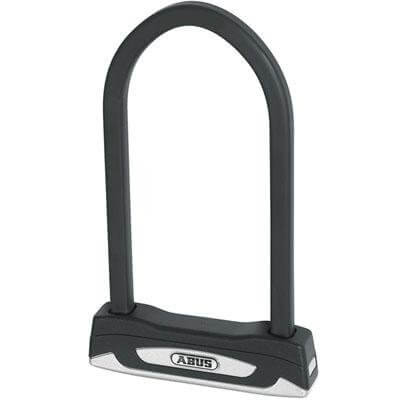 The German-engineered X-Plus will surprise a lot of bike users that invested in their older products. This marks a big improvement with their internal technologies and proves that traditional bike locks can still be top-rated products.
Read more
Brand Recognition
Abus is well respected and has often made their way into the top ten lists. They sell both modern and traditional locks that stick to the company's core principles.
Features
Some early adopters were lucky enough to receive this with mounting brackets. Depending on where it is purchased, there are some older stocks that may still have this in the box. Each lock comes with 2 keys, and one of those keys includes a lighted cover, making it easier to unlock your bike in the dark. Additionally, this lock weighs 4 pounds.
Protection
There are two keys included, so the backup can always go in a safe place. The Abus Code Card that comes with the keys makes ordering a new key simple. And the extra weight of the product is no coincidence, as it provides one of the strongest security levels on the list.
Summary
Not every bike user wants a high tech bike lock, and that is where the Granit X-Plus shines. It's strong, easy to use and secures your bike in the best way possible.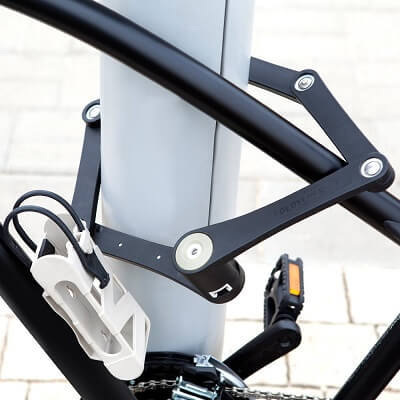 The Foldylock Compact lock is made up of six plastic-coated metal bars that unfold into a loop. It may look a bit daunting when this lock is new to you, but once you get the hang of it, the Foldylock slides easily back into place.
Read more
Brand Recognition
Like a lot of fresh names on the list, Foldylock continues to make a name for itself. The company takes flexibility and security to a new level in a small but powerful package.
Features
The Foldylock Compact features a silent ride, meaning that the rattle elimination tool stops the lock from rattling during your rides. The foldable design makes it easy to carry. Additionally, it is coated in plastic to prevent your bike from scratches. This lock weighs 2.2 pounds.
Protection
This is as close to perfection as you can get when it comes to a bike lock that retains its flexibility and portability. The lock and hinges have a durable and strong feel to them. The metal bars would be highly difficult to cut through, and the rivets at the hinges are steel.
Summary
In all, this lock is flexible, foldable, and offers massive protection to your bike. It's a great investment.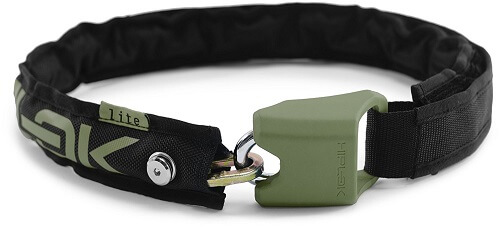 Count this as another bike lock that sticks to a traditional look and style. While the lower security may scare off some users, there is no other lock on the list as convenient as the Hiplok Lite. At only 1 kg and with a great design, the Hiplok lite won the Eurobike Award for Design.
Read more
Brand Recognition
With all of the models released by Hiplok, they have become recognizable by look alone. It's one of the popular brands to own, with some users opting to use it as a backup.
Features
This particular lock was designed to be worn on the body and is fully adjustable for a 26"-44" waist. Since the Hiplok mini is made to be carried on someone's body, your bike will remain clean looking and won't rattle as you carry it. This lock weighs about 2 pounds.
Protection
The padlock utilizes a hard shackle that is resistant to bolt croppers and hacksaw attempts. The lock uses a disc tumbler which is next to impossible to pick. The body of the lock is stainless steel and the chaincase is hardened steel alloy.
Summary
Not a lot of bike locks on the list can double as a fashion statement. With all of the versions of the Hiplok, buyers can pick or choose a style that works the best for their personal taste.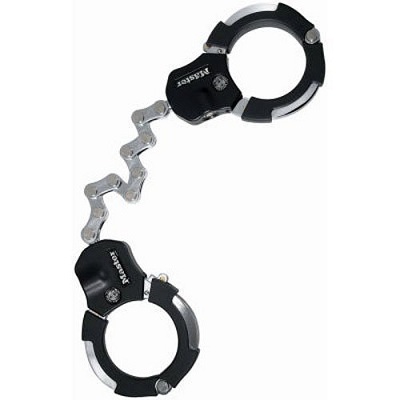 Not everyone agrees on the look or effectiveness of the Master Lock, but most of those complaints come from previous iterations. The 8290DPS is a surprise inclusion on the list and is different enough in quality to make previous owners revisit the product.
Read more
Brand Recognition
Master Lock is the most recognizable name on the list and is best known for its school locks. The 96-year-old company has had products used by millions of people worldwide and continues to be a leader in the lock industry.
Features
The 22 inches of a link is both a blessing and a curse for some users. On one hand, it provides a great amount of room to attach it to an object. On the other hand, it introduces more weak points than any other product on the list. This lock is also fairly lightweight with only 3.2 pounds.
Protection
Security is heavily dependent on how you lock your equipment. The materials are strong, but the overall security of the product will go down if you leave too much of the link loose and exposed.
Summary
As a great universal lock for more than just bikes, Master Lock may have created the perfect secondary lock for bike users. You can never be too careful, so consider this a worthwhile complement to the harder hitters in the industry.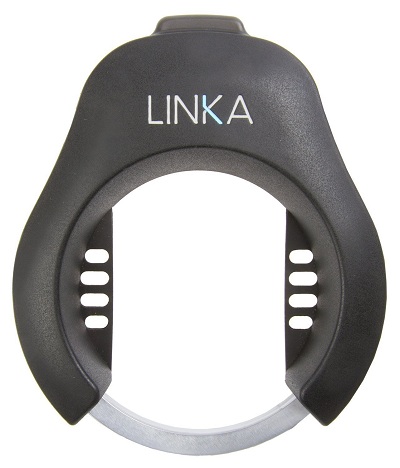 Linka is part of the new wave of smartphone-powered bike locks that secure (and even share) your bike. It is the absolute best you can get and balances out a lot of the newer features without being overwhelming.
Read more
Brand Recognition
Linka is rising in the ranks thanks to a revolutionary new take on the common bike lock. Their app is always up to date and tends to be less buggy than similar bike apps.
Features
This lock weighs 1.6 pounds. Linka has a built-in siren that can be heard from blocks away. And in the case where your phone dies, the lockless feature can be bypassed by entering your four-digit code.
Protection
This isn't some simple lock that can be broken within a few seconds. Tools will have a tough time penetrating the vulnerable parts of the lock without triggering the alarm.
Summary
Even among the more established locks on the list, the Linka is a standout. Its cutting-edge features are polished enough to make it one of the top choices on the list.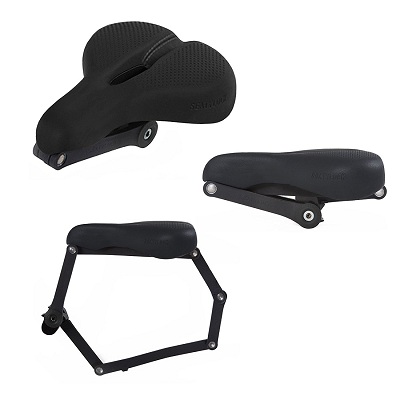 This may very well be the most unique bike lock on the list, and one that really stands out from the rest. Seatylock takes bike security to different heights by introducing a foolproof design with very little cons.
Read more
Brand Recognition
There really aren't a lot of options to choose from when it comes to seat theft with bikes. Seatylock has become recognizable for fighting against this type of theft and having the most unique product for the battlefront.
Features
Well, aside from the obvious fact that this lock is incredibly innovative and useful, the available colors are chameleon black, classic black and classic brown. For a narrow seat, the 6.25-inch Trekking Saddle is a nice alternative to the original Comfort Saddle of 8.25 inches. This seat/lock combination only weighs 3.1 pounds.
Protection
Underneath the soft seat is a state of the art lock that takes a lot of effort to get through. For the size, it really protects well and doesn't have a lot of limitations.
Summary
A seat that doubles as a lock will take a lot of bike riders by surprise. It's an ingenious design that protects bikes on multiple fronts from the common thief.

Subscribe to our Newsletter