Best Kids Bike Seats
In a
Hurry? Editors choice: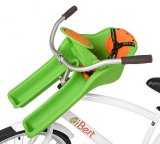 Test Winner: iBert Safe-T-Seat

One day, your little one will jump on a bike and be able to ride along with you on all of your outdoor
riding
adventures. Until that day comes, they will just have to ride along with you by the use of a kids bike seat. Going on a bike ride together with your little one can be an incredibly rewarding experience for both of you.
Many of the bike
seats
that are available on the market today come with a myriad of features that makes hitting the trails even easier. Some models even come with additional brackets for 29" mountain bike tires with a built-in suspension to make climbing those difficult
trails
with a little partner safer and easier.
Standout Picks
Criteria Used for Evaluation
Ease of Use
Installation works hand in hand with safety and ease of use. If the unit is not installed properly, you run the risk of it falling off in the middle of your ride. Seats that have a simple installation with clear instructions and accessible customer service landed higher on this list than those that didn't. If you are ever unsure about how to install your seat, you can always take it to your local bike shop and have a professional check to make sure that it is installed properly.
We also addressed, in this category, how easy it is to get your child in and out of the seat.
There are various schools of thought when selecting a front mounted vs rear mounted, and they each come with their own sets of advantages and disadvantages. It was almost impossible to determine which one was unequivocally better, therefore we selected a blend of both. Front mounted models allow your child to see more of the beautiful scenery as it unfolds before both of you. You are able to converse with them and can truly gauge how much (or how little) fun that they are having. The drawback of these models is that it can limit maneuverability, and depending on your style of bike it could mean that you have an uncomfortable ride having to hunch over your little one. Rear mounted units are great because they do not hinder your maneuverability, and you are able to more comfortably ride. The downside is that your passenger spends a lot of time looking at your back, and you are unable to engage with them in the same way you could a front mounted model.
Features
When it comes to buying anything for your child- safety is the number one concern. When shopping for seats, be sure to check to make sure the product has passed inspections like those from places such as the American Society for Testing and Materials. It's important that the harness is secure, and is able to be adjusted to conform to various body types. A three-point harness is great, but a 5-point harness is even better. It is all about adjustability and getting the perfect fit for your child.
Value
When shopping for a product for your child, you never want to skimp on quality, and sometimes that means paying a significantly higher price. However, some of the less expensive seats on this list are made from the same quality materials as some of the more expensive models and come at a significantly lower price with the same level of guarantees and safety inspections. A higher price doesn't always mean higher quality.
When considering the value of a product, you must measure in all of the criterion. Depending on the ease of use, features, weight, and how well the product actually works, you will find the value of the product.
Weight
Weight is a very important feature to consider when investing in a child's bike seat. For some people, it's hard enough to tow around yourself and adding an extra forty pounds on to that can feel nearly impossible. Depending on the type of bike that you have, and if it has gears or not, the bike itself may already be a challenge. The weight of a bike seat also plays a role when you consider the terrain that you will be travelling on. If there a lot of hills, you may have more trouble making your way to the top with extra weight.
Subscribe to our Newsletter