Best Reflective Jackets
last updated:
Apr 06, 2020
Are you a working man or woman who find yourself working outdoors, in all types of weather during the early hours of the morning or late evening? If you answered yes to this question, you're probably going to need to invest in a high-quality reflective jacket at some point. These garments are designed to keep you warm, somewhat dry (in some cases, entirely dry) and, most important, safe. With their bright colors and reflective tape, you will be visible, thus safe from harm during your workday. There are infinite options out there in the world of reflective jackets so we have compiled this buying guide with the ten best on the market right now. Read on to find out which jacket is best for your needs.
In a Hurry? The test winner after 3 hrs of research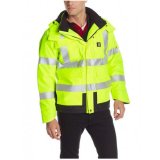 Carhartt
Why is it better?
The jacket remains flexible in the cold
Lots of pockets
Warm for winter conditions
Hood snaps off
Adjustable Waist
In a
Hurry? Editors choice: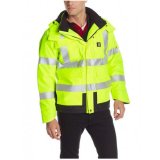 Test Winner: Carhartt

32
Researched Sources
21
Reviews Considered
3
Hours Researching
14
Products Evaluated
Visibility
Size
Materials
Water Resistance
Features
By Default
Criteria Used for Evaluation

Visibility
Compliance to national standards is incredibly important.
It would kind of be silly if we weren't to include Visibility as one of the main criterion we used for evaluating these reflective jackets. This is THE criterion we used first and foremost in choosing the best options on the market today and should be the number one thing you look for as well. The important thing to note here is that no matter which product you choose from our top ten list, you can be sure that you will be seen in it. These jackets are all fluorescent in color or equipped with reflective bands to help ensure that you will be kept safe in what otherwise might be a dangerous situation. Many of the options on our list as ANSI/ISEA 107 compliant which means they have been evaluated by the American National Standards Institute and approved for use in situations where hi-res garments are necessary.

Size
Choose something that will fit you without too much bulk.
Though it may seem obvious, you want your new garment to fit you properly. It's best if you don't get a jacket that is too big for you but instead opts for one that fits you just right. This is particularly important if you plan on wearing your new jacket while you are working. Wearing clothing that is too bulky may result in dangling material that can become hazardous fast. You should always consider what you will be wearing underneath your new jacket as well to ensure you're buying a size that fits your body as well as you're under layers.

Materials
Consider your climate and what weather you will be working in.
Though most of the jackets on this list are made of the same or very similar materials, it is still a very important criterion to look at when you're deciding which jacket to buy. In order to decide what type of material you should look for in your jacket, you have to take a number of circumstances into account. Where do you live? Are you somewhere that receives 20-feet of snow every winter? Or are you in the Pacific Northwest where it just rains buckets for months in the winter? Do you work outdoors all year? Or are you just looking for a jacket to keep you visible in the summer months? Some of the jackets on our list are made for winter use but others are only designed to be used in the other three months of the year. There are garments that have removable liners which will make them more versatile in the long run as you can wear the liners alone when the reflective portion of the jacket is not necessary. Some of the options on our list work great for wearing over top of a more weatherproof jacket if you like in colder climates.
When it comes to actual material types, the most common one you're going to see on our list is polyester. This is because this material has a lot of really great characteristics that are beneficial for reflective jackets. The fibers of polyester are very strong so garments made with this material will be durable and abrasion-resistant – perfect traits to have in a jacket made for work. Polyester is naturally hydrophobic so it will dry quickly and is great for use in outdoor clothing. It can typically be washed and dried very easily at home (though we do suggest still consulting the tag on your jacket before washing it, just to make sure).

Water Resistance
Staying dry will keep you comfortable.
Not all of the options on our list are waterproof but most of them are water-resistant or water-repelling in one way or another. This is an important factor to consider especially if you work or exercise outdoors and hope to invest in a jacket that will provide adequate enough protection for you from rainfalls. Tingley's jacket is the only product on our list that is marketed as 100% waterproof. The other options offer water-resistant or water-repelling properties but won't provide the level of waterproofing you are looking for if you live somewhere like the Pacific Northwest and find yourself working outdoors in the rainy months.

Features
Pockets, hoods and removable liners are some examples.
There are a lot of different features that reflective jackets can have that may sway you one way or another. Pockets are a great detail to have in your jacket, especially if you're using it for work purposes. When you have a number of pockets, you can keep all of your small tools (think flashlights or ID cards) in one easily accessible place. Some of the garments in our buying guide even have radio pockets on the chest, perfect for people in the construction industry or for emergency personnel. Most of the jackets on our list have hoods, some of which hideaway when not in use or can be removed entirely. There are products that have removable liners as well which make them useful in a number of different scenarios as you can wear the liner on its own when you're not necessarily needing the reflective properties of the outer shell.
Expert Interviews & Opinions
Most Important Criteria
(According to our experts opinion)
Experts Opinion
Editors Opinion
Users Opinion
By Default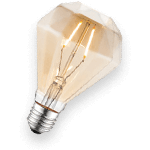 Water Resistance VS Waterproof VS Water-Repelling
We throw around these words a lot in our buying guide so it is only natural to want to know what they mean. Garments that are water-resistant are able to resist being penetrated by water but won't provide 100% protection. Options that claim to be water-repellent are typically treated with a coating that should provide adequate protection but can still eventually be penetrated by rainfall or water. Jackets that claim to be waterproof should be absolutely impervious to water.
It Can Save Your Life
The reason that high visibility clothing exists in the first place is to ensure that humans are able to be easily distinguished from the background and to help alert others to their presence. If you have ever driven in whiteout conditions in the middle of winter, you know how difficult it can be to see directly in front of your vehicle. Ensuring you're wearing something very bright and reflective can literally mean the difference between life and death if you are a construction, railway or highway worker.
Other Factors to Consider

Comfort
We discussed Materials above in our Criteria Used for Evaluation section and touched on the importance of choosing the right material for your reflective jacket. Though comfort is often directly correlated to the materials used in the construction of any type of clothing you're going to wear, we decided to add it to the Other Factors to Consider a section of our review anyway because it is important. No one wants to spend their money on something that is uncomfortable to wear, especially if you're going to be wearing it for eight or more hours per day at work. The jackets on our list have all stood up well when it comes to comfort or else they would not have received a spot on our top ten list. The products above have been thoroughly tested by reviewers and have proven themselves to be comfortable enough to earn a spot on our list.

Color
Typically, no one purchases a reflective jacket in order to make a fashion statement. Unless we're talking about the bright multi-colored windbreakers from 1992, neon colors are usually on the bottom of the totem pole when we review something based on style. Reflective gear tends to be used by men and women who work outdoors in all kinds of weather so application, durability, and weather resistance typically far outweigh style in terms of important criterion to look for. That said, there are a number of options on our top ten list that give you a color choice to choose from before you check out. Lime green, yellow or orange are the colors you'll typically see in a reflective jacket because they are the brightest and most easily seen.
Frequently Asked Questions
q:

What does ANSI 107 mean?

a:

ANSI stands for the American National Standards Institute whose focus is on providing guidelines that are universally acknowledged across a number of different industries. They deal a lot with safety standards. ANSI 107 refers to a standard that should be followed and regulated by the ANSI as well as the International Safety Equipment Association (ISEA). The ANSI and ISEA regulate garment designs and hi-vis apparel to ensure that all safety workers follow the same guidelines. When you read our buying guide and see ANSI and ISEA approvals, this just means that the garment you're reading about has bee approved by these institutions to be a safe option to wear for work.
q:

How do I wash my new jacket?

a:

We get it. You have invested your hard-earned money into a reflective jacket and now you want to know how to protect your investment and not destroy it through the cleaning process. We always suggest following the manufacturer's guidelines for washing. You can find more details in the Amazon lists for the product or else on the tag once it arrives at your doorstep.
q:

How does this clothing make me more visible?

a:

We all remember being in elementary school and learning the importance of having reflectors on our bicycles, right? You know how much easier it is to see a cyclist at night if they have the proper reflectors on their bikes. The same goes for reflective jackets. They are made reflective by using a special type of material and bands that are strategically placed on the jacket. These bands are found on the arms, back, and chest of the jackets, in areas where they will be easily seen. The bands are made from a micro-prismatic material that will bounce light back to the source. This makes it possible for the bands to provide reflection from every angle, thus making the person wearing the jacket more visible.

As we talked about above, the bright colors that reflective jackets are typically made of are not just chosen for a fun throwback to the windbreakers of '92. These colors are chosen because they're bright and easy to distinguish from the background. For example, if you were to go work in the forest cutting down trees, a black jacket would be hard to distinguish from the neutral, dark colors of a forest. If you're out there in bright neon yellow, you will be much easier to see. There's a reason why hunters wear bright orange, too!
q:

Can I wear this in the winter/spring/summer/fall?

a:

Most of the products on our top ten list are considered to be 'three-season' jackets. This simply means that they will provide enough warmth for spring, summer and fall but are not recommended for wear in the winter. The exception to this rule is our #10 product from KwikSafety, which is rated as 'all season.'
q:

How will I know what size to get?

a:

A number of the companies whose jackets have made our top ten list include a brand-specific sizing chart on their Amazon listing. This is helpful because then you are able to use their chart to see which size will fit just right on you. If there is no sizing chart in their listing, you can use Amazon's size chart or peruse the reviews to see how reviewers say their jacket fits (e.g., "small", "too big" or "true to size" are most of the common comments you will see in this regard).
Subscribe to our Newsletter