Best Reflective Jackets
In a
Hurry? Editors choice: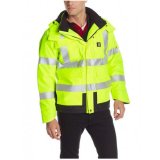 Test Winner: Carhartt

Are you a working man or woman who find yourself working outdoors, in all types of weather during the early hours of the morning or late evening? If you answered yes to this question, you're probably going to need to invest in a high-quality reflective jacket at some point. These garments are designed to keep you warm, somewhat dry (in some cases, entirely dry) and, most important, safe. With their bright colors and reflective tape, you will be visible, thus safe from harm during your workday. There are infinite options out there in the world of reflective jackets so we have compiled this buying guide with the ten best on the market right now. Read on to find out which jacket is best for your needs.
Standout Picks
Criteria Used for Evaluation
Visibility
Compliance to national standards is incredibly important.
It would kind of be silly if we weren't to include Visibility as one of the main criterion we used for evaluating these reflective jackets. This is THE criterion we used first and foremost in choosing the best options on the market today and should be the number one thing you look for as well. The important thing to note here is that no matter which product you choose from our top ten list, you can be sure that you will be seen in it. These jackets are all fluorescent in color or equipped with reflective bands to help ensure that you will be kept safe in what otherwise might be a dangerous situation. Many of the options on our list as ANSI/ISEA 107 compliant which means they have been evaluated by the American National Standards Institute and approved for use in situations where hi-res garments are necessary.
Size
Choose something that will fit you without too much bulk.
Though it may seem obvious, you want your new garment to fit you properly. It's best if you don't get a jacket that is too big for you but instead opts for one that fits you just right. This is particularly important if you plan on wearing your new jacket while you are working. Wearing clothing that is too bulky may result in dangling material that can become hazardous fast. You should always consider what you will be wearing underneath your new jacket as well to ensure you're buying a size that fits your body as well as you're under layers.
Materials
Consider your climate and what weather you will be working in.
Though most of the jackets on this list are made of the same or very similar materials, it is still a very important criterion to look at when you're deciding which jacket to buy. In order to decide what type of material you should look for in your jacket, you have to take a number of circumstances into account. Where do you live? Are you somewhere that receives 20-feet of snow every winter? Or are you in the Pacific Northwest where it just rains buckets for months in the winter? Do you work outdoors all year? Or are you just looking for a jacket to keep you visible in the summer months? Some of the jackets on our list are made for winter use but others are only designed to be used in the other three months of the year. There are garments that have removable liners which will make them more versatile in the long run as you can wear the liners alone when the reflective portion of the jacket is not necessary. Some of the options on our list work great for wearing over top of a more weatherproof jacket if you like in colder climates.
When it comes to actual material types, the most common one you're going to see on our list is polyester. This is because this material has a lot of really great characteristics that are beneficial for reflective jackets. The fibers of polyester are very strong so garments made with this material will be durable and abrasion-resistant – perfect traits to have in a jacket made for work. Polyester is naturally hydrophobic so it will dry quickly and is great for use in outdoor clothing. It can typically be washed and dried very easily at home (though we do suggest still consulting the tag on your jacket before washing it, just to make sure).
Water Resistance
Staying dry will keep you comfortable.
Not all of the options on our list are waterproof but most of them are water-resistant or water-repelling in one way or another. This is an important factor to consider especially if you work or exercise outdoors and hope to invest in a jacket that will provide adequate enough protection for you from rainfalls. Tingley's jacket is the only product on our list that is marketed as 100% waterproof. The other options offer water-resistant or water-repelling properties but won't provide the level of waterproofing you are looking for if you live somewhere like the Pacific Northwest and find yourself working outdoors in the rainy months.
Features
Pockets, hoods and removable liners are some examples.
There are a lot of different features that reflective jackets can have that may sway you one way or another. Pockets are a great detail to have in your jacket, especially if you're using it for work purposes. When you have a number of pockets, you can keep all of your small tools (think flashlights or ID cards) in one easily accessible place. Some of the garments in our buying guide even have radio pockets on the chest, perfect for people in the construction industry or for emergency personnel. Most of the jackets on our list have hoods, some of which hideaway when not in use or can be removed entirely. There are products that have removable liners as well which make them useful in a number of different scenarios as you can wear the liner on its own when you're not necessarily needing the reflective properties of the outer shell.
Subscribe to our Newsletter