Best Reflective Jackets
In a Hurry? Editors choice: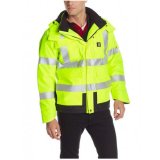 Test Winner: Carhartt

Are you a working man or woman who find yourself working outdoors, in all types of weather during the early hours of the morning or late evening? If you answered yes to this question, you're probably going to need to invest in a high-quality reflective jacket at some point. These garments are designed to keep you warm, somewhat dry (in some cases, entirely dry) and, most important, safe. With their bright colors and reflective tape, you will be visible, thus safe from harm during your workday. There are infinite options out there in the world of reflective jackets so we have compiled this buying guide with the ten best on the market right now. Read on to find out which jacket is best for your needs.
Standout Picks
Criteria Used for Evaluation
Visibility
Compliance to national standards is incredibly important.
It would kind of be silly if we weren't to include Visibility as one of the main criterion we used for evaluating these reflective jackets. This is THE criterion we used first and foremost in choosing the best options on the market today and should be the number one thing you look for as well. The important thing to note here is that no matter which product you choose from our top ten list, you can be sure that you will be seen in it. These jackets are all fluorescent in color or equipped with reflective bands to help ensure that you will be kept safe in what otherwise might be a dangerous situation. Many of the options on our list as ANSI/ISEA 107 compliant which means they have been evaluated by the American National Standards Institute and approved for use in situations where hi-res garments are necessary.
Size
Choose something that will fit you without too much bulk.
Though it may seem obvious, you want your new garment to fit you properly. It's best if you don't get a jacket that is too big for you but instead opts for one that fits you just right. This is particularly important if you plan on wearing your new jacket while you are working. Wearing clothing that is too bulky may result in dangling material that can become hazardous fast. You should always consider what you will be wearing underneath your new jacket as well to ensure you're buying a size that fits your body as well as you're under layers.
Materials
Consider your climate and what weather you will be working in.
Though most of the jackets on this list are made of the same or very similar materials, it is still a very important criterion to look at when you're deciding which jacket to buy. In order to decide what type of material you should look for in your jacket, you have to take a number of circumstances into account. Where do you live? Are you somewhere that receives 20-feet of snow every winter? Or are you in the Pacific Northwest where it just rains buckets for months in the winter? Do you work outdoors all year? Or are you just looking for a jacket to keep you visible in the summer months? Some of the jackets on our list are made for winter use but others are only designed to be used in the other three months of the year. There are garments that have removable liners which will make them more versatile in the long run as you can wear the liners alone when the reflective portion of the jacket is not necessary. Some of the options on our list work great for wearing over top of a more weatherproof jacket if you like in colder climates.
When it comes to actual material types, the most common one you're going to see on our list is polyester. This is because this material has a lot of really great characteristics that are beneficial for reflective jackets. The fibers of polyester are very strong so garments made with this material will be durable and abrasion-resistant – perfect traits to have in a jacket made for work. Polyester is naturally hydrophobic so it will dry quickly and is great for use in outdoor clothing. It can typically be washed and dried very easily at home (though we do suggest still consulting the tag on your jacket before washing it, just to make sure).
Water Resistance
Staying dry will keep you comfortable.
Not all of the options on our list are waterproof but most of them are water-resistant or water-repelling in one way or another. This is an important factor to consider especially if you work or exercise outdoors and hope to invest in a jacket that will provide adequate enough protection for you from rainfalls. Tingley's jacket is the only product on our list that is marketed as 100% waterproof. The other options offer water-resistant or water-repelling properties but won't provide the level of waterproofing you are looking for if you live somewhere like the Pacific Northwest and find yourself working outdoors in the rainy months.
Features
Pockets, hoods and removable liners are some examples.
There are a lot of different features that reflective jackets can have that may sway you one way or another. Pockets are a great detail to have in your jacket, especially if you're using it for work purposes. When you have a number of pockets, you can keep all of your small tools (think flashlights or ID cards) in one easily accessible place. Some of the garments in our buying guide even have radio pockets on the chest, perfect for people in the construction industry or for emergency personnel. Most of the jackets on our list have hoods, some of which hideaway when not in use or can be removed entirely. There are products that have removable liners as well which make them useful in a number of different scenarios as you can wear the liner on its own when you're not necessarily needing the reflective properties of the outer shell.
Top 10 Picks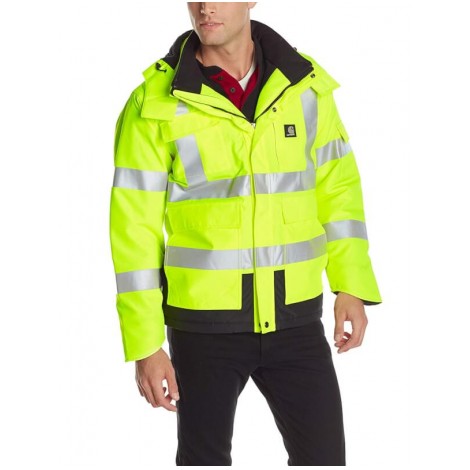 Carhartt is a household name for people who require durable workwear. They are known for their coveralls, vests, coats and fire-resistant clothing. The jacket we are reviewing from this company today took our number one spot because not only has it been well-received by many reviewers, it combines the right amount of visibility, warmth and special features that make it a great choice for the man who works outdoors in inclement weather.
Read more
Visibility
This garment is considered to be a Class 3 in terms of its visibility. This simply means that the jacket provides a great amount of body coverage as well as visibility even in conditions where lighting is poor and from a far distance. A Class 3 rating makes this garment great for people who work outdoors in poor lighting or bad weather or for people who work in conditions where there is a lot of nearby traffic. This would be a great coat for utility, forest, or railway employees.
Size
This jacket is available in Medium, Large, X-Large and XX-Large. Carhartt does not make this product in size Small. There is a handy sizing guide that Carhartt has provided in order to ensure you get the right fit for you.
Materials
This jacket is made out of 100% polyester materials and features an interior lining that is made of brushed polyester. This is a great material choice for a garment such as this as it is known to be a durable fabric that is rather resistant to stretching and abrasions.
Water-Resistance
This jacket features a water-repelling finish as well as a waterproof membrane that will help to keep some of the water off of you. Not to mention the fact that polyester, the material which this product is made from, is known for its quick-drying properties.
Features
Carhartt claims this garment has features that will help to combat stains, making it a perfect option for the messy guy or gal who knows not how to spill their lunch all over themselves. And, you know what? If so happen to make a mess, this product is machine washable so you can take care of those stains at home.



There are a lot of benefits to purchasing a reflective jacket that has been given blessings from the Canadian Standards Association, American National Standards Institute and the Industrial Safety Equipment Association. Read on to see just what else this jacket can provide you with.
Read more
Visibility
Here we have another Class 3-compliant high-visibility garment, providing the most coverage of any of the other classes. The listing also claims this jacket is ANSI/ISEA 107 approved. Looking at the jacket one will see the shoulders, waist, and arms are outfitted with silver reflective tape, thus furthering the visibility of the garment.
Size
This garment from Tingley comes in a number of sizes from Small all the way right up to 5X, making it a perfect option for nearly everybody (and everybody). Thankfully Tingley has provided shoppers with a handy sizing chart so as to ensure a perfect fit the first time.
Materials
This jacket has a quilted polyester lining that wearers will find gives them the perfect balance of warmth and comfort without restricting movement. The shell of the jacket is made from 210 denier polyester.
Water-Resistance
Tingley ensures that this garment is 100% waterproof, making it the perfect choice for people who work outside in all weather scenarios. The seams are stitched to provide protection and both the wrists and waist cuffs are elasticized so as to ensure no water seeps in from any direction.
Features
This product has slash pockets on the front as well as one on the chest designed to hold your radio. Tingley chose a dark color for the front part of this garment to help conceal any dirt that may otherwise stain it. This jacket also has a built-in hood but reviews suggest it is made of a material that is too light.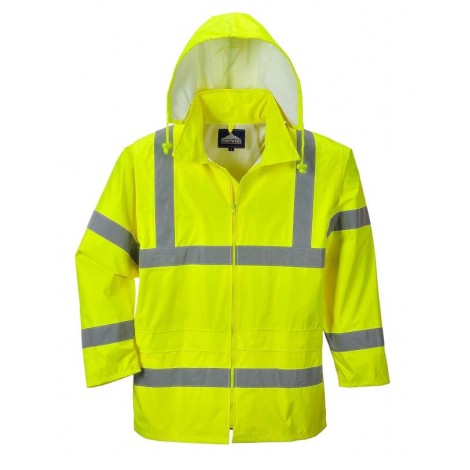 This jacket from Portwest is a perfect option for people who work outdoors in rainy weather. It's not designed to be a winter jacket but if you think ahead, it can fit well over a winter jacket for added waterproofing in colder climates.
Read more
Visibility
This jacket fits the high visibility standards as set out by the UK and EU. This standard is similar to the ANSI 107, making this jacket a great choice for people who need the highest level of protection. Great choice for airport workers or those who work near high traffic areas.
Size
Available in XS all the way to 4XL, users should find that there is a jacket size here that will provide the perfect fit for them. Though Portwest did not provide a garment-specific size chart for this jacket, 85% of the current reviews suggest that it fits true to size. Please note that the sizes follow European size charts.
Materials
This jacket is made from PVC-coated polyester, making it a great choice for working in the outdoors on rainy or windy days.
Water-Resistance
This garment is considered to be waterproof. It features taped seams as well as elasticized cuffs to help keep the water from getting inside the jacket.
Features
This jacket has two pockets on the front of it so you can store any tools or equipment you might find yourself needing right on your person. It has an adjustable hood for a customized fit and rear vents for additional breathability, though our research suggests the jacket would benefit from more breathability features.

4

. New York Hi-Viz Workwear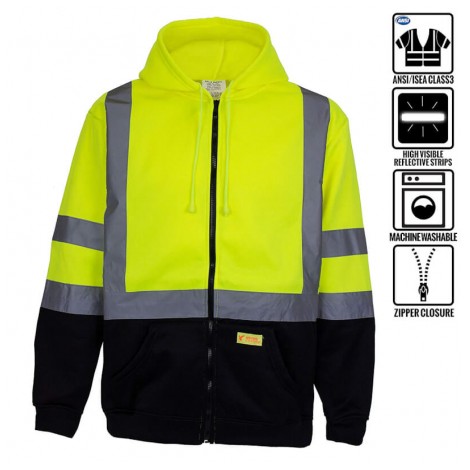 This jacket is the cheapest option on our top ten list, but don't let its low price tag fool you, it is still just as well-made and reflective as the jackets five times its price.
Read more
Visibility
This garment adheres to ANSI/ISEA 107 Class 3 standards and provides the greatest amount of visibility possible for hi-vis clothing. It is a great choice for emergency crews, construction workers or those in the forestry industry.
Size
Available in sizes from small all the way to 5XL, this jacket definitely has most body types covered. The company has also provided a brand-specific size chart so you are able to more accurately determine which size will fit you best.
Materials
This garment is made from 100% polyester material. The hood is mesh-lined for breathability and the inside of the jacket itself features a fleece material. Reviews suggest this jacket is not warm enough for winter weather but should provide enough protection for use in the other seasons.
Water-Resistance
This jacket will stand up okay during light sprinkles but it is definitely not waterproof.
Features
This garment features a full front zipper for convenience and is available in either orange or lime colors.

5

. Utility Pro Bomber Jacket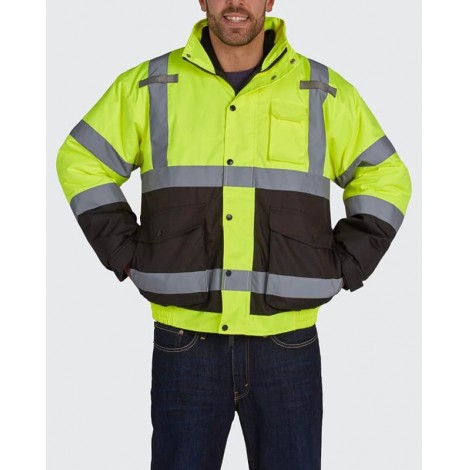 This option from Utility Pro is a great three season reflective jacket. It's great for construction or emergency workers and with its fleece liner, provides an adequate amount of warmth.
Read more
Visibility
Similar to most of the other options on our list so far, this jacket is ANSI Class 3 certified, perfect for the man who works outdoors in many different situations.
Size
This bomber comes in sizes Medium through 5XL.
Materials
This jacket is made from materials that have been treated with Dupont Teflon. This fabric helps your jacket stay clean with stain-resistant properties. There is a fleece liner inside the jacket that can zip out and be used on its own as well.
Water-Resistance
The materials used for the outer shell of this jacket will help to repel water but it is not waterproof, however.
Features
This bomber has a number of extra features that make it a great reflective jacket to invest in. It has bellow pockets for extra storage space as well as a hood for extra protection. The bottom portion of the jacket is black to help cover up any abrasions and dirt that may occur at work.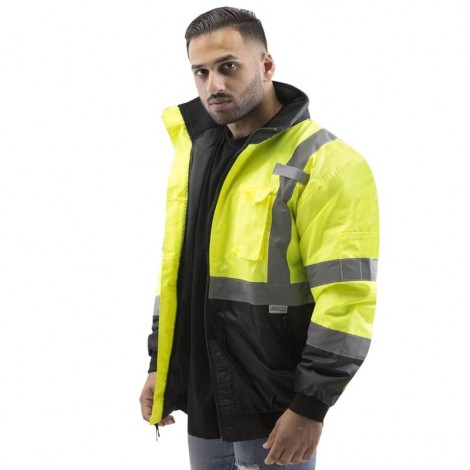 Though Jorestech may not be a household name when it comes to safety equipment, this reflective jacket is a statement of their commitment to providing their customers with high-quality, durable safety garments. This jacket is full of special features like extra pockets and a hood and is designed to keep you safe (and warm) when you're working outdoors.
Read more
Visibility
This jacket will provider wearers with 360-degrees of high visibility in both daytime and nighttime. It is ANSI/ISEA 107 compliant and is great for those people who find themselves working outdoors in a number of different situations and applications.
Size
This jacket is available in a number of different sizes from Small all the way to 5XL. The Amazon listing features a brand-specific sizing guide so you are able to be sure you're ordering the exact right size based upon your measurements.
Materials
This coat is made of premium materials. The outer shell is made from a 300D polyester fabric with a polyurethane coating. The interior of the jacket utilizes a soft polyester material that is designed to help ensure you stay warm in cool temperatures.
Water-Resistance
Though this listing for this product on Amazon doesn't actually say that it is 100% waterproof, our research indicates that it will hold up in rainy weather so long as you're not standing in a downpour for extended periods of time. The outer shell of the coat is made from a material that is waterproof but the extent to which you will be protected from the rain depends on a number of factors such as how hard it is raining and which direction the rain is coming from in relation to where you're standing.
Features
The collar of this jacket is designed to stand up to provide the wearer with extra warmth and protection from the elements. It has fleece lined pockets on the side, perfect to stick cold hands in during cooler weather. There are utility tabs on the chest that are designed to hold small tools like flashlights and the radio compartment features a hook and loop flap that will keep your equipment safe from water.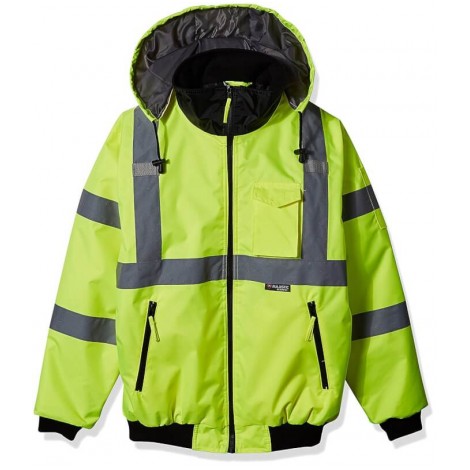 This mid-priced jacket is a great investment for folks who are hoping to purchase a three-season reflective garment to wear while they're working outdoors. Some reviewers suggest that those who think ahead can order this in a size slightly larger than their usual so it can be worn overtop a number of layers and used in colder temperatures than a three season jacket would typically be able to serve.
Read more
Visibility
As with all of the products on our top ten list, this reflective garment meets ANSI/ISEA 107 standards. It is available in a neon yellow color and has reflective tape on the shoulders, chest, and arms for added visibility.
Size
Majestic Glove has ensured that their reflective jacket will fit nearly every single body type. Its sizes range from Small all the way to 7XL, making this option the most all-encompassing on our list.
Materials
This bomber jacket is made from a polyurethane coated polyester material. This fabric provides an adequate amount of durability and abrasion resistance. It is also a line which will add some extra warmth in cooler temperatures. The jacket has elastic around the wrists and collar to help discourage the cold from entering.
Water-Resistance
While this jacket is not waterproof, wearers should find that it will stand up against light rains. Reviewers noted that the hood is less repellent than the rest of the garment, however, so that is something one should take into account.
Features
This jacket is chock full of pockets. There is a breast pocket on the inside of the coat and slash pockets on the outside. There is even a pocket designed to hold your smartphone. The jacket has a hood which is detachable for days when you don't think you'll need it.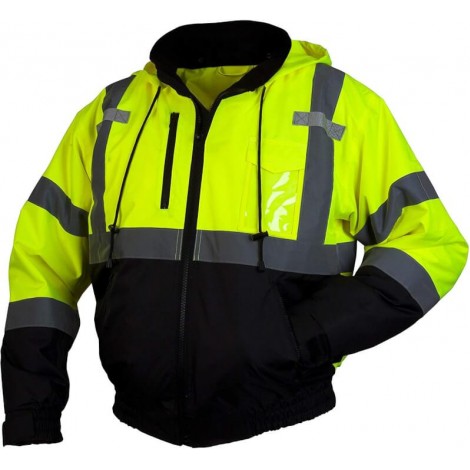 Pyramex has made this jacket for the working man or woman who needs to have a lot of little things on them while they're working. It is outfitted with a ton of pockets (eight to be exact) and will be able to store all of your personal effects while keeping you warm during your workday.
Read more
Visibility
This jacket is available in lime green or orange colors, providing a way for the working man or woman to choose the right option for their profession as some sectors require their employees to wear certain colors.
Size
This jacket is available in sizes from Medium to 5XL. Reviews suggest that the sizing might be a little off and that you will want to size up.
Materials
The outer layer of this jacket is made from a PU-coated weatherproof polyester material while the interior is constructed from polar fleece for additional warmth.
Water-Resistance
This jacket is not waterproof but wearers should find that it is water-resistant during light rainfalls. It does have an adequate amount of weatherproofing, however, but it should be noted this is not the jacket you want to wear on a day when a lot of rain is expected.
Features
This jacket has the greatest number of pockets as any on our top ten list with a whopping eight stashed around the jacket. There is a chest pocket that uses a hook and loop closure, perfect for your radio, two slash pockets with zippers, interior pockets with zippers and hook and loop closures just to name a few. It also has a drawstring hood for a customized fit that can hideaway when not required. The fleece lining can be zipped out for use in other applications.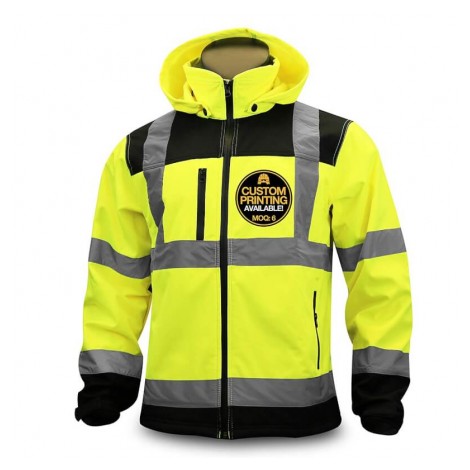 This jacket is a water-resistant option that will provide warmth in most types of weather. KwikSafety claims this is an all-season jacket. The company is able to customize the jacket with your logo or company name and offer discounts for wholesale orders so if you're a business owner, this might be something to take into consideration.
Read more
Visibility
KiwkSafety ensured that this garment is both ANSI and ISEA compliant. It is also marketed as 'Type R' compliant, meaning it is suitable for use by roadway workers. The company also suggests this jacket will work great for airport personnel, emergency and forestry workers as well.
Size
This jacket is available in only Large, X-Large and XX-Large sizes.
Materials
This jacket is made from a softshell material that is akin to what you might see from Columbia brand garments. It is insulated well and is recommended for use in all seasons, making it the only option on our list that is rated for winter use. It is considered to be 100% windproof.
Water-Resistance
Though not waterproof, this jacket is water-resistant and is appropriate for use in light rains.
Features
KwikSafety claims that this product is machine washable which sure beats having to take your garment to the dry cleaners every time it needs to be washed. It has a detachable water-resistant hood that has a storm collar to provide extra protection in cold and windy climates. Equipped with a number of great sized pockets (one can even hold a water bottle), this jacket is perfect for the working man or woman who needs to have access to their gear during their workday.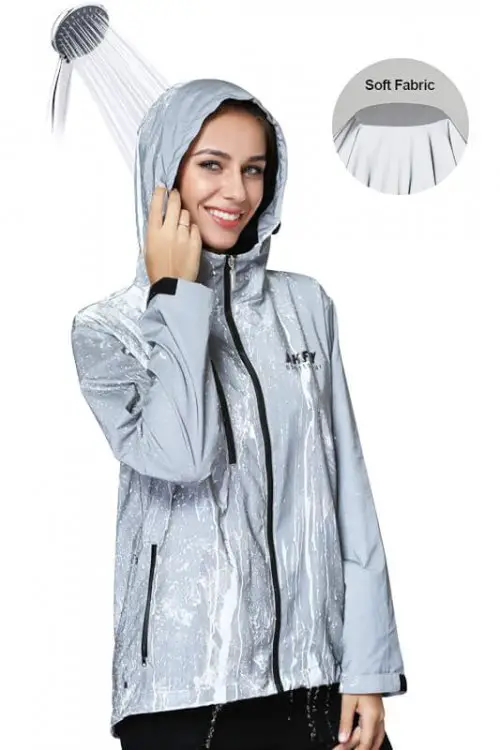 This product from AKFLY is different in a number of ways from all of the other garments on our list. This reflective jacket is not made for use by the working man or woman but instead, it's designed for cyclists or runners who take their workouts outdoors in all different types of weather and in daytime and nighttime.
Read more
Visibility
This jacket is made from 100% reflective material, ensuring that if you're running or cycling and a vehicle comes upon you, you will be lit up by their headlights. It offers 360-degrees of coverage helping to ensure that you will be seen in all weather conditions as well.
Size
This jacket comes in sizes Small to Large. There is a brand-specific sizing chart on the Amazon listing so potential customers can be sure they're getting the right size for their body type.
Materials
This jacket is made from a high-quality 3M reflective material that ensures weather protection in a number of different circumstances. It isn't 'crunchy' and won't sound like a plastic bag as you're performing your workouts.
Water-Resistance
This product is waterproof and is designed for use in rainy climates. It won't necessarily keep you warm during winter rain runs but will be a great companion for those spring and autumn outdoor workouts where rainfall is not unlikely.
Features
This garment has a whole host of special features that make it the perfect companion for runners and bikers. It has two zippered pockets as well as one chest pocket for holding your personal effects. There are six different areas of ventilation that will help to keep you cool during your sweaty workouts as well as increase the amount of breathability that is provided. The waistband is adjustable so you can get a more custom fit from your jacket, while the hood provides a way for you to stay warm and dry during those cold and rainy runs.

Subscribe to our Newsletter