Best Winter Vests – 2021 List
In a
Hurry? Editors choice: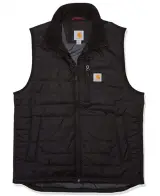 Test Winner: Carhartt Gilliam

Winter vests are a great layer to invest in for the winter months. They look great when worn with other layers, they are extremely durable and will keep you super warm. A winter vest will not hinder your mobility and some of them are water-resistant so will keep you dry if you get caught in the rain. They are soft, lightweight, and come in a variety of materials, colors, and designs so you can pick your favorite!

With so many options to choose from, we have picked and reviewed a selection of the best winter vests on the market. Enjoy shopping! 
Standout Picks
Criteria Used for Evaluation
Materials
You want to choose a vest that's made of soft but durable material. Shells made of polyester and/or nylon are commonly used, as they are versatile, comfortable and strong.
Also, make sure you're choosing one that has strong zippers that will last a long time. You don't want to trade sturdy zippers for an item that's light in weight. If it no longer zips, it isn't going to help you stay warm!
And finally, you'll probably want some pocket space for your snacks, keys and cell phone. Interior and zippered pockets are absolutely a plus for maximum security on all your winter ventures.
Down
Down is a high-performance insulator proven to perform well in extreme cold. It is usually sourced from geese and ducks around the world. It can compress tightly, allowing for greater fill at a lightweight. Its easy compression also makes it packable, a perfect option for extended journeys, low-key trips, and distance backpacking and climbing. It is a long-lasting insulator, with the ability to be compacted and misshapen over and over again while maintaining its original shape, fluff, and insulating properties.
Responsibly-Sourced Down
For many who live active, outdoor lifestyles, caring for the planet and animals we share our outdoor spaces with is important. Sometimes, to obtain down feathers, the animals are live-plucked, a painful and cruel process. In addition, the waterfowl are sometimes force-fed for fattening, as they are primarily raised for meat. Feather gathering is, after all, a byproduct of the large meat industry.
Patagonia and The North Face, for instance, now have ethical standards in place to ensure that the down clothing you purchase from their companies is responsibly sourced. Waterfowl connected to these brand names are now humanely treated and traceable. If these are important factors for you and you are willing to pay the price for higher standards, you'll get what you pay for.
Synthetic Insulation
Synthetic insulation is a man-made fine fiber that is manufactured to be very similar to down. They don't have quite the insulating power of down, as it's hard to replicate what nature has done so naturally, but they come in close behind when it comes to warmth retention. This type of insulation will lose shape a bit more quickly than down, and therefore, it won't be as long-lasting. However, synthetic does outperform down when it comes to moisture.
While down clumps when wet, synthetic doesn't. If your wintry conditions are going to be icy or snowy ones, synthetic could be the way to go unless you have really great shell protection over your insulating material.
Furthermore, articles of clothing stuffed with synthetic insulation are typically less expensive than those with down insulation. It's a good choice to have on hand if you plan to spend any time outdoors this winter.
Insulation
Winter puffer vests are lightly stuffed with a fill that insulates, trapping body heat and keeping warmth right where it needs to be, snugly against your body on chilly days.
Down and synthetic insulation both trap air in the free space between the fibers, thereby providing extra warmth. Both are effective insulators, however, there are some differences to take into account.
Fill Power
The higher the fill power, the lighter and fluffier the fibers. The lighter the fibers, the more that can be packed into a given space without increasing the weight. For instance, 800-fill down and 600-fill down may both weigh one ounce. However, the 600-fill down will take up more space, thereby decreasing the number of fibers it takes to reach that one ounce. The 800-fill down will pack in more compactly, providing more insulating coverage in that same one ounce.
In order to achieve the same coverage as the 800-fill, the item with 600-fill would need to increase its amount of down. This would increase the weight, making an item that's a bit heavier and, perhaps, bulkier. While all down is an incredible insulator, the very best choice (if it's within your budget and needs) would be that with a fill power of 800 or more. However, as down is the best fill insulator, lower fill power is still a good one.
Fill in Grams
The amount of insulation placed into a vest can vary among models. The greater the amount of filling, the heavier and warmer the vest will be. For instance, a vest filled with 200 grams of 650-fill down will be thicker and cozier than a vest filled with just 50 g of the same fill power down. Check the number of grams of down placed into a vest if possible, in addition to the fill power of the down in the vest. A lighter fill will be ideal for early spring or fall weather, whereas you'll need a larger amount of fill for deep wintertime activities.
Features
The features of a winter vest are another important criterion to look into. For one, pockets are always something to check out.
It's useful to know if you'll be able to store your phone or keys on your body, or if you will need a purse. Also worth noting, is if the pockets have a secure closure. Additionally, if you are planning to travel with your vest, you'll want to know how easily it packs down and if it is susceptible to wrinkles. A few of the vests featured on this list can actually fold up into the pocket of the vest. Even if your luggage for traveling is filled to the brim, you could attach the vest to your backpack with a carabiner and not worry about space.
Another feature that some of these vests feature is a collar. If you don't plan on wearing a scarf or a turtle neck, a vest with a collar will help to keep you warm. Another way to keep warm is with the cinch cord of a vest. Some vests have cinch cords around the bottom which not only helps with the fit but also to hold in warmth.
Subscribe to our Newsletter