Best Hoodies for Men
In a
Hurry? Editors choice: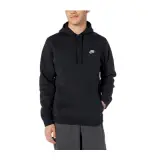 Test Winner: NIKE PULLOVER CLUB HOODIE

When you are in the market for something like a hoodie, you first need to establish the type you are looking for. The reason this is vital is some hoodie models will be optimized to keep you warm in shivering conditions while others will be more suitable for year-round use and outdoor activities. Let's also point out that if you have come here today seeking the former, you will be a bit disappointed. This guide is optimized for best men's hoodies (specifically for men though women can still technically wear most of them) that are ideal for use during the spring and fall seasons (not so much winter). As you should know, sometimes the weather is still chilly enough outside to warrant wearing a light or slightly warm sweatshirt. But, how do you go about buying one? Let's find out which is the best hoodie for men.
Standout Picks
Criteria Used for Evaluation
Fit
This is the most important section, bar none. The fit is going to dictate everything.
One of the troubles with shopping online, in specific for articles of clothing, is you can't physically see what you are buying. In this case, it means you can't physically try on the hoodie that you want to buy. This makes it exponentially more challenging to find a hoodie that will fit you correctly. The trouble then becomes not all options on the market will be designed to fit you the same. After all, there are some hoodies for men that will fit you snug, others that will provide you with a ton of room, and then those that actually fit you perfectly. How do you determine which one to buy?
Quite honestly, the best advice is to research through user feedback to see what others have had to say about the fit of any particular model. If the majority of buyers have commented on the small and snug fit, for example, you may want to order a size up. Of course, you can also look for additional features such as a drawcord as this can allow you to tailor the fit just a bit (at least for the hood). Additionally, you also need to choose between a pullover or zippered hoodie (as this is really just your preference).
Materials
In addition to looking for models that are well-made, you should also pay attention to the fabric composition.
As you probably know, two of the most popular fabrics when it comes to manufacturing clothing are cotton and polyester. You will see some hoodie models made up primarily of polyester, others primarily of cotton and then those that sport 50/50 cotton blends. These are not the only options, clearly, but are some of the most popular. And, quite honestly, each of the fabric compositions has its advantages. For example, 100 percent polyester hoodies will not break down as quickly as 100 percent cotton models will and they will also dry much quicker. Then again, pure cotton is as comfortable as it gets and also tends to be quicker.
But, the benefit of a 50/50 cotton blend (with the other 50 percent typically being polyester) is that it has key properties from both fabrics. Hoodie with this blend tends to be easier to care for, less prone to shrinking, and more comfortable and affordable. No matter the fabric blend, however, you may want to ensure that the option you go with is well-made. The last thing you want is cheap stitching and sewing or fabric that is going to pill right after you wash it (unless you only plan to wear your hoodie every now and again).
Effectiveness
You do not want hoodies that are too warm and they should be optimized for spring and fall.
It was said at the beginning of this guide and is going to be reiterated once again here. This guide exists for men's hoodies that will be perfect for spring and fall use. What this means is options with heavy-duty insulation and warmth were not prioritized. The reason it is important to clarify that once again is this section is all about the performance of the option you go with. Due to the fact that you will be using these options for outdoor activities and such, they should have some vital properties.
The first of which is either some sort of fabric or technology that manages to wick moisture away from your skin. No matter the temperature outdoors, you are going to sweat when you partake in physical activities. To keep you dry and to enhance the comfort overall, hoodies for men that can wick away sweat from your body are preferred. At the same time, however, sweatshirts were designed to provide some sort of warmth. Even during the spring and fall, the weather can be a bit chilly outdoors. You still may want to look for options that provide enough warmth for the ambient weather you will be present in (granted it is not frigid).
Color
While this is not the most vital section, it will come into play.
When it comes down to it, people typically enjoy wearing clothes that they find appealing. Sometimes a situation presents itself where you could care less what you are wearing but when you are in the market for garments of any kind, it is safe to say that the color combination is going to matter to you. In this case, you do not necessarily need to look for a hoodie with amazing variety as long as there is a color option that you like. Looking at it from the other side, however, the more variety there is the better chance there will be that you will find an option you prefer.
Of course, let's also talk about fading. Going back to why 50/50 cotton blends hoodies are so popular, they tend to fade less than clothing that is primarily made out of cotton. The reason for this is the synthetic fibers that are present in polyester assist to hold the color better over time.
Features
There are not too many features to speak of here except for the pockets.
For the most part, this section is pretty straightforward. The reality of the situation is not very many of you will be expecting your hoodie to hold a multitude of items and accessories. At the same time, it is nice to have a hoodie that allows you to rest your hands in a warm and cozy place. Well, that is where kangaroo pockets come into play. When you think about kangaroos, it begins to make sense to why these pockets are often referred to as kangaroo pockets (as they are located roughly where the pouches are on kangaroos).
Anyway, these pockets are almost always implemented on hoodies and they not only provide your hands with a place to get warm but they can also be used to hold smaller items. Of course, you may be looking for sweatshirts with more pockets. Not too many options on the market will be loaded with them but you occasionally will see options with an interior pocket or even a zippered pocket on the chest.
OUR TOP PICKS FOR THE BEST HOODIES FOR MEN
Subscribe to our Newsletter