Best Hoodies for Men
In a Hurry? Editors choice: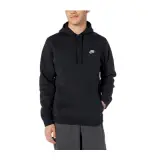 Test Winner: NIKE PULLOVER CLUB HOODIE

When you are in the market for something like a hoodie, you first need to establish the type you are looking for. The reason this is vital is some hoodie models will be optimized to keep you warm in shivering conditions while others will be more suitable for year-round use and outdoor activities. Let's also point out that if you have come here today seeking the former, you will be a bit disappointed. This guide is optimized for best men's hoodies (specifically for men though women can still technically wear most of them) that are ideal for use during the spring and fall seasons (not so much winter). As you should know, sometimes the weather is still chilly enough outside to warrant wearing a light or slightly warm sweatshirt. But, how do you go about buying one? Let's find out which is the best hoodie for men.
Standout Picks
Criteria Used for Evaluation
Fit
This is the most important section, bar none. The fit is going to dictate everything.
One of the troubles with shopping online, in specific for articles of clothing, is you can't physically see what you are buying. In this case, it means you can't physically try on the hoodie that you want to buy. This makes it exponentially more challenging to find a hoodie that will fit you correctly. The trouble then becomes not all options on the market will be designed to fit you the same. After all, there are some hoodies for men that will fit you snug, others that will provide you with a ton of room, and then those that actually fit you perfectly. How do you determine which one to buy?
Quite honestly, the best advice is to research through user feedback to see what others have had to say about the fit of any particular model. If the majority of buyers have commented on the small and snug fit, for example, you may want to order a size up. Of course, you can also look for additional features such as a drawcord as this can allow you to tailor the fit just a bit (at least for the hood). Additionally, you also need to choose between a pullover or zippered hoodie (as this is really just your preference).
Materials
In addition to looking for models that are well-made, you should also pay attention to the fabric composition.
As you probably know, two of the most popular fabrics when it comes to manufacturing clothing are cotton and polyester. You will see some hoodie models made up primarily of polyester, others primarily of cotton and then those that sport 50/50 cotton blends. These are not the only options, clearly, but are some of the most popular. And, quite honestly, each of the fabric compositions has its advantages. For example, 100 percent polyester hoodies will not break down as quickly as 100 percent cotton models will and they will also dry much quicker. Then again, pure cotton is as comfortable as it gets and also tends to be quicker.
But, the benefit of a 50/50 cotton blend (with the other 50 percent typically being polyester) is that it has key properties from both fabrics. Hoodie with this blend tends to be easier to care for, less prone to shrinking, and more comfortable and affordable. No matter the fabric blend, however, you may want to ensure that the option you go with is well-made. The last thing you want is cheap stitching and sewing or fabric that is going to pill right after you wash it (unless you only plan to wear your hoodie every now and again).
Effectiveness
You do not want hoodies that are too warm and they should be optimized for spring and fall.
It was said at the beginning of this guide and is going to be reiterated once again here. This guide exists for men's hoodies that will be perfect for spring and fall use. What this means is options with heavy-duty insulation and warmth were not prioritized. The reason it is important to clarify that once again is this section is all about the performance of the option you go with. Due to the fact that you will be using these options for outdoor activities and such, they should have some vital properties.
Another great product we reviewed is the Outdoor Research Echo Hoodie, so make sure to check it out as well.
The first of which is either some sort of fabric or technology that manages to wick moisture away from your skin. No matter the temperature outdoors, you are going to sweat when you partake in physical activities. To keep you dry and to enhance the comfort overall, hoodies for men that can wick away sweat from your body are preferred. At the same time, however, sweatshirts were designed to provide some sort of warmth. Even during the spring and fall, the weather can be a bit chilly outdoors. You still may want to look for options that provide enough warmth for the ambient weather you will be present in (granted it is not frigid).
Color
While this is not the most vital section, it will come into play.
When it comes down to it, people typically enjoy wearing clothes that they find appealing. Sometimes a situation presents itself where you could care less what you are wearing but when you are in the market for garments of any kind, it is safe to say that the color combination is going to matter to you. In this case, you do not necessarily need to look for a hoodie with amazing variety as long as there is a color option that you like. Looking at it from the other side, however, the more variety there is the better chance there will be that you will find an option you prefer.
Of course, let's also talk about fading. Going back to why 50/50 cotton blends hoodies are so popular, they tend to fade less than clothing that is primarily made out of cotton. The reason for this is the synthetic fibers that are present in polyester assist to hold the color better over time.
Features
There are not too many features to speak of here except for the pockets.
For the most part, this section is pretty straightforward. The reality of the situation is not very many of you will be expecting your hoodie to hold a multitude of items and accessories. At the same time, it is nice to have a hoodie that allows you to rest your hands in a warm and cozy place. Well, that is where kangaroo pockets come into play. When you think about kangaroos, it begins to make sense to why these pockets are often referred to as kangaroo pockets (as they are located roughly where the pouches are on kangaroos).
Anyway, these pockets are almost always implemented on hoodies and they not only provide your hands with a place to get warm but they can also be used to hold smaller items. Of course, you may be looking for sweatshirts with more pockets. Not too many options on the market will be loaded with them but you occasionally will see options with an interior pocket or even a zippered pocket on the chest.
OUR TOP PICKS FOR THE BEST HOODIES FOR MEN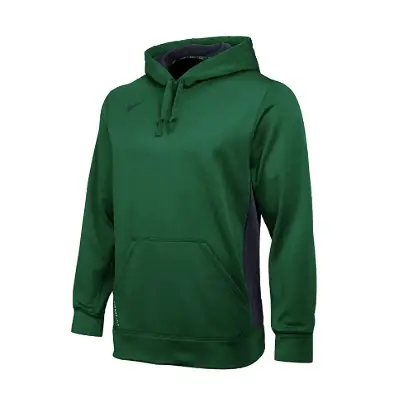 What sets this hoodie apart from the rest is the fact that it excels in almost every important area. This includes comfort, breathability, fit and moderate warmth.
Read more
Fitting
While some hoodies can be fitted oddly, this is not one of those cases. Instead, this is designed to fit you perfectly while also not being too tight on your body.
Materials
The fabric composition consists of 100 percent polyester but do note that the material is fairly thin here. Of course, this just adds to the breathable nature.
Effectiveness
What is so amazing is in spite of the lightweight nature of this garment, this hoodie will keep you warm but also not hot. This is thanks to the Therma-FIT fabric as it regulates airflow stupendously.
Color Options
Now, the color options are fine but a few users have noted that theirs has faded in color. If this happens to you, be sure to contact the seller right away.
Integrated Pockets
Classic kangaroo pockets are implemented here to provide your hands with a cozy place to rest and stay warm.
Overall
Granted you do not need a sweatshirt for frigid conditions, this is going to work great for you in a variety of situations. It is the perfect combination of comfort, fit, breathability and warmth.

2

. CARHARTT COLLINSTON HOODIE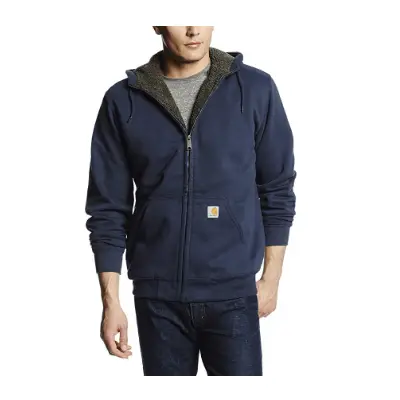 A lot of people think of warmth when they hear the brand Carhartt but their hoodie is actually pretty impressive for nearly all types of occasions (as it is lined with Sherpa).
Read more
Fitting
Overall, this seems to run true-to-size but some buyers have commented on the stiff and silky nature of the sleeves. Also, this is equipped with a full-length zipper.
Materials
For what you are paying for this, the quality of this men's hoodie is what you would expect. The 50/50 cotton and polyester blend is well-made and offers key advantages of both these fabrics.
Effectiveness
Do note that the sleeves are not lined with Sherpa but everything else is. During warmer spring days this may be a bit too warm but it will be ideal for chillier spring mornings.
Color Options
In regard to the variety, there is not a lot here. With that said, each of the color options is classy, stylish, and well-designed. So, you can take comfort in that at least.
Integrated Pockets
There are no other pockets outside of the two front pouches but for most of you that is going to be just fine.
Overall
What else would you expect from a brand the quality of Carhartt? Do not be fooled; this is an excellent hoodie for non-frigid afternoons due to its Sherpa lining.

3

. ADIDAS BEYOND THE RUN HOODIE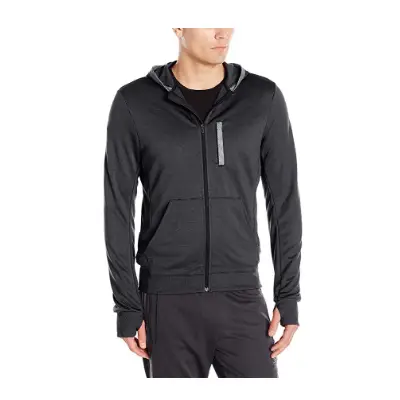 Thanks to the addition of ClimaLite fabric, this is a perfect men's hoodie for running and other such activities. For use in mild weather, this hoodie is going to be as ideal as it gets.
Read more
Fitting
What is interesting to note here is this lacks a drawcord and that means you can't customize the fit of the hood. The good news is this is ergonomically designed to provide you with natural movement.
Materials
The lightweight materials equipped here are perfect for spring and fall weather. They are also not cheap which means this hoodie for men should last you for several years.
Effectiveness
As mentioned, this sports ClimaLite fabric and it is the key to the entire design. This regulates the temperature and will wick sweat away from your skin to keep you dry and comfortable.
Color Options
Yes, the color selection could have been better but at least the provided colors all look nice, right?
Integrated Pockets
In addition to the kangaroo pockets that you come to expect from a garment such as this, there is also a zippered pocket that is located on the chest for additional storage.
Overall
For some of you, the omission of a drawcord is going to be the deal-breaker. For others, you will be completely thrilled with the performance of the ClimaLite fabric and the comfort overall. You could also check out other adidas hoodies such as adidas trefoil hoodie.

4

. NIKE PULLOVER CLUB HOODIE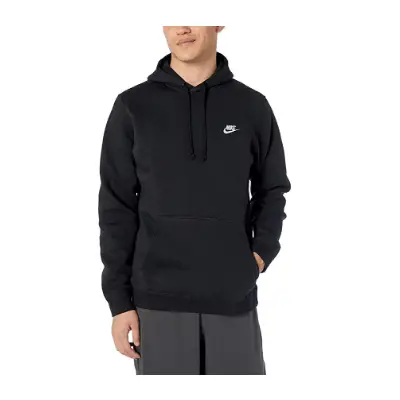 It really is difficult to go wrong with Nike products; in general, so convincing you to buy this hoodie should not be all that tough. The color selection is also really, really good (if that means anything to you).
Read more
Fitting
Let's just say that this hoodie is really made for athletes. Several previous users have reported that this fits on the tight and small side. Oh yeah, and others have noted that it shrunk after they washed it.
Materials
The soft feel of this fabric blend (80 percent cotton and 20 percent polyester) is really nice. Of course, the main cotton composition could have something to do with previous users experiencing shrinking.
Effectiveness
If the wind starts to pick up outdoors, the drawcord allows you to close up the opening of the hoodie. In general, also, this is pretty thick.
Color Options
Nike provides its consumer base with one of the best color selections on the market for this type of garment. There is sure to be a color for everyone out there.
Integrated Pockets
There is nothing out of the ordinary here as this is designed with a kangaroo pocket for your convenience.
Overall
Whenever you are buying a hoodie, the fit will dictate everything. As great as this is, you need to be confident that you will enjoy the fit that is provided (you can always order a size up).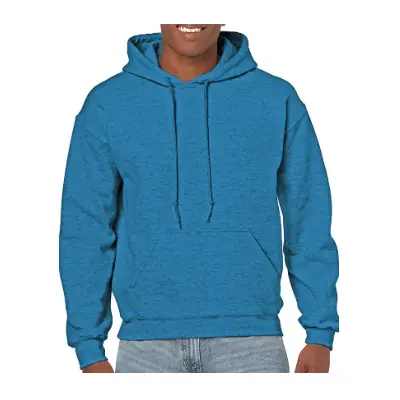 If you are a fan of 50/50 blends of cotton and polyester then you will probably be intrigued by this hoodie for men. It does seem to run a little tight, though, so take note of that.
Read more
Fitting
It is almost a theme with this style of garment that it runs small and this model is no different. When sized up, however, previous buyers have noted its superb comfort.
Materials
Even though this is not a heavyweight hoodie, it features double-needle stitching in several key areas as well as cotton that has been grown in the United States (it also features polyester).
Effectiveness
If you are looking to get some exercise in slightly colder weather, then you will enjoy the double-lined hood and adjustable drawcord of this bad boy.
Color Options
No matter if you like bright colors or more casual options, you should be able to find a style that matches you perfectly with the provided color selection of this men's hoodie.
Integrated Pockets
Other than the hand pockets that are located right at the front, there are no other pockets to speak of here.
Overall
Though this is marketed as a more heavyweight hoodie, it really is not. That is okay because this makes it more suitable for folks looking for spring and fall options.

6

. CHAMPION PERFORMANCE HOODIE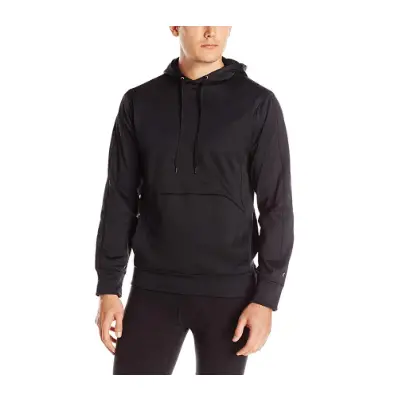 If there is one word that best describes this garment hoodie it would have to be "comfortable". Oh, it also wicks away moisture from your skin and that is always beneficial.
Read more
Fitting
For the record, this is a slim and athletic fit men's hoodie. Ironically, though, some users have noted that the cuffs of the sleeves could be a bit tighter.
Materials
Part of the reason why this is so comfortable is due to the 100 percent polyester composition. It is incredibly soft, comfortable and durable.
Effectiveness
In addition to providing you with an optimal amount of warmth for mild conditions, this is also equipped with moisture-wicking technology for enhanced breathability.
Color Options
The color selection is unspectacular yet solid at the same time. It will not blow you away but each option also looks quite stylish.
Integrated Pockets
With the front kangaroo pocket, your hands are provided with a convenient location to rest and stay warm.
Overall
If you are seeking a hoodie that is baggy or at least a little roomy, you may not appreciate the athletic fit of this model. Then again, you could always go a size larger (though you have to account for the length).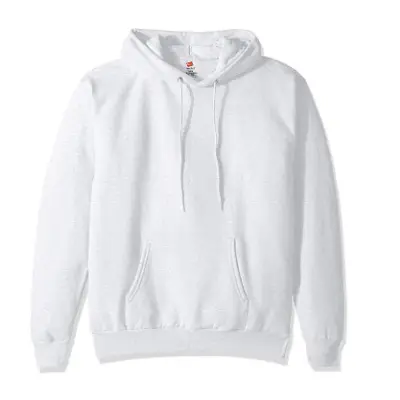 As with most garments produced by Hanes, this is comfortable to wear. This hoodie for men is also designed with pill-resistant fabric to enhance the durability when you wash this time and time again.
Read more
Fitting
The general consensus is that this fits smaller than users expect. In fact, this may be too tight in your normal size so you may want to order a size up if you want a roomier fit.
Materials
What is interesting to note here is even though this is designed of pill-resistant fabric, a few buyers have had issues with the interior becoming fuzzy. As for the blend, this is a 50/50 cotton and polyester makeup.
Effectiveness
For mild spring and fall days, this is going to be perfect but it is also on the thin side. For some users, it has been a little too thin for their tastes.
Color Options
There really is no reason why you should not be able to find a color option that is suitable for you. The variety that is provided is really that good.
Integrated Pockets
As with most hoodies for men on the market, this is equipped with a split kangaroo pocket for your convenience.
Overall
A lot of you will appreciate the fact that this garment is designed of fabric that will resist pilling as this enhances its durability. At the same time, the tighter fit will bother some of you.

8

. RUSSELL ATHLETIC DRI-POWER HOODIE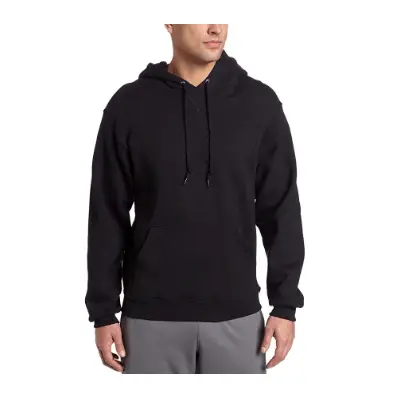 Other than the fact that you should only wash this hoodie sparingly to combat the pilling issue, this is another great option that sports Dri-Power technology to keep you dry when you sweat.
Read more
Fitting
The ribbed waistband and cuffs do help to provide a secure fit but this is also quite heavy and bulky. It is not an athletic fit; let's just say that about it.
Materials
Indeed, pilling has been a documented issue with this garment. With that said, the 50/50 cotton and polyester blend are optimal for several different reasons.
Effectiveness
Yep, the Dri-Power moisture-wicking technology may be the best aspect of this hoodie. At the same time, the fleece traps in your body heat to keep you warm.
Color Options
There really is a color option for everyone here as there is everything from light to dark colors.
Integrated Pockets
Overall, the front pocket is on the small side though it can still hold some smaller items that you may have.
Overall
Consider this a great option if you do not plan to wear this hoodie every day. The reason for this is various users have had issues with the fabric pilling after it has been washed.

9

. UNDER ARMOUR STORM HOODIE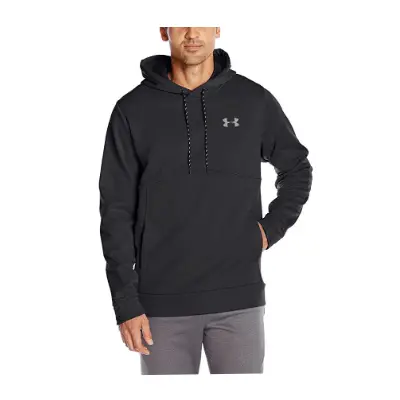 If you still want to keep your body somewhat warm while also exercising then this hoodie could be perfect for you. This is thanks to the soft inner layer that traps heat and the UA Storm technology that repels water.
Read more
Fitting
What is a bit ironic with most hoodies being too small is this has consistently been too large for previous buyers. Also, the sleeves do not have elasticity at the wrists.
Materials
In spite of the fact that Under Armour crafted their hoodie well, their iconic symbol was not. Several users have noted that the symbol came right off within a few weeks.
Effectiveness
Not only does the UA Storm technology repel water without sacrificing breathability but the soft inner layer manages to trap heat to keep your body warm.
Color Options
The variety that is provided to you is certainly not outstanding as many of the color options resemble each other (the focus seems to be on blue and gray).
Integrated Pockets
In addition to the hand pockets, there is also a right-side internal pocket that is perfect for holding your smartphone and other such items.
Overall
It is a bit of a shame that the Under Armour symbol has been known to peel off as this really is a well-designed hoodie. Then again, you may or may not prefer the roomier fit.

10

. ADIDAS MEN'S ESSENTIALS HOODIE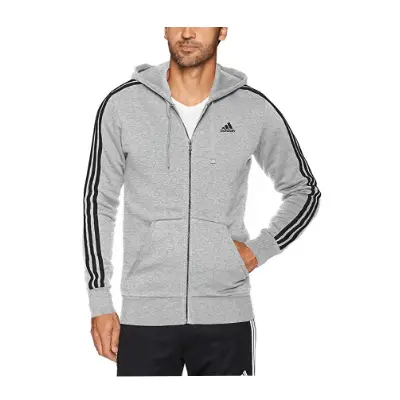 There is no doubting that Adidas is a top-notch brand and this garment is very impressive. You just need to find the right fit (which can be tricky) and then you will be golden.
Read more
Fitting
First off, this does sport a full-length zipper as well as ribbed cuffs. Overall, based on user feedback, this hoodie does appear that this fits snug in the mid-section and long (in regard to the length).
Materials
The soft cotton makeup of this garment is going to be a welcome sight to just about anyone reading this right now.
Effectiveness
In addition to the fact that this feels soft to the touch, it will also do a suitable job of keeping you warm during colder morning activities.
Color Options
On top of the fact that the color selection is pretty good, each option features Adidas's classic and vintage three-stripe design on the arms.
Integrated Pockets
Most of you will be happy with the kangaroo pockets that are implemented but if you want more pockets, you will be disappointed.
Overall
Once again, it all comes down to how you adapt to the fit. Everything is really up to snuff with this hoodie and all you men out there should be compelled by its design.

Subscribe to our Newsletter