Outdoor Research Echo Hoodie
Chilly night? Blazing sun? Lazy night in? This quick-drying t-shirt hoodie from Outdoor Research is a great item to bring with you just about anywhere.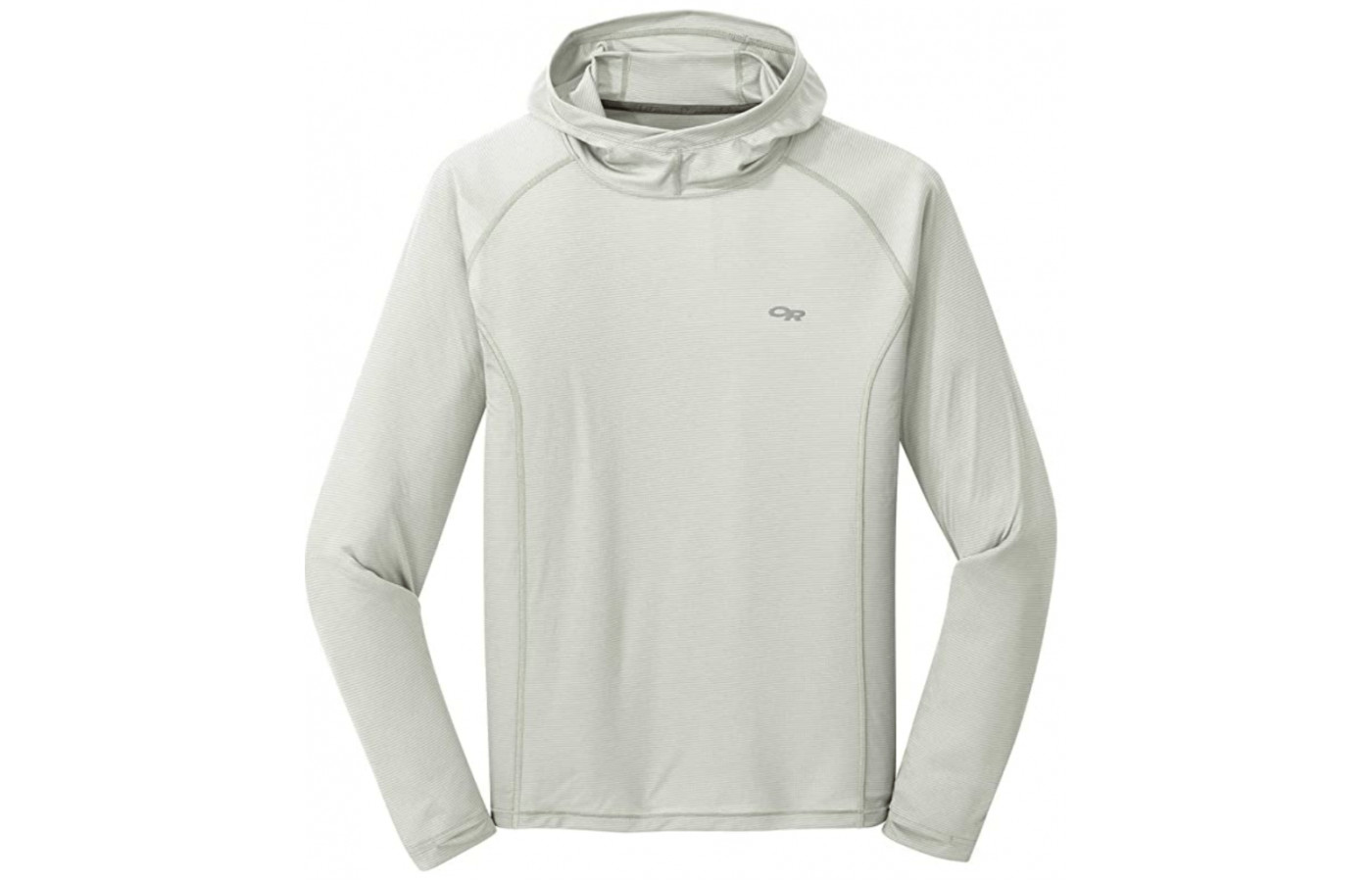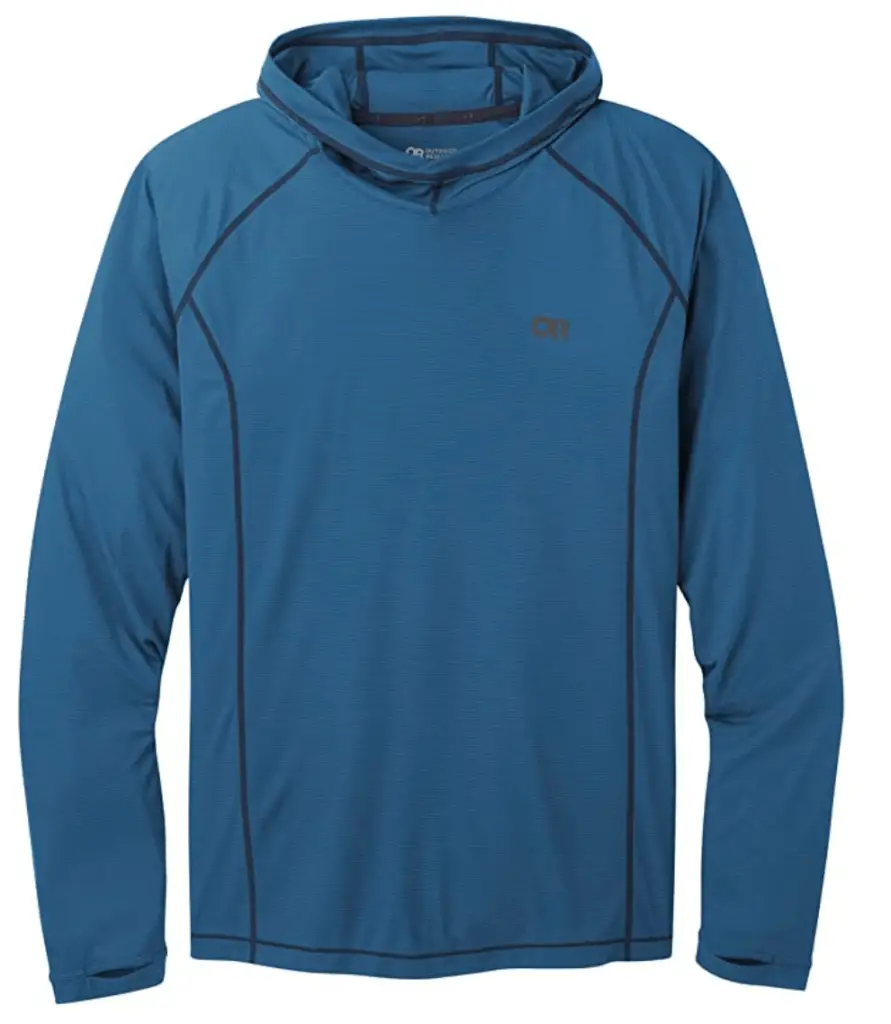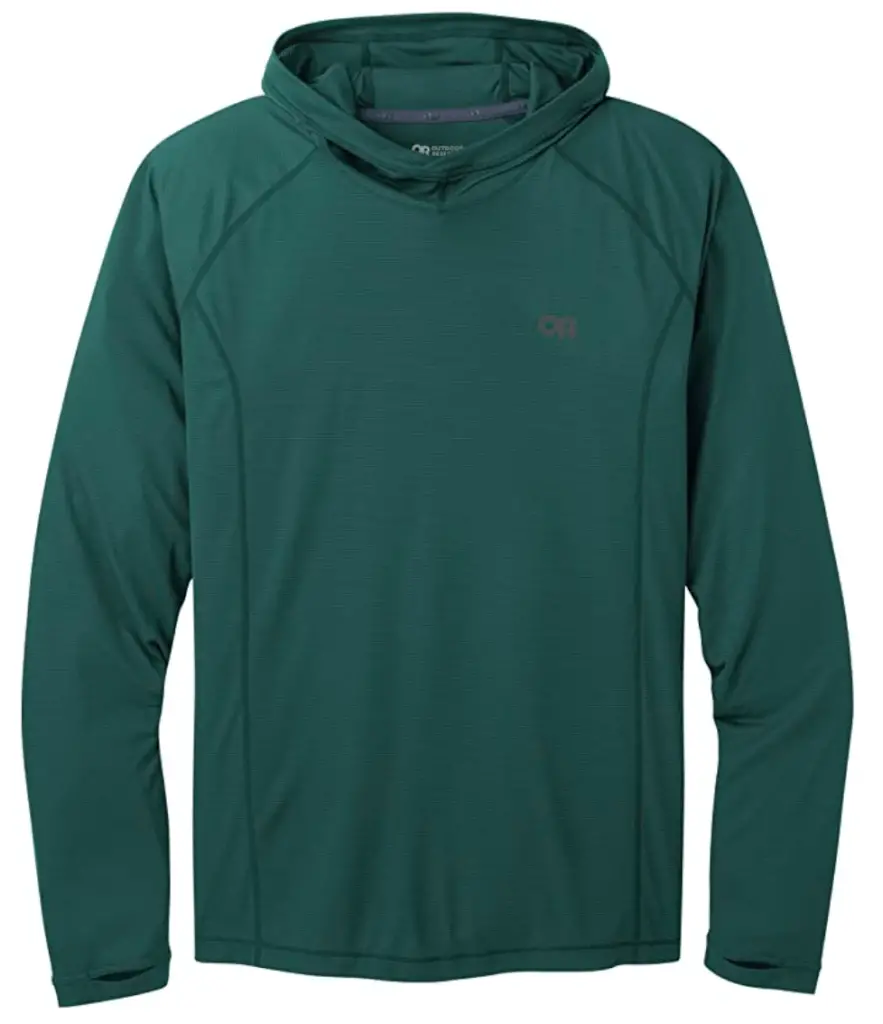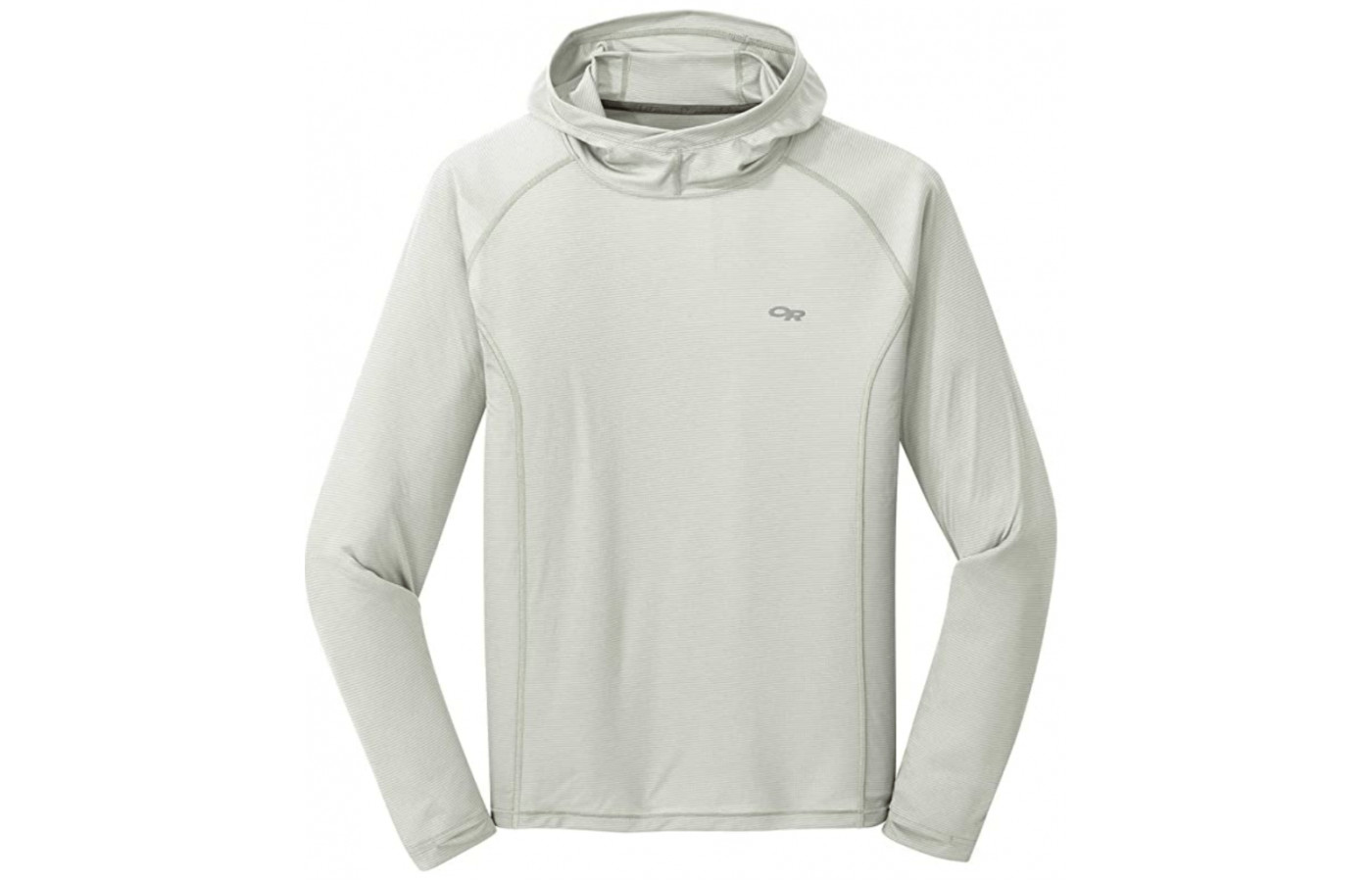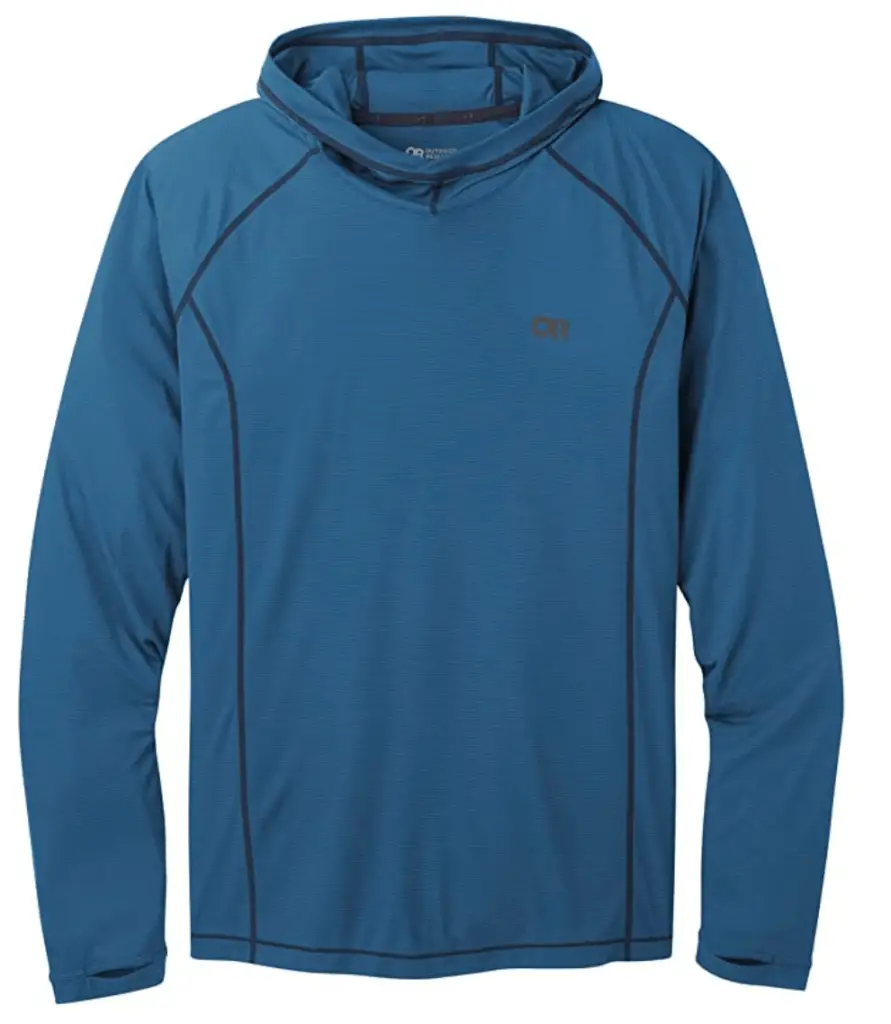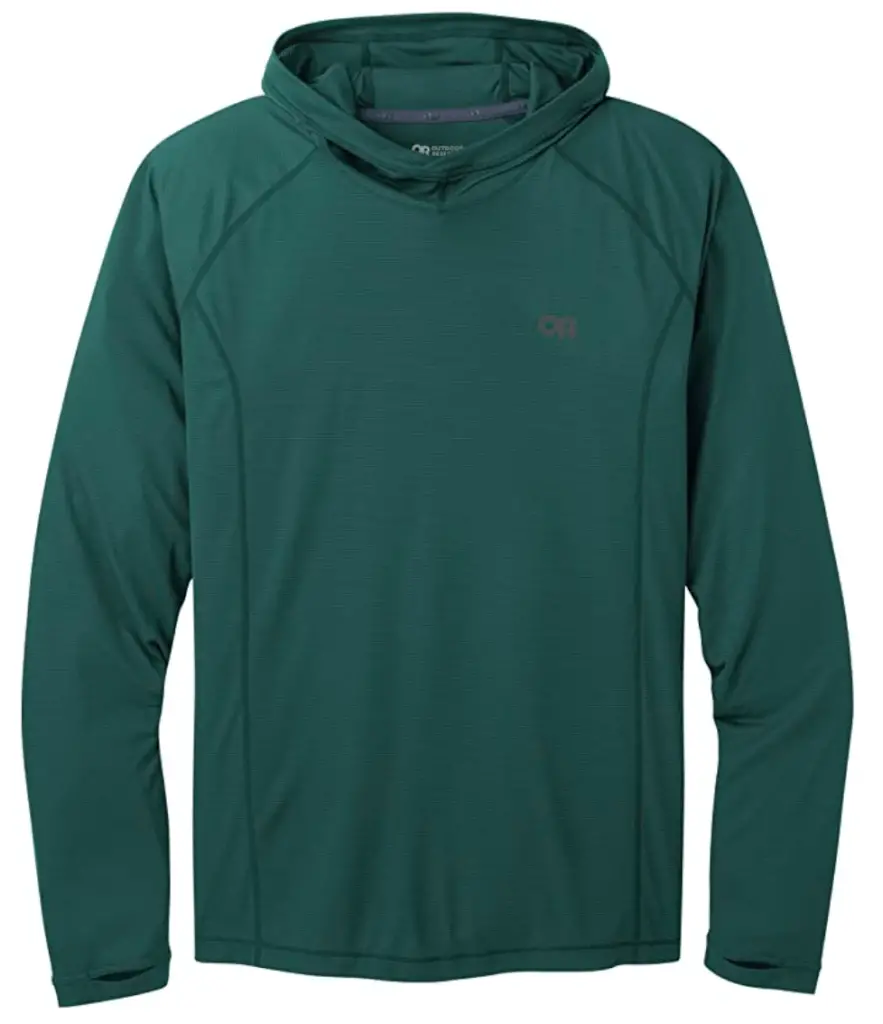 Our Conclusion
The hoodie is moisture-wicking, quick-drying, and has anti-odor technologies. While it will work well in mildly cold weather, I wouldn't count on it alone for true warmth. However, in sunny environments, it provides UPF 15 protection and great breathability.

It is so comfortable that many people end up buying the hoodie in multiple colors and wearing one every day- even if it is just to lay around the house. Continue reading to find out what all the hype is about.
Pros & Cons
Cuffs of the new version are very uncomfortable
Key Features
Key Features
Comfort
Even though the Echo hoodie is made for outdoor adventures, it is so comfortable that you will probably throw it on to sit around the house. It drapes well and weighs only 4.3 ounces or 122 grams. You will hardly notice you are wearing it.
The seams are flat which means you can run, dance, climb, and be lazy without worrying about chafing or hot spots. It provides a bit of warmth when you need it and is also very breathable.
One thing to be cautious of when you buy this garment is if it is the new or previous version. This guide links you to the previous, and in my opinion, better version.
The previous version has comfortable thumbholes that keep the sleeves in place and provide that little bit of extra warmth and sun protection. The new version has cuffs that are very tight on your hand and prevent you from being able to roll up the sleeves.
Fit
The fit of this
hoodie
seems to be pretty spot on. There have only been a few instances where the sleeves or torso were not long enough.
It is available in sizes S to XXL. You can wear this item as a base, middle, or top layer. On its own, a loose fit is preferred, so if you are between two sizes, I recommend going up. On average, the center back length is 29 inches.
Weather Resistance
Honestly, there are not a lot of weather-resistant features to discuss. This is a simple hoodie. It is best used as a light jacket to carry with you for chilly mornings or nights. It provides some warmth and has a hood, but it is not the item you want to bring to the snow. The material is quite thin and allows for some air to enter and exit.
Another great way to use it is for sun protection. It is light enough to not make you sweat bullets and features UPF 15 sun protection. If you're out fishing, walking around a new city, or even on the beach- bring the Echo hoodie along to cover yourself up when you have had enough.
As I mentioned before, there is also a hood that you can use to provide more warmth or to protect the back of your neck from the sun. Additionally, the thumbholes provide the same convenient features.
Features
To keep you feeling (and smelling) fresh all day long, there are two integrated technologies. The first is AirVent technology. This feature pulls the wetness/sweat from your body, absorbs it, and evaporates it. While this keeps you dry, the ActiveFresh anti-odor technology keeps the garment from holding onto foul smells.
If you will be wearing this in dim lighting, you will be happy to know that the small OR logo on the chest is reflective.
Durability
This fabric and technologies have been so popular that Outdoor Research actually has an entire line of Echo products. They are made from AirVent polyester. Each garment has the same moisture-wicking and anti-odor properties. This material is soft to the touch and incredibly comfortable to wear.
As you may have guessed from the weight of the hoodie, it is quite thin. If you plan to wear it during intense adventures, there is a possibility that it will get caught on a branch or a rough surface and get damaged.
Outdoor Research offers an "Infinite Guarantee." While this will not protect your garment from normal wear and tear, it does guarantee the materials and workmanship for the lifetime of the product.
Each claim is handled on a case-by-case basis but Outdoor Research does offer to send tape patches to any customer who feels the need to reinforce their products.
Comparison to Similar Hoodies
The
Patagonia Capilene
is a warmer option. It is made from a blend of Merino wool and polyester. These materials help to keep you warm, while also wicking away moisture. It almost looks like a loose turtleneck.
The collar covers your neck and there is a slouchy hood. The garment has a relaxed fit and feels very soft against the skin. Additionally, the material is not as thin as the Echo, making it more durable.
However, one downside to this option is that it weighs more and is almost three times more expensive than the Echo. It weighs 6.9 ounces or 196 grams. If warmth is your main concern, the Capilene is a good option. It is not ideal to be used as sun-protection.
The
Mountain Hardwear Crater Lake Hoody
costs exactly the same amount as the Echo and has very similar features. To prevent chafing and allow full range of motion, it has arm gussets and dropped shoulders. It also has thumbholes and a hood to provide some warmth or to protect your skin from the sun.
A few differences include the weight, the fit, and the sun protection. While the Echo has only 15 UPF protection, the Crater Lake Hoody has 50. It also has a slightly more athletic fit because it is made from polyester with a touch of elastane.
This elastane addition is also likely the reason that this option weighs a bit more than the Echo. It weighs 7.05 ounces or 199 grams.
Verdict
While the price might make you second guess your purchase, no one seems to regret their investment. It is not an ideal option for extreme cold, but it will protect your skin in the extreme sun. It is not marketed as a cooling shirt but does have some similar capabilities.

The Echo hoodie is a great accessory to throw in your bag or keep in your car for those just-in-case moments. If you're tired of being chilly and sunburnt, the Echo hoodie is the answer to your prayers. It is comfortable, portable, and versatile. What's not to love?