Patagonia Atom Sling Bag
Check out the Patagonia Atom Sling if you need a handy and reliable sling bag for all your urban, light trail or sightseeing adventures.
Its clever design, sturdy construction, quality materials and comfortable carry means you'll have everything you need in one light package.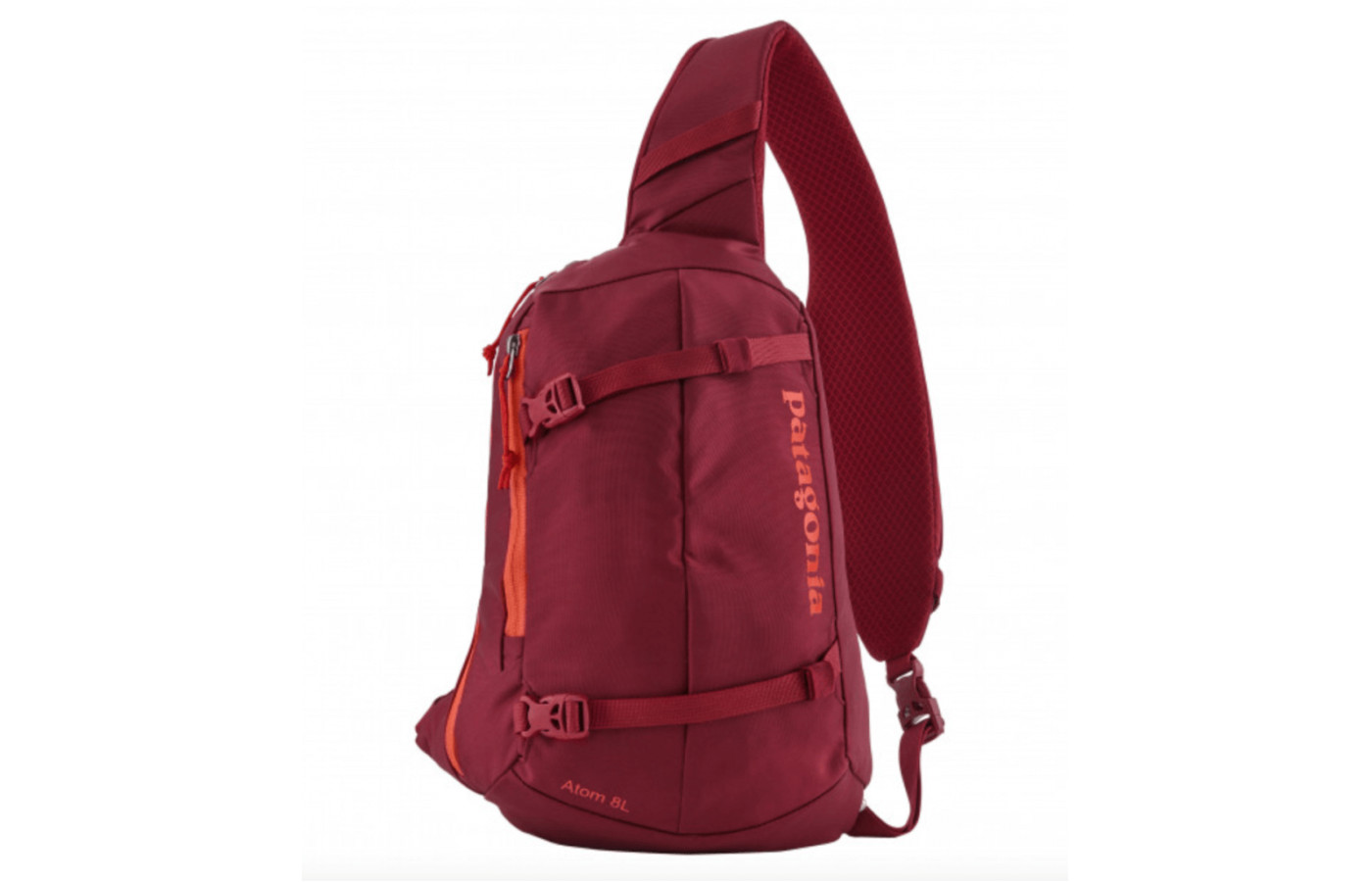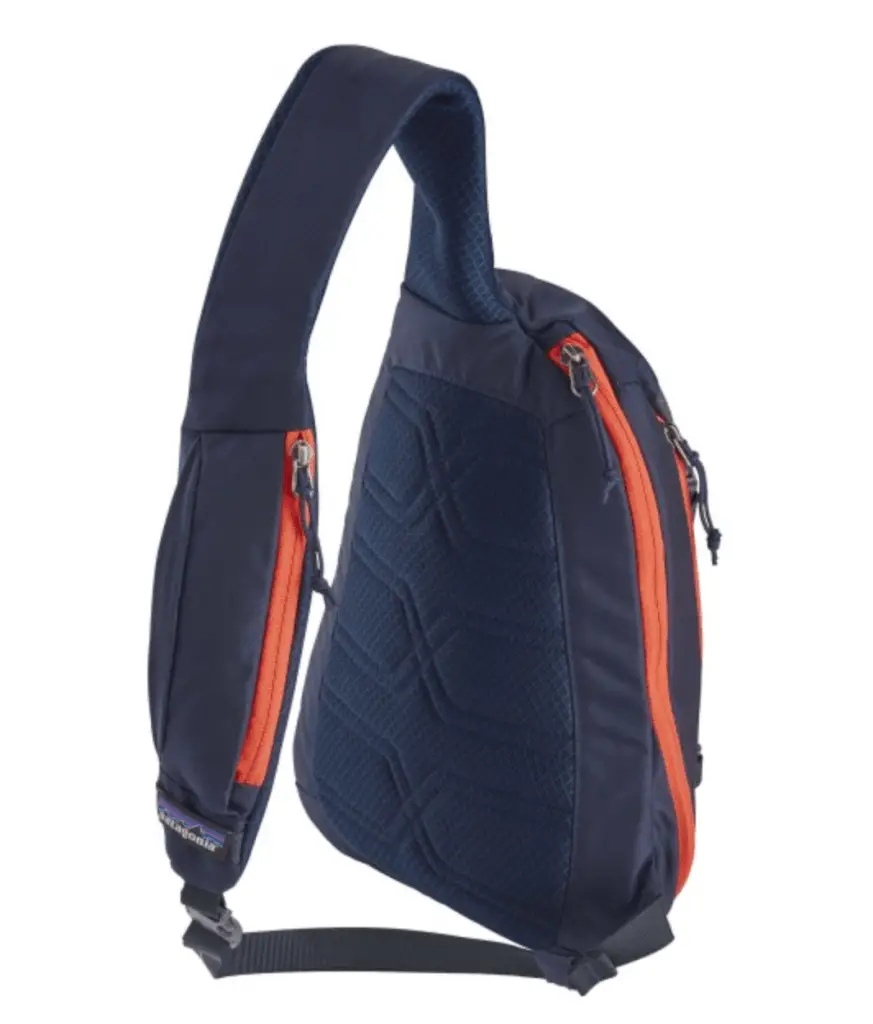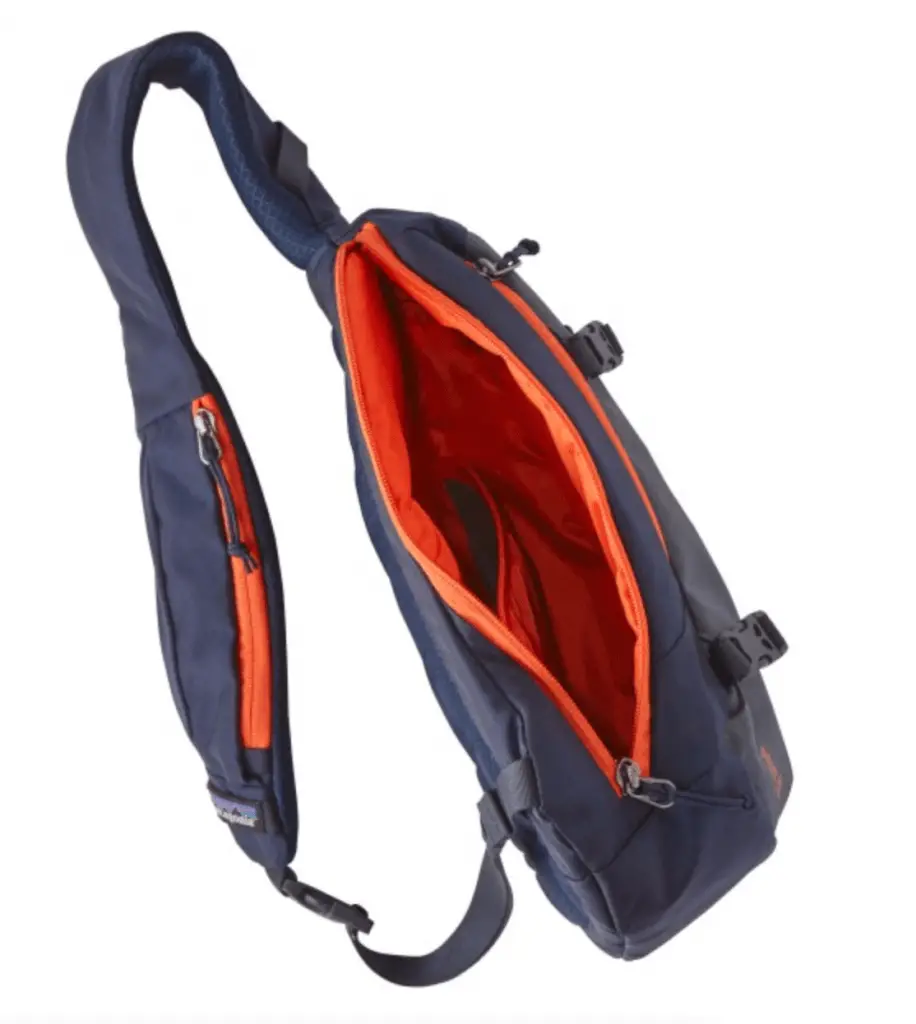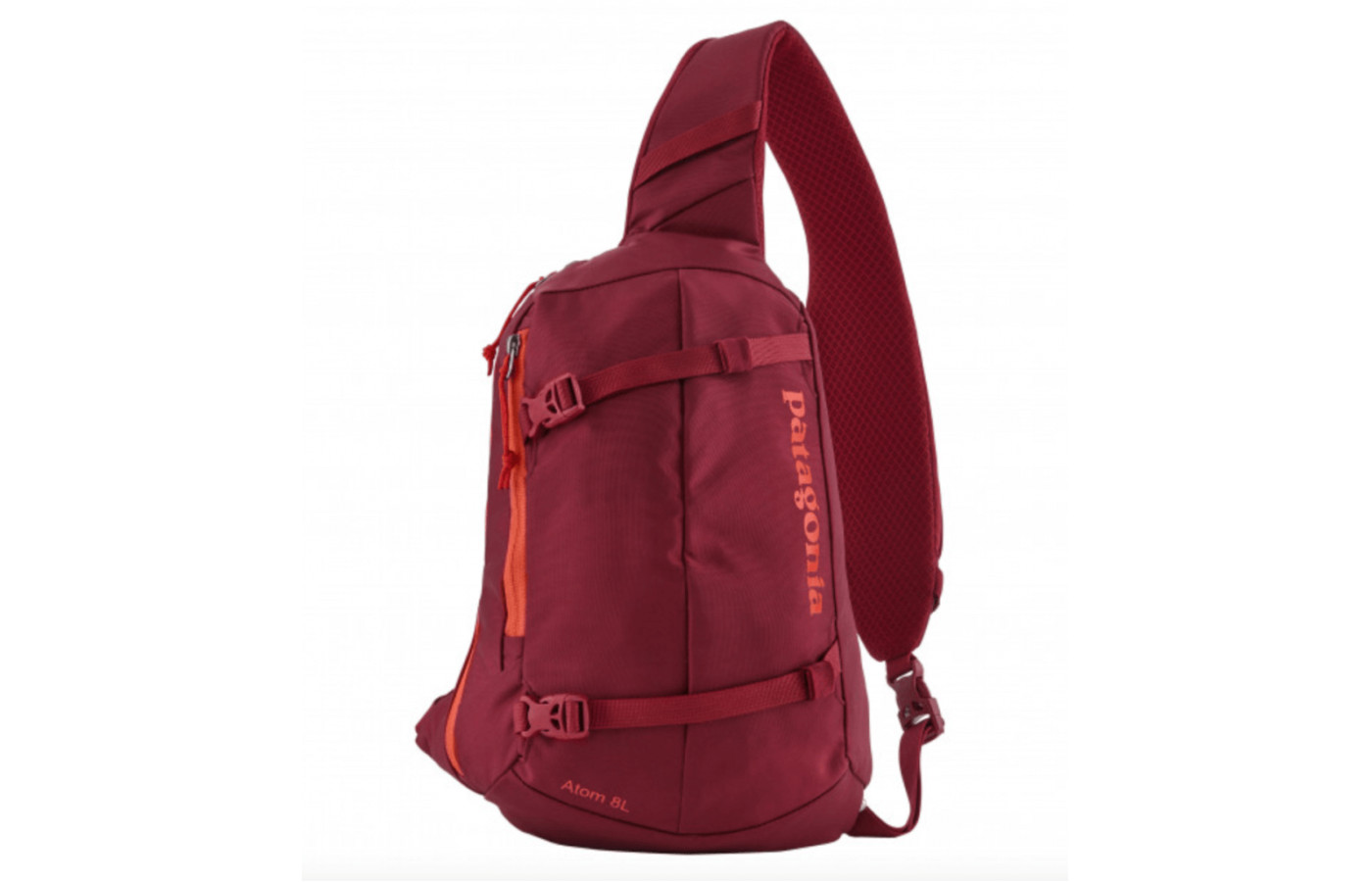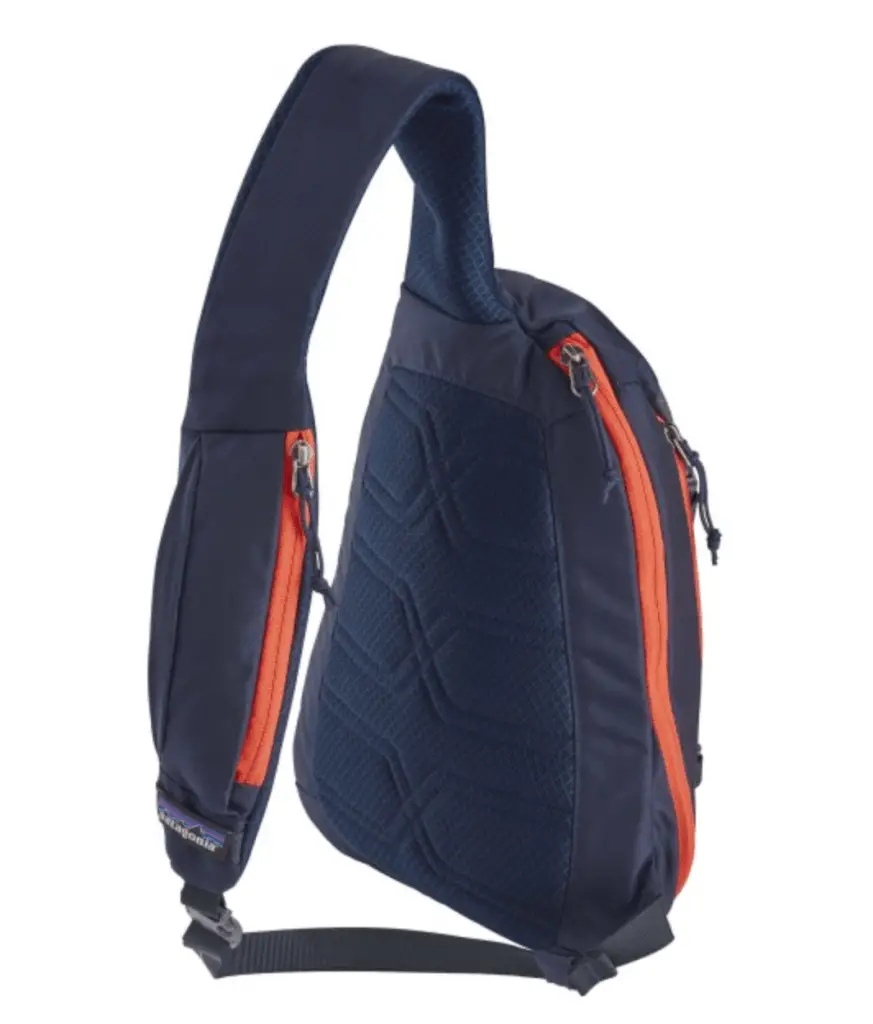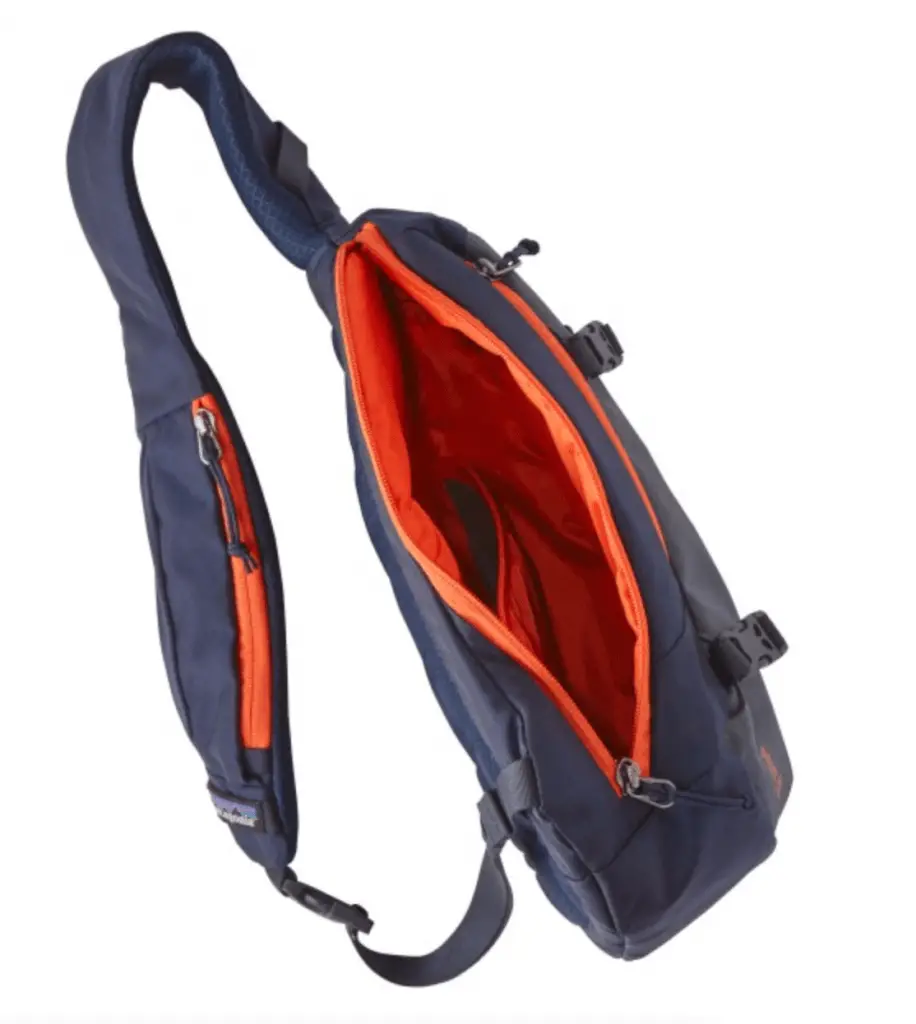 Our Conclusion
Patagonia expands their range with a pack perfectly suitable for hiking on your favorite light trail or urban exploring. This 8L sling pack is the perfect size to hold all your essentials without allowing you to overfill your bag and weigh yourself down with unnecessary gear.

This pack is aimed at those planning on lightweight adventures. So, with well-balanced organizational pockets, an easy-to-use but durable sling, and a reliable and robust build, it's a perfect choice for the minimalists out there.

Yes, it is small. Yes, you can only carry the basics. But trade storage and size in a small, reliable, and lightweight pack is worth it when you get extra comfort, performance and remove weight for light adventures.
Pros & Cons
Compact – stops you over packing
Perfect amount of organization for its size
I would prefer an adjustable shoulder strap
A bigger phone pocket on the strap would be convenient
Key Features
Key Features
Design
The convenient one strap sling makes it easy to swing the pack around your torso to reach any items you need on the go. Just give this sling bag a quick swivel to gain access to the main compartment and any smaller pockets. This swivel is convenient when you see the perfect photo opportunity and want to whip out your
camera
.
However, the shoulder strap can only be worn on the right shoulder, which means the pack slings toward the left side of your body. This limitation could be an issue for lefties.
Storing all your vital gear is easy, with plenty of organizational features. For example, although there's no water bottle pocket, you can use the loop to attach a carabiner to a light
water bottle
or other accessories.
In addition, a stretchy mesh pocket on the shoulder strap allows you to carry a small phone, keys, or snacks. What's more, the compression straps on the front of the sling can be loosened to create more space in the main compartment and hold items externally. You can even get a wet rain jacket in the front strap.
It's minimalistic looking inside the sling bag, but the two-person compartments offer plenty of organizational space for a sling pack of this size. The large, zippered main pocket even has a dedicated, padded tablet sleeve to protect your technology. After that, the main compartment is large enough to store your essentials.
Comfort
What stands out about this sling bag is how comfortable it is to carry. It's so small and light that you might legitimately forget you've got it on. This comfort likely comes from the soft, breathable mesh on both the back panel and shoulder strap.
Extra airflow is also created through air channels on the back panel, allowing less sweat to build up on hot days. Even if you do get sweaty, you'll sweat marginally compared to other packs. I also like the inclusion of a hip belt for more comfort.
Because this
travel backpack
hangs only on the right, it can get a little uncomfortable. If you've filled this pack to the brim, you may also find the Atom Sling uncomfortable for a full day's wear.
It would be handy if any future updates of the Atom Sling would include a shoulder strap anchored on either side of the body to shift the weight, but I don't know how feasible it is.
Remember, this is a small bag meant to hold only your essentials for light hiking trips and light urban exploring, so to overload it would take away the comfort that this small and compact bag allows for.
Materials
Patagonia has put some clever materials into the Atom Sling to ensure it does what it's supposed to, and comfortably. Using Nylon as the primary material of the pack is a good choice because Nylon is strong, durable, abrasion-resistant and isn't much affected by temperatures.
Nylon does have a downside; it does absorb water quickly, however adding a Durable Water Repellent (DWR) coating means the Atom Sling is protected from light rain.
Soft and flexible mesh is also used to make the pack more convenient and usable, in the form of a convenient stretch-mesh pocket on the shoulder strap to fit a wider array of phones. A breathable 3D spacer-mesh also pads the shoulder strap and back panel, allowing this pack to wick moisture, increase ventilation, and dry quickly.
Durability
This Patagonia sling pack seems well designed and well-constructed. I could not see any durability complaints online. As mentioned before, using Nylon and a DWR coating will keep this pack like new for much longer than if using a different, less durable material.
There are no durability issues to report, even after a few weeks of usage. With no scratches, marks or bobbles, the pack still looks new.
Comparison to Similar Sling Bags
Hands down, the Atom Sling is one of the most versatile sling packs on the market. But is it the right one for you? Another versatile sling backpack perfectly suited to light adventuring is the
NeatPack Versatile Canvas Sling Bag
, available in three colors.
Packing your essentials is easy with large compartments that offer plenty of space, plus a lined main compartment and water resistance.
This pack stands out in its comfort, making it easy to wear all day, even with one strap. It also comes with a lifetime guarantee. Unfortunately, it doesn't look as stylish as the Atom Sling and doesn't have the padded tablet lining.
If you're after something less versatile and more suited to outdoor hiking activities, then the
Red Rock Outdoor Gear Rover
is a good choice. As a tactical sling bag, several large compartments store all your hands-on wilderness and emergency gear. With numerous smaller pockets, you can also easily reach everything you need. Still, surprisingly the bag stays light and easy to carry even when full, and the strap is padded.
The Red Rock Outdoor Gear Rover comes in four colors and an adjustable strap to accommodate left-handed and right-handed people. An excellent choice for anyone adventuring into the wild.
Verdict
Perfect as a light and convenient pack when you need an all-rounder, a backpack, shoulder bag and couriers tote all in one, the Patagonia Atom Sling is hard to beat.

Generally, the Atom Sling is a solid, versatile, and comfortable carry. It's perfect for short day trips, light backpacking trips, taking the dog on a long walk, sightseeing, or carrying your lunch to work.

There's no doubt this 8L sling bag is perfect for holding your essentials for light travel and adventuring.