Best Puffer Jackets
In a
Hurry? Editors choice: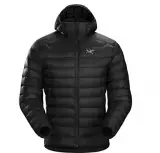 Test Winner: Arc'teryx Cerium LT

Puffer jackets are highly coveted by those that live in or frequent
cold
climates. Visit any chilly city (think a high of 30 degrees Fahrenheit for the day) and you are bound to see puffer jackets galore! Not only are puffer jackets a great look, but they are also highly effective at keeping you
warm
in the coldest of weather. Long chairlift ride? No problem. Stargazing in the alps? Puffer has got you covered. Exploring Iceland's Ring Road by your lonesome? Fear not, the puffer jacket offers a
warm
embrace. There are many different brands, fits, thicknesses, and material options out there at a wide range of prices. Don't let this overwhelm you. Let us take you through the picks that we have found to be the best!
Standout Picks
Criteria Used for Evaluation
Fit
When it comes to the best puffer jackets on the market today, how well it fits your body is an important factor to consider. After all, if the coat is uncomfortable or ill-fitting, there is really no point in wearing it. In order to determine the overall fit of the piece, we not only looked at the available sizes, but also considered how tight the sleeves were, whether the puffer jacket allowed for a free range of motion, whether or not it covered the torso adequately, and if the hood provided enough protection. In truth, we found many of the puffer jackets we looked at to be large by fashion and design, so finding those with a good overall fit was a bit problematic. But we do think that the ones presented here provide the best overall fit for most people.
Materials
In order to have a puffer jacket that is both fashionable and functional, it needs to be made of quality materials. Whether the filling is made of natural down feathers or a synthetic material, it needs to be of a good quality and designed to keep the wearer warm, but still be lightweight enough to provide for a free range of movement. The outer shell, of course, should be able to keep the elements at bay. In most cases, we found the materials used in these winter puffer jackets to not only consist of the quality that we expect, but also the common materials like down, polyester fibers, nylon, and even fur or tightly woven but breathable natural materials.
Also read about what is the top arcteryx jacket
Durability
Another important factor that we considered when searching for the best puffer jacket is the overall care and craftsmanship that was taken in the production of the jacket. Sadly, when it comes to craftsmanship, not all jackets were created equal. Many on the market today may look well made upon the first inspection, but upon a closer look simply don't stand up to the rigors of daily use, especially for someone who is active. In essence, what we looked for was the tightness of the stitching, how well the material was woven, the quality of the material, and the ability of the jacket overall to wear well in day to day activities.
We wear our jackets on a regular basis, and chances are they will get dirty from time to time. This fact of life is one of the main reasons why we took a look at how easy the puffer jacket was to care for overall. After all, it is an investment in your wardrobe, and if you have to spend an exorbitant amount of money or time to care for it, you may think twice about making a purchase. Thankfully, with modern technology, good materials, and great craftsmanship, most people found these puffer jackets to be relatively easy to care for.
Style
Last, but certainly not least we took a long hard look at the overall fashion of the puffer jacket. Like most clothing, what is "in" can change from year to year or even season to season. So we looked for ones that had a fashionable staying power, as it were. We searched out those puffer jackets that not only had the clean and classic lines of the style but also featured a few of the more trendy items or characteristics that made them some of the hottest sellers on the market today. Finding this balance of timelessness and trendiness wasn't always easy, and frankly, sometimes we missed the mark, but overall we think that these particular jackets will withstand the test of time quite well.
Subscribe to our Newsletter