Best Emergency Blankets
In a
Hurry? Editors choice: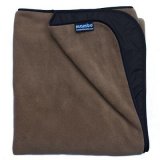 Test Winner: Mambe Extreme Weather

Emergency blankets are also useful for camping trips or sporting
events
. While not inherently a disaster, cold or wet conditions can still make you uncomfortable and ruin your fun. The last thing you want is pneumonia to put a damper on your camping trip or football outing. When you think of an
emergency
blanket you probably think of that ugly, crinkly mylar that rips and tears with every move. Well, they are not all made like that, in fact, most are made with much better quality and some are even quiet. Some of the blankets are so comfortable they can be used on the bed at home or in the car on a long trip. Even if you never use the blanket, there's comfort in knowing that you have it – just in case. We've done the homework for you and listed ten of the best
emergency
blankets on the market. So check them out and stay prepared this year.
Standout Picks
Criteria Used for Evaluation
Durability
When it comes to an emergency, you want to be sure you're prepared for whatever lies ahead. You need to make sure your blanket is durable enough to handle heavy wind and rain. It needs to be able to tolerate rough terrain and handling. If your blanket rips or tears, it won't be of much protection to you. When it rains you need to stay dry and when it's extremely cold you need to stay warm, these are good reasons your blanket should be made of high-quality material that will last. Make sure the blanket you choose would make a good ground barrier just in case you need to lay on it or if you intend to use it under a tent or sleeping bag. For a one time use in minimal conditions, durability might not be as important, but since you can't predict what the future holds it would be best to invest in a high-quality emergency blanket.
Use
Only you know what types of situations you could get into. If you travel a lot, then you will want a durable blanket to keep in your car. Even if you live in a warm climate you should take into consideration that the temperatures can drop in the evenings and early mornings and if it rains it could get even colder.
If you camp, consider a blanket that can be used in and around the tent. Don't forget about your sleeping bag; you might want to use one under the bag or use it as added warmth to the bag. You might want one that you can cover with near the fire or make a small shelter in case your tent breaks.
Many people use emergency blankets at sporting events, and others use them at home on the bed, couch, or sun porch. The uses are endless with these blankets, but you will want to be sure the one you choose will meet your needs and keep you safely protected in the case of an emergency.
Features
The material of these blankets is important depending on your needs. One that is designed with fleece will offer added comfort and warmth. If you want to take one of these blankets with you on a hunting trip you don't want a noisy mylar one, so be sure you look for a quiet blanket that won't scare off the animals. Many are large, and some are small, so that's another factor to consider for your needs. If you want to use one for shelter you might want to check for ways to tie it down and one of the most important features to look for is water and wind resistance. Since your safety is the priority here, you need to make sure you will stay dry and you don't want to get wind burn.
Value
This factor is obvious, because the more the blanket offers you, the more valuable its use is to you. If you purchase one that has a higher price tag but offers you very little for your needs, then you will waste your money and probably not be able to use the blanket. On the other hand, when you get a fair price and a lot of added features, you will get your money's worth no matter how much you pay.
Top Ten Emergency Blankets
Subscribe to our Newsletter