Best Survival Kits – 2023 Edition
In a Hurry? Editors choice: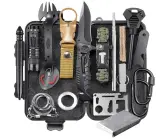 Test Winner: Eiliks

Survival kits are a must-have for anyone that has ever seriously considered a worst-case scenario. These kits are not only ideal for campers, but they are also a great tool to have on hand at home in the face of any type of natural disaster. Most come equipped with pertinent tools such as knives,
fire-starters
, and
first aid kits
that are essential to get you out of any jam, as well as food rations and clean drinking water.
Odds are, you will never actually need to use these kits, but it will provide peace of mind to know that you are prepared for just about any scenario. In this guide, we have added some of the very best survival kits that could save your life when the disaster strikes.
Standout Picks
Criteria Used for Evaluation
Materials
What's on the outside reflects what's on the inside.
If the pack isn't constructed from high-quality materials that are able to take a beating, be suspicious of the quality of materials found on the inside.
There were two distinct schools of thought when it came to the packs that these tools came in. The first design was the hard outer shell. We were more drawn to this survival kit because it would be able to take a beating and the interior components wouldn't become damaged. Plus, it makes it a lot neater to throw into a backpack.
The second design we discovered was the safe canvas design. More often than not, the canvas was coated with a layer of waterproof materials, so you wouldn't have to be concerned for your gear if the rain was pouring down. What we liked about the soft shells is that most of them could cinch on the outside of the backpack for easy access with their molle design, or they could be worn around the waist.
Features
Make sure your survival kit has the must-haves.
There are a few features that are an absolute must for survival kits, and if a product didn't come equipped with them, move on.
One of the things that we made sure each emergency survival kit had was a really good knife. This was by far the most important piece because there are a lot of uses for a sharp knife in the middle of the woods. Another piece of gear that we couldn't do without was a flashlight. A few of the other must-haves included things like emergency blankets, compasses, fire starters, and swiss cards.
We also made sure to check each emergency kit to see if they brought anything new to the table. From what we gathered many companies try and stand out from the other designs by including at least one piece of gear that you might not find with other survival kits. One of our favorite additions was the emergency pen. It might be a rare occurrence that you would ever find yourself trapped underwater in your car with no way out, but with the addition of one of these pens, you will be able to break and glass and escape without using that much pressure.
Value
What is your safety worth to you?
When it comes to your well-being and safety, spare no expense. While we did ensure to offer up some of the more affordable options that received positive reviews, we mainly stuck to brands that were either par for the course in terms of price or were just a little bit higher. We like to save you a little bit of money so that you can spend more money on surfboards and climbing gear, we don't think it is a good item to cut corners when your safety is concerned.
Top 10 Picks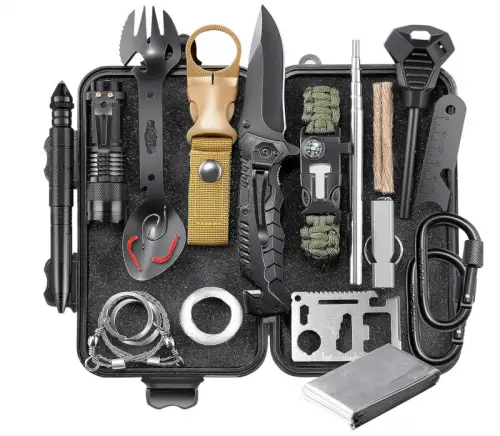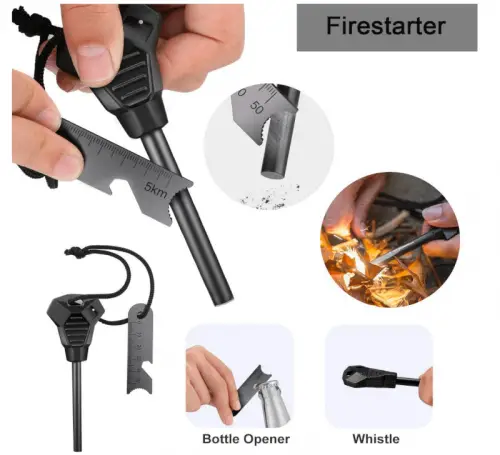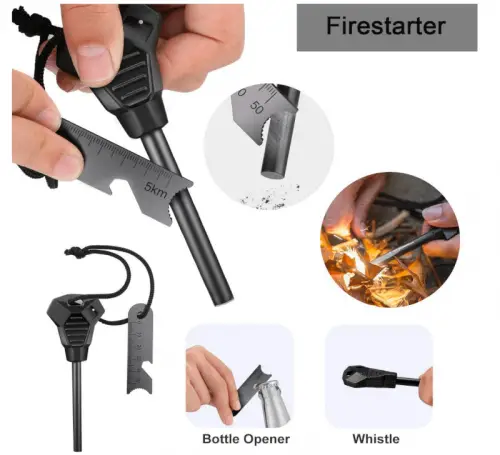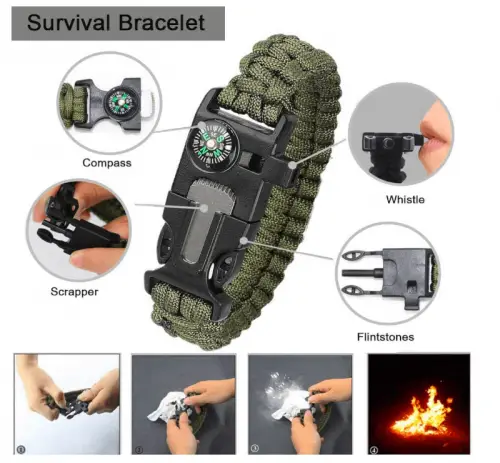 In our opinion, it doesn't get any better than this case. It has all of the things that stranded adventurers would need to make the best of their surroundings. The best part about this case is that all of the materials are made from high-quality steel so that you won't need to worry about cheap components breaking when you need them the most.
Read more
Once you open up the small black case that stores the components, you will be amazed at how many items actually fit inside. Users can expect to find tools such as an LED flashlight that clips right onto your belt, a compass, a light-up keychain, a swiss card, flint for making a fire, an emergency pen, and an emergency blanket.
One of the most important features, in this case, is the emergency pen. This pen is made from high-quality tungsten steel, so you know it's top quality. On one end it is able to write like a standard pen, but on the other side is a sharp blade that will be able to break glass without much pressure if you find yourself trapped in your car underwater.
What's also great about this pack is that it also has enough room to fit an emergency blanket for those chilly nights outside.
The thing we like best about the EILIKS design is that it comes in at a really affordable price point while offering tools that are very high quality. The cost of this survival kit will likely set you back about the same amount that you would spend on a large pizza.
With all of the tools that you will need to stay safe and protected if something happens on one of your standard camping trips, the EILIKS design is something that will deliver in all areas without breaking the bank. Plus, the survival pen makes this a great thing to leave in the car just in case.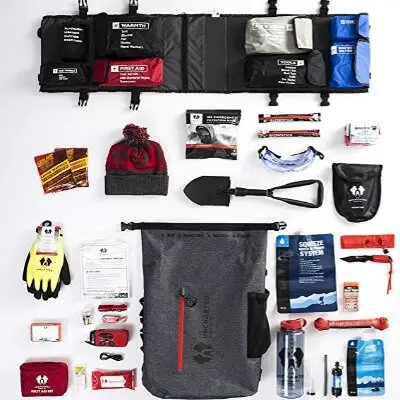 This survival kit from CCS is another great set that will give you all of the tools that you will need when the chips are down. The bag with all of its contents only weighs 11-pounds and is small enough to be able to pack along with you on long camping trips to short day treks in the mountains, and it is packed with high-quality tools that will hold up in the roughest of circumstances.
Read more
This pack contains a myriad of useful tools and gear. Just like any good pack, this one includes a sharp and durable tactical knife, a flashlight, and an emergency radio. What makes this case so special is that it also comes with a few unusual items, such as a beanie, a shovel, and an emergency filtration mask.
The backpack survival kit that houses all of these tools is amazing in itself. It is capable of carrying up to 48-liters and is made of a durable, waterproof tarpaulin. An added feature that isn't included in the tool count is the fact that this pack can be used as a flotation device.
This pack is priced quite high but we believe it is worth it. The whole emergency kit only weighs 11-pounds and features survival kit necessities and a few well-thought-out bonuses. Add this in with the stylish backpack/flotation device and there's no second-guessing this.
For those that want something reliable, look no further. While this survival kit is slightly more expensive than others, it has outstanding features and some reviewers say you can re-organize the pack to make room for anything else you would like to add.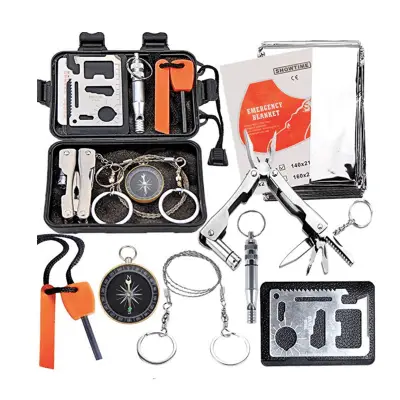 The EMDMAK design doesn't have the same number of features that some of the others have, but the contents that are included in this case are incredibly useful, are made from high-quality materials, and will help you survive when an emergency strikes. Plus, it comes with a few things that you might not see in other cases that you might find to be a little bit more helpful.
Read more
Do not worry, even though the contents of this survival kit are just a little different, it still comes with the same basic necessities such as a fire starter, compass, swiss chard, emergency blanket, and a flashlight.
Where it differs from some of the others is with the addition of a pretty extensive multi-tool and a wire saw. The multi-tool unfolds to look like a basic set of stainless steel pliers with sharp tips, but it also does a host of other things. The handle unfolds to reveal a fish scaler, flashlight, knife, screwdriver, and cable scissors. The wire saw is unique because it is simply a long piece of wire with round handles that travelers can use to cut through just about anything.
What's great about this emergency survival kit is that it comes in at a price point that is so low that you might even want to consider getting two: one for your car and one for your camping pack. The lower price point is due to the fact that EMDMAK packs only the things that travelers will need, and none of the extra tools that might not see use.
Users love not only how small and compact this survival kit is, but also how functional all of the components are. It's a perfect size for users that want something that isn't going to take up a lot of room in their pack.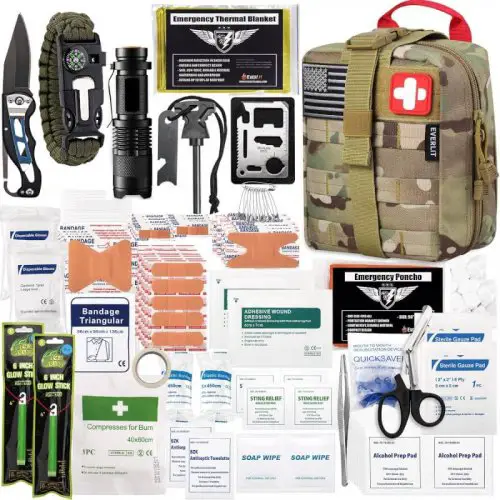 This design from Everlit comes with all of the tools that you need in an emergency, and in a compact case that stores everything very neatly. What we liked most about this design is that the pack is tough and rugged, while fitting easily wherever needed. Plus, it comes in at a price point that won't break the bank.
Read more
The pack leans more towards campers that find themselves in a tricky situation. It focuses primarily on first aid tools such as bandages, rubbing alcohol, tape, and thermal blankets. Users love that the first aid gear is made from high-quality materials that hold up well even in the wilderness.
Also included in this pack are all of the tools needed to get yourself out of a jam. It includes a sharp pocket knife, a flint starter, a paracord bracelet, a tactical flashlight, a compass, and a whistle, as well as a few other necessities. These tools will help you stay safe and protected when you are far away from home.
This hit is a great choice for hikers and campers that want something that is small and compact but comes equipped with all of the necessities to keep you safe and protected when disaster strikes. We love that the quality of tools and first-aid supplies will hold up well over the years, and it is neatly organized in this durable pack.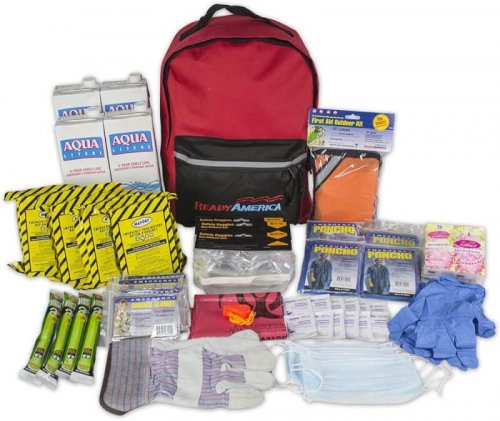 This simple and affordable design is a great option for almost any situation. Many users pop this pack in the trunk of their car or in a closet for home preparedness, and it is small enough to toss into your backpack for your next camping adventure. It is filled with essential items and comes in at a price point that won't break the bank.
Read more
What we liked most about this design is that it comes with a plethora of first aid essentials that will give you peace of mind in any situation. It comes with plenty of bandages, gauze, and tape to keep your wounds safe from the elements, as well as alcohol wipes and tissues.
We also like that this option comes with an emergency poncho and an emergency blanket for less than ideal weather conditions. The included emergency light and whistle helps with calling for aid. Plus, it comes with emergency water to keep you hydrated as you wait for help to come.
The best part about this kit is that it comes in a strong and durable pack that allows for extra storage for items that you need to personalize this kit to fit your specific needs. Users find this is an excellent base kit that provides extra room for personalization.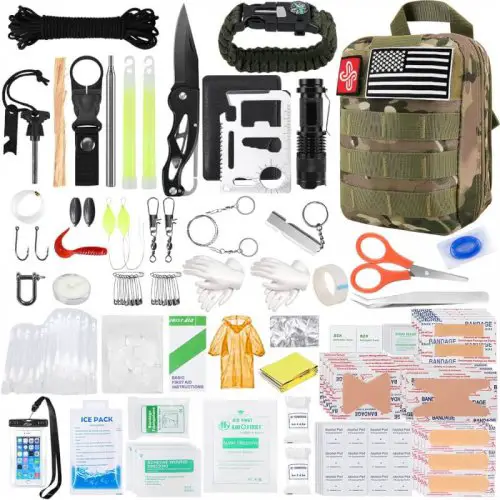 It's pretty amazing the amount of gear that Kosin is able to pack into such a small pack. This tool-heavy design is perfect for campers and hikers that need to be prepared and ready for any situation. It comes with quality tools with a few extra first aid features that will keep you alive while you wait for help to come.
Read more
What users love most about this design is that it is packed into a small and compact hard-shell case. This case not only helps to protect your gear, but it also makes it easy to stash it into your pack with the read of your gear. It comes with all of the tools that you will ever need, such as a wire saw, military knife, paracord bracelet, compass, fire starter, and a host of others.
We also love that it comes with a few extra first aid tools such as alcohol wipes and bandages to help out in a pinch. The thermal blanket will help to retain body heat in cold climates and the 120-decibel tube whistle effectively calls for help.
If you are in the market for something small and compact that is tactical-tool-focused, this design from Kosin is one of your best options. It contains all of the tools you will ever need to stay alive when the chips are down and clocks in at a price point that is incredibly affordable.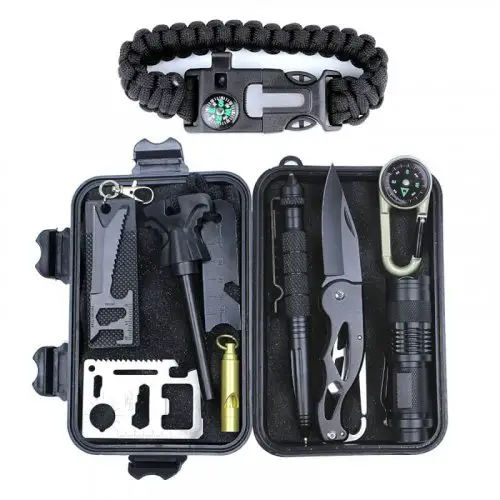 The HYSTEK design really shines in the quality of materials that are used to make up their emergency kit. Users can expect to find all of the tools that come standard in these products, and all of the components are made from really high-quality materials so that they won't let you down when you need them the most.
Read more
You can expect to find all of the basic essentials in this pack. The flashlight that is included takes one standard AA battery, which also fits in the case. This is important because it means that if your survival kit sits in the trunk of your car for years before you need it, you won't have to worry about leaky batteries ruining your gear.
The cost of this survival kit runs pretty par for the course. It isn't the most expensive unit out there on the market, but it is far from their least expensive as well. If you are looking for something that comes with all of the basic components and nothing else, the HYSTEK design is going to be a perfect fit for your needs.

Subscribe to our Newsletter