Best Hatchet for Camping
last updated:
Sep 24, 2020
For all camping lovers making sure you have the proper tools and outdoor gear to keep safe is important. Having a great hatchet for camping that can be used for multiple purposes including chopping up firewood is essential. Not only can this piece of equipment help you produce enough firewood to keep everyone warm as the evening breeze rolls through, but it can also help you set up camp and clear away any brush or debris that might be in your way. In order to chop effectively, the blade of a hatchet, or any cutting tool, really needs to be sharp. Camping hatchets are designed to chop relatively small pieces of wood, or clear smaller areas of brush. Below we have listed the top ten best hatchets for camping in the market today including details for each hatchet to help you decide which one suits your needs best.
In a Hurry? The test winner after 19 hrs of research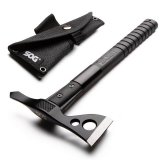 SOG Tomahawk
Why is it better?
Tough stainless steel
Easy to throw and stick
High-impact glass-reinforced nylon gives you a solid grip with zero maintenance
In a
Hurry? Editors choice: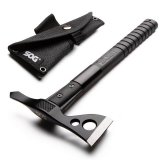 Test Winner: SOG Tomahawk

12
Researched Sources
2.5k
Reviews Considered
19
Hours Researching
15
Products Evaluated
Effectiveness
Weight
Value
Size
By Default
Top Ten Hatchets for Camping
Criteria Used for Evaluation


Effectiveness
In order to chop effectively, the blade of a hatchet, or any cutting tool, really needs to be sharp. In order to be useful, the blade needs to be able to keep that sharp edge. It really is as simple as that. So in order to find you the most effective hatchets for camping, the ability to hone an edge and keep it sharp was one of the primary characteristics we looked at.
For the most part, the hatchets presented here are well known for keeping a sharp edge with proper care and maintenance. While some, such as the Compadre Camp ax requires more maintenance to keep an edge due to the presence of spring steel, overall these camping hatchets are fairly easy to sharpen and to keep sharp.


Weight
When you're swinging even a small hatchet around over a prolonged period of time, your arms and shoulders can get fatigued remarkably fast. This is especially true when you take into account the overall weight of the camping hatchet in question. It may not sound like much, but something as little as five pounds can add a significant strain to your body over time.
Thankfully, most of these wood axes are around two to three pounds in weight, which is a little bit easier to handle over the long haul.


Value
While we would much rather not have to look at the price, the fact remains that most of us must live within financial restraints. Therefore, the retail price of a camping hatchet is something to consider when making a purchase. While the old adage of "you get what you pay for" is usually true, in some cases, you can get a significant steal. Most of the hatchets, for instance, are well within the price range of a nice dinner out for a family of four, or in some cases a dinner and movie for a young couple. Considering how much fun camping can be for everyone involved, we see the cost to be a reasonable investment.


Size
And finally, we took a look at the overall size of the hatchet, including all the parts such as the handle and ax head. In addition to the overall weight of the hatchet, its size can determine how useful it is in certain situations. For the most part, camping hatchets are designed to chop relatively small pieces of wood, or clear smaller areas of brush. Often these areas are tight and not easy to maneuver in, so having a more compact hatchet can come in handy.
While some on this list, such as the Hults Bruk Kisa Felling ax is decidedly larger at 26 inches, most of these wood hatchets fall well under two feet in length. This is beneficial because it allows the user to be able to utilize the hatchet in cramped quarters if necessary.
Expert Interviews & Opinions
Most Important Criteria
(According to our experts opinion)
Experts Opinion
Editors Opinion
Users Opinion
By Default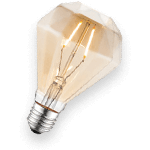 Metal or wood
When looking to purchase a hatchet, some come with wood or metal handles. Wood handles are ideal, as metal handles tend to be heavier and take away from the accuracy of your hatchet while in use. When choosing a hatchet if you have the option to get a wood handle, that is the best choice.
Sharpening the blade
A great sharpener for your hatchet is to use a whetstone. If you want to use a whetstone to sharpen your hatchet, the best way is to place the whetstone on a surface where it won't easily slide around and make sure that the whetstone is well lubricated. Then, using both hands, place the blade edge of the hatchet against the whetstone at a 15 to 20-degree angle and move the ax head from the upper left or upper right corner of the whetstone down diagonally to the opposite corner. Once one side is sharpened, be sure to do the same to the other side of the hatchet blade to prevent uneven wear on the blade itself.
Other Factors to Consider


Brand
When you consider how the best hatchet for camping would be made, you're taking into account the craftsmanship of the piece of equipment in question. It's pretty obvious why this would be important. If the wood hatchet is well made, it should last through many camping trips, hikes, and even work around the house. Of course, if it is poorly made, the opposite would be true. Since buying a hatchet for camping can be a sizable investment for the avid outdoor enthusiast, finding one that will last a good long while is very important.
With a few minor exceptions, such as the handle on the Morokniv Boron Steel Camping ax, which has the potential to break in cold weather, most of these camping hatchets are very well made. In addition, they are often well designed, sometimes with the avid camper specifically in mind. While the Estwing Camper's ax tops our list, the Camillus Knives Les Stroud S.K. Vigor Hatchet follows a close second part because of the features such as a built-in fire starter and hammer, both of which are quite useful to those who enjoy camping.


Use
It may sound silly, but often the best hatchets can often be used for more than just chopping wood. The right camping hatchet in the right hands can easily help clear a new path to a campground, aid in setting up a tent for the family, and even help to scare away the local wildlife when necessary.
So when you're buying a hatchet for camping, take into consideration what you're mostly going to use it for. If it's simply to chop firewood for the nightly campfire, then any hatchet on this list will do a wonderful job. If, however, you want something with a little more heft to clear larger branches something like the Hults Bruk Kisa Felling ax might be a better choice.


Ease of Use
Another important thing to consider is who will be using the camping hatchet and what their ages and maturity levels are. While none of the hatchets presented here are toys, a few, like the Estwing E24A 14 inch Sportsman's ax might be a more reasonable choice for more adult hands based only on its overall size and weight.
Frequently Asked Questions
q:

What's the difference between a hatchet and an axe?

a:

While these two terms are often used interchangeably, there are significant differences between the two. The first, of course, is the overall size of the piece of equipment. The hatchet is usually quite a bit smaller than an ax, measuring between one and three feet in length, while an ax often measures five feet or more.

Another difference between the two tools is how they are meant to be used. A hatchet for camping is designed to be used with a single hand; it is used mostly for clearing away brush and debris or chopping single pieces of wood for the fire. An ax, on the other hand, is designed to be used with both hands. Its main use is to fell larger trees. An ax also requires more room to use, since it has a much higher swing radius than a hatchet.

It is true that an ax and a hatchet for camping could be used for the same tasks. Each one would simply perform better at what they were designed to do. Check out our full Gransfors Bruks Small Forest Axe review, to learn more.
q:

What is the best way to keep a hatchet for camping sharp?

a:

If you want to keep a hatchet for camping in top condition, it pays to keep it sharp. In order for that to happen, you need to both use it properly and for the tasks that it was designed for, and perform regular maintenance on it.

There are a number of different ways to sharpen the blade edge of a hatchet, including the use of files, whetstones, grinding wheels, and rotary tools as well. While each method has its benefits, two of the easiest, and often the most commonly used are the use of files and whetstones.

Using a file to hone the blade of your wood hatchet is a fairly simple process and because of the portability of the files, this method is sometimes preferable out in the field. Start by removing all distractions and place the head of the hatchet between your legs with the blade facing outward. Next, place a little bit of lubrication oil on the file itself and place it against the blade edge, with the other end of the file resting against your legs. The file itself should be perpendicular to the blade edge and at an angle of about twenty degrees from the side of the ax head. Your leg, the file, and the ax head should form a triangle when you look from the side. Now, move the file along the blade edge, keeping that angle, and using long strokes. Repeat the process on the other side.
q:

What kind of hatchets for camping are there?

a:

Of course, there are! There are quite a few different uses for hatchets, and the variation in their overall design is a testament to that. Throwing hatchets, for example, are often much lighter than their camping cousins and are balanced to allow them to be thrown through the air end over end without much trouble. A tactical hatchet is designed not primarily for bush clearing or chopping firewood, but for overall defense as well. These hatchets usually feature a stronger, yet lightweight composite metal material, and more hand-holding friendly grips. They are also much smaller in size.
q:

What size hatchet should I get?

a:

While it may be tempting to buy the biggest hatchet for camping you can find, that may be the wrong direction to go. In most cases, the size of the wood hatchet you need depends greatly on two factors – what you're going to use it for, and your overall body type and strength.

Think of it this way, any edged tool, even a hatchet for camping works the most effective when it is treated as an extension of your arm. The hatchet is not designed to chop on its own, just as your arm isn't either. Instead, they are designed to work together to get the job done. If you choose a hatchet that is too long, your arm will tire out more rapidly because it is supporting more weight than normal. If the hatchet is too short, it becomes ineffective because the power isn't there.

A good rule of thumb is to use a hatchet for camping that measures about half the length of your arm and only uses it for things that are the width of your arm or smaller.
q:

Can you use a hatchet for camping to cut wood?

a:

Here is the deal, it takes a bit of practice to use a hatchet in a way that is effective for bigger jobs, like cutting wood. Often, most people opt for something like an axe to do their bidding when it comes to breaking through large wood pieces. However, it is most definitely possible to split wood with a hatchet. You need to start by putting the piece of wood on a stump or firm place. Next, hit the wood squarely on. You may find it helpful to kneel why doing this, as it gives you more leverage. Lastly, do not aim for the center of the piece of wood. Rather, you will want to begin your chop by aiming for the corner of the log, so that your hatchet does not get stuck. Continue in the process, and you will have some chopped wood.

It's important to remember, that you do not want to chop your wood flat on the ground, because if you do, the hatchet for camping can become stuck in the ground, which damages it. Also, be sure to kneel, because if the hatchet goes downward, the chances of it landing on your leg are minimized.
Subscribe to our Newsletter