Best Portable Toilets for Camping
In a
Hurry? Editors choice: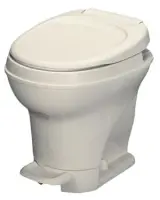 Test Winner: Thetford Aqua-Magic

The most suitable portable camping toilet will be one that combines comfort, durability, and ease of use and maintenance all in one portable package. With a little bit of creative research, you could have a toilet that functions the same on the go as the one you have at home. That is the ultimate goal, even if it seems like a high achievement.

Whether you are camping in a tent, trailer or RV you now have a reason to not have to go outside or to a porta-potty anymore. Below we have named the top ten portable toilets for camping in the current market. With all of the choices on the list, the price won't be the only thing that holds an interest for potential buyers. We have named pros and cons to more criteria which will help you decide which one suits you and your family even best.
Standout Picks
Criteria Used for Evaluation
Brand
There are a lot of notable brands on the list, starting with Camco. Build quality is what sets the big brands apart from the smaller brands, which is important since you have to manually empty the contents of portable camping toilets.
Poor design can lead to frustration with unhooking the tank, and in worse case scenarios, it can lead to bad odor containment. Many brands on the list have their own in-house system in place to keep things simple. And if you can, make sure that the parts of your new toilet or camp showers are built to last. There is no point to purchasing one of these portable toilets only to have it break down after only a few uses on a trip.
Value
Now this is a debate that can get heated among customers when it comes to camping toilets. Price doesn't necessarily equate quality with any product, but in the case of portable camping toilets, it usually means better coverage.
Coverage as in how much maintenance you have to put into the unit to keep it clean, which can lead to some very interesting circumstances if the toilet will be shared. Prices on the list seem to reflect that small detail, so look at the lower priced toilets as higher maintenance than the more expensive ones. However, coverage doesn't automatically make one toilet better than the other, just less time-consuming to keep clean.
Use
There is enough variety in the list to make it easy to find the best portable camping toilet for your needs. Consumers that need more than one toilet on a budget can purchase two lower-priced toilets rather than a single expensive one. Keep your product clean and make sure that anyone that uses it knows how to empty the tank. Cleaning products should be located near the toilet for all users so that everyone can chip in to keep your camping toilet in top shape.
Features
These portable toilets, even though they look like simple mechanisms, actually can come with a variety of features. Some of these features include: a bello-type flush, constructed out of strong material, a spring-loaded release valve, deep bowl, or anything to make disposal and cleaning simple.
So when looking at a portable toilet for your next camping trip, make sure to see the extra features each option comes with to make your bathroom breaks that much more convenient.
Subscribe to our Newsletter