Best Firewood Racks
In a Hurry? Editors choice: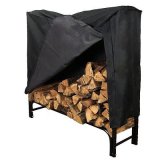 Test Winner: Sunnydaze

If you have made your way to this guide today, then you should fully understand the importance of ensuring your
firewood is in tip-top condition when you burn it
. One of the best ways to ensure that is to invest in a high-quality firewood rack. If you merely stack it on the ground with a cover, the bottom row is still exposed to the elements. But, you also may
not have enough room in your storage
shed to stack wood. The simple solution is to invest in a firewood rack, and with the tools that you will be provided with today, you will soon know exactly how to do just that.
Standout Picks
Criteria Used for Evaluation
Weather Resistance
For most of you out there, you will be keeping your firewood rack outdoors. Whether this is due to the size, you end up investing in, or because you do not have a suitable place to store it indoors, this will probably end up being the case. Well, as you know, whenever you plan to store a piece of equipment outdoors, it needs to be built to withstand the elements. This is precisely why, nine times out of ten, you will see a high-quality rack is made of some type of metal (often steel such as tubular steel). One of the benefits of tubular steel is its high-resistance to corrosion and higher temperatures.
However, you can't just really on the metal at hand, and even though tubular steel is highly resistive to corrosion, it still needs to be finished with a powder coating. Powder coating is simply one of the most durable and long-lasting finishes available for any type of metal. With this coating applied, it will vastly increase the protection of the metal as it is resistant to chipping, corroding, fading, and wearing.
Capacity
A lot of what goes into choosing an appropriate firewood rack for your needs is determining how much firewood you need to stack and store. If you only need to accumulate a little for casual bomb fires, then you can get away with investing in a smaller unit. If you need the firewood to heat your home in the winter, then you will need a larger group. But, how exactly are you supposed to determine how much wood a specific unit holds? Well, for starters, you can assess the actual dimensions of the frame. They may range from four feet to 12 feet (regarding the width) and also have differing heights.
But, the most logical way to determine size is to analyze how many cords of wood a unit will hold. Most of the time, you will see firewood supplies sold in a measurement called a cord. A cord, which is typically referred to as a full or bush cord, is usually four-foot-wide by four-foot-high by eight-foot-long.
Style
Okay, so what exactly do you mean by elevation? This is probably the question that came across your mind when you read the headline of this next section. Here is why elevation is so important. If a firewood rack is not built with the bottom elevated from the ground, the bottom layer of wood is exposed to various factors and elements. This can include dampness from the ground in the morning, stray animals and critters that have access to it, and also molding and rotting. Without question, dry wood is going to burn more efficiently than wood that has been exposed to the elements that were just listed.
In addition to this, some sellers will include a cover with your purchase. While this is most certainly a convenient bonus, as you have seen with some of the models on this list, sometimes the covers are cheap in quality. The purpose of a cover is to protect the wood (and even the frame) from the elements. But, if the material rips and lets water through (or does not cover all the wood) then the design is rendered useless. As such, you may just feel more inclined to invest in a separate cover; which is an option.
Ease of Use
Right off of the bat, let's clarify something. It is unlikely that you will be transporting your new rack on vacations or to other people's houses. Instead, what this section is referring to is physically transporting your unit around your home or in your yard. There are some potential issues with storing your rack indoors but it can be done. As was stated earlier, though, it depends a lot on how large the actual unit is. So, if you know you will want to keep your unit indoors (or perhaps in close access such as on a front porch or patio) you may want to shoot for a model that is compact and portable.
For some of you, this will be your worst nightmare. Whenever you invest in a piece of equipment of this magnitude, some assembly is going to be required. However, for the most part, you will never be required to possess elite craftsmanship skills to assemble such units. And, generally speaking, this is the case with firewood racks. Now, that being said, certain models will be a chore to assemble either due to poor instructions or improper hardware (and also perhaps poor engineering).
If this is a concern for you, look through consumer feedback as if buyers have had issues with the assembly process, they usually will point that out in their reviews. There have even been some cases of consumers not receiving the proper hardware to assemble their new rack. During your search, keep an eye out for this.
Top Ten Firewood Racks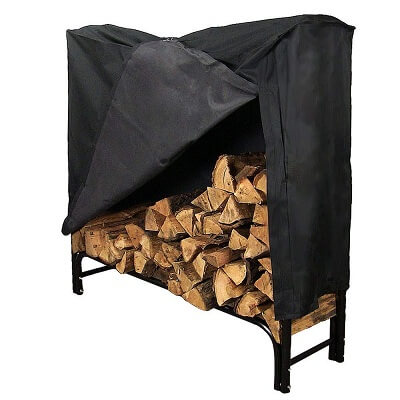 As you will find with some of the units on this list, the assembly can sometimes be a chore. Even though this is the case here, the overall construction and design certainly make up for it.
Read more
Build Quality
In addition to the black powder coating finish that is applied to the steel, the steel frame itself is tubular and has a diameter of 30-millimeters by one-millimeter thick.
Size and Capacity
While there is an option available for eight foot, this measures 49 inches by 13.5 inches by 48 inches. Overall, it can hold approximately ½ face cord of firewood.
Convenience
Sunnydaze does include a cover with their model and it is equipped with toggle straps and a hook and loop fastener. Yet, you only have access to your wood on the sides and not the front.
Ease of Transport
With more than one person, this really is not too difficult to transport. At its core, it weighs 16 pounds.
Assembly
Based on some user feedback, there have been a few consumers that have received screws that were not the right size and one who claimed the pre-drilled holes were missing.
Overall
Granted Sunnydaze provides you with the necessary hardware to assemble their unit, there is little reason to not be a fan of this firewood rack.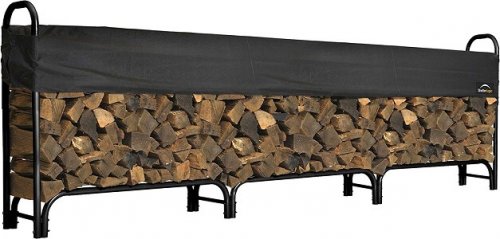 If you simply are looking for the largest firewood rack model possible (while still being high in quality), then look no further folks. But, be wary, the spacing between the bars means large pieces must be stacked on the bottom.
Read more
Build Quality
To deliver an adequate amount of support and strength, this tubular steel frame measures 1.5 inches in diameter. Also, it has been protected with a powder-coat finish.
Size and Capacity
If you do not quite need a 12-foot rack, ShelterLogic also sells this model in four-foot and eight-foot variations. As for this 12-foot version, it is rated to hold 3/5 cord of wood.
Convenience
The frame itself is elevated to keep your wood off of the ground. Also, the included cover is made of polyester and will slide up and down to fit the height of your wood stack.
Ease of Transport
If you do decide to go with this 12-foot variation, you will need some help to move it. It is not too heavy to move individually but it is too long for one person to move safely.
Assembly
Be careful with the assembly of this unit as if you over-torque the bolts, you may end up damaging the hardware.
Overall
There really are only small issues present here and even those are not deal-breakers. Overall, this 12-foot powder-coated steel rack is going to suit a lot of you perfectly.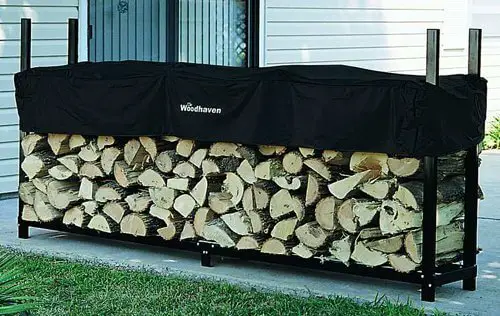 Not all firewood rack models on this list will come with an included cover but this is one that does. In addition to this, the powder-coated steel of Woodhaven's creation pays dividends for longevity purposes.
Read more
Build Quality
Woodhaven constructed their firewood rack model out of mild steel. But, to offer maximum protection from the inclement weather, they also added a powder-coated finish.
Size and Capacity
Overall, this is eight feet in length and it is rated to hold a ½ cord rack. As for the actual dimensions, they read 96 inches by 14 inches by 48 inches.
Convenience
Included with your purchase is a cover and while it can struggle to fit down the sides, it is still a quality cover. Plus, it has an integrated Velcro panel to allow easy access to your firewood.
Ease of Transport
Without question, you will need more than one person to transport this from place to place (at least safely). It weighs 46 pounds and is eight feet in length, after all.
Assembly
Overall, it seems that the assembly process is pretty straightforward. It comes with stainless steel nuts and bolts and also precision-drilled holes.
Overall
Most of the time, you get what you pay for. Even though this is one of the more expensive units on this list, it is worth the cost to protect and organize your wood.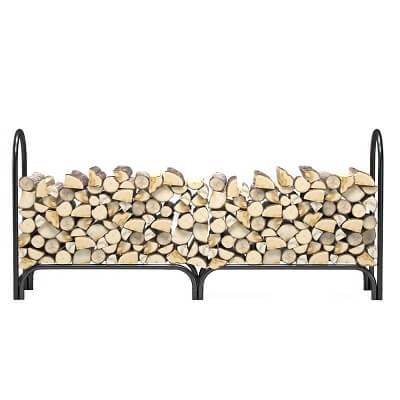 If you are willing to perform some slight modifications, then you can receive one of the better designs out there. Note that these slight modifications merely require you to invest in better hardware.
Read more
Build Quality
To resist chipping and potential corrosion and to provide overall protection, the tubular steel has been finished with a powder coating.
Size and Capacity
With the eight-foot model, as there is an option for four feet available, you will probably be able to fit a face cord of wood on it.
Convenience
Thanks to the lip of this firewood rack model, as it is elevated above the ground, all your wood is protected from various factors such as dampness, damage from animals, and mold.
Ease of Transport
You may be able to move the eight-foot firewood rack model by yourself but it will probably be awkward. Also, when moving it, be wary of the hollow bars as they can be dented if you are not careful.
Assembly
Due to the fact that the included hardware is small and inadequate, it is in your best interest to invest in heavier-duty hardware. Although, some may believe that does not warrant a purchase and that is fair.
Overall
Is it inexcusable to need to buy better hardware for a product? The answer to this question could end up playing a pivotal role in your decision to either pass on this model or invest in it.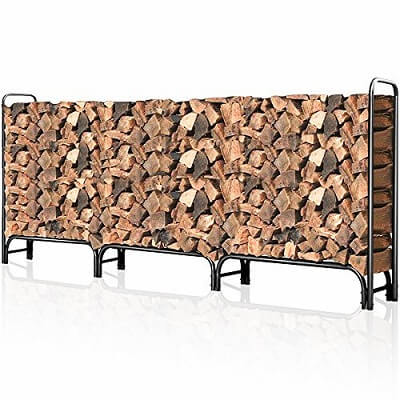 At 12 feet in length, this is also one of the longest units on this list. Also, thanks to the 6.7-inch lift off the ground, you never need to worry about the bottom layer of wood being exposed.
Read more
Build Quality
For how much wood this holds, it probably needs to be a little stronger. Still, the tubular steel frame is protected with a black powder-coated finish.
Size and Capacity
At 12 feet in length, this can hold a lot of wood. Overall, it can probably hold around 1.5 face cord of wood but be careful as the center of gravity is a little unstable.
Convenience
Resting 6.7 inches off of the ground, you never need to worry about the bottom layers of wood being exposed to dampness and bugs.
Ease of Transport
Overall, this only weighs 28 pounds and for its length, that is quite lightweight. When transporting this, though, get help as 12 feet is a long width.
Assembly
As the product description points out, you need to be careful when constructing this as the bottom portion needs to stay parallel with the top so you do not end up with a "V" shape.
Overall
Yes, this could be a bit more heavy-duty. However, the worst that is going to happen is the frame may end up sinking into the ground. It also depends on how much wood you stack on it, though.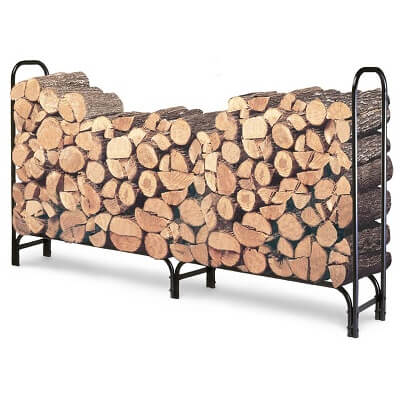 A word of advice for this next firewood rack model, as it alone is quite remarkable for the price, is to avoid investing in the optional cover. It has been panned by consumers.
Read more
Build Quality
For the price, the build quality here is pleasant. The tubular steel has been coated with powder coating to resist rust and to also enhance the longevity of the steel.
Size and Capacity
Overall, this measures 96 inches (eight foot) by 48 inches. For those wondering, you will probably be able to get nearly 2/3 cord of wood on this bad boy.
Convenience
Yeah, the optional cover does not seem to be a fan-favorite, let's just say that. But, the rack itself is elevated to keep the bottom layer of wood off of the ground.
Ease of Transport
When need be, with the help of another person, you could easily move this from your yard to your porch, or vice versa, or anywhere else for that matter.
Assembly
Not every single model will be easy to assemble so the fact that this is should be considered a bonus. Overall, it is fairly intuitive and easy to bolt together.
Overall
Unless your heart is set on investing in a model that comes with a high-quality cover, you should be more than satisfied with the overall quality and design present here.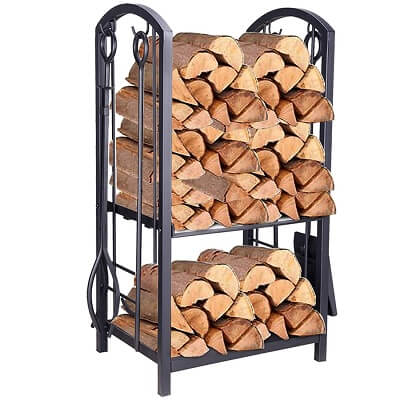 Probably the most unique model on this entire list presents itself now. First off, it comes equipped with built-in hooks to hang tools and secondly, it offers a top rack and a bottom rack.
Read more
Build Quality
Although this is designed with solid steel that has been finished with powder coating, it is a little wobbly when it is in use.
Size and Capacity
Again, there are two tiers to this design which means wood can be stacked up top or down below. The entirety of the unit measures 12 inches by 14 inches by 30 inches.
Convenience
As mentioned earlier, there are actually built-in hooks on the side of this firewood rack model. This provides you with a suitable location to store certain tools such as tongs and pokers.
Ease of Transport
This is taller than it is wide, which is a rarity on this list and can be moved by one person. Due to the size and convenience, it makes for a terrific indoor model.
Assembly
While it is advertised this only takes five minutes to assemble, that claim is a little ridiculous. In reality, it may take you less than 20 to 25 minutes.
Overall
Whether Pinty intended to or not, their design is all but perfect as an indoor model. For the record, though, it is powder-coated so it can be used outdoors.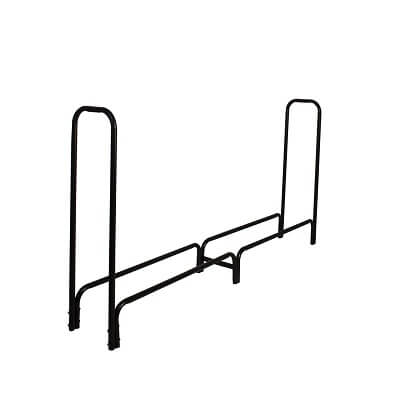 Up until now, most of the firewood rack models have been designed for outdoor use. However, what is nice about this hoop design is it can be used indoors for those of you who own an indoor fireplace.
Read more
Build Quality
Even though you may simply intend to use this indoors, it is finished with a powder coating. So, in other words, it is equipped to handle inclement weather.
Size and Capacity
Let's be honest here; this is not the solution for consumers looking to store a ton of firewood. The 40-inch hoop could probably get around 0.15 cord of wood.
Convenience
Probably the most convenient aspect of this design is the fact that it looks marvelous next to an actual fireplace.
Ease of Transport
Without question, this is one of the smaller firewood rack units on this list and one of the most portable. From inside to outside or vice versa, this is easy for an individual person to transport.
Assembly
It is not a lie when it is claimed that this will not take long to assemble. Yet, due to the poor instructions and potential hardware issues (that some buyers have experienced), it might just.
Overall
This hoop design really stands out when compared to the rest of the competition on this list. Sure, it is a smaller design but for the right people, this is going to work tremendously.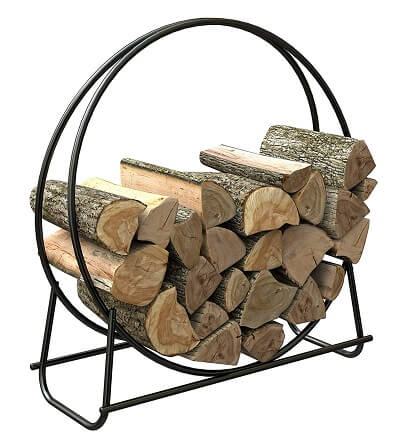 Panacea has made a few high-quality firewood rack models and they actually offer their deluxe model in either four feet or eight feet. Plus, though not terrific, a cover is also included with your purchase.
Read more
Build Quality
As with most of the other designs on this list, the frame of this firewood rack model is crafted of tubular steel and also has a powder coating for protection. Overall, it is suitable for indoor and outdoor use.
Size and Capacity
Panacea gives you the option of buying a four-foot or an eight-foot model. The latter will hold about a quarter cord of wood.
Convenience
The included water repellent cover sports bottom straps and Velcro tabs. However, it is not the best cover out there and tends to blow off with any sort of moderate wind.
Ease of Transport
It should be noted that it would be a little difficult to store the eight-foot version of this indoors. However, the four-foot option is incredibly easy to move from place to place.
Assembly
Though it seems assembling this unit is not much of an issue, there have been a few users that have not received the hardware to actually put it together.
Overall
All in all, this is an excellent option. Now, it will probably only hold around a quarter cord and if that is not sufficient enough for you, you may need to go larger.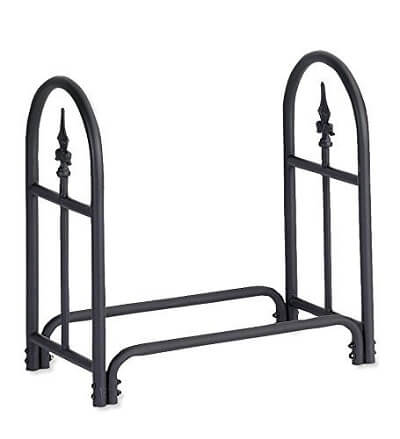 Though this last firewood rack model is designed with all-weather construction, its size, build quality and appeal warrant it to be used indoors. That is okay because as an indoor model, it is fantastic.
Read more
Build Quality
Due to the light gauge construction of the steel frame, although it is powder-coated, it may not be suitable to handle serious accounts of inclement weather.
Size and Capacity
All in all, this only measures around 23 inches by 13 inches by 23 inches. It is suitable for a light load of firewood but that is about it.
Convenience
If you do decide to store this out on a patio or a front porch, the bottom is elevated to provide an adequate amount of air circulation.
Ease of Transport
This is more than suitable for indoor use, as you know. But, if you wanted to, you could also easily transport this anywhere you see fit in your home or in your yard.
Assembly
While minimal assembly is required and it really is not too time-consuming, the included screws could be a bit longer to enhance the strength.
Overall
There is a reason this landed at the number 10 spot on this list. It is not because of poor quality, per se, but because of its smaller size and lower-quality build. For the price, convenience, and style, though, it is quite nice.

Subscribe to our Newsletter