Best Raincoats
In a
Hurry? Editors choice: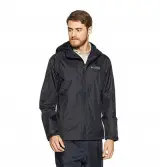 Test Winner: Columbia Watertight ll

Buying raincoats may seem like an easy task, but you will soon realize it is more complicated than it looks.
It would also surprise you that these products come with a price. This is because the manufacturers invest more money in research, development, and materials. However, not all jackets are expensive. There are cheaper ones on the market, and we will help you choose the best ones without breaking the bank. This is why our guide on the best raincoats come in handy. You won't have to do a trial and error and end up spending more than necessary.
Our guide will give you a sneak peek that will help you decide on what to get for your specific need. These products are considered a necessity, mainly because nowadays the climate change has brought harsh rain conditions and even
unpredictable weather
. So let's start with the top ten raincoats.
Standout Picks
Criteria Used for Evaluation
Breathability
Even under the pouring rain, we want you to be comfortable.
Often, you may have to wear your jacket even when there is just a drizzle or no rain at all. It can be quite inconvenient to take off your coat and carry it with you in case it rains.
We want to make sure that your jacket will not make you sweat and make you uncomfortable. The breathability of the material used, as well as the design, is crucial. This is where air vents come significant as well as the materials used for the jacket.
Other manufacturers make use of modern technology to ensure breathability of materials. It is quite tricky to come up with rain jacket designs that protect you from the rain but also keep you cool and comfortable.
Thanks to modern technology, this is achieved by some brands. This feature also affects the price of these items. So, if you want quality, you must be prepared to spend a little more.
Materials
This criterion plays a big role when it comes to purpose and durability.
These products have to make sure that the materials will ensure its effectiveness. Like for instance the use of laminated zippers or water repellent materials. Modern science also helps achieve the purpose of these raincoats.
Some brands invest a lot in research and development to make sure that they use only the best materials available to provide the best protection and comfort. The makers also have to make sure that with the right materials, they also incorporate a suitable design that will make the jacket functional. Other raincoats fail even though they make use of adequate materials because of poor design and style choices.
Weight
Depending on your activity you would want to look at the weight too.
Any lightweight item is always right because this also spells comfort. If you are wearing a thin jacket while out in the rain, it is easy to move around. Some materials get soaked quickly, and this can add to the weight of the coat. For people who are into more intense activities in the outdoor, a lightweight jacket is very convenient.
But for people who spend a lot of time in the outdoors in harsher conditions, a heavier coat would be better. It is also an essential criterion for us for shipping purposes. Some items are not shipped for free depending on the weight and shipping fees can add to the cost, so we took the time to check this criterion.
Another advantage of a lightweight coat is its portability. You can easily carry and bring your thin coat. If you have smaller and lighter layers, it can be easily kept and placed on the closet. Heavier ones are also more difficult to handle. But, a good advantage of heavy ones is that they will rest securely on your body, even during extremes of weather.
Style
This is one important consideration for us because we wanted you to have the kind of look you want even if it's pouring outside.
Some raincoats are just not cut out for specific conditions and situations. We looked at coats that are not only useful but also trendy. The reason why some people don't consider buying these items is that of the idea that they are bulky, unattractive, and often hides your personal clothing.
But we are happy to say that modern ones have evolved and have been made to fit your lifestyle. The designs as well are made to look trendy, so you can wear them even if it is not raining that hard.
These products have layers which determine the type of activities that you can use it for. The three layers are 2, 2.5, and 3. When you say two layers, this is generally for urban and travel. It doesn't have armpit ventilation, so it is not suitable for intense physical activities. The 2.5 layer, on the other hand, is for extreme events because these items have armpit zippers that serve as ventilation.
Most outdoor enthusiasts choose these types of products because they are often lightweight and are easy to pack. The three layers are more expensive. Usually more substantial and durable; they are designed to withstand harsh weather conditions. This type of coats is designed to keep you safe and warm when you are outdoors for long extended periods.
Another thing that you should be on the lookout is the design. This is often the deal breaker for most buyers. The design is always made a priority because people want to look good at all times. Some raincoats are designed for safety but not for comfort or fashion. But looking closely into the design you will notice that a serious buyer would check out the hood. Hoods have different sizes, depending on the purpose and activity.
With design also comes pocket placement. Pockets are significant because this is where you can keep valuable items. Some coats are more expensive because of the number of pockets. A very minute yet essential aspect of the design is the seams and the zipper. You would want to check a taped seams and laminated zippers.
Again, these jackets are for the rain, so chances are it is going to get wet. You wouldn't want the zippers to rust or become hard to zip and unzip. Nowadays, laminated zippers are replaced with storm flap. Then there are wrist closures and drawcords that help protect you from the elements or provide ventilation.
The design, as I said, often spell the difference of the purpose. You may want to look for those that will look good even when it is not pouring. Or ones that are light enough for long walks in the outdoors when you are doing errands and chores.
Water Resistance
The most important criteria for us was water resistance.
These jackets or coats are to be used for the rain; to keep you dry and warm. It should not take in water to help you go about your business even in a downpour. There is always a better option of waterproof jackets, but generally, it should keep the water out. Thanks to modern technology, there are so many raincoats in the market that offer the utmost protection from the elements. Some raincoats ensure security with your comfort in mind. You will not have to sweat under the coats anymore because the designs have evolved as well to meet your personal needs.
Waterproof or Water resistant
Don't be confused with these two. They are not the same. Waterproof raincoats or materials means it is impenetrable by water. No matter how long you stay out in the rain, it will not get soaked, and you will stay dry. If you are out in the rain for a long time due to work or activities, you should go for waterproof jackets.
The water-resistant jackets, on the other hand, repel water but only for a given time. The materials are laminated using a chemical that serves as a coating to keep the water out. It protects you from getting wet but not if you stay out for very long periods. This type of raincoats is ideal for summertime with occasional rains or when you have to be outdoors but not necessarily stayed outdoors.
Best Raincoats
1

. Columbia Watertight ll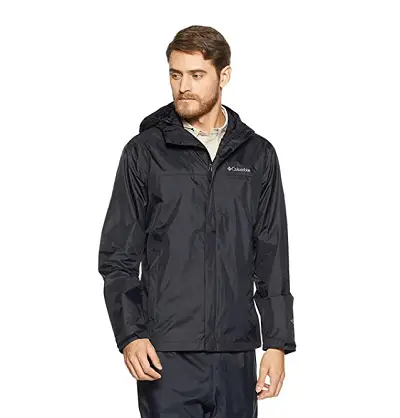 This raincoat is made by Columbia, a trusted brand in outdoor apparel. This product is sure to protect you from the elements with the use of high-grade materials and modern technology. Not only that this jacket also sports a very stylish design that will look good on you despite the weather.
Read more
Breathability
This jacket will keep the rain out but not let you sweat inside. With the use of Omni-tech fabrication, you are protected from getting wet but at the same time allows the heat and vapor to dissipate. This brings more comfort and convenience.
Materials
It is made of 100% Nylon, and the lining is 100% Polyester. It has a drawstring hood and hemline that is also made of 100% Nylon.
Weight
It has a shipping weight of only 1 pound.
Style
The jacket is hooded with a front zipper. It also has side-entry pockets at hips that are also zippered. The hood and hemline have drawstrings.
Water Resistance
This jacket is made of materials that are designed to repel water. This is the most important feature that got this jacket into the list of our best picks. It made use of Omni-tech fabrication to keep you from getting drenched outdoors.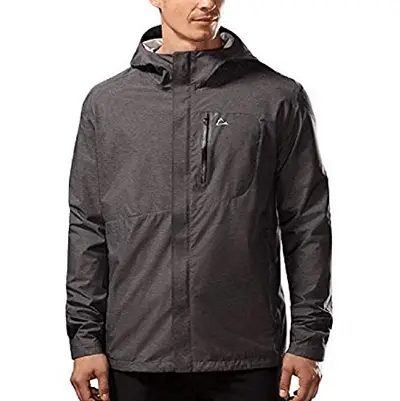 Another waterproof yet breathable jacket that you can rely on. It is lightweight yet effective in keeping you from getting wet. This jacket also has available designs for women.
Read more
Breathability
The 2.5-layer jacket is made of fabric that is treated with water repellent finish but has a breathable coating to keep you dry yet comfortable.
Materials
It is made of 80% Nylon and 20% Polyester that is treated to protect you from the rain and mist.
Weight
It is lightweight, though the product description does not say the exact weight of the item, we are approximating it to be between 2 to 4 pounds.
Style
The style is typical rain jacket with a detachable hood with drawstrings. It has 2 inside pockets with Velcro for the cuffs.
Water Resistance
This jacket made it to our list because we prefer jackets that are waterproof. Made from materials treated to repel water effectively. You can be out in the rain for a very long time and not worry about staying dry inside and outside.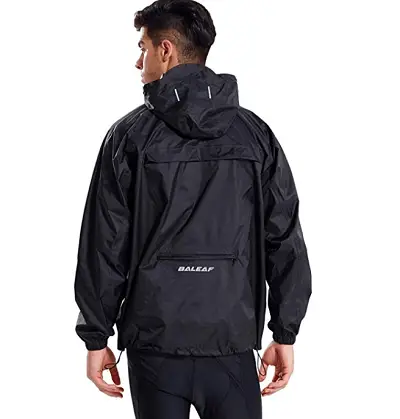 This unisex jacket is perfect to have because anyone in the family can use it on a rainy day. It is packable for convenience and easy storage.
Read more
Breathability
It is not made with breathable materials but lightweight, so it's easy to dry.
Materials
It is made of lightweight fabric that is 100% Nylon that effectively wicks moisture and rain away.
Weight
It is estimated at 0.48 pounds only.
Style
It has a reflective logo and tapes, so you are visible even in low light. It packs into a small bundle for secure storage. It has side zipper pockets, funnel hood. The style if both comfortable and functional.
Water Resistance
It is designed for the outdoors with water-resistant materials, so you stay dry.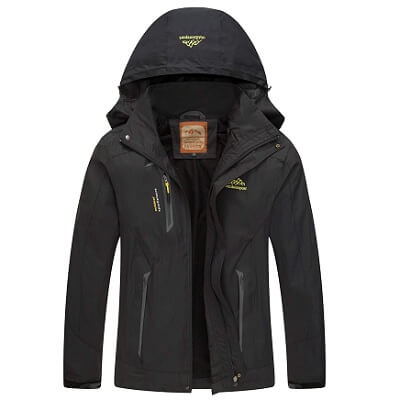 This product is made to keep you dry and comfortable with waterproof yet breathable materials. What's more, these items come with a 6 months money-back guaranty.
Read more
Breathability
This item has excellent breathability and is fitted with a microfleece material that is soft to the touch.
Materials
The material is made of the waterproof function of 3000mm, elastic cuffs.
Weight
It is made of lightweight materials.
Style
It is designed to resist water and wind with elastic cuffs, front zipper, and hood with drawstrings that are detachable. It also has 1 internal pocket and high collar for added protection to your neck.
Water Resistance
This product boasts of 3000mm waterproof function for total water and windproof function. This makes it ideal for any outdoor activities. This jacket is often the choice of people with an active lifestyle because they can go on with their activities without worrying about the weather condition.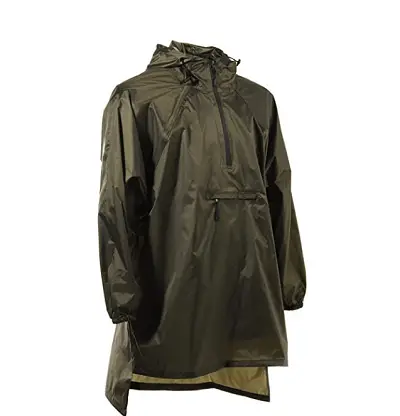 This coat is ultra lightweight and is effective in keeping the rain away from you. Though assembled with synthetic materials it is very effective in keeping away moisture from within. The poncho style also provides added protection from the rain.
Read more
Breathability
The nylon material effectively keeps moisture away. The fact that its ultra-lightweight ensures that it is well aerated so you don't sweat from the inside. It is also loosely fitted to give more ventilation so even if you are engaged in active sports, you will still be comfortable all the way.
Materials
It is made from 100% Rip-Stop Polyester material.
Weight
It is estimated to weigh just a few ounces since it is very lightweight.
Style
It is designed for maximum protection and loosely fitted for added comfort and ease. It has an extended rear to protect your backpack or bag. The opening in the head is adjustable for convenience. It has zipped pockets where you can conveniently store personal effects such as keys, phone, etc. It is designed like a poncho, so it's not very stylish but more functional.
Water Resistance
The nylon material efficiently wicks the moisture away from you. The Rip-Stop material ensures that you will stay dry even when you are out in the rain doing your activities and tasks. The materials and design all work together to offer maximum protection.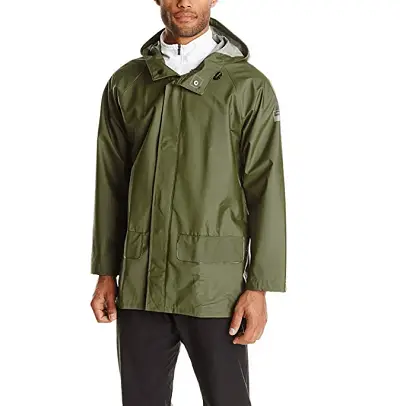 The best feature about this item is the fit. It does not look as stylish and fashionable but it is definitely the most fit-friendly jacket there is.
Read more
Breathability
This jacket is made of materials that are 100 percent waterproof but feels comfortable enough for the skin. It reduces condensation inside so you won't feel uncomfortable even if the activity is done out in the sun.
Materials
It is made of PVC and PU coated material that is certified EN 343 3,1 waterproof. It is 100% Polyester 410g/m2. It is tested for water vapor resistance and waterproofness.
Weight
It has a shipping weight of 1 pound.
Style
It is made for active outdoor activities and harsh weather. With an easily adjustable hood, storm flap for added protection and large hand pockets. This jacket is made for function and comfort, not so much for fashion. It is ideal for people who work outdoors because although it is waterproof, it is also comfortable enough to wear even if the weather is dry.
Water Resistance
It is certified EN 343 3,1 to ensure that it will protect you from the rain. It is tested under several weather conditions to make sure it is useful. This will surely be a good companion this rainy season.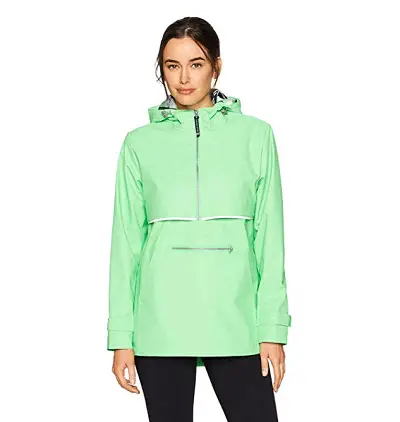 This is a more stylish and trendier looking item available for women. You can also choose from several color options and different sizes as well.
Read more
Breathability
This jacket comes with an underarm vent for air circulation. It is very comfortable to wear because other than the vents it is also lightweight. The front chest is also vented for added air circulation.
Materials
It is made of 100% Polyurethane. It has a mesh lining and taffeta nylon in sleeves.
Weight
It has a shipping weight of 1.5 pounds
Style
This item is an essential garment that is made exclusively by Charles River Apparel. The hood and open hem have drawstrings, with adjustable cuffs to keep you dry and warm. The front chest is vented for added breathability. It has reflective stripe accents that you can see from the front and back as well as two-way zipper at the front for natural movement.
Water Resistance
This item is wind and waterproof with heated seam for added protection. This item is not only designed to look stylish but also functional and effective in keeping you dry.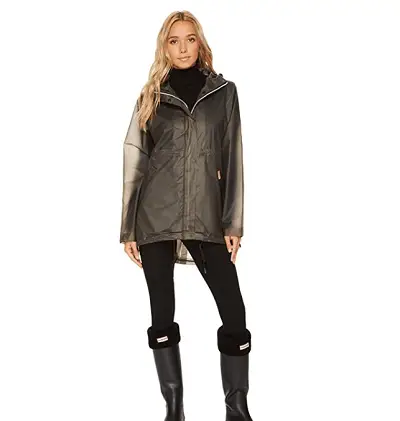 This item is a remnant of your old traditional coat but made more stylish. The opaque material lets you show off your outfit without sacrificing your comfort.
Read more
Breathability
Though made entirely from vinyl this item has underarm ventilation for breathability. So, you can wear this item even when it's not raining as hard; you will still be comfortable.
Materials
Made of 100% Polyurethane vinyl for waterproof function with a translucent matte finish.
Weight
The shipping weight is 1.19 pounds.
Style
This item is from opaque, translucent material for a stylish and fun look. It has a full button.
Water Resistance
The hood, hem, and waist have drawcords for added style. The sleeves have a snap button for cuffs. It has dual pockets and welded seams to keep the water out. There is a Hunter signature logo visible. It is made from polyurethane vinyl for maximum waterproof protection with a matte finish.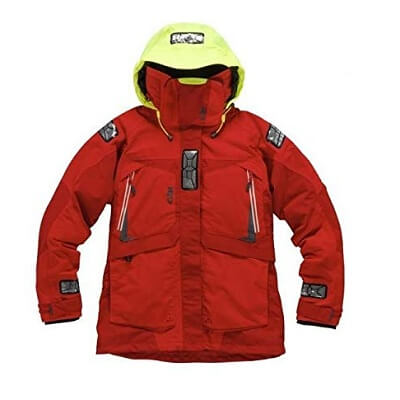 This jacket is made not just to keep the elements out but also for endurance and comfort. It is very stylish and at the same time functional in all respects.
Read more
Breathability
This item uses modern technology to ensure protection and breathability for added comfort. It features Hydrophobic and Hydrophilic technology to keep the moisture away from the skin, so you feel dry.
Materials
It is made from different fabrics; outer is 100% Nylon; the mainlining is made from 100% Nylon. The mesh is made from 100% Polyester as well as fleece lining.
Weight
It has a shipping weight of 2.2 pounds.
Style
This item has a high cut thermal collar with full face protection that ensures comfort and warmth in freezing and wet climates. It is lined with thermal fleece at the chin and collar. The hood has a 3-way adjustment so you will be more comfortable. It also has pockets that add warmth with YKK water-resistant zippers. This jacket also sports a hem with adjustable cord.
Water Resistance
The seams are fully-taped so no water can get in. It has two-layer fabric that is laminated for full waterproofing and an added water repellent finish on the outside of the coat. This way, you are hundred percent sure to stay dry even when you are outdoors.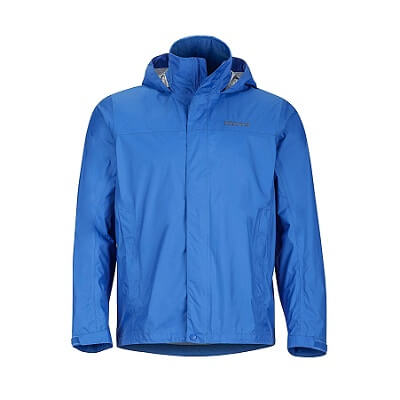 This item is designed to offer weather protection but at the same time comfort. This PreCip jacket offers dry, comfortable fitting using NanoPro technology.
Read more
Breathability
This item is built with NanoPro technology that provides protection and breathability. It is a 2.5 layer jacket that is ideal for moderate weather conditions. It also sports pit zips for ventilation. When it gets too hot, you can open the pit zips to get in more air.
Materials
It is made of 100% polyester that has a stay-dry surface. This item also uses the microporous structure and weatherproof taped seams to protect you from the elements and keep you dry while you are out in the rain.
Weight
It weighs 11 oz.
Style
It has a dropped shoulder, loose hem and straight waist fit. This product has an adjustable hood that you can roll into a collar. It has full-length zippers with storm flap to keep the water out. The waist is elastic, and it has back pockets for storing items conveniently.
Water Resistance
This jacket is made for NanoPro materials that are laminated to repel water, microporous structure to protect you from getting wet and the seams are taped as well for added protection.

Subscribe to our Newsletter