Best Portable Espresso Makers
In a Hurry? Editors choice: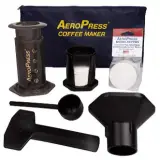 Test Winner: AeroPress Coffee and Espresso Maker

Most of us find it hard to carry on with our schedules until we
get a cup of coffee
. If that's how you feel when at home, you can imagine how hard it is when camping. Of course, if you like spending time outdoors, there's a chance that you already know what I'm talking about. What if there was a way that you could get the best of both worlds? Camp and take in nature, while also enjoying a cup of espresso?
Yes, the best portable espresso makers will turn this desire into reality. What makes these portable espresso makers so special? For one, the list consists of
camping friendly alternatives
. Their construction enables them to meet your needs contrary to other models. Additionally, they mostly require human effort to function and other
convenient power sources
. You won't be inconvenienced regardless of how remote your location is.
Standout Picks
Criteria Used for Evaluation
Capacity
How much can you get out of the portable espresso maker?
Some of us prefer taking several cups of coffee. When considering capacity, you are trying to gauge how much you can get from the portable espresso maker. They are available in different sizes, and that's why you need to be attentive. If you want as many espresso shots or cups, you should go for large capacity alternatives. The same applies to situations where you'd want to make an extra cup for the person you are with.
Ease of Use
The espresso maker should be user-friendly
Since you are planning to travel or spend time outdoors, you don't have the luxury of using a high maintenance espresso machine. You need a machine that will be easy to handle. The portable espresso maker should be easy to clean for convenience. It should also have a simple operating mechanism. The shorter time it will take to make your espresso the better it is. Some of them require you to use so much effort just to create one cup. If you choose appropriately, you should get one that is efficient and takes up less energy.
Versatility
What else can you get from the espresso maker?
Some portable espresso makers are limited to only making espressos. Others will offer you more variety in terms of the types of drinks you can make. There are those that also have add-ons that will enhance your user experience. The additions may offer you the option of using capsules or ground coffee. Some will even provide you with additional capacity. When you go for versatile options, you will always be able to mix things up.
Features
The best espresso makers have excellent features
You should look for features that will be of use to you. Since the espresso makers are portable, you should consider its weight. It should be light so that you can move it around easily. Some purchases even come with bags for packing convenience. The portable espresso maker's construction should be strong, to endure any impact and tough conditions. Some purchases come with extra items and offer so much value for one price. Other features to look into include; micro-filters, filters, and safety features.
Top 10 Portable Espresso Makers
1

. AeroPress Coffee and Espresso Maker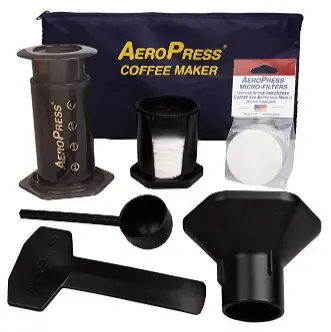 AeroPress makes sense of the phrase out with the old and in with the new. Their portable espresso maker will make you forget that French presses exist. Aeropress offers a better rapid brewing process that you can carry with you wherever you go. You not only get to bypass the long steep duration but also get to say goodbye to the bitterness aspect of your coffee.
Read more
Capacity:
Each pressing will offer you one to four cups of coffee. Your measurements will determine the quantity you end up with. The espresso maker will come in handy if you want to share the extra cup with someone else. If you're alone, you'll end up with more than enough to get you warmed up in the morning.
Ease of Use:
The portable espresso maker is easy to clean, so you won't feel inconvenienced if you are in remote locations. Aeropress included a micro-filter to simplify the process. The advantage of having the filter is that it eliminates all the grit.
The company has made it possible to get flavorful coffee without all the initial hassle. You won't wish that you were back at home enjoying your cup. Instead, you'll enjoy your favorite beverage even as you travel or take-in the scenery around you.
Versatility:
You'll get to make coffee, and espresso for use in cappuccinos, lattes, and other related drinks. You will definitely be spoilt for choice. As a result, you can have different drink selections for every day you are camping out. There is also no limit as to where you can go or use the portable espresso maker.
Features:
To enhance its portability the purchase will include a tote bag. The bag will simplify your packing and make things more organized. You will have all the portable espresso maker parts in one place. The tote also has enough room for a coffee cup and some coffee.
Unlike common espresso makers that utilize boiling water, this one uses total-immersion. The espresso system is more efficient. The reason being, it takes less time to brew and only needs moderate temperatures. It takes ten seconds for the ground and water to mix up. The next process is about twenty seconds long. This is where the mixture goes through the micro-filter by the use of air pressure. In the end, the brew you get is smoother and better than that of drip brewing. The portable espresso maker process takes a total of thirty seconds, making it faster than most of its competitors.
Overall:
In detail, the items to expect on delivery are; a funnel, scoop, stirrer, filter holder, 700 micro-filters, a zippered tote bag, and an Aeropress press. All the items included are safe for use. They do not have any traces of BPA or phthalates.

2

. Trimm Portable Hand Held Espresso Machine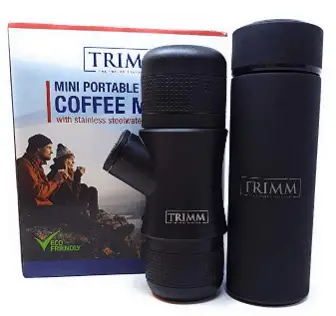 Trim offers another quick solution for espresso lovers on a global scale. If you hate long lines, slow machines, and love spending time outdoors, then you are the kind of person who deserves this portable espresso maker. Why should you rely on instant coffee, when you can enjoy the real deal at your convenience? You don't have to settle for poor brews as well, not as long as you have a solution like this.
Read more
Capacity:
The portable espresso maker will provide you with a rich cup of coffee. It's the kind of coffee that will give you the kick you need to jump-start your day. You will always look forward to this cup of coffee regardless of where you are.
Ease of Use:
There are times when making coffee can get messy. However, we often overlook it because we need to have our coffee in the morning. The Trimm espresso maker eliminates the messy aspect of the process. You won't dread the clean-up portion of the process because anymore. When at home, you won't need to use Keurig cups.
If you are out camping, carrying extra paper filters will no longer be necessary. Best of all, you won't worry about cleaning up leakages. So, you can relax if you put it in your car, purse or luggage. Getting anxious and constantly checking for leaks can be exhausting.
The portable espresso maker is hand press. What this means is that you can manually prepare your cup, without requiring a power source. So, you are covered, whether there are no batteries or an electrical connection where you are.
Versatility:
You can use the portable espresso maker for making other kinds of drinks. The purchase includes a thermos, which increases its versatility. The reason being, the thermos has a strainer, which is removable. As a result, you will have the option of also having infused tea and water. The strainer allows you to add loose tea leaves or fruit to for some bit of flavor.
Features:
The espresso maker kit is easy to assemble. You will also get a cinch bag for storing all the parts and coffee beans if any. Both the espresso maker and thermos are durable. They can withstand consistent use and travel. You can use them when camping, hiking, on a hut trip, and daily trips to the office, without them exhibiting signs of wear. You can use them in different environments, and find them extremely useful in the case of hurricanes and blizzards.
Overall:
People also buy the portable espresso maker to gift fellow coffee lovers. When you make the purchase, you will get; two storage bags, the Trim logo, a pamphlet with usage instructions, a stainless steel thermos, and the portable espresso maker.

3

. STARESSO Portable Espresso Maker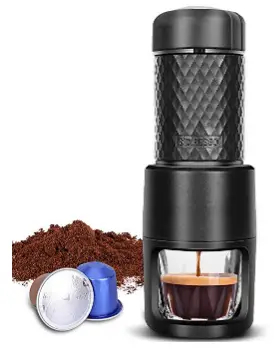 In 2016, Staresso won the Red dot award because of this portable espresso maker. The award should give you a clue about the innovation behind the creation of this espresso maker. This particular model has better updates and functionality than its predecessor does. It comes in black; however, you can also get it in Elegant white and a third generation design.
Read more
Capacity:
The espresso maker has more capacity compared to other variations. It can hold up to 80 ml of beverage and has a larger outward appearance. Despite the changes, it is still light in weight weighing less than 1.2 pounds.
Ease of Use:
You will notice the improvement in this portable espresso maker. It is much easier to operate compared to others that have a pumping mechanism. Staresso created a pumping system that requires 50% less energy, and they also have a patent on this system. By doing so, the company ensures that you get delicious coffee by utilizing as little power as possible.
The espresso maker has a simple design and doesn't need any special care. So when you're out camping, you can clean it effortlessly by hand. It's also dishwasher friendly, enabling you to handle its cleaning; however, you like.
Versatility:
You can use the portable espresso maker to develop other different beverages from the espresso. The varieties you can get range from; Ice Cream Coffee, Mocha, Caffé Americano, Ristretto, Cappuccino, and Caffé Latte. You will be able to mix it up, whenever things get monotonous. It is a reliable option for nature lovers, especially when you just want to get away from the day-to-day commotion.
Features:
A portable espresso machine can reach up to 15 to 20 bars of pressure. The company claims that the machine can make "Golden Exaction Rate coffee." You can be sure that you won't need to spend any more just to get a quality cup of your favorite coffee.
The Staresso machine has a strong build. Its material quality makes it strong enough to use in different environments. A portable espresso maker feels quite solid and is ergonomic.
Overall:
You will need to assemble a portable espresso maker on your own. The company advises that the drum part of the machine should be towards the water chamber. If you want golden extraction, you should be careful not to put it upside down or shake it. The espresso maker is not sealed, and it will get messy if you do so when it has water.

4

. WACACO Nanopresso Portable Espresso Maker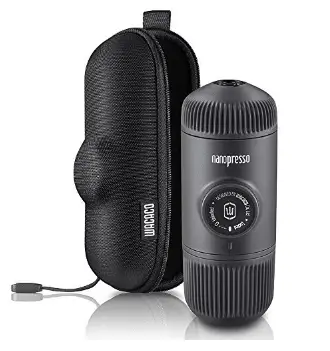 Wacaco has a variety of portable espresso makers that have won the hearts of coffee lovers everywhere. If you loved the Minipresso, you will undoubtedly take a liking to this model. The Nanopresso is essentially an upgrade of the latter. Everything about it is on another level, from its superior pumping level to its easy operation.
Read more
Capacity:
As far as water capacity is concerned, this Nanopresso model can carry up to 80 ml of water. You will be able to get several shots of espresso out of it.
Ease of Use:
Wacaco has a patent on the espresso maker's pumping system. The fact that it does not need electricity is what makes it excellent for camping. You can prepare several varieties of coffee with it. Compared to the minipresso, you will use 15% less energy to pump the portable espresso maker.
Versatility:
The best thing about this portable espresso maker is that it can accommodate accessories and add ons. You can use the Nanopresso Barista Kit or the Nanopresso NS Adapter. By doing so, you will be able to use the company's capsules, compatibles and even create double espresso shots.
With the additional kit, the capacity to make espressos will increase to 120 ml. On the other hand, the adaptor mechanically grinds and measures the coffee. The end result will be a highly precise tamp and delicious coffee.
Features:
The new design is shorter for convenience. It is much easier to pack since you get to minimize space. When packing for a camping trip, the way you utilize space is essential. That is part of why the portable espresso maker is ideal for traveling. The machine's water tank gets protection from the detachable cup. This cup is also, what lines the tank as well.
Additionally, the portable espresso maker is safe to handle. You won't burn your hands as you use it. The reason being, the company provided a heat sink pattern. All the heat gets absorbed providing the said protection in return.
Overall:
The portable espresso maker is light in weight as well. You will be surprised at the quality of the espresso it makes. They offer exceptional quality compared to the most expensive machines.

5

. New Portable Hand Held Espresso Maker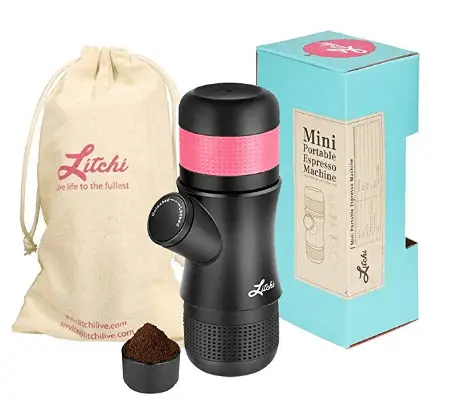 Litchi offers another excellent camping accessory. You can get three variations of this portable espresso maker. It is available in Litchi A, Litchi B, and MPEM001 models, with each having exceptional features. The company has a little something for everyone. You can't fail to get one that meets your camping needs.
Read more
Capacity:
Users have said that the portable espresso maker can make up to 6 cups of espresso simultaneously. You can add as much crème as you'd like, based on your personal preferences.
Ease of Use:
It will take you just a few pumps to get some quality double shots. To do so, you first need to dismantle the machine. Your purchase will include the rest of the instructions you need to follow, to complete the process.
The company offers step-by-step instructions to ensure that you get the kind of espresso that you desire. The guide is simplified and will have you drinking your espresso in no time.
Versatility:
If you want a cup of mouthwatering cappuccino, you'll just add some milk and you are set. Some users have even likened the coffee's quality to that of star bucks. All in all, you will get to enjoy a world of flavor-filled coffee.
Features:
When you buy this portable espresso maker, you will get; a carrying bag, an outlet head, an espresso cup, two filter baskets, a pre-measured scoop, a water tank, and a main body and piston. The best thing is that all the parts are easy to wash, so feel free to carry the espresso maker with you whenever you travel.
Overall:
Your purchase comes with a one-year warranty. So, you can rest assured that you are not risking your money. The espresso maker is of high quality, and the company is always ready to handle whatever issues you may face. Litchi aims to have you get the best customer experience.

6

. Mini Espresso Maker by NH-Kitchen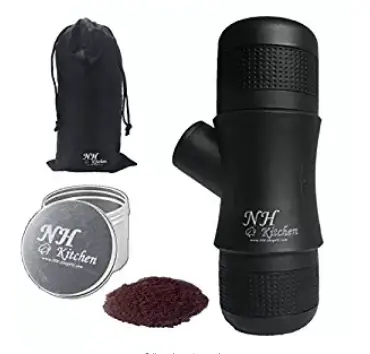 NH-Kitchen offers a satisfaction guarantee with this purchase. The company has confidence in their portable espresso maker and ensures that it's worth every cent you spend on it. They advise buyers to make good use of their customer support, to make sure they get the most out of their purchase. They are one of the highly ranked companies that show such dedication to their clients
Read more
Capacity:
You will be glad to know that you can take as many cups as you want. The purchase will include a container to store your ground coffee. It has a reasonable size, with enough capacity to make you a maximum of seven cups.
Ease of Use:
It is ideal for camping since it works manually. Even though you will have to pump it, the machine's mechanism is quite sophisticated. It will provide you with readily available espresso whether you're at home or in the out at night. Camping has never been this convenient. Take advantage of the technological advancements and enjoy an enriched cup of coffee at any location you choose.
Versatility:
The portable espresso maker is useful for both indoor and outdoor activities. It is environmentally safe and a good fit for several applications. You can take it camping, fishing, hiking, traveling, to the office, on a plane, and picnics, to mention a few.
Features:
The machine allows you to enjoy an espresso in only three steps. You'll have to add coffee to the filter, and water to its chamber. To complete the process, you'll need to use your hand to push the pressure pump. With that, your espresso will be ready for you to enjoy.
Overall:
You will get a measuring scooper as well, for added convenience. You should also expect a carry bag and a manual, included with the tin and espresso maker.

7

. PRESSOPUMP Cordless Espresso Maker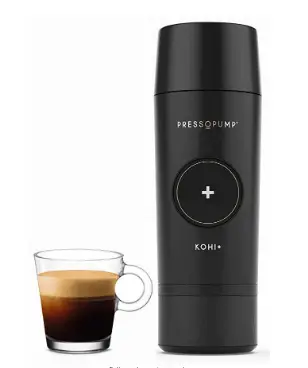 Pressopump launched this portable espresso maker in 2017. The company has effectively acquired a worldwide customer base and had several successful quarters ever since. The engineering and precision behind the machine's mechanism are worth noting. Who knew that one day; a push of a button could bring nomadic coffee enthusiasts such satisfaction?
Read more
Capacity:
The portable espresso machine is 2.5 quart in size. It may not be as large as some of the alternatives on this list, but it's a worth-while purchase.
Ease of Use:
The portable espresso maker has a cordless design. It's convenient since it doesn't need any connection for it to be operational. The machine uses a lithium battery that you can recharge. You will use it for some time since the battery will last you for about three hours.
Your purchase will include a USB cable for charging purposes. A plug will not be necessary for you to do so. The company makes the portable espresso makers easy to detach, to make the cleaning process more manageable.
Versatility:
It will take you less than two minutes to get yourself a creamy espresso shot. You will find the thick crema to be impressive as well.
Features:
The extraction process of the espresso maker is automatic. All you'll need to do to get the liquid gold is just push the machine's button. It can generate about 16 bar pressure for efficient coffee extraction. You will be glad to know that it is not going to leak; however, you place it.
The portable espresso maker also has a durable gasket. It will be a long while before you think about searching for replacements.
Overall:
The FDA approved all the materials used to construct this espresso maker. You will be glad to know that you are using healthy products. Always check to see if you are purchasing a genuine product. If you get a cheap knock off, you will get stranded in case it has defects.

8

. Moocoo Portable Espresso Machine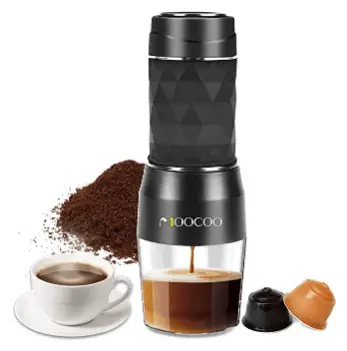 Moocoo offers one of the latest portable espresso machines. It's an upgraded 2019 model that has caused a storm in the market. The espresso maker has overtaken some of the oldest brands. It continues to maintain a strong lead and is becoming a favorite among campers and outdoor enthusiasts all over the world.
Read more
Capacity:
When you purchase this espresso maker, you will get a cup. When you prepare your coffee, you will be able to get an exact cup out of it. Of course, it goes without saying that you will still crave some more since it's remarkably delicious.
Ease of Use:
Moocoo uses pumping technology that's more advanced when it comes to this model. The pressure is powerful and stable at 20 bars. You will use half the force you usually use with other espresso makers. The technology is highly energy efficient, while it simultaneously ensures fantastic results. Additionally, every brew will get you the perfect kind of crema.
Versatility:
For this model, users get a two in one extraction design. You will get the option of alternating between espresso capsules or ground coffee. There is no limit to the number of flavors you can choose from. You will be able to explore and develop several drinks and get creative in the process. Coffee lovers can choose from; Coffee Ice cream, Cappuccino Caffé Latte, Cold Brew, Cappuccino, Caffé Americano.
Features:
Moocoo incorporates leak-prevention technology into this upgrade. The portable espresso maker has in-built micro-filter holes. The micro-filters holes are high precision and guarantee particle-free coffee. You will find the espresso maker ergonomic and light to carry. It is sturdy and has a Tritan construction. One of the most interesting things about it is the fact that it's light yet tough.
It is an excellent outdoor alternative since it is also impact resistant. The mug portion of the espresso maker is a dual wall. The outer wall of the machine consists of PCTG plastic. For the inner wall, Moocoo uses silicon glass. The glass is high boron and has no traces of BPA.
Overall:
This espresso maker is safe to use thanks to its anti-scalding construction. You will also find its insulation feature beneficial. Even though the water cup is glass-like, you shouldn't worry about its fragility. It is tougher than regular glass, and won't break easily. Its anti-fall feature makes it durable.

9

. Barsetto Portable Espresso Maker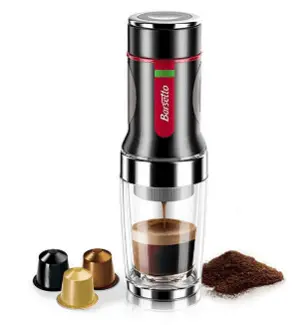 Barsetto's agenda is to put a stop to the camping days when you used to wake up craving a cup of coffee. The company's portable espresso maker has steadily fulfilled this role. You will find that it's also a gift option, which is memorable, thoughtful and convenient.
Read more
Capacity:
The portable espresso maker has a reasonable water tank capacity. Despite its miniature appearance, it holds about 80 ml of water. The ground coffee capsule can hold up to 10 grams worth of coffee.
Ease of Use:
It has an innovative pumping system, powerful enough to offer unparalleled espresso. The brewing process requires little effort since it utilizes 18-bars. To get yourself some coffee, you'll just need to add hot water to the coffee and manually pump it.
Versatility:
Just like the Moocoo espresso maker, Barsetto also offers two in one extraction. So, you don't need to settle for one kind of coffee brand, when you can have all your favorites.
Features:
The Barsetto portable espresso maker is ideal for all outdoor activities. It has a durable outer body resistant to wear and adverse conditions. The insulation feature is handy and has double walls. The materials that comprise the portable espresso maker are all healthy and don't contain any BPA.
Overall:
The total items that you get with this purchase are; a Brewing sealing ring, Filter basket, Powder Cup, and a Coffee Maker. Buyers also get a card and a set of instructions to help you operate the portable espresso maker.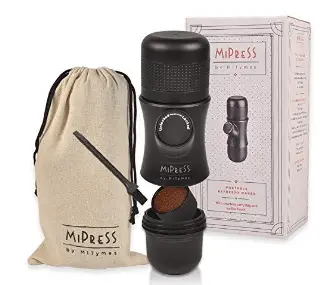 Mipress understands your love for coffee and betters your experience in several other ways. First, they offer this efficient portable espresso pump, which meets the needs of outdoor lovers. Secondly, they take things a step further by providing a coffee E-book. By doing so, Mipress helps you explore the coffee world deeper and introduces you to ways of perfecting your espresso.
Read more
Capacity:
The portable espresso maker has a 2.5-quart capacity. It may not be as large as some of the alternatives on the list, but you will find each espresso short to be worthwhile.
Ease of Use:
The portable espresso machine comes in a conveniently compact size. As a result, it's comfortable to handle and accommodate on your hands. You'll only need three things to get your espresso shot. Coffee ground, hot water, and hand pressure.
Versatility:
You will be able to carry the portable espresso maker anywhere you want. The E-book is a testament to how versatile your coffee experience will become. However, you should note that the number of times you pump it, would determine whether you get a ristretto or a longer shot.
Features:
Mipress offers a complimentary coffee brush with your purchase. For increased portability, you will also get a carry bag. Other included items consist of the said e-book, a spoon, and a manual. It comes in a gift box, which you can readily present to others.
Overall:
The company boasts of the confidence they have in their portable espresso maker. To express their level of commitment, they offer a year's warranty. Mipress guarantees that the machine is of quality and is prepared to stand by their claims.

Subscribe to our Newsletter