Best Coffee Grinders
In a Hurry? Editors choice: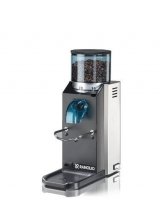 Test Winner: RANCILIO HSD-ROC-SD

Are you an avid coffee drinker? Are you also an individual who can't function correctly without your morning brew? If you answered yes to one of these two questions, then you are in for a treat today. You see, for people like you, nothing is going to be as satisfying then sipping on fresh ground coffee in the morning. In order for you to enjoy this sensation, though, you will most likely need to own a special grinder. And, yes, that is why you are here today. In this guide, it will be documented in-depth the key factors and features to look for when you are in the market for a coffee grinder. However, first, let's take a look at some of the best models on the market today.
Standout Picks
Criteria Used for Evaluation
OUR TOP PICKS FOR THE BEST COFFEE GRINDERS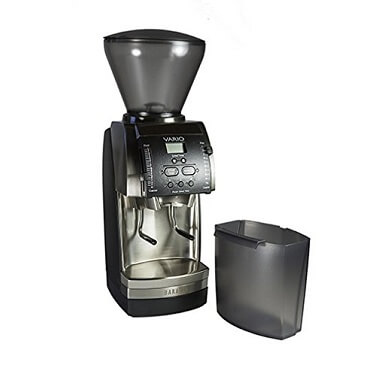 This right here is a prime example that some of these grinders can be downright expensive. If you do not mess around in the morning, though, the Vario may be right up your alley.
Read more
Effectiveness
Thanks to the professional-grade, 54-millimeter ceramic flat burrs, the Vario is able to deliver exceptional results. However, some buyers have noted that jamming can occur at the finer settings.
Features
In addition to the 230 different grind settings (which is insane), this is also equipped with a built-in digital timer and programmable buttons. With these, you can save up to three different presets.
Ease of Use
Though this seems like an overly complicated appliance, it is made easier thanks to the front mounted control panel (that happens to sport an LED display).
Capacity
Coming with your purchase is a regular 180-gram grounds bin and also a heavy-duty PortaHolder.
Build Quality
Let's just say the Vario is not cheaply built. This is evident with the aforementioned PortaHolder as it is made with nothing but heavy-duty metal.
Overall
Ask yourself this; is premium coffee worth this kind of price? If you believe that it does indeed justify this much money, then your mind is probably already made up.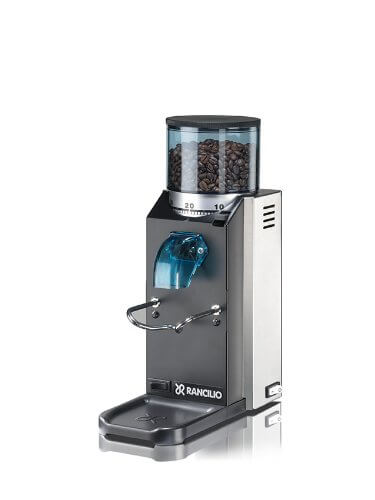 One aspect that really sets the HSD-ROC-SD apart from many of the other models in the world is its commercial-grade grinding burrs. Of course, the price is pretty steep here.
Read more
Effectiveness
The combination of the powerful 166-watt motor and the 50-millimeter commercial-grade burrs allow this to perform at a high level. Yet, clumpy results may persist from time to time.
Features
This is certainly not a complex design and is actually not overflowing with features. What it does come equipped with, however, is variable control for you to achieve exactly what you want.
Ease of Use
With the quick spin of the bean hopper and a simple unlock of the integrated lever, you can easily alter the controls of the HSD-ROC-SD. It will not get much easier than this folks.
Capacity
The tinted hopper that is included sports a 0.65-pound capacity. This means that it can keep over half-a-pound of fresh coffee on-demand.
Build Quality
First off, a stainless steel housing is in order here making this both durable and aesthetically pleasing. Also, the removable fork that is integrated is made of metal.
Overall
Once again, you will pay the price for this superb machine. The sheer power and simplicity of this model will deliver the goods, though, so you can count on that.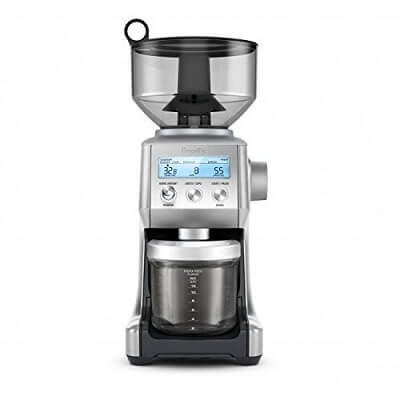 In the world of kitchen appliances, Breville knows a thing or two. Their Smart Grinder is another instance of their greatness and is designed with the consumer in mind.
Read more
Effectiveness
A few buyers noted that this was incapable of delivering finely coarse French press. Yet, the stainless steel conical burrs do help to minimize the amount of heat buildup to protect the essential oils of the beans.
Features
All sorts of features are integrated into this smart model. This includes a precise electronic timer that allows for 0.2-second increments and 60 different grind settings.
Ease of Use
Overall, the LCD display makes operation much more intuitive. With that said, it will take some time for you to get accustomed to the controls (which is not uncommon).
Capacity
The bean hopper can hold up to 18 ounces of beans. That works out to just over one pound of beans, which is not too shabby.
Build Quality
Improvements were made to the impeller as it is completely encased by a metal shield. Oh yeah, and the conical burrs are made of stainless steel.
Overall
At the end of the day, it really is hard to bet against Breville. They are one of those rare brands where you expect so much from them that you forget that their products are so fantastic. That is definitely evident here.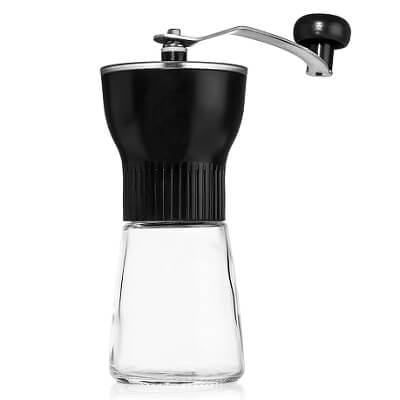 Though you may believe that manual models are obsolete with the takeover of electrical units, they are actually still quite useful. KONA proves that with flying colors, after all.
Read more
Effectiveness
The heart of this design is in its high-density conical burrs. They are made of industrial ceramic and are resistant to corrosion and can withstand heavy wear.
Features
Even though this is a manual model, there are integrated grind settings (18 in total) to mess around with. But, one flaw to point out is with the lid and the fact that it will not lock in place.
Ease of Use
The longer hand crank combined with the thick glass base makes cranking easier. This is indeed geared to prevent hand fatigue but it also means that the overall process can take longer.
Capacity
You can expect to make enough coffee for right around three cups with the glass jar that comes with your purchase. For specifics, it can store up to 50 grams of ground beans.
Build Quality
For the price, the quality is literally phenomenal. The burrs are made of industrial ceramic and the jar of clear thick glass. Nope, there is no cheap plastic here.
Overall
If you have the patience for a manual grinder, then you may not find a superior model on the market. What is also nice about this option is it is perfect for travel, as well.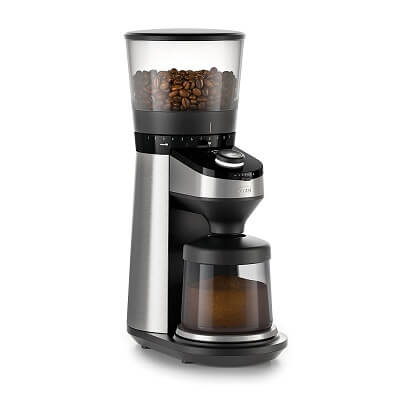 When you analyze this next model, it becomes obvious that OXO paid attention to the details. Example of this is the built-in overheating detection and the integrated scale.
Read more
Effectiveness
The built-in high torque motor and the 40-millimeter stainless steel conical burrs speak for themselves here. Due to the gap between the collector and the chute, however, things can get messy.
Features
It was claimed that the attention to detail is evident here. Well, it mostly is. This model does feature up to 38 different settings for you to choose from and also built-in overheating protection. Yet, a time function has been omitted.
Ease of Use
With just a single dial, you are able to switch between certain modes. In a matter of no time, you should have the controls down pat.
Capacity
The hopper itself can hold up to 16 ounces (or one pound) of beans. In turn, the grounds bin can hold up to 125 grams of coffee (which works out to right around 12 cups).
Build Quality
Stainless steel was one of the primary materials utilized in the construction phase of this model (which is always a good thing).
Overall
Should such an expensive machine come with noticeable flaws? Well, that is a subjective question but know this, OXO deserves a lot of credit for their engineering skills here.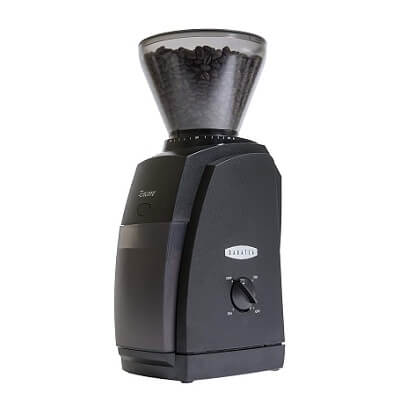 Due to the name of this model and the seller, it is really ironic that it closes out this list. After all, why not have one more encore from Baratza?
Read more
Effectiveness
The 40-millimeter high-carbon steel burrs are able to deliver a high-quality grind for you every single time. That you can take comfort in, ladies and gentlemen.
Features
With 40 different grind settings, you can explore many different brew methods. Yet, you must do so while dealing with the loud racket from this machine.
Ease of Use
Though the assembly has been criticized for being too difficult, the operation here is quite simple. All you have is the grind settings and a simple on/off switch.
Capacity
Much like with the Virtuoso, the Encore comes with a hopper that can hold up to 10 ounces of whole beans.
Build Quality
This is Baratza so you know if nothing else, the build quality is great. Once again, they manufactured the burrs in Europe.
Overall
If you want a Baratza model but do not want the steep price tag that accompanies it, then the Encore is going to be an excellent option for you.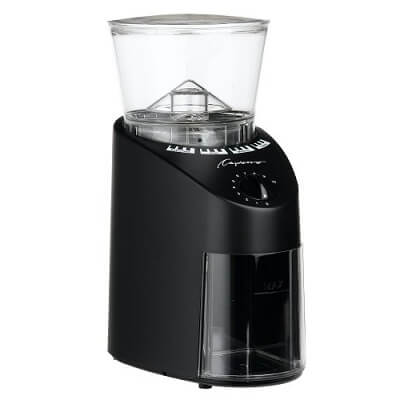 There is a lot to love about this next model. It is headlined by its best-in-class, slow grinding speed. As such, less friction will be created and the end result will feature enhanced flavor.
Read more
Effectiveness
Indeed, Capresso designed their model to operate with slower grinding speeds to preserve the maximum flavor and aroma on any of the grind settings. Yet, at the same time, various users have noted that coffee often remains in the burrs.
Features
This really has all the features you would ever want including grind settings for four different categories (extra fine, fine, regular and coarse). There is also an integrated timer that can be set from 5 to 60 seconds.
Ease of Use
Even though the knob that is engineered is not necessarily difficult to use, it is quite cheap as it is made of flimsy plastic.
Capacity
This machine is a bit smaller when compared to other models on the market, admittedly. The container can hold up to four ounces worth of ground coffee.
Build Quality
Outside of the cheap knob, this sports an ABS housing. Yes, this is plastic but ABS is a relatively durable copolymer.
Overall
Capresso's heart was certainly in the right place when they engineered their grinder. In spite of some cheaper materials, this remains a fantastic choice for just about anyone.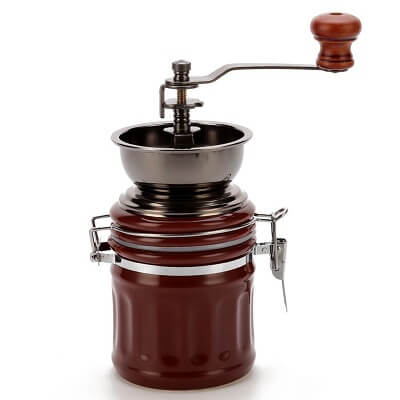 Yep, this is another old-school, manual model. Even though it is old-fashioned, it is still designed with top-notch technology such as the high-quality ceramic burrs.
Read more
Effectiveness
Though you will need to expend the effort, featured here are high-quality ceramic burrs that ensure precise and consistent grinds every single time.
Features
The cover is connected to the rod that is between the crank handle and the grinder and this makes it difficult to secure it when you are cranking. Despite this flaw, there is a built-in adjustable selector that gives you control over the coarseness.
Ease of Use
Yep, get ready to do some cranking. While this is to be expected with a manual model, the exterior of this unit is quite slippery and that makes it much more difficult to establish proper grip.
Capacity
Though it will depend on the grind setting that you select, one user did note that they were able to churn out three ounces of delicious coffee at a time.
Build Quality
With its stainless steel top and its ceramic body, it is safe to say that this model is not poorly built with cheap and inferior materials.
Overall
For home usage, there are superior options out there. What this and most manual models, for that matter, excel at is being superb for travel.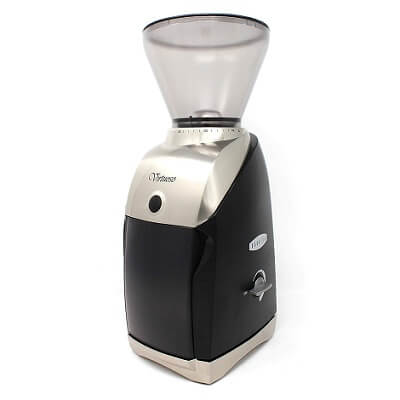 Baratza actually kicked this list off and here they are again. Their Virtuoso is not quite as advanced as their Vario but it remains an excellent electrical machine.
Read more
Effectiveness
One thing is for sure; you can't accuse Baratza of making poor coffee grinders. Their Virtuoso features an efficient motor that only runs at 450 RPM to ensure reduced heat buildup and enhanced flavor.
Features
Though it does not have nearly as many grind settings as the Vario, this does come with 40 (which is certainly not bad at all).
Ease of Use
While the actual operation of this unit is not too tricky (thanks to the front-mounted pulse button), transferring the liquid can be due to the shape of the grounds bin.
Capacity
The hopper itself can hold up to 10 ounces of beans. Though this does not sport the largest capacity on the market, it is far from pathetic.
Build Quality
With a combination of die-cast zinc and plastic, Baratza designed their Virtuoso. Now, do be aware that there have been instances of this unit breaking down within a year (as noted by some previous users).
Overall
If nothing else, you know that Baratza knows what they are doing. This model they have put forth is not flawless but what product out there is?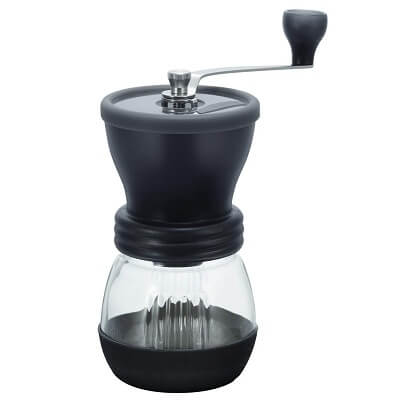 Hario presents yet another great manual option for you to consider. Their model sports several terrific features such as a non-slip rubber base and ceramic conical burrs.
Read more
Effectiveness
Though you really can achieve superb results here, it is going to take quite a long time. Simply put, many of you will probably not have the patience needed to operate this model.
Features
As with most designs on the market, you can adjust the grind of this model. On another note, this is also dishwasher-safe so that is nice.
Ease of Use
For the good news, this sports a non-slip rubber base and an ergonomically designed hand crank. But, and you knew a "but" was coming, the jar is awkward to hold unless you have larger hands.
Capacity
Granted you do not expect to produce tons of coffee in one sitting with this model, you should be satisfied with the capacity. Indeed, this is suitable for only a few cups.
Build Quality
Hario actually means "The King of Glass" in Japanese and that is a nice little tidbit to the design of this model (as it is designed of heat-resistant glass from Japan).
Overall
The time it takes to achieve results is less than desired and the jar can be difficult to grip. Everything else, with that being said, plays a role in achieving one fantastic cup of coffee.

Subscribe to our Newsletter