Best Drink Dispensers
In a
Hurry? Editors choice: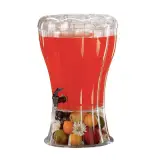 Test Winner: Buddeez

Entertaining guest and clients can be fun but at the same time, it can also be tedious. Imagine having to go to and from your
kitchen
or pantry to get drinks or refill them every single time. That is not appealing at all and takes away from the time you can spend with your guests. This is why if you are going to be hosting parties or get-togethers often it is best to have the most convenient
tools
to make your get together run as smooth and hassle-free as possible. This is why a
drink
dispenser is a must in your arsenal of hosting gear. Below we have listed the top ten drink dispensers to make your party a hit and have you enjoying every minute of it.
Standout Picks
Criteria Used for Evaluation
Durability
We want you to get your money's worth and l be able to make really good use of the things you buy - and not just for a short period of time.
A good investment would be being able to use the item for a long time and depending on the material that the dispenser is made from will determine the lifespan of the product. If you can get a glass unit, this will last you quite some time, if you can not find a model that you like that is made from glass, plastic will work well as well but may require more maintenance.
Also, look at the base of the unit as these may be susceptible to falling over if knocked into, so make sure they have a sturdy base so the unit will not fall over and break.
Capacity
When we buy a product it should serve its purpose and, in this case, will it be enough for the number of people you are expecting?
Capacity is quite important as this is the whole point you are investing in a drink dispenser. You want a model that will hold quite some liquid and that you will have to refill only a couple times throughout a party. You also have to calculate how many times would I need to refill it before it's all consumed.
Most of these models come with quite a large capacity so they should do the job and you may not have to refill the drink dispenser at all throughout your party. But if you can find a drink dispenser with a large capacity this will be best and save you time, so you can enjoy more time with your guests.
Features
Since all these brands and products offer the same thing for the same or a fraction of the price.
It is still important for us to understand what makes one product stand out from the rest. We looked into what additional features does each drink dispenser come with and how much do those features affect the price. Perhaps some are more expensive because of the added features but still, there are some with even more features but priced even cheaper.
Some of the features to look out for is an ice chamber to keep your drinks constantly cool or a wider base for more support. Overall these drink dispensers are quite basic but some extra features can make all the difference.
Materials
You will be serving drinks to your loved ones, friends and clients; it is very important to check the materials very carefully.
This to us is one of the most important considerations because we are dealing with humans here and if you are the cause of them falling ill because of the drinks you served, that can be a huge problem, especially for commercial businesses. Check the materials of the drink dispenser you are interested in and also check the customer reviews to see the quality of the units from customers that have purchased the drink dispenser you have your eye on.
Use
As mentioned, there are different reasons why you would want to get a beverage dispenser and so this is one of the criteria that was also very important to us because we want to help you decide on the best item.
From the size of your group to the type of beverages you want to serve, those have all been taken into consideration. There are specific dispensers for different types of drinks. So whatever is the purpose, you can be assured that you are buying the right one.
Keep in mind how easy it is for your guests to dispense their drinks and that the dispenser closes when not being in use so you can avoid a mess and keep enjoying your party.
Top Ten Best Drink Dispensers
Subscribe to our Newsletter