Best Drink Dispensers
In a Hurry? Editors choice: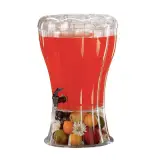 Test Winner: Buddeez

Entertaining guest and clients can be fun but at the same time, it can also be tedious. Imagine having to go to and from your
kitchen
or pantry to get drinks or refill them every single time. That is not appealing at all and takes away from the time you can spend with your guests. This is why if you are going to be hosting parties or get-togethers often it is best to have the most convenient
tools
to make your get together run as smooth and hassle-free as possible. This is why a
drink
dispenser is a must in your arsenal of hosting gear. Below we have listed the top ten drink dispensers to make your party a hit and have you enjoying every minute of it.
Standout Picks
Criteria Used for Evaluation
Durability
We want you to get your money's worth and l be able to make really good use of the things you buy - and not just for a short period of time.
A good investment would be being able to use the item for a long time and depending on the material that the dispenser is made from will determine the lifespan of the product. If you can get a glass unit, this will last you quite some time, if you can not find a model that you like that is made from glass, plastic will work well as well but may require more maintenance.
Also, look at the base of the unit as these may be susceptible to falling over if knocked into, so make sure they have a sturdy base so the unit will not fall over and break.
Capacity
When we buy a product it should serve its purpose and, in this case, will it be enough for the number of people you are expecting?
Capacity is quite important as this is the whole point you are investing in a drink dispenser. You want a model that will hold quite some liquid and that you will have to refill only a couple times throughout a party. You also have to calculate how many times would I need to refill it before it's all consumed.
Most of these models come with quite a large capacity so they should do the job and you may not have to refill the drink dispenser at all throughout your party. But if you can find a drink dispenser with a large capacity this will be best and save you time, so you can enjoy more time with your guests.
Features
Since all these brands and products offer the same thing for the same or a fraction of the price.
It is still important for us to understand what makes one product stand out from the rest. We looked into what additional features does each drink dispenser come with and how much do those features affect the price. Perhaps some are more expensive because of the added features but still, there are some with even more features but priced even cheaper.
Some of the features to look out for is an ice chamber to keep your drinks constantly cool or a wider base for more support. Overall these drink dispensers are quite basic but some extra features can make all the difference.
Materials
You will be serving drinks to your loved ones, friends and clients; it is very important to check the materials very carefully.
This to us is one of the most important considerations because we are dealing with humans here and if you are the cause of them falling ill because of the drinks you served, that can be a huge problem, especially for commercial businesses. Check the materials of the drink dispenser you are interested in and also check the customer reviews to see the quality of the units from customers that have purchased the drink dispenser you have your eye on.
Use
As mentioned, there are different reasons why you would want to get a beverage dispenser and so this is one of the criteria that was also very important to us because we want to help you decide on the best item.
From the size of your group to the type of beverages you want to serve, those have all been taken into consideration. There are specific dispensers for different types of drinks. So whatever is the purpose, you can be assured that you are buying the right one.
Keep in mind how easy it is for your guests to dispense their drinks and that the dispenser closes when not being in use so you can avoid a mess and keep enjoying your party.
Top Ten Best Drink Dispensers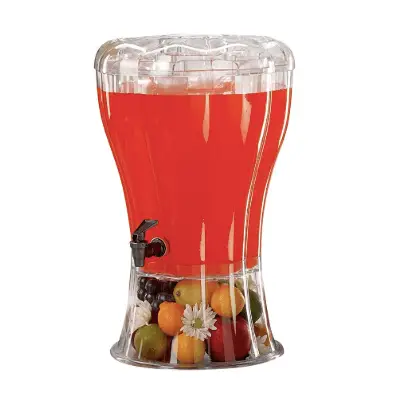 This a very popular item wherever you check because it has a very appealing design and it's perfect for any occasion where you need to serve cold drinks.
Read more
Durability
It is made of stain-resistant materials and is BPA-free Triton. It is very durable because it is made of unbreakable plastic material so you know this will be present in not just one or two events.
Capacity
It has a capacity of making 3 and a half gallons of refreshing cold drinks making your trip to the kitchen to prepare drink after drink lesser because you one serving can last a while.
Advanced Features
It has removable ice-cone inside so you can keep your drinks cold without affecting the texture of taste of the beverage. You can also take it out if there is no need for it. It has a no-drip faucet and a graduated measuring mark to guide you when you are mixing drinks.
Materials
It is made from BPA free Triton material with the unbreakable transparent and plastic body. The faucet is made from Tomlinson with no drip dispensing capacity.
Use
It is best for cold beverages that you can serve outdoors or indoors.
Color
The only color available is clear. This makes it look very appealing because you just have to add fruits to make it look naturally appealing!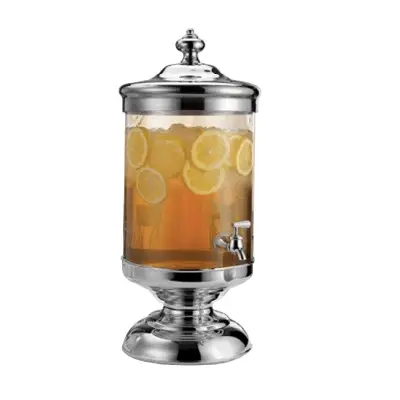 This is a taker! The classic, elegant design makes you want to have it sitting in your kitchen counter even without a party going on. But then again, for the purpose of serving drinks,
this is a real joy to have.
Read more
Durability
It is very durable because it is made of thick hand-made glass, although it breakable; if handled with care you can be assured that it will last a long time. The lids are made of stainless steel so you won't have to worry about it rusting away.
Capacity
It has a capacity of 2.5 gallons which makes it perfect for a small to medium-sized group or parties.
Advanced Features
It is made of handmade glass, with stainless steel stand, faucet, and lids. The lid can be easily removed so you can pour drinks conveniently. Since the glass is made of high-grade material it will not stain.
Materials
The body is made from hand-made glass. The lid, faucet, and the stand are made from stainless steel materials.
Also read about most popular women's oakley sunglasses
Use
It is advised to use only for cold beverages. Although the glass is quite thick it is not designed for hot beverages.
Color
The color is clear and there are no other colors available.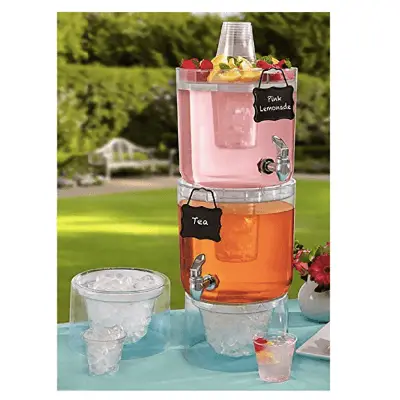 This beverage dispenser will really make you wow! It has a very trendy look and the parts that
Comes with the dispenser are usable for other purposes such as serving ice or fruits and cups. If you are looking for a dispenser that can serve more than one type of beverage, this is the one
For you!
Read more
Durability
It is made from crystal-clear Tritan material that makes it unbreakable. You will definitely get your money's worth on this because it will be in more of your parties for a very long time!
Capacity
It has two stackable servers that can store up to 1.75 gallons each making it perfect for large group or parties.
Advanced Features
It is stackable so you can serve 2 types of drinks for your guests. It is made of unbreakable materials that are built to last and the Tritan base serves as an ice tub. Plus, the lid also doubles as a serving tray for fruits and cups.
Materials
The body, lids, and base are made from Tritan material that is why it's unbreakable.
Use
This item is very suitable for cold drinks and cocktails for outdoor and indoor parties.
Color
The color is crystal clear so when you put in the juice or cocktails, it will look really attractive and refreshing!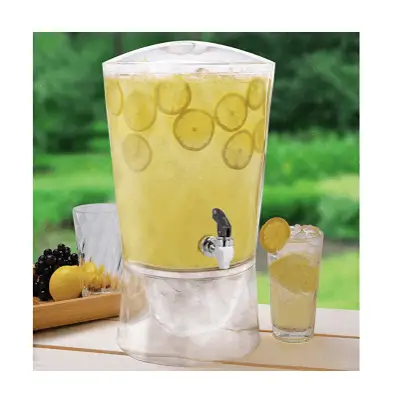 Another classic drink dispenser but this one is made from acrylic that's why it's lightweight and easy to carry around. It is unbreakable so you won't have to worry about handling.
Read more
Durability
It is unbreakable and lightweight making it really convenient to bring wherever your party takes you, be it indoors or outdoors. You don't have to worry about its safety.
Capacity
It can serve up to 3 gallons of beverage which is very ideal for large groups or events.
Advanced Features
It is made of strong yet lightweight material with a lid that also serves a handle, making it convenient to transfer and carry around. Though it's lightweight it is not fragile so it's perfect even for outdoor events.
Materials
It is made of lightweight acrylic material that is durable and strong.
Use
It is suitable for any cold beverage served at parties or any event.
Color
The only color available is clear which makes it more appealing when served because you can see the natural color of the fruits.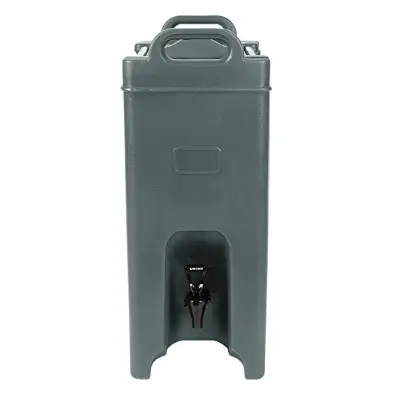 This is a more versatile drink dispenser because it can hold both hot and cold beverages. It has superior insulation that maximizes the retention of the temperature.
Read more
Durability
This item is designed for durability with non-metal latches that is mounted into its steel reinforcement plates that will not bend or rust, so you can use it for a very long time.
Capacity
This is ideal for very big events because it has a capacity to hold 5 gallons of beverage at one time.
Advanced Features
The most interesting feature of this item is the insulation system. It has spring action faucets, O-ring seals to avoid drips and leaks and have heat retention to keep hot beverages hot for a long time. It also has ergonomic handles so it's convenient for 2 people to carry.
Materials
It is made of Nylex ll latches that have no edges designed to prevent rust and dents. The servers are BPA free and passed the NSF international standards.
Use
It is convenient for hot and cold beverages with superior insulation to keep the temperature of the beverages.
Color
There are several colors available; brown, black, caramel and slate blue.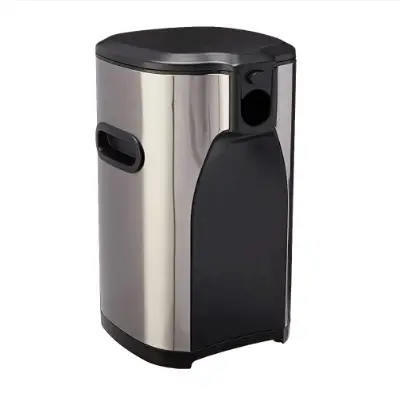 For those who love wine, this is the one for you! It can accommodate up to 3 liters of wine for a bottomless wine dinner or socializing. You get to enjoy the party without worrying about refilling every now and then.
Read more
Durability
The body is made of stainless steel material that does not only look modern and stylish it is also rust proof so you can keep this for a very long time!
Capacity
It can store up to 3 liters of wine for about 6 weeks. Even if you can't consume them all in a party you can still enjoy the wine up to the last drop.
Advanced Features
What I really liked about this is that it is very economical. With the latest technology used to preserve the wine, you can actually keep the wine for 6 weeks in this dispenser. It is insulated and has the capacity to raise the wine above the glass so there is no waste.
Materials
Made from stainless steel materials and ABS plastic design.
Use
It is made for wine only. It is not advisable for any other beverage.
Color
There are 3 different colors to choose from black, red and white.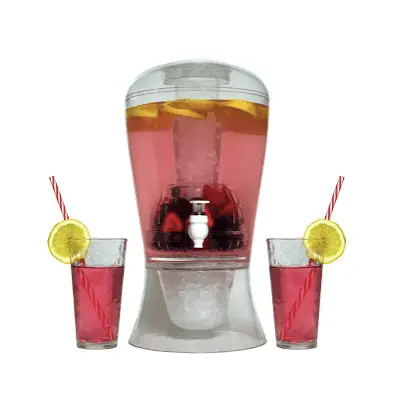 This is one of the best dispensers on our list and it's all because of the numerous features it offers. Imagine having fruit infuser and an ice cone. This will really be a good choice for large parties or groups.
Read more
Durability
It is made of shatter-proof acrylic material that assures you it won't break easily. With proper use and handling, this will last you a long time.
Capacity
It has a 2-gallon capacity, ideal for medium to large groups.
Advanced Features
This item is 100% BPA free and so it's safe. Another great feature is that it's lightweight because it's made of acrylic yet strong enough not to shatter. It also has a fruit diffuser as well as a separate ice cone to keep your drinks cold.
Materials
It is 100% BPA free and made of acrylic materials.
Use
It is ideal for serving cold drinks and cocktails.
Color
The color available is clear which makes it look more attractive once you put cut fruits into the diffuser. You can clearly see it from the outside.

8

. Hamilton Beach Brew Station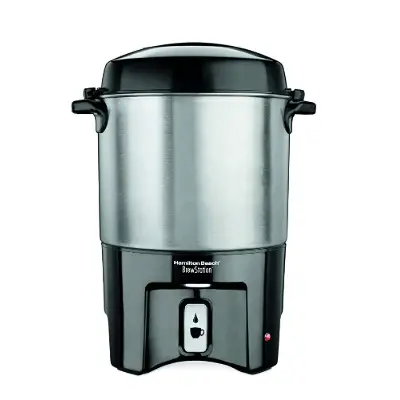 This is ideal for offices and small volume establishments. It is very convenient to draw your hot beverage and its dual heater system keeps your beverages hot without the burnt smell and taste.
Read more
Durability
First of all, the brand itself already speaks for itself. Its modern technology allows it to shut the central heating system as soon as the coffee is brewed. That way overheating and burning is avoided.
Capacity
It can brew and serve up to 40 cups of coffee and other hot beverages.
Advanced Features
It has a dual heater system that keeps beverages hot for longer periods. It is designed for ease by simply sliding the cup, coffee dispenses easily. It is also hassle-free when it comes to cleaning, the wide mouth allows you to thoroughly clean the tub.
Materials
The body is made of stainless steel materials for durability and function.
Use
It is made for hot coffee and is not suitable for cold beverages.
Color
The color is stainless steel with a black lid.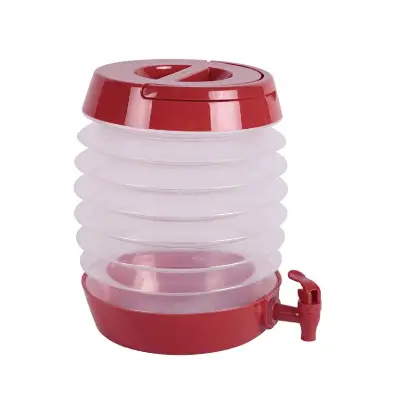 This is another convenient drink dispenser to have because of its design. You can adjust the capacity accordingly if the group is smaller or bigger.
Read more
Durability
It is made of durable plastic and BPA free. It will not break or dent.
Capacity
It can hold as much as 7.5 liters of cold beverage and the size expands from 4 to 9 inches.
Advanced Features
This again is what makes this item attractive. Its ease of use makes you want to just purchase it. It is collapsible so you can store it easily, bring it along or expand it to serve more drinks to more people.
Materials
The materials used are food grade plastic BPA free.
Use
It is suitable for cold drinks outdoors and even camping.
Color
The color is red with a clear white collapsible body.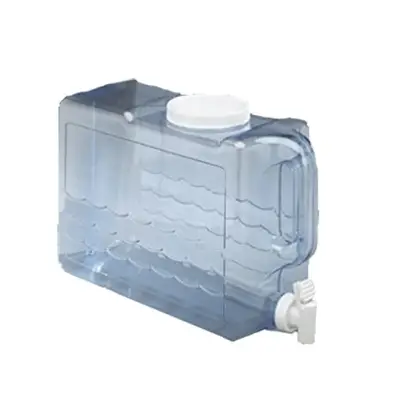 This is perfect for people on the go or entertaining intimate group. It is transparent and slim so it's very convenient to store in your refrigerator or let sit on the counter.
Read more
Durability
It is made of durable plastic so it won't break or shatter.
Capacity
It can hold up to 1.5 gallons of drinks.
Advanced Features
It is staining resistant and has no unpleasant smell or odor because it's BPA free. It is also very slim so it doesn't take up so much space.
Materials
It is made of stain-resistant plastic and BPA free.
Use
It is suitable for small intimate groups. Ideal for cold drinks.
Color
The color is transparent blue.

Subscribe to our Newsletter