Best Gym Backpacks
In a
Hurry? Editors choice: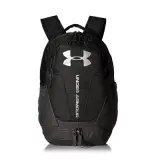 Test Winner: Under Armour Hustle 3.0

If there is little time to touch base at home throughout the course of your busy day, you might need to invest in a gym that is more suited to your needs. The classic
duffel bag
is great at holding a lot of gear, but it can sometimes be a little too cumbersome and doesn't have enough separate compartments to carry anything other than basic workout gear.
If you need to carry something that will allow you to sling it over your shoulders to keep your hands free and can organize not only your gym gear but also things that you will need for work, you might want to ditch the duffel and pick up a gym backpack. Many of these designs have multiple compartments to keep work and
training gear
separated, and offer a lower profile design to fit neatly into smaller spaces. 
Standout Picks
Criteria Used for Evaluation
Style
The design of these best gym backpacks was something that we made sure to take into consideration not just because you'll be carrying this with our on the subway every morning, but because smart design means more room to effectively carry all of your gear. However, we did tend to lean more toward brands that offered you a lot more color and design choices, because the gear is just more fun what you can find a color or pattern that matches your personality perfectly.
One of the most important design choices that we felt was an absolute necessity was separated zippered compartments. Sure, you are arriving at your workout destination with a sack full of fresh laundry alongside your post-workout snack and maybe even your laptop or documents that you are going to need to take into work once you finish working out.
However, when you leave you are suddenly going to have a pile of hot, sweaty workout clothes that are going to have to go back into your pack. That's why we made sure to select a design that would create a healthy distance between sweaty workout clothes and your lunch. Other design options that we really appreciated was pocketed on the exterior that would allow users to keep small items handy such as water bottles, car keys, chapstick and cell phones.
Materials
This was another important thing that we looked at because certain materials are just empirically better than others. A material that we found was perfect for these types of backpacks was polyester. Polyester might not be the ideal materials for campers that happen to get caught out in the rain for extended periods of time, but it is the perfect material to cart around all of your casual gear throughout the course of a typical weekday.
Polyester is considered to be incredibly strong, and it is really easy to clean when your backpack is starting to smell a little ripe. One of the most important reasons we were drawn to polyester is because it can simply be tossed into the washing machine with a little bit of gentle detergent to remove any stains or odors, and then hung up to dry overnight. When it comes to carting around used and sweaty workout gear- you are going to want something that is going to be easy to clean.
That's why we feel that polyester is going to be your best in this instance. We also liked options that had a lining along the bottom that was coated in a waterproof material so that users could set it down on someplace wet (like a dewy soccer field) and not have to worry about their gear getting wet.
Brand
Some cynics may tell you that when you purchase a name brand option, you are only paying for the recognizable logo or the name on the tag, but in our experience that just isn't the case. These companies didn't become as big and as popular as they are by manufacturing subpar products. We have found that familiar name brands that have been making sports apparel for decades are still around today because their sports gear is just made to last.
We gravitated to some of the bigger names such as Nike, Adidas, Under Armour and Speedo not simply due to name recognition, but because the product reviews had a tendency to exceed those of the lesser-known companies. If you want to buy small gym backpack that is going to hold up in the long run without suffering from ripped seams and torn shoulder straps, you are going to want to pay just a tad more for one of the big brands.
Value
We know that as an athlete that might be working with a limited budget, you probably want to spend the majority of your money on the best sneakers, workout clothes, and beneficial accessories and supplements rather than spending a lot of money on the backpack you will be carrying around your expensive gear in. While it may be tempting to opt for the option that has the price tag that doesn't seem all that painful- you might be in for a disappointing surprise after only a few months of use.
While the more affordable options are great initially, they have a tendency to wear down and become weak at some of the key points of contact like in the shoulders or zippers. To save money in the long run, we feel that it may be in your best interest to spend just a little bit more for the higher-priced options that you will likely use for years and years of workouts without dealing with broken shoulder straps or busted zippers.
Subscribe to our Newsletter