Best Duffel Bag
In a
Hurry? Editors choice: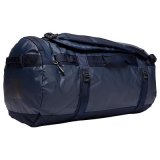 Test Winner: North Face Base Camp

Is the shape of your
carry-on
holding you back? A duffle bag is malleable and easy to pack. There is no style that a duffle bag can't conform with. While they all may look like rectangular sacks, there are some that stand out from the others. When choosing a duffle bag, some of the most important characteristics to look for are the capacity, durability, and overall comfort. With such a flooded market, it can be overwhelming to figure out where to begin when
looking for the ideal bag
. With this guide, you'll see the best and worst of each bag and be able to narrow your choices down.
Standout Picks
Criteria Used for Evaluation
Features
Most outdoor enthusiasts want something that they can pack easily, and unpack easily when utilizing a duffel bag in the outdoors. One way to tell how easy a duffel bag will be to pack and unpack is to take a look at the main compartment area and the zippers around that area. Besides that, check out the number and use of the pockets on the bag, the size of the opening, and if you need to pack larger items, make sure you get a bag you can get those large items in and out of the bag quickly. When looking at the duffel bag, take a look at how hard it might be to search around the inside of the bag to find your items, which means the more organizational features, the better.
Duffel bags that have a D-shaped zipper opening will be easier to pack and unpack than a bag with a straight-lined zipper, simply because D-shaped openings create a wider opening size and shape. Nowadays, many bags come with D-shaped openings, and the North Face Base Camp Duffel Bag was the first manufacturer to offer this feature. If you know you need to pack and unpack things like poles or other large items, you want a bag that opens long and wide enough to pack this. Also, the number of pockets on the bag and how easy these pockets are to access and organize becomes a necessary feature if you want a bag that packs up easier.
Now, more pockets on a bag usually mean that the bag will cost a bit more, so this is one of those features that will be up to you and your budget. And, if you're not packing anything long or large, you might not need to pay for the D-shaped zipper. Consider how you are going to use the bag and if you need several easy packing features before you purchase your bag.
Portability
Some duffel bags are designed to offer better easy-carry features than others. If you want a bag that you can carry in multiple ways, over your shoulder, as a backpack, or in your hand, then you might want to opt for a more versatile carrying bag. Some bags come with backpack straps while others don't, and if you do plan on hiking for long periods with your bag, chances are you'll want a bag that at least features a backpack carry option.
The straps many of these duffel bags use for a backpack, or other carry options can make or break the comfort level when you carry the bags. Different backpack straps offer various levels of comfort, and a lot of this depends on the foam thickness on the straps, and where you'll find the foam and padding. Another thing to consider is how easy the backpack straps come off if you don't wish to use them since some bags have better options than others when it comes to removing the straps.
If you want a bag that can give you a variety of carrying options, then something like the Gregory Alpaca Duffel will work well for you since you can carry it as a backpack, in your hand, or over your shoulder. Bags with these features do tend to cost more and aren't always lightweight, so those are your trade-offs. You need to decide whether you need this variety or not, and how beneficial it might be for your outdoor activities.
Make sure to also assess the duffel bag's lashing points and compression straps so you can see how easy the bag is to attach to things or fit into certain areas. A duffel bag that offers all three carrying options usually works best for versatility and adaptation, but might not be lightweight or affordable enough for everybody. Some duffel bags allow you to more easily pull them out of places or drag them and include drag loops—a feature that's great when you're traveling but might not be necessary if you are only using the bag for outdoor trips.
Durability
Since people using duffel bags outdoors want a strong, durable bag, they need to look at the bag's material, the way the seams are stitched, and the types of zippers on the bags. Most bags made for outdoor use have polyurethane on them, which is very durable and water-resistant. However, some bags have other materials and features on them.
Most outdoor enthusiasts want a bag that will keep water out, so you want to invest in a bag that's water-resistant, or even better, waterproof. You want a bag that can protect your items if you encounter adverse weather, rain, snow, or even if you drop the bag in a puddle. The more waterproof and weatherproof the bag, the better your items will be protected, but also the more the bag is likely to cost.
Materials
Good waterproof materials in duffel bags include high denier nylon, PVC, polyester with a tarpaulin, or vinyl laminate. Many of these materials are also found in whitewater rafts, meaning they not only keep water out but also are very strong and don't rip or tear easily. Plus, water-resistant materials on duffel bags can make these bags much easier-to-clean. An extra feature to look at is how the zippers or clips close on the bag, and how sturdy the seams are for keeping water and other unwanted items out of the bag. Plus, you want strong stitching anyway, especially if you're carrying a lot of items in your bag.
Subscribe to our Newsletter