Best Indoor Cycling Shoes
In a
Hurry? Editors choice: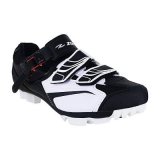 Test Winner: Zol MTB

Is it really necessary to own a special pair of footwear for indoor
cycling
when you could just wear your regular
running
or walking shoes? This is a question that a lot of you have probably asked yourself before if you enjoy biking indoors. Well, it just so happens that owning a special pair of indoor
cycling
shoes can make all the difference in the world. Not only will they enhance your control but they will also deliver a more powerful and efficient workout. But, as with any other type of shoe, there are certain areas that you need to fixate on before you buy a pair. That is exactly why you have stumbled across this guide today.
Standout Picks
Criteria Used for Evaluation
Comfort
t literally does not matter what type of footwear you ever invest in, if they are not comfortable to wear, you are not going to want to don them. It really is as simple as that and as such, this means that you need to assess the overall comfortability of the indoor cycling shoe that you will potentially buy. Now, with other types of shoes, such as those that are designed for running, you need to look out for shock absorption. However, this is not really going to be an issue with cycling as your feet will not physically be striking the ground.
So, what do you need to look for? Well, do note that these shoes will be noticeably stiffer than other types of shoes (which will be addressed later). Yet, most will still be comfortable and you can look for simple features such as a padded tongue. As most indoor cycling shoes are designed with straps, having a padded tongue is key to prevent the Velcro from digging into the top of your feet. Also, look for the pressure to be distributed evenly to prevent any discomfort.
Fit
If you have any experience buying any type of shoes, you know that the fit is literally everything. But, it gets a little tricky with these types because as you have noticed in this guide, they tend to run small. Though you should always simply assess user feedback to see what other consumers have claimed about how the shoe fits, get ready to order a size larger than you typically do. But, do remember that you do want them to fit snugly. So, be careful either way. Okay, so you know it is supposed to fit snug but how snug?
Well, understand that because these are not as flexible as regular shoes, they are not going to stretch to accommodate your foot once they begin to break in. In regard to the toe box, you will not need as much room as you would with a normal pair of sneakers. How about the heel, though? Most of the time, you do not want your heel to slip and while you still do not want that to be the case here, it is not as big of a deal. The reason is that you do not generate as much heel force when you are pedaling as opposed to walking or running.
Flexibility
Alright, so now it is time to talk about performance. This is another area that is going to need to be assessed a literally differently than you may be used to. As was mentioned a few times already, cycling shoes will generally be stiffer than other types. They are not made to be lightweight and flexible as they need to hold to the pedal. So, you will see them with a more noticeable amount of stiffness. This is essential and is what makes them so important for cyclists around the world.
But, there are also different types of sole materials available and each performs a little differently. For example, you have fiberglass soles which find a happy medium between stiffness and affordability. As for plastic, this can be prone to flexing which is not what you want. However, you also have carbon soles and these are generally the stiffest of the bunch.
Breathability
On a hot and clammy day, is there anything worse than wearing apparel that does not breathe well? These types of garments will stick to your skin and generally be unpleasant. Given the fact that your feet have more sweat glands than any other body part, this is something you need to keep in mind for this product, as well. You see, with shoes that are designed to be outdoors, it is a little easier to receive proper airflow. Yet, when cooped up indoors, this can be a little more challenging. So, designers will typically combat this by engineering their shoe with extra ventilation and breathability.
Some key attributes to look for would be the following. Firstly, ensure that the material can wick moisture. Or, at the very least, ensure that it does not absorb all the sweat pouring off your body. Secondly, assess the design of the uppers. They will commonly be synthetic to enhance the breathability but you can also look for an integrated mesh. Lastly, look for any ventilation panels that happen to be implemented.
Top Ten Indoor Cycling Shoes
Subscribe to our Newsletter