Best Cordless Vacuums
In a Hurry? Editors choice: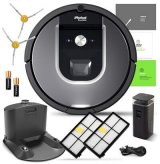 Test Winner: IRobot Roomba 960

Let's just get it out and in the open; vacuuming is not everyone's favorite chore. In fact, it possibly is one of them that you despise as much as any. Admittedly, if this is your mindset, there is probably nothing you can do to go from loathing vacuuming to loving it.

Yet, something that can make the overall process more convenient is not dealing with the hassle of a cord. This does mean, however, that the power will not be limitless because when cordless vacuums run out of juice, they will seize to run. But, this is a tradeoff most of you will accept.

Now, what you will learn in a little bit is cordless vacuums come in all different shapes and sizes. Selecting your preferred model is going to come down to several factors and each of them can end up swaying your decision one way or another.
Standout Picks
Criteria Used for Evaluation
Effectiveness
Know what you want as certain models will simply outperform and outpower others.
As you noticed in the "products" section of this guide, there are different types of cordless vacuums. Two of the most popular are the robot and stick models.
But, both of them are vastly different. It is irrelevant which design type you decide to go with as the model you pick needs to perform to the standards you expect. Now, it is worth noting that both of these types will not have the same cleaning effects of full-sized, heavy-duty vacuum cleaners.
With advancements in technology, though, both robot and stick models are breaking new grounds. For the latter, look no further than to Dyson. They have designed some of the best models of cordless vacuums out there, and part of the reason is they implement cyclonic action into them (which allows the sucking power to remain stable even while the bin is filling up with dust and debris).
As for robotic models of cordless vacuums, they have also come a long way. While most will still not be able to replace your home vacuums, advanced designs are continuing to be developed to improve the performance.
Oh, and also do not overlook the filtration system. For health-conscious individuals, a HEPA filter is going to be the only way to go as it will remove 99.97 percent of all particles that are 0.3 microns or larger.
Features
No matter which type of cordless vacuums model you are after, there are certain design features that you will need to look out for.
Even though stick and robotic models do differ quite a bit, they will sport many of the same features. Yes, there will be some unique features (specifically for robotic models of cordless vacuums), as well.
For starters, most cordless vacuums will be equipped with various power modes. Not only will these affect power and performance, but they will also change battery life. So, using the higher power modes sparingly will be in your best interest. Also, you need to take into consideration the floor types that need to be cleaned.
Most autonomous models of cordless vacuums will sport built-in sensors that will detect which floor type they need to account for. Meanwhile, stick cordless vacuums will sometimes come with different heads to account for different surfaces.
Now, understand something; this is where robotic models are exceptional. The most advanced designs out there will be Wi-Fi enabled and will be able to be operated via an appropriate app. Also, most of them will detect when they are near a ledge to avoid falling.
Oh yeah, and it is never a bad thing to know how much battery you have left so look for cordless vacuums with integrated gauges that display the current battery capacity.
Battery Life
Look, this is the major issue with cordless vacuums models. It is just something you will need to accept.
When you ditch a cord (with any technology product), it means that the device needs something else to power it. Well, with technology devices, this is going to be via batteries, and cordless vacuums are no different.
This is the tradeoff you will have to deal with, unfortunately. And, worse yet, even top-end models of cordless vacuums typically do not sport that impressive of battery capacities. Depending on the power mode, you may only get 10 to 15 minutes on some models.
Autonomous models of cordless vacuums, however, can sometimes run for up to two hours. But, this is going to depend on the specific model you pick and the power mode that you are running.
Now, you should probably only opt for models that utilize lithium-ion batteries. These are generally considered the best cells out there, and virtually all top-name brands will use them. Oh, and along the same line, it may be in your best interest to seek designs that implement interchangeable batteries. This way, you can have two batteries at your disposal.
Ease of Use
As opposed to battery life, the ease of use is where the money is going to lie here.
While you will need to deal with limited battery lives, this is where it is all worth it. Even though corded models will be supplied with limitless power, most of them will be quite heavy and the hassle of a cord is in play. That is not the case here and no matter if you go with a stick or robot vacuum, both are designed to be convenient to use. With stick models, their maneuverability is typically fantastic due to the reduction of weight. Also, most will sport low-profiles and this will allow them to fit into small spaces and under furniture much easier.
Oh, and as far as robot vacuums are concerned, these were designed for ease of use. After all, they are autonomous and that means they will run automatically while you sit back and watch. Yet, this is where it is vital to pay attention to the sensors and the integrated technology. The best models will be engineered with advanced sensing technology that will be able to detect and avoid obstacles in their path. Along the same line, without proper sensors, some models will clean in random patterns with no sense of direction.
Style
There are certain types of vacuums but two automatically come to mind.
Really, this last section could be seen as a summary of sorts. By now, you know that you have a choice to make. Do you want a stick or a robot model (as both are cordless)? Based on the information that has already been documented, you probably already know which one you are after. But, as a quick review, here is what stands out with both design types.
Speaking for stick designs, they are extremely lightweight and oftentimes versatile (as some will come with detachable components to be used as handheld models). Also, they are low-profile vacuums and will be able to reach tough areas. As for robotic models, they simply will not be able to be utilized as a full-time solution. Maybe in time, this will be the case but currently, do not expect it to be. However, they are fantastic devices that perform all the work for you (around 90 percent of it, at least). Several of them are also incredibly intelligent and pretty much devoid of maintenance (outside of cleaning the filters).
Our top picks for the best cordless vacuums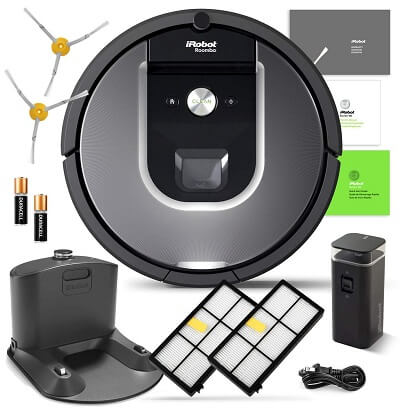 One choice you have is to go with a robot vacuum. You have probably heard of this device before and it is essentially an autonomous device that will clean your floors. And, the Roomba 960 is as high-class as it gets.
Read more
Performance
First off, the Roomba 906 utilizes a three-stage cleaning system and counter-rotating extractors to deliver five times the power. Also, this features an efficient filter that will capture 99 percent of all allergens.
Design Features
For the record, this is Wi-Fi-enabled and you can take advantage of this functionality with the use of a smartphone. Oh yeah, it is also compatible with Alexa and Google Assistant.
Battery Life
On a full charge, you can expect up to 75 minutes of continuous operation. When the battery gets low, the Roomba 960 will return to the base to refuel its battery.
Ease of Use
Due to the full suite of intelligent sensors that are built into this model, it is able to effectively navigate around furniture. Also, you can set cleaning schedules straight from the dedicated app.
Style
Yes, this is a robot vacuum and yes, it is one of the most advanced designs out there.
Overall
This type of device is not going to be for everyone so quite a few of you will probably have no interest in the Roomba 960. Also, if all you are looking to do is get your feet wet with this technology, this may be too expensive for you.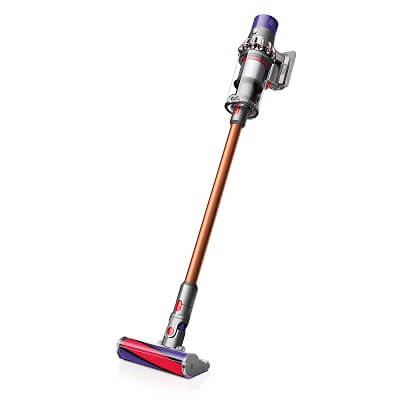 In the world of cordless stick vacuums, Dyson reigns above everyone else. However, much like with the Roomba 960, you will make a dent in your bank account with this option.
Read more
Performance
If you are looking for power and maximum suction power, then this is where you are going to get it. Given the price and the fact it is Dyson, this is not much of a surprise.
Design Features
All in all, there are three different power modes you can select from. They all will affect the battery duration, though, so use the more powerful methods sparingly.
Battery Life
At its peak, you can get the Dyson Cyclone V10 to run for upward of an hour. Again, this will be affected by the power modes (with Suction mode II bringing it down to 20 minutes).
Ease of Use
The good news is there is an instant-release trigger that is integrated into this model, and it eliminates the possibility of you wasting precious battery. However, as one user noted, the handle is a little heavy and moves around a bit.
Style
Though this is a stick model, it can easily and quickly be transformed into a handheld vacuum. This allows you to clean all around your home with ease.
Overall
Even the best products in the world are not flawless and that is a prime example of that. But, in regard to pure performance and suction power, the Dyson Cyclone V10 is the standard-bearer.



Yes, this is another robot vacuum but what sets apart the D7 is its laser smart technology. With this integrated, this model is able to efficiently and intelligently navigate your home.
Read more
Performance
Indeed, the laser above smart technology allows this to clean in straight lines and not merely in random patterns. With that said, various users have experienced performance-related issues.
Design Features
For enhanced suction power, the D7 has an integrated Turbo mode. Also, you can create multiple floor plans and save up to three maps.
Battery Life
At its peak, you should be able to get right around two hours of battery on a full charge. Also, thanks to the intelligence of this design, it can calculate how much power is needed to finish its job if you only want it to charge to a certain level.
Ease of Use
With the easy-to-use Neato app, you can schedule your cleanings. Additionally, the D-shape design of the D7 allows it to reach into tight corners.
Style
Not only is this a robot vacuum but it is also one of the most intelligent devices of its kind.
Overall
Once again, the price is a bit obnoxious and it is fair if you think this is too much money. It is the price you pay for the advanced design and superb features, though.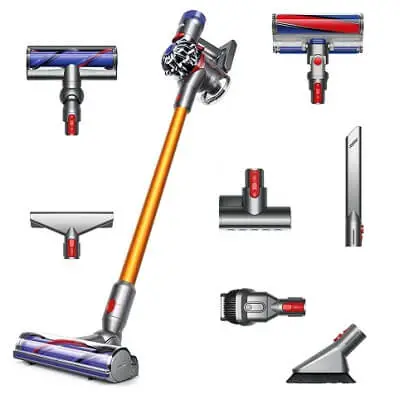 This is a prime example of a product that has seen a superior successor, yet one that is still elite, in its own right. The Dyson V8 is by no means an obsolete product and still remains an excellent choice.
Read more
Performance
The Dyson V8 remains fantastic thanks to its performance. The motor is able to spin at up to 110,000 revolutions per minute (RPM). Oh yeah, it is also designed with a HEPA filtration system for maximum potency.
Design Features
When you really need the power, there is a Max mode that you can utilize. Also, this comes with two separate cleaner heads for hardwood and carpet cleaning.
Battery Life
The new lithium-ion battery that is integrated into the Dyson V8 can run for up to 40 minutes when fully charged. In Max mode, though, you will only get around seven minutes.
Ease of Use
Due to the fact that the center of gravity of this model is located toward the grip, it makes for easier handling. Additionally, this is a fairly lightweight vacuum.
Style
This is a traditional stick model but what is nice is Dyson includes several accessories with your purchase. Of course, you can only manually store two of them on the vacuum itself.
Overall
Truth be told, you can't go wrong with either the Dyson V8 or the Dyson V10. Plus, with all the handy accessories that come with the V8, it can be seen as a total package.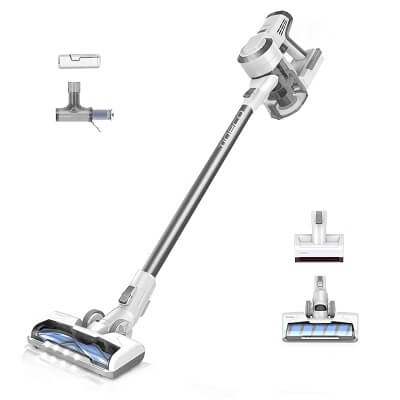 Dyson is certainly not the only manufacturer that can design a superb stick vacuum. Tineco also deserves praise for the design of their A10 as it is overflowing with convenience.
Read more
Performance
Overall, the suction power of the A10 is solid but nothing overly impressive. What helps its performance, however, is the multi-tasker power brush and fully-sealed filtration system.
Design Features
As with most models, there is a Max mode that allows you to perform deeper cleaning. Beyond this, the A10 is also optimal for different floor types.
Battery Life
Tineco really thought this out well. They designed their model with a dual-pin adaptor and it allows you to charge both detachable batteries at the same time. All in all, you get double the runtime up to 50 minutes.
Ease of Use
Not only does the switch lock ensure that you do not have to hold the power switch down at all times but you also receive a rinse-free filter cleaning tool.
Style
Much like the two Dyson models on this list, the A10 is a stick vacuum that happens to be cordless.
Overall
Even though the sheer power of the A10 is nothing to write home about, everything else is expertly designed. You can really tell this model was optimized for ultimate convenience.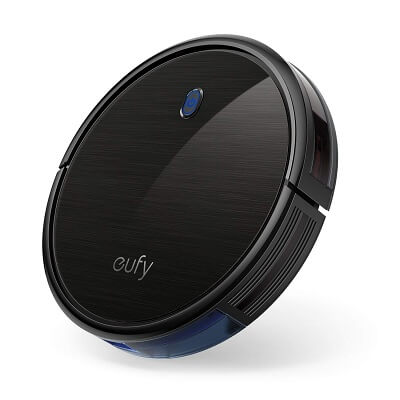 The RoboVac is proof that not all robot vacuums have to be downright expensive to be effective. While this is not as smart as other models on the market, it is excellent for touch-up cleaning.
Read more
Performance
Great integrations are present here such as the BoostIQ technology (to increase the suction power) and the triple-filter system. But, at the end of the day, this is not going to replace your current vacuum cleaner.
Design Features
The RoboVac is equipped with multiple cleaning modes and it can even be pre-set with a certain vacuuming time.
Battery Life
For up to 100 minutes, this can run on a single charge. When it is close to full depletion, however, it will navigate back to the base to recharge.
Ease of Use
All you need to do is turn this bad boy on and allow it to do the work. Thanks to the infrared sensor and drop-sensing technology, it is able to do so while avoiding obstacles and falls.
Style
Though it is still by no means cheap, the RoboVac is actually an affordable robot, cordless vacuum.
Overall
Do not get it twisted, the RoboVac will not replace your current home vacuum. What it will do is clean small areas with great efficiency. But, it will not deep clean your entire home.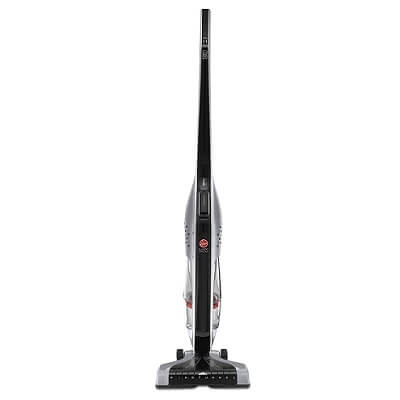 Arguably the most popular option on this entire list is before you. The Hoover Linx is a stick vacuum and is equipped with WindTunnel technology and an interchangeable battery system.
Read more
Performance
The aforementioned WindTunnel technology creates channels of suction to lift and remove debris off of the floor. Also, this sports a cyclonic filtration system.
Design Features
What is nice is the Linx has intuitively-placed power controls for easier operation. Additionally, it sports a fuel gauge that indicates the remaining battery life.
Battery Life
While the battery life itself is not that great, Hoover designed their Linx with interchangeable batteries so that is a nice plus.
Ease of Use
To say this is optimized for ease of use is an understatement. It seemingly transitions from hardwood floors to carpets (and vice versa), and can easily access tight spaces due to the recline handle and low-profile base.
Style
This is a run-of-the-mill stick vacuum that you will no doubt be accustomed to using.
Overall
Sometimes, it is best to believe the hype and you better believe that is the case here. The Hoover Linx has certainly earned all the praise it has garnered over time.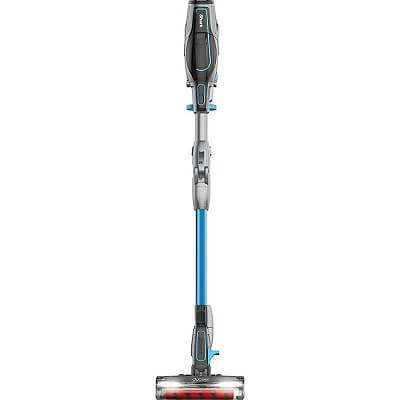 We transition from an extremely popular model to an extremely well-known brand name. Shark has engineered some of the best vacuum cleaners on the market and yes, this so happens to be one of them.
Read more
Performance
With the combination of the DuoClean technology and the additional soft brush roll, this is able to pull in larger particles that are present on your floors.
Design Features
Probably the most convenient feature of this entire design is its ability to transform into a handheld vacuum cleaner.
Battery Life
There is no reason to sugarcoat this; the battery life is not very good. On the plus side, this is an interchangeable battery system (though it appears only one battery comes with your purchase).
Ease of Use
The MultiFlex technology that is utilized here is arguably the best feature. This literally allows you to bend the wand and makes it much easier to reach harder areas (such as under furniture).
Style
As previously mentioned, this can be converted into a handheld model. What is also nice is a number of accessories (including an upholstery tool and a dusting brush) come with your purchase.
Overall
Shark is a well-trusted brand but here is the thing; you either need to be fast when operating this or have great patience with it. Indeed, poor battery life hurts the overall value a bit.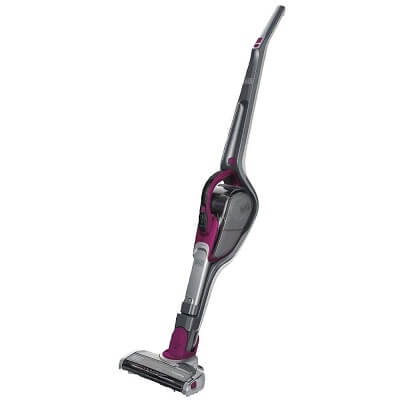 This next model is a lot like various other cordless stick vacuums, quite frankly. It can effectively perform deep cleaning but the battery life is limited while it does so.
Read more
Performance
The main component that allows this model to perform well is the powered beater bar. This agitates the dust and debris on the ground for deep cleaning.
Design Features
In addition to the on-board extension tool that allows you to access tighter areas, this is also outfitted with sensing technology so you know the battery level at all times.
Battery Life
One user reported that they were able to achieve around an hour of battery life at full capacity. Do note, though, that others have claimed lower durations.
Ease of Use
Right here is where the money is at. First off, this is equipped with swivel steering which makes the overall maneuverability improved. Secondly, with auto adjustment, this will intelligently detect the type of floor it is vacuuming.
Style
As mentioned in the product description, this is a two-in-one design. It acts as a normal stick vacuum and also as an extender.
Overall
Really, this is a terrific option that is well-built. It has some standout features and, overall, is a very compelling option for just about anyone.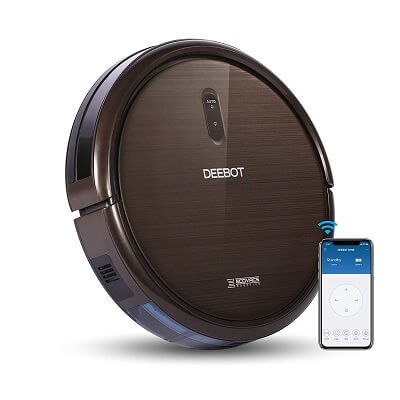 If you are looking for a solution to clean your hardwood or tiled floors, look no further. Now, the Deebot N79S is not ideal for thick carpets so be aware of that.
Read more
Performance
The air filtration system is a plus and this performs adequately. It lacks internal mapping capabilities, however, and tends to miss many spots while cleaning.
Design Features
All sorts of features are integrated into this model such as three specialized cleaning modes that all offer convenient and unique operation.
Battery Life
Up to two hours of battery life can be achieved on a full charge. And, like most devices of its kind, it will return to home base when it needs re-juiced.
Ease of Use
Falling is not going to be an issue with this device thanks to the built-in sensor technology. In addition, you can utilize the ECOVACS app for scheduled sessions.
Style
To best sum the "style" of this model up, it is autonomous but it is not effective enough to replace your current home vacuum.
Overall
What this excels at is cleaning smaller areas of your home. So, for a bedroom (granted it does not have thick carpets), as an example, this will be great.

Subscribe to our Newsletter