Best Air Purifiers
In a Hurry? Editors choice: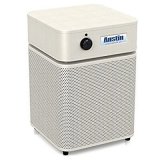 Test Winner: Healthmate HM-400

Some of the best air purifiers have many benefits. Have you ever stopped and considered what kinds of particles and bacteria you are breathing inside your own home? The thought can be quite horrific, to be very honest. As you clearly can't see them as they are invisible to the naked eye, you may need to look into a remedy to not only live in a cleaner home but also potentially enhance your health. This so-called "remedy" is an air purifier.
But, what makes them so great? Speaking for the ten that made their way on this list, they have impeccable efficiency rates and nine times out of ten, a HEPA
filter
integrated. Most also are designed with multiple step filtering processes to eliminate nearly 100 percent of all allergens and particles. Simply put, they are worth the money.
Standout Picks
Criteria Used for Evaluation
Features
It is actually quite surprising how many features are included on a typical air purifier, to be very honest. At their core, they are a unit designed to purify the air but they are so much more than that. For instance, several of them implement smart technology to take some of the guesswork out of play. As an example, some products will integrate an air quality sensor that will display the current air quality of your room in real-time. On top of this, some will take it to the next level and adjust the fan speed accordingly.
Speaking of adjusting the fan, it is important to note that cleansers will be designed with multiple speed settings and modes. Most will feature standard speed settings from low to high, but other models will have modes for turbo or "auto" additionally. Another feature that may interest you is if you can program it to run for a certain amount of time. Lest ye forget, also, a handful of purifiers may also sport Wi-Fi technology. This can be convenient when you need to operate the cleanser from a different location.
Effectiveness
Purifiers are going to live and die by their performance for a majority of consumers. They are all designed, in some shape or form, to clean the air and provide a healthier environment. Yet, some do so more efficiently than others. For instance, some purifiers will perform a multiple-step filtration process. Say a space cleanser had a carbon filter, HEPA filter, and UV light. Firstly, the air would enter through the unit and activate the first filter. Then, once the first filter has done its job, the air would enter in the second filter and then the UV light.
Most of the time, the key to determining the performance is to assess the filters. Firstly, you always want to look for a HEPA filter as this is used to rid the air of all allergens and particles. Well, almost all of them. If it is a true HEPA filter, it will have a 99.97 percent efficiency while a HEPA-grade filter will only have a 99 percent efficiency. Additionally, look for other filters such as a carbon filter or charcoal filter. These can eliminate certain odors, VOCs and smoke.
Capacity
Before you even begin searching for a purifier, there are two important questions you need to ask yourself. Firstly, how many rooms do you want to use a cleanser in? Secondly, how big are said rooms? Why are these questions so important to you? It is quite simple, actually. It boils down to the fact that air purifiers are rated to cover a certain amount of square footage. If you have wanted to use a purifier in your living room that is over 500 square feet, a model rated to handle 200 to 300 square feet is not going to cut it.
Overall, if you need to cover a large amount of space then your options are a bit more limited. Remember, large purifiers will still work for smaller rooms but not the other way around. Be sure to know the square footage of your intended rooms before you begin. In terms of the size itself, this goes hand-in-hand with the square footage. Generally speaking, the more compact and portable models will not be ideal for larger rooms.
Adjustability
It would be nice if the base price was all you needed to worry about when buying a product of this type. However, because they all use filters you are eventually going to need to replace them. But, from one unit to the next the filters can last a variable amount of time. In fact, some units are designed with filters that can last a few years; while others will need to be replaced every three to six months. Overall, this timeframe is going to depend on how much you use the machine and how hard you work it. As such, when you need to change the filters can vary.
This makes it ideal when designers integrate an indicator light on their unit that alerts you when it is time to change the filter. This way, you know exactly when it is time.
Top 10 Air Purifiers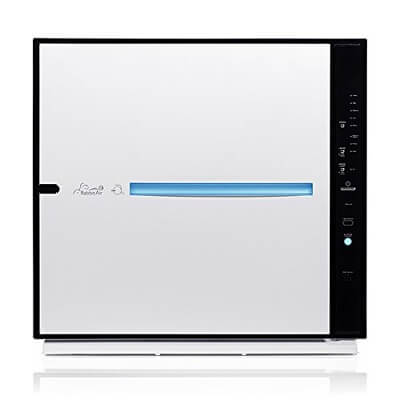 Not only is the best product on the market overloading with convenient features, but it can also either act as a standalone unit or be mounted on a wall. Factor in its 815 square footage and you are complete with a product to beat them all.
Read more
Efficiency
The BioGS HEPA filter is designed to trap allergens and particles 0.3 microns in size and does so at an impressive rate of 99.97 percent. In addition, it produces little to no emissions and was certified by the California Air Research Board.
Functionality
To indicate the current pollution level of the area the machine is currently in, the lighted bar will change colors in real-time. Additionally, there are five different speed settings and a light sensor that will transition the unit to sleep mode when it is in a dark room.
Size and Coverage
As this can cover areas of up to 815 in square feet, it makes it ideal for small, medium, or large-sized rooms. It may be a bit excessive for really small rooms, but the point remains.
Noise Factor
At its lowest speed, it is almost as if this is on mute. Clearly, with each succeeding speed, the noise will increase but none have been too much of an issue for most users.
Maintenance
Even though this is quite an expensive model, its long-lasting filter system saves some money in the long run. The filters need to be changed roughly every one or two years and the pre-filter can be cleaned.
Overall
This is one of the most diverse units in the world today, end of the story. When you top that with its utterly impressive performance, it becomes clear that this is more than worth the hefty price.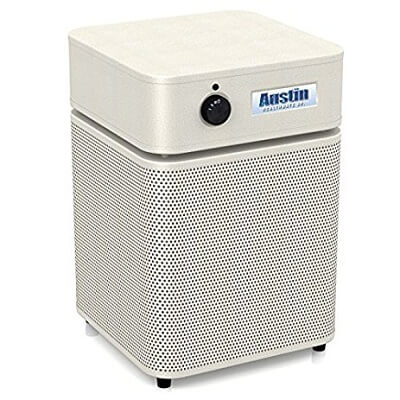 Despite claims that this next product is quite loud in operation, it also features a medical-grade filter. Because of this, nearly 100 percent of all pollutants will be eliminated; truly making the HM-400 one of the most efficient on the planet.
Read more
Efficiency
Indeed, the medical-grade filter is the highlight of the night. Amazingly enough, this will remove pollutants and particles of 0.1 microns in size and not too many cleansers can make that claim.
Functionality
Featured on this impressive unit are three different operating speeds, a 24-hour day operation feature and also a 360-degree intake to increase the overall effectiveness.
Size and Coverage
Let's just say this; this product is a beast. Due to its advanced filtration process and design, it can remove common pollutants and particles in spaces up to 1500 square feet.
Noise Factor
Perhaps the biggest caveat to this unit is its rather noisy operation. As some users have claimed, it is not the quietest machine out there and may not be suitable for nighttime use for some people.
Maintenance
The included filters on the Healthmate HM-400 are rated to last around five years. When they need to be replaced, you will need to invest in more from the manufacturer (and they are not cheap).
Overall
If you are simply looking for the most efficient cleanser on the market, this could be the one. The noise is a little disappointing and the replacement filters are not cheap; but, few can compete with its effectiveness.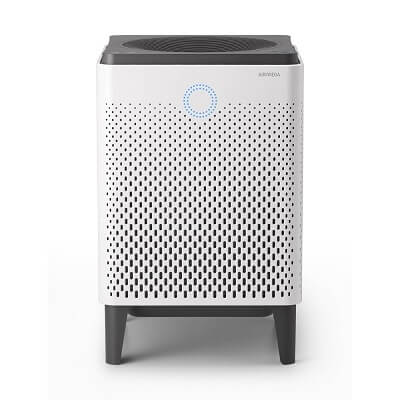 It is important to note that this is not the Airmega 300S, which features Wi-Fi technology, and instead just the 300 models. While it does not have Wi-Fi functionality, it does sport a plethora of design features that make it one of the smartest cleansers available.
Read more
Efficiency
The elegant combination of the HEPA filter, which removes 99.97 percent of allergens, and the activated carbon, which eliminates 99 percent of odors and VOCs, create a highly efficient core.
Functionality
There is an integrated smart mode that will automatically adjust the speed based on the current air quality of the room. Plus, with the real-time air quality sensor, you will know the current air quality at all times.
Size and Coverage
Seeking a purifier for an enormous room? If so, this may be the ticket as it covers up to 1256 square feet. If that is still not enough, the Airmega 400 increases that to 1560.
Noise Factor
Among the design modes on this unit is a sleep mode. When the light sensors on this unit detect darkness, it will adjust the fan speed to operate much quieter for your convenience.
Maintenance
When the time comes to change the current filters, an indicator light on this unit will inform you of such. As far as how long they will last, Airmega gauges the lifespan based on usage.
Overall
It is quite amazing what modern technology can create. Sure, the Airmega 300 is a highly-efficient unit capable of thoroughly cleaning the air. Yet, its smart technology and tremendous features steal the show.



Probably the single most acclaimed and popular products available is this one from GermGuardian (a simple trip to Amazon will prove that). It is one of the most portable versions out there but thanks to its HEPA filter, it also excels in performance.
Read more
Efficiency
Both the charcoal filter and HEPA filter work together to remove common odors from smoking and cooking and 99.97 percent of dust and allergens, respectively. Plus, this unit is certified by Intertek.
Functionality
Designed into this unit is a UV-C control and this can destroy harmful micro-organisms floating around. Additionally, there are three-speed controls and a filter change indicator.
Size and Coverage
Unlike other products on this list, this is actually a speed tower; thus, making it a highly compact and portable machine. It is best used for medium-sized rooms, though, as it is not efficient enough to handle larger scales.
Noise Factor
About the only time users seemed to even notice the noise outputted from this tower was on its highest setting. As the seller points out, though, during initial setup you may notice a mechanical noise but that should subside.
Maintenance
Overall, it is very simple to remove and replace the filters on this machine. According to the manufacturer, you can expect them to last anywhere from six to eight months (depending on usage).
Overall
If pure power and square-foot coverage are not your priorities and you would rather go with a compact and portable unit, this is ideal. It is still highly capable of a high performance; so, do not be confused about that.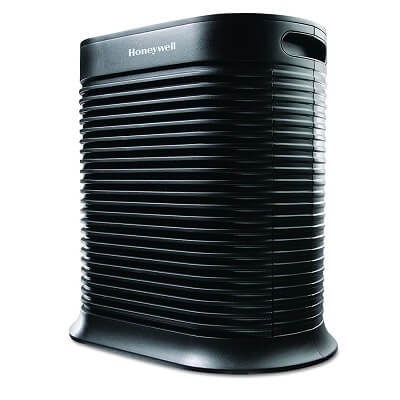 We transition from one of the most popular models available to one of the leading manufacturers in the world of space cleansers. Honeywell is a world-renowned brand name and given the efficiency and functionality of their HPA300, it is easy to see why.
Read more
Efficiency
Honeywell designed its HPA300 with an activated carbon pre-filter that will capture gases, odors and VOCs floating around. After this process, the HEPA filter kicks in and begins to remove 99.97 percent of all particles as small as 0.3 microns.
Functionality
Besides the fact that there are four different programmable cleaning levels available, there is also an automatic shut-off timer from two, four, and eight hours.
Size and Coverage
While managing to not take up an excessive amount of space, the HPA300 is still able to adequately clean the air in rooms for up to 465 square feet.
Noise Factor
On the lower performance settings, the noise seems to be more than tolerable. Yet, some consumers have claimed the contrary to some of the higher settings.
Maintenance
A light indicator will come on when you need to replace the filters and they are very easy to replace when the time comes. Expect the HEPA filter to last around a year and the pre-filter only three months.
Overall
What a truly great combination of power and size this is. Some users may not be applauding how frequently the filters need to be changed but the performance benefits of this specific unit are worth it.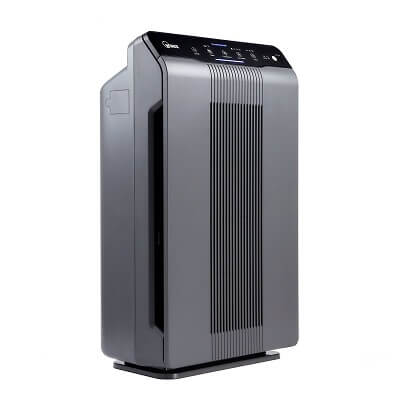 With four-speed settings on the 5300-2 from Winix, you are truly in control of how hard you want your machine to operate. Despite some claims that the filter needs replaced frequently, overall, this is a fantastic machine.
Read more
Efficiency
Utilizing a three-step cleaning process, Winix is able to achieve optimal results with their 5300-2 design. This is highlighted by the true HEPA filter.
Functionality
You can manually set the speed of this unit thanks to the four different settings. On top of this, the integrated Auto mode adjusts the fan speed accordingly and the smart sensor gauges the air quality.
Size and Coverage
This is rated to handle square footages of 360. While it may not be able to handle extremely large rooms, it should do quite well for medium-sized and slightly larger rooms.
Noise Factor
Another design mode integrated into this machine is a sleep mode. This enabled a small amount of noise for a suitable night-time environment.
Maintenance
On the control panel, an LED indicator light will be displayed when you need to change the filter/filters and will not disappear until you have done so. Typically, the HEPA filter will last a year and the carbon pre-filter six months.
Overall
Users seeking an ideal mid-sized purifier will appreciate what this one has to offer. Some small caveats persist but all things considered, there are enough features to satisfy most and the efficiency is above-average.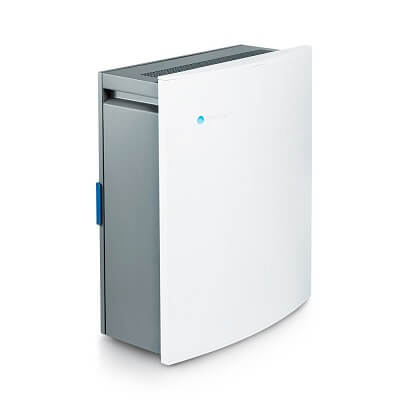 It would only be fitting that at least one cleanser would sport Wi-Fi technology on this list. After all, the world we live in is dominated by multi-functional devices. Because of this, you can control this machine in conjunction with the Blueair Friend app.
Read more
Efficiency
Much like the endless amount of elite products in the world, the Blueair Classic 205 sports a HEPA filter that promises to capture up to 99.97 percent of airborne particles.
Functionality
Not only can this be operated via the Blueair Friend app, but it is also compatible with Amazon Alexa for even further convenience. Past this, there are three different fan speeds.
Size and Coverage
As this is rated to handle areas up to 279 square feet, it is not the best option for larger rooms and should be demoted for only small and medium-sized rooms.
Noise Factor
The claim is that this unit is whisper quiet in operation as it requires less air pressure than other models. Yet, various feedback has contradicted this statement a bit as some feel it is too noisy.
Maintenance
Replacing the filter when it is necessary is about as easy as it gets with this machine. Simply remove the HEPA filter from inside and slide in a new one in its place.
Overall
Look, some people will not see the need for a cleanser with built-in Wi-Fi functionality. That is a fair assessment but truth be told, it is quite convenient to control this from an application or Alexa.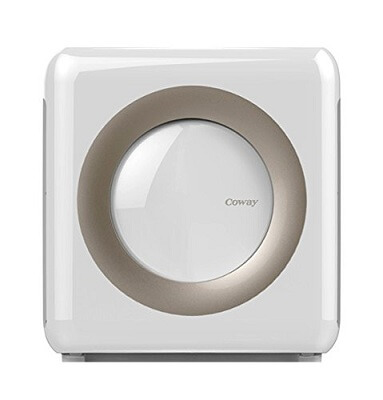 This is another purifier that has been raved by fans and users. Its extremely compact design is convenient for those looking for a portable purifier and its performance is solid enough to deliver clean air to your home.
Read more
Efficiency
Despite the fact that Coway implemented a HEPA filter with a 99.97 efficiency rate and a four-step filtration process, some testers have claimed that the performance of this purifier is merely average.
Functionality
The true sensation with this design lies within its particle sensing technology. Because of this, the unit detects the current air quality of the room and adjusts accordingly. In addition, when it detects clean air after 30 minutes it will shut off.
Size and Coverage
Even though this is one of the most compact units on the market, it still delivers an impressive amount of coverage. It will lose its effectiveness in larger spaces; but, it can handle up to 360 square feet.
Noise Factor
For the most part, it seems that the noise is not a concern for Coway no matter which speed level it is on.
Maintenance
What is nice about the ideology that went into this design process is the pre-filter is washable. As such, replacing the filters does not need to be done as frequently.
Overall
It is a little bittersweet that the performance does not stack up to the higher-end models as its combination of size and functionality is superb. Still, it has been well-received by the vast majority of consumers.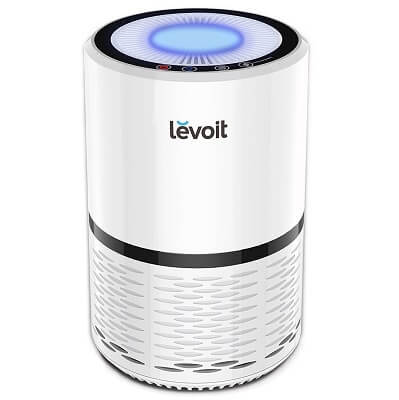 Speaking of small and compact purifiers, enter in Levoit's LV-H132 model. While it actually does not feature UV lamps or ionizers (which are both good and bad), it is designed with a three-stage filtration system and a true HEPA filter.
Read more
Efficiency
Once again, a true HEPA filter has been incorporated and because of this, it is able to remove 99.97 percent of pollutants no smaller than 0.3 microns in size.
Functionality
Modern technology junkies will adore the touchscreen operation of this model. But, at the same time, its intuitive interface makes it simple for technology novices to operate it.
Size and Coverage
One user claimed that the included box advertised this unit is capable of cleaning up to 86 square feet. Now, that is quite minuscule compared to other models making it suitable for small rooms.
Noise Factor
Throughout the night and in the middle of the day, the operation is quite quiet. This is perhaps because of its small stature and limited range.
Maintenance
Removing and replacing the existing filters is a fairly straightforward process. While the included filters are not reusable, they are rated to last up to six months on average.
Overall
Of all the portable units on this list, this may be the most portable among them. While it is limited in some respects, modern design and modern appeal are very eloquent.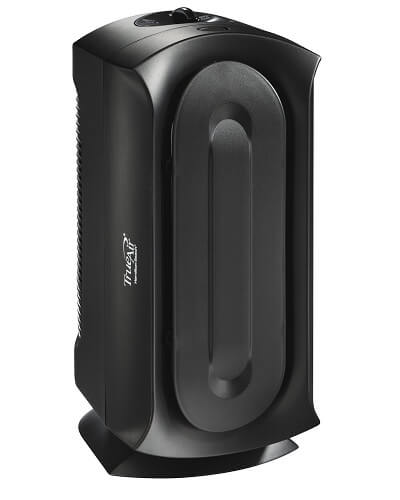 At the end of the day, there is a lot to like about Hamilton Beach as it is quiet in operation and integrates a high-performance filter. Yet, speaking of performance, this is the one area some testers have questioned which ultimately holds this back a bit.
Read more
Efficiency
Notwithstanding that Hamilton Beach designed its True PlasmaWave with a HEPA-grade filter; some testers were not overly impressed with its cleaning performance.
Functionality
At your disposal are three different speed settings and depending on how low the air quality is, you can adjust to it accordingly with low, medium, and high speeds.
Size and Coverage
One rather convenient feature is this is designed to be either operated horizontally or vertically, making it highly versatile. In terms of its coverage, it is rated for rooms up to 160 square feet.
Noise Factor
Both the fan and the motor are efficiently designed to operate at low frequencies.
Maintenance
Per the recommendations of Hamilton Beach, you should plan to vacuum the permanent filter once every three to six months. Once again, this is an easy process so do not get hung up on that.
Overall
All in all, this is a very versatile unit that can be easily traveled from room to room and stood in different orientations. Ultimately, however, it can't ascend any higher because of its limited performance.

Subscribe to our Newsletter