Best Camping Accessories
In a
Hurry? Editors choice: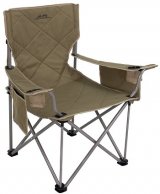 Test Winner: Alps Kind Kong Chair

Camping
has always been a great pastime for families and friends of all ages, and not only provides us with beautiful memories but also gives us a taste of what our ancestors went through when first coming to this land. Now when it comes to camping there are so many activities to do such as creating
campfires
, swimming, fishing,
hiking
, and overall relaxation, and even though these sound like simple activities they are some of the best things to do with your family and friends that you can while in the wilderness. But before you can get to those fun activities and relaxing a lot of prep
work
goes into making sure you have all the accessories you need to ensure that you have the best time you can and that is why making sure you have camping accessories is a necessity.
Standout Picks
Criteria Used for Evaluation
Use
The reasoning to why you came to this list could be different from someone else. Perhaps, you were looking to get a vague idea of the types of accessories that you need when you are camping. Or, you could have been seeking out specific accessories that you do not currently have. Either way, the types of accessories you need will all depend on you. There are a few items that everyone should have, such as a first aid kit and a flashlight, but you may already have high-quality versions of them. Then, there are other types of items that you may or may not need depending on what you already have or prefer.
For example, if you own a camper large enough for your party, a tent is not going to be high on your priority list. The same goes for a grill because if you prefer cooking over the open fire, you may not see the need to invest in one. In short, not every single person in the world is going to need the accessories that were documented for you. But, this still provides a strong indication of what you should be looking for.
Weather Resistance
Some people will book their camping reservations months before they actually camp. On the flipside, others will simply hop in their vehicles and "wing it" and hope they find a campsite with vacancies. The latter method is nice because you can properly plan for the weather. If it is going to be storming all weekend, you can simply opt for a different weekend. But, if you plan ahead, you may have no control over the weather. Either way, camping involves being outdoors and you must plan for the worst.
There are simple devices, such as GPS units and flashlights, where water-resistance is more of a bonus than a necessity. They could still suffice without water protection but with it, they become much more useful during emergencies. But, then there are accessories such as tents which absolutely require weather protection. No one wants to sleep in a tent that allows rain inside, clearly.
Accessories
Once you have actually established the types of accessories that you need, you need to analyze them based on their physical design. As important camping items can range from chairs to first aid kits, this is not going to be the same for each item. However, the best way to assess the design is to ask yourself this question. Is the accessory good at performing what it is supposed to? For instance, does the sleeping bag actually keep you warm at night and provide comfort to you? Or, does the GPS unit you have sport advanced technology so it can easily lock on to satellites in the sky no matter the tree coverage?
Once that has been assessed, you can then focus in on the durability and construction. No matter what type of product you are discussing, these two variables always come into play. Given the nature of camping, it is ideal for your accessories to be rugged enough to handle mild abuse from time to time. For instance, staying intact if you accidentally drop it or not ripping when it gets tugged on a branch would be nice.
Portability
This is completely paramount and it does not matter which accessory you are alluding to. Unless you are going camping in your backyard, which really contradicts the entire point of it, you will need to haul all of your belongings and equipment to your destination. Because of this, portability is key. No one wants to haul around extremely heavy and awkward equipment. Keeping the weight to a minimum is a huge part of it. But, factors such as the overall size, if it comes with a convenient storage bag, and how easy it is to carry also come into play.
Even if something weighs a lot, having a convenient means of traveling with it is important. For example, for a grill, this could be an integrated handle and also rugged wheels. Of course, a majority of your accessories should be able to fit inside a carrying bag. It is ideal when manufacturers supply them for you; that way, you know they will be the correct size. This becomes important for tents, sleeping bags, air mattresses, chairs, etc.
Subscribe to our Newsletter