Best Camping Windbreak
In a
Hurry? Editors choice: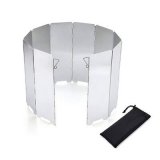 Test Winner: Spotact Aluminium

One of the more unpredictable and unstoppable forces of nature is the
wind
. When it starts to howl, it can start to cause some serious damage. While the camping windbreak types that will be presented today may not hold up to excessive winds, they can at least do a lot to prevent light to mild winds from being a factor. Essentially, these types of products are merely pieces of fabric that are used as windbreakers. Besides blocking the wind, however, they can also be ideal for keeping stray
dogs
and kids from wandering into your campsite. For
campers
, they can be quite the useful
tool
that is for sure.
Standout Picks
Criteria Used for Evaluation
Size
Without a doubt, the two most important measurements for a camping windbreak are its width and its height. In regard to thickness, this is important too but it goes back to addressing the design of the fabric itself. Anyway, the reason the height and the length are so vital is not everyone is going to be looking for the same size. For instance, if you mostly desire a model for privacy, you may need one that is taller than say two to three feet. On the contrary, you may want to be able to stand up and see over the material.
Along the same line, the same can be said about the length. If you need to cover a wider area, you will need a unit that can cover the space you need. As stupidly obvious as it sounds, you can't overlook the small details. Make no mistake about it; getting the correct size is one of your biggest priorities.
Portability
For this type of product, portability is essential. After all, the title has camping in it which implies going to a location to relax. Thus, this means you will have to pack all your stuff compactly. The same goes for windbreaks and because of this, you need to take transportation into consideration. However, here is the enlightening news, manufacturers are aware of this and make it very easy for their consumers. First off, the fabric and poles will be designed with weight in mind to limit the stress of carrying them. But, they do so without compromising the durability (for the most part).
Past this, though, you should also look into models that come with their own carrying bag. Even if you currently own an adequate one, owning one that is specially designed for the product will probably be more optimal in the long run. Remember, when camping, you want to save all the space you possibly can.
Stability
In regard to the actual design of this product, the structural stability (which would be the pole design) is either second or first in importance. No matter, once again, a lot of your decision making comes down to the winds you need to model to stand up against. So, if you are looking for the most structurally sound unit out there, you may want to go with more poles. Some models will come equipped with upward of six (sometimes even ten) poles. As you will learn in a minute, this will also increase the overall size which can either be a good or bad thing.
In addition to the number of poles you decide, the construction of them is also important. For example, you may see fiberglass, wood, or steel poles. While the latter two are mostly ideal for truly stable units, fiberglass can be nice as it is a flexible material. Either way, you go, it is recommended to research some customer feedback to see what others are saying about the stability.
Durability
At this point, you should have a pretty clear understanding of how these bad boys are designed. So, it should not be much of a surprise to see this section start off with the fabric of the windbreak. This is the essential component that is used to actually block the wind and is as important as walls are to a tent. However, this is also where it can become mandatory to invest in a more expensive model. For the most part, you get what you pay for and a cheap model will probably not hold up well to heavy winds.
In regard to how you can assess a fabric's strength, the best way is with the denier or the thread count. Both are very similar and are good measures of a fabric's durability and strength. The denier, which is shortened to D, is a measure of thickness and the higher the better. But, you need to remember that the actual material matters, as well. For example, 420D nylon will still be stronger than 500D polyester as nylon is stronger than polyester. As for thread count, it refers to threads in a square inch and is very similar.
Subscribe to our Newsletter