Best Camping Windbreak
In a Hurry? Editors choice: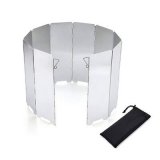 Test Winner: Spotact Aluminium

One of the more unpredictable and unstoppable forces of nature is the
wind
. When it starts to howl, it can start to cause some serious damage. While the camping windbreak types that will be presented today may not hold up to excessive winds, they can at least do a lot to prevent light to mild winds from being a factor. Essentially, these types of products are merely pieces of fabric that are used as windbreakers. Besides blocking the wind, however, they can also be ideal for keeping stray
dogs
and kids from wandering into your campsite. For
campers
, they can be quite the useful
tool
that is for sure.
Standout Picks
Criteria Used for Evaluation
Size
Without a doubt, the two most important measurements for a camping windbreak are its width and its height. In regard to thickness, this is important too but it goes back to addressing the design of the fabric itself. Anyway, the reason the height and the length are so vital is not everyone is going to be looking for the same size. For instance, if you mostly desire a model for privacy, you may need one that is taller than say two to three feet. On the contrary, you may want to be able to stand up and see over the material.
Along the same line, the same can be said about the length. If you need to cover a wider area, you will need a unit that can cover the space you need. As stupidly obvious as it sounds, you can't overlook the small details. Make no mistake about it; getting the correct size is one of your biggest priorities.
Portability
For this type of product, portability is essential. After all, the title has camping in it which implies going to a location to relax. Thus, this means you will have to pack all your stuff compactly. The same goes for windbreaks and because of this, you need to take transportation into consideration. However, here is the enlightening news, manufacturers are aware of this and make it very easy for their consumers. First off, the fabric and poles will be designed with weight in mind to limit the stress of carrying them. But, they do so without compromising the durability (for the most part).
Past this, though, you should also look into models that come with their own carrying bag. Even if you currently own an adequate one, owning one that is specially designed for the product will probably be more optimal in the long run. Remember, when camping, you want to save all the space you possibly can.
Stability
In regard to the actual design of this product, the structural stability (which would be the pole design) is either second or first in importance. No matter, once again, a lot of your decision making comes down to the winds you need to model to stand up against. So, if you are looking for the most structurally sound unit out there, you may want to go with more poles. Some models will come equipped with upward of six (sometimes even ten) poles. As you will learn in a minute, this will also increase the overall size which can either be a good or bad thing.
In addition to the number of poles you decide, the construction of them is also important. For example, you may see fiberglass, wood, or steel poles. While the latter two are mostly ideal for truly stable units, fiberglass can be nice as it is a flexible material. Either way, you go, it is recommended to research some customer feedback to see what others are saying about the stability.
Durability
At this point, you should have a pretty clear understanding of how these bad boys are designed. So, it should not be much of a surprise to see this section start off with the fabric of the windbreak. This is the essential component that is used to actually block the wind and is as important as walls are to a tent. However, this is also where it can become mandatory to invest in a more expensive model. For the most part, you get what you pay for and a cheap model will probably not hold up well to heavy winds.
In regard to how you can assess a fabric's strength, the best way is with the denier or the thread count. Both are very similar and are good measures of a fabric's durability and strength. The denier, which is shortened to D, is a measure of thickness and the higher the better. But, you need to remember that the actual material matters, as well. For example, 420D nylon will still be stronger than 500D polyester as nylon is stronger than polyester. As for thread count, it refers to threads in a square inch and is very similar.
Top 10 Picks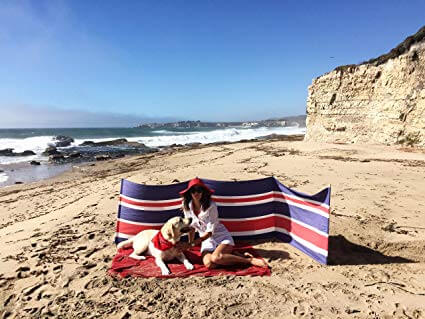 If you are willing to spend a little extra money, while still not breaking the bank, you need to consider our top pick. While other models will be flimsy and prone to abrasions, this is not.
Read more
Physical Design
The main screen is made up of 100 percent cotton yarn. But, it has been dyed and woven in India and is double-sided for even more durability and strength.
Stability
Besides the durable fabric, the sticks (that are designed from Birchwood) are also not flimsy as compared to other products.
Overall Size
This measures 30 inches by 120 inches. While the 30-inch height is ideal as you can see above it when you stand up, the 120-inch length may not be long enough for some campers.
Portability
Included with your purchase is a carry bag for easy transportation (which is the same color pattern as the screen). Additionally, the product itself will roll compactly inside.
Color and Appeal
To be perfectly honest, this looks like a beach towel. Given it can also be used on the beach, the yellow, orange, and blue color pattern fits very well.
Overall
What good is a camping windbreak that does not stand up to the wind? It is practically counterproductive and thanks to the stability of this design, that is not a concern.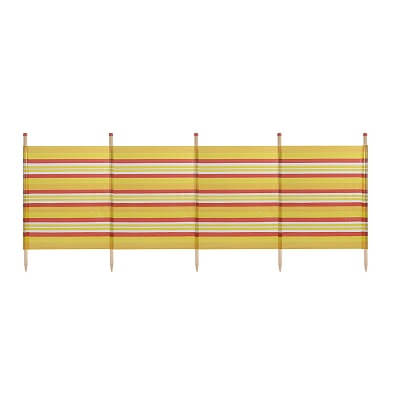 Whenever you are in the market for outdoor equipment like this and you stumble upon Mountain Warehouse, you know, at the very least, you are looking at a high-quality item.
Read more
Physical Design
Even though the polyester makeup of this design is plausible, one user did claim that the four-pole model's stitching began to come apart after only one use.
Stability
This specific model is made with five poles, each of which is made of steel. They can be installed into any type of soft ground and offer an ideal amount of stability.
Overall Size
When assembled and unfolded, the material measures around 110 inches wide by around 35 inches tall. For most users, this will be more than suitable.
Portability
Thanks to the integration of a carrying handle, this is pretty easy to transport when you have it folded down as far as it will go.
Color and Appeal
Even though the yellow, red, and white design is not going to be for everyone, it is colorful and bright enough to appeal to a wide demographic.
Overall
With the combination of durable polyester and five steel poles, this is one of the better models on this list. In addition, the integrated handle makes transportation a breeze.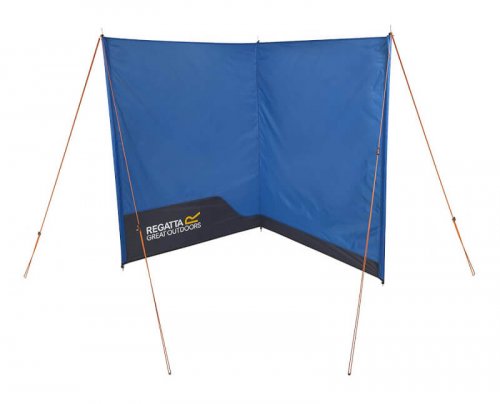 While camping it is good to ensure you are making sure you have ample space and room for your campsite. If you are looking for more privacy to your outdoors and protection from the wind this product the Calima Windbreak is a great product for you.
Read more
Physical Design
The Calima Windbreak is comprised of two walls and is also double-coated with Weathershield Hydrafort fabric. As compared to other models, it will hold up to decent winds.
Overall Size
The size is suitable for a smaller tent or camping area site.
Portability
What is nice is this will pack away into its own storage bag. It is a very light product as well so easy to transport.
Color and Appeal
The color only comes in a blue tone with orange strings to hold it up.
Overall
This is a great product and known for its stability and support. It is supported by four heavy duty steel poles with tent connection clips for a secure fit.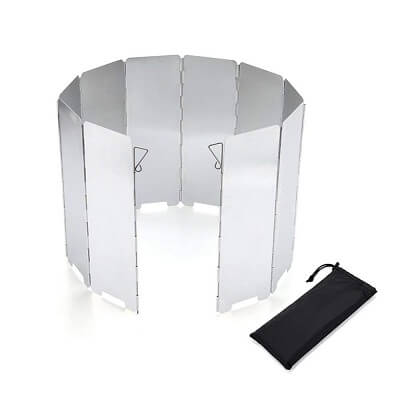 Now we turn to a bit of a different design. Sometimes, when you are performing simple tasks like cooking the wind can be a nuisance. This aluminum windbreak solves this issue.
Read more
Physical Design
Unlike the other models on this list, this is made primarily of aluminum. The aluminum panels are also resistant to abrasions and have high resilience to heat.
Stability
Mechanisms are integrated into this windbreak that provides stabilization. All in all, the aluminum panels are able to hold up well as long as they are stable on even terrain.
Overall Size
As can be seen from the photos, this is only suitable to block wind from small appliances such as a portable pan attached to a propane tank.
Portability
Due to the fact that the aluminum panels can easily be folded down, they can then easily be stowed away in the accompanying carrying sack.
Color and Appeal
For this model, in particular, the appeal is not really going to matter. Given the fact that this is made out of aluminum, it looks like a polished silver of sorts.
Overall
This is not a traditional design by any stretch of the imagination. Instead, it is a compact unit that is going to be suitable for smaller tasks to block the wind.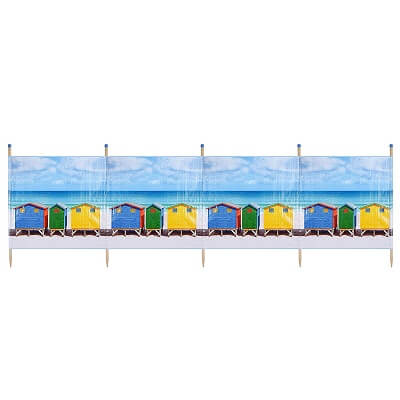 This is the second model on this list that is foreign and may or may not ship to your country. But for the buyers who have had the privilege of owning this one, they have been satisfied.
Read more
Physical Design
On top of the fact that the abstract material that is used in this model is durable, it can be bent and shaped to make an ideal barrier against the wind.
Stability
First off, there are five poles that are used in this design to provide structural stability. Secondly, they are made of sturdy and reliable wood which provide even more stability.
Overall Size
Overall, this is a 120-centimeter by 392-centimeter sheet. As a few buyers have brought to other buyers attention, though, this is not the tallest of windbreaks.
Portability
Due to the fact that this will fold compactly down, you can stow it away in virtually any carrying bag you own or bring on your camping trip.
Color and Appeal
This is far from a basic design; let's just say that. With the lake view backdrop and the multiple-colored cabins, this is a colorful piece of art.
Overall
Even though there may be some of you out there that will not be able to enjoy this specific model, if it sells in your country, its wood-pole construction and artful design make for a great option.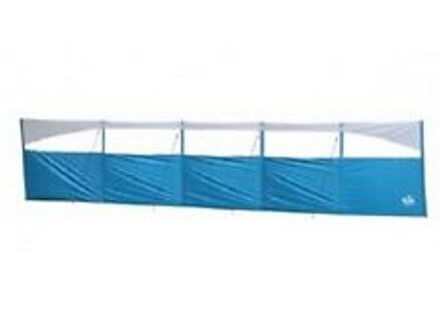 This is not the first model on this list that can be difficult to get your hands on but quite honestly, it may just be the hardest. Its distribution issues can play a role in your decision, unfortunately.
Read more
Physical Design
One buyer did report that the first time they disassembled this windbreak, one pole broke. Other than that, though, there are five panels and an integrated clear window.
Stability
The Royal Leisure is designed with six poles and this adds an ideal amount of stability. Even more so is the fact that there are metal spikes at the end that are inserted into the ground.
Overall Size
This is listed at a width of 750 centimeters and if you do the math, it works out to just less than 25 feet. If you are looking for a large option, look no further.
Portability
Due to the fact that this can actually break up into three sections, it can be stuffed into its own storage sack (which does come included with your purchase).
Color and Appeal
You can look at the appeal one of two ways. On one hand, the classic and mundane blue and white pattern will blend in well. Yet, on the other hand, it may be too bland for some.
Overall
Probably the first stand-out feature you will notice here is the immense size. At just under 25-foot wide, this is going to be suitable for consumers looking for bigger, period.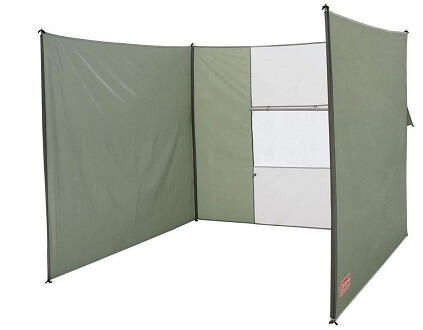 One really nice benefit to this next design is that it encompasses you. In other words, it is going to block wind from three directions and this is ideal. Yet, some quality control issues are at play.
Read more
Physical Design
As many buyers have alluded to, this can actually be a hassle to assemble with a moderate wind. Then again, the integrated fabric is quite nice, albeit a tad flimsy when up against strong winds.
Stability
Coleman designed their model with fiberglass poles and not only do they offer stability, but they are also very flexible.
Overall Size
Standing at around five feet, this is one of the taller units on this list. Oh yeah, and the roughly 15-foot length is also nice and can be engineered into a square.
Portability
Each of the poles is going to collapse and the fabric itself will easily and compactly roll up. All the contents can be stuffed into a rucksack and transported fairly easily.
Color and Appeal
Not too many buyers are going to have an issue with the subtle green and gray color pattern of this model, let's just say that.
Overall
Wind can come at you in all directions so it is nice when you are able to block it from multiple directions. With its unique design and flexible fiberglass construction, this can do just that.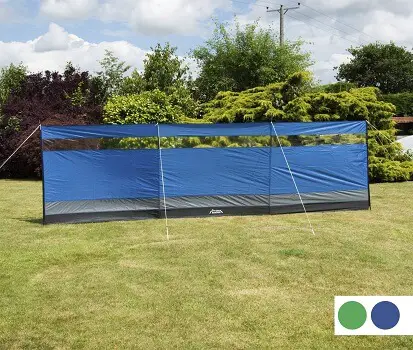 One thing is certain with this model from the Andes; you need to be careful when you are installing it into the ground. When installed, though, the fiberglass poles and 185T polyester will hold up well.
Read more
Physical Design
In addition to providing you with protection against the elements, this also adds privacy. Again, as mentioned, the fabric is that of 185T polyester.
Stability
Clearly, the biggest potential issue that Andes should have improved on is the design of the ends of the poles. Although they are fiberglass, the plastic ends are a bit brittle.
Overall Size
When this is assembled and ready to go, it measures 197 inches wide by 55 inches tall. All things considered, this is one of the larger units on this list.
Portability
Andes has got you covered here as they include their own carrying bag with your purchase that can be used to stow this away.
Color and Appeal
The main design of blue, black and gray is quite appealing and is going to match any existing décor in the campground that is for sure.
Overall
As you can no doubt tell, there is a lot to admire about this design. Looking at the glass half-empty, however, the brittle pole ends can be a red flag.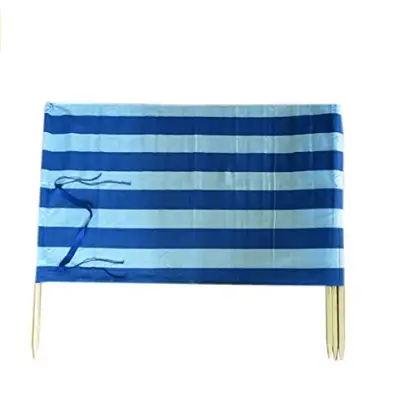 Perhaps a more durable microfiber, or different fabric altogether, could have elevated this windscreen to another level. As it rests, though, it is still quite a compelling design.
Read more
Physical Design
There have been a few reviews that have pointed to the potential issue of longevity, due to the lightweight and somewhat strong microfiber construction.
Stability
The four poles that are used to erect this windbreak are actually attached to the fabric and are made of sturdy pinewood.
Overall Size
At 2.5-foot tall and 13-foot wide, the size of this unit is more than respectable. While the height may not be extensive enough for some users, it is not too shabby.
Portability
Even out of the bag, this windscreen has an attached band that allows you to carry it comfortably. But, that said, a carry bag also comes included with a carrying handle.
Color and Appeal
There are three different art designs that you can choose from. You have the option of blue and navy stripes, yellow and blue stripes, and beach umbrellas.
Overall
For sure, this is one of the more compact units on this entire list. If that works for you, terrific, but if you know you will need something larger, move on from this one.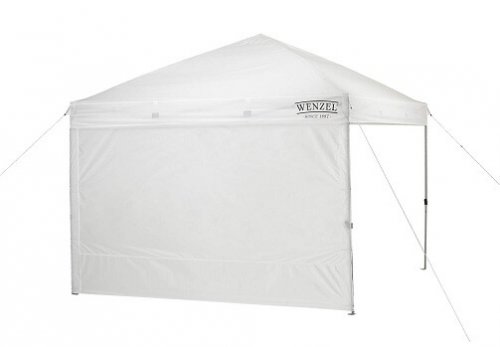 Alright, so this last entry is a bit different. The Wenzel Smartshade is actually intended to be used as an additional shade for the 10-foot Smartshade. So, this is not a standalone unit.
Read more
Physical Design
In addition to the fact that the 210D polyester fabric is heavy-duty, it is also designed with water repellency and is resistant to the UV rays from the sun.
Stability
Again, this is essentially another wall for the Smartshade. But, admittedly, it would have been a little better if it were designed with Velcro strips.
Overall Size
This wall will attach to the 10-foot wall of the Wenzel Smartshade. So, even though this is 10 feet by itself it hooks up to another unit for even more coverage.
Portability
As with most of the other entries on this list, portability is not going to be too much of a concern. Plus, it is only an additional shade, in the first place.
Color and Appeal
Literally, this is a straight white design and is very polished and clean. Of course, keeping it clean can also be a chore due to the fact that it is straight white.
Overall
One could question this as an entry on this list but at the end of the day, it will surely help deter the wind when you are camping. Then again, it is not a standalone model.

Subscribe to our Newsletter