Best Dog Cameras
In a Hurry? Editors choice: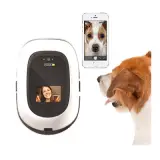 Test Winner: PETCHATZ HD

Wouldn't it be nice if your dog would listen to you all the time and never destroy precious furniture, electronic devices, and other such items when you leave them home alone? Well, snap out of this fantasy world as all canine owners understand that it does not work that way. The reality is,
your furry friend
only lashes out because they miss you. And, while it is not always feasible to take them with you wherever you go, why not settle for a camera that monitors them? Oh, and what about this same device being able to provide two-way audio so you can physically talk to your dog from hundreds of miles away? It just happens that such a device exists on the market but narrowing down the selection may be tougher than you think. With the help of this guide, you will find the best dog cameras available.
Standout Picks
Criteria Used for Evaluation
Features
The model you get needs to sport the features you want, right?
There can be several reasons why you want to buy one of these devices but no matter what they are, the model you ultimately end up choosing needs to sports the features you need. As obvious as it sounds, there are quite a few features to discuss so you need to analyze quite a bit of them. For starters, almost all models will, at the very least, sport two-way audio (though not all of them will). With a built-in speaker and microphone, these models will allow you to talk to your pooch and will allow you to hear them, as well. This comes in handy if you need to yell at them, comfort them or just want them to hear your voice. Now, some engineers will take this a step further and allow for two-way video (to allow the dog to actually see you).
Moving on, look for models with built-in sound and motion alerts. Clearly, you will not have the time to watch your pooch all day so systems that alert you when there are noises or motion occurring are ideal. Oh, and you also may want to monitor them at night and to do this, you must buy a model that sports night vision capabilities.
Compatibility
This can change everything as compatibility is a must and it can't be overlooked.
When it comes down to it, your number one priority needs to be finding an option that is compatible with your needs. Do not simply assume that the model you buy will be compatible with your smartphone or home network as they may not be the case. For the latter, these devices will be using the power of Wi-Fi as Bluetooth just is not going to cut it in this case. But, if your home network uses 5.0 gigahertz of frequency then it will not be compatible with models that only support 2.4 gigahertz networks.
Of course, you also need to make sure that the smartphone you are using will work correctly. In order to guarantee this, the operating system of your smartphone must be the requirements set out by the manufacturer. For the record, most options on the market will support both iOS and Android devices but they will only support certain versions of the operating systems from Apple and Google.
Advanced Features
Past the normal features, there are also some advanced ones to keep your eye on.
The basic features were just covered but that was only a half of it, quite frankly. After all, there are several other "advanced" features that you should keep in mind. And, this all starts with the memory storage. Given the fact that you will not be spying on your canine 24/7, dog cameras can store recorded videos and images for you to access and view later. But, the manner in which they are stored is going to differ from design to design. Of course, some models will come equipped with internal flash memory and possibly even an SD card slot. While the internal memory can't be expanded, with the use of an SD memory card, you can store as much data as the card can hold. Oh, and sometimes you will have access to cloud-based services that allow you to store your data on a remote server. Without a subscription, though, typically these services can be limited in what you can do.
Looking past this, it is also nice when the camera itself can be zoomed, tilted, rotated, and panned. With this functionality, you will be able to move the captured image around to view more of the surroundings. Oh, and do not forget about toys and treats. There are designs on the market that will allow you to control a digital laser via the accompanying app and also those that will dispense treats for your pooch.
Effectiveness
This right here is all about the specifications (two of them, specifically).
For this section, let's just focus on some important technical specifications. Some of you may fear the specifications of any given technology product the most as these can be the most confusing to understand. However, that is not so much the case here as there really are just two important ones to keep in mind (and both are straightforward). The first is the resolution that the camera can record in. Though 4K video is a popular technology, it is not really necessary in this case and the maximum video resolution you will typically see is 1080p (which is classified as Full HD). However, even if you buy a dog camera that can only shoot in 720p, this is still classified as high-definition. The difference is the pixels as 1080p has more of them and will, therefore, look crisper and better (for the record, the "p" does not stand for pixels).
The second specification is the viewing angle (measured in degrees). Most models on the market will range anywhere from 115 to 140 degrees and the wider the angle, the more of the room you will be able to see in one shot.
Ease of Use
For both the app and the system, the operation should be user-friendly.
First off, any technology device can be hampered severely if its accompanying app is poorly designed. Many of you are aware of this so it means that you may want to opt for a dog camera that uses an app that is both user-friendly and convenient to use. Do you want to know what the good news is? Because most of the apps that are required to use are both free and accessible at any time, you can actually test them out before you make a decision. This way, you can navigate through the app to see if it meets your standards.
Also, it may be ideal to look for options that are easy to set up and those that do not fail from connectivity and performance issues regularly. Of course, even the best designs out there will act up from time to time so expect that going in.
OUR TOP PICKS FOR THE BEST DOG CAMERAS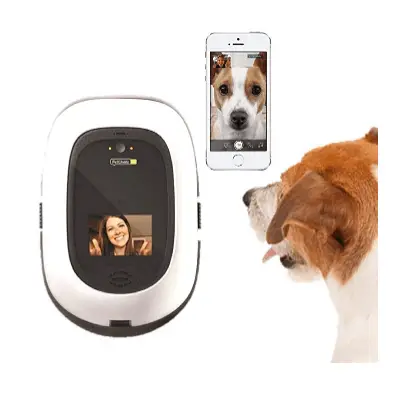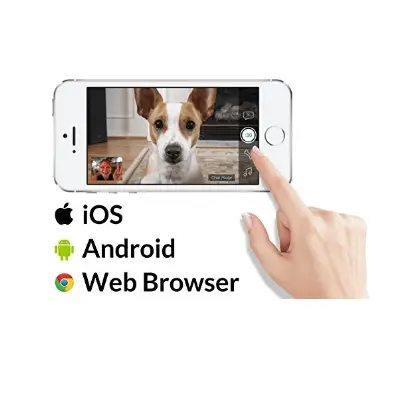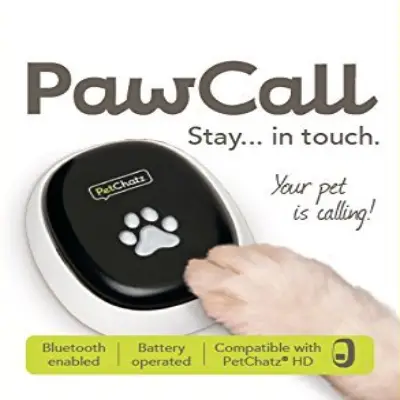 It seems fitting to begin this guide with arguably the most premium choice on the market currently. Though the price is incredibly steep, PetChatz really does provide you with the pinnacle of this technology.
Read more
Design Features
Probably the most noteworthy feature here is the two-way video. Most models have two-way audio but this is one of the rare models that actually support a two-way video. Also, your canine's movements are captured in increments of 30 seconds.
Compatibility
This can work with both Android and iOS devices but it is optimized for smartphones running Android 4.1 or later and those running iOS 9 or later.
Advanced Features
Though this can disperse treats, it can only do so with certain ones. Also, you can schedule interactive brain games to play with your pooch with the optional PawCall accessory. Additionally, a special ringtone will alert your pet that you are calling.
Effectiveness
Really, the speed of your internet is going to dictate the video quality. With broadband internet access, you will be able to enjoy a crystal-clear high-definition video, though.
Ease of Use
Overall, this is not incredibly complicated but random connectivity issues can persist. Dealing with these issues is annoying but the overall experience is fairly easy.
Overall
Ask yourself this; is the two-way video worth it? Truth be told, it is one of the standout features and it could warrant the steeper price tag. If it is meaningless to you, you may think otherwise, though.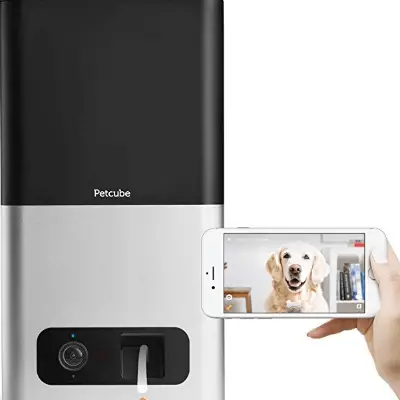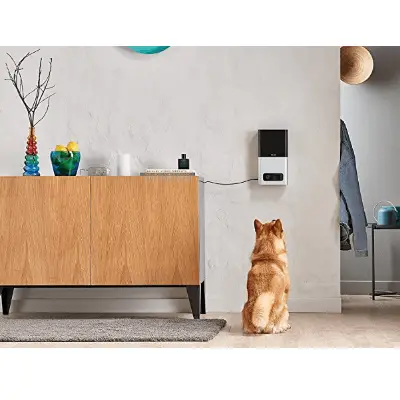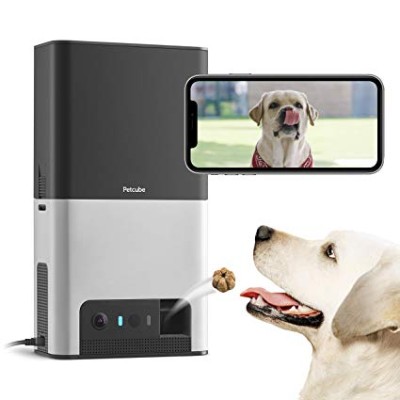 Remember the name Petcube as they are one of the leaders of this technology. With the 1080p Full HD video, wide-angle view, and two-way audio system, there are many reasons to love this model.
Read more
Design Features
In addition to the two-way audio system, this is also going to be triggered by sound and motion notifications and then alert you of such via the app.
Compatibility
For this device, you need to have a 2.4 gigahertz Wi-Fi network and also either a smartphone that is running iOS 9.3 or later or Android 5.1 or later.
Advanced Features
First off, you do have access to free cloud storage but there is a catch. Any video older than four hours will no longer be available on the server. Also, you can schedule automatic treat dispensing and hold up to two pounds of treats in this.
Effectiveness
Whether in the middle of the day or at night, you can monitor your pooch in Full HD (1080p). Also, this is designed with a 3x zoom and also a wide-angle view of 138 degrees.
Ease of Use
There have been quite a few users who have complained that the customer support team at Petcube is not helpful. Plus, the app has received some criticism for being "buggy".
Overall
This combination camera and treat dispenser is really well-designed. Not too many users will say otherwise and though you may have to deal with some bugs from time to time, the app is nice to have.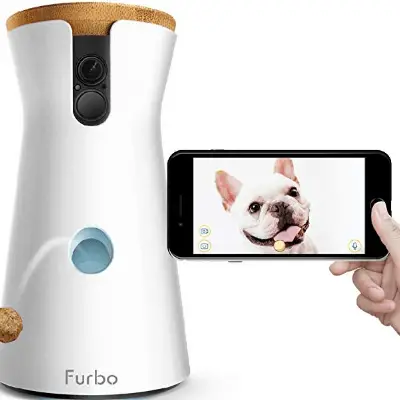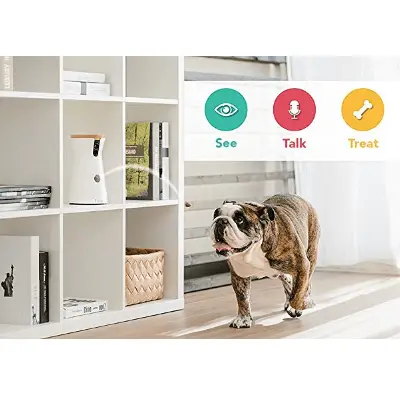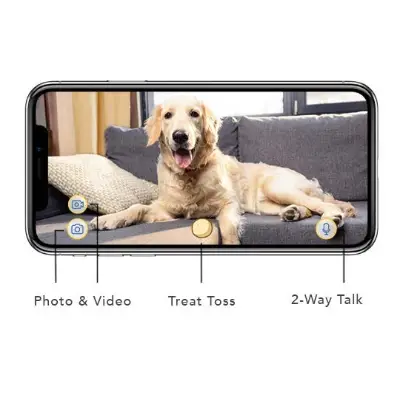 To say this device is specially optimized for canines is an understatement as it is not going to record or notify you of any events not related to your pooch. It is also compatible with Alexa, so that is a bonus.
Read more
Design Features
In addition to the two-way audio, this also is designed with a barking sensor. As such, it will send you a notification on your synced smartphone when it detects any barking in the home.
Compatibility
A bonus is this is actually compatible with Alexa. Of course, for the app, it is available for both iOS and Android users.
Advanced Features
As with many of the other options on this list, this can dispense treats with the use of the accompanying app. Oh, and a free sample pack of treats is included with your purchase.
Effectiveness
With its 4x zoom, 160-degree wide-angle view, and Full HD video, you will easily be able to see your pooch and what they are up to.
Ease of Use
As one reviewer noted, there is a lack of troubleshooting when you run into issues. When you get them resolved everything is fine but doing so can be more difficult due to this.
Overall
Furbo provides you with another top-end dog camera that can dip into your savings account a little bit. Then again, it is a one-time investment that will be worth it for several of you.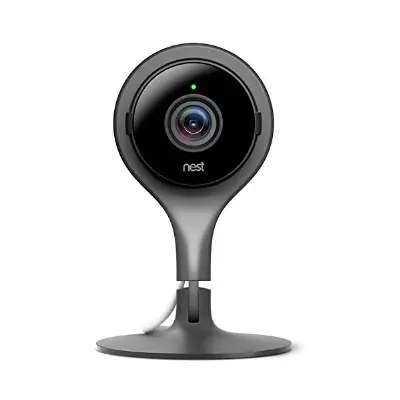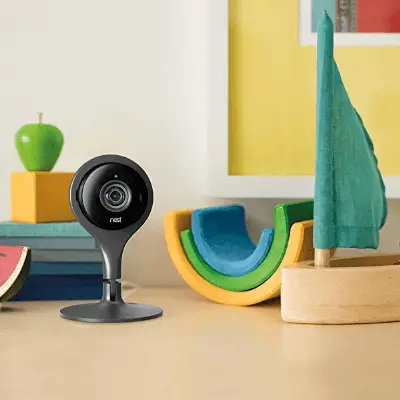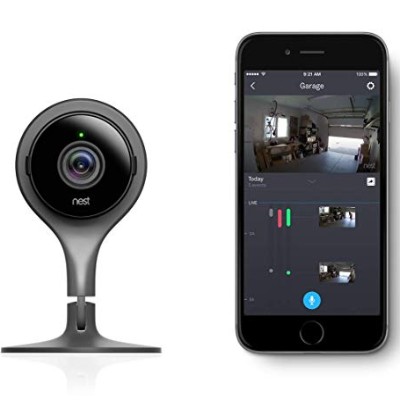 What is interesting to note about this option is it can be used for more advanced reasons than just monitoring your canine when you are not home. It secures a spot on this list due to its versatility, for certain.
Read more
Design Features
This can actually tell the difference when a person or pet is actually moving as opposed to basic movements. Also, with the built-in speaker and microphone, you can talk to your canine and hear what is going on in your house.
Compatibility
As with all models, you will need high-speed internet in order for this to function. Ideally, you will want a broadband internet connection with at least two megabits per second of upload speed.
Advanced Features
Because this is a Nest device, it can communicate with other smart devices around your home. However, many of the features that you can utilize require the monthly subscription plan that you can sign up for.
Effectiveness
For the price and the device, did you expect anything less than Full HD capabilities?
Ease of Use
First off, this is pretty simple to set up. What is even better is that you can physically install and mount the Nest Cam virtually anywhere (and it even has a built-in magnet).
Overall
Is this more than you bargained for? Sure, the Nest Cam is much more than just a dog camera but at its core, it works fantastically for this purpose.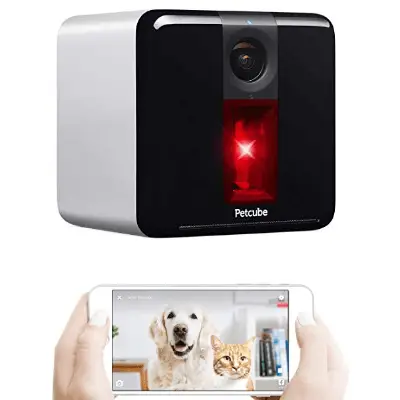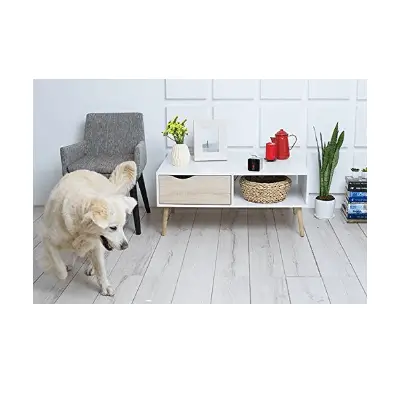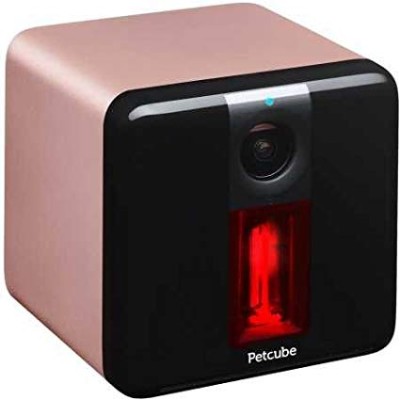 Outside of its Full HD video and two-way audio system, this next model is noteworthy for integrating a built-in pet-safe laser. With the use of the app, you can drive your dogs (and cats) mad chasing it.
Read more
Design Features
The most prominent feature here is the two-way audio system that allows your dog to hear you and for you to hear them.
Compatibility
Granted you are using a smartphone that is running iOS 9.3 or higher or Android 5.1 or higher, you can sync with this. Additionally, you need to have a 2.4 gigahertz Wi-Fi network.
Advanced Features
Even though the laser pointer is delayed in its movement (you can control it via the app), it is nice to have at least. Additionally, any videos no longer than four hours old can be accessed on the cloud-free of charge.
Effectiveness
Not too many people will complain about the specifications here as this sports 1080p video with a 138-degree wide-angle view and 3x zoom.
Ease of Use
Petcube made the setup for their model pretty straightforward and simple enough to achieve for the average user out there.
Overall
Look, this is another model where you pretty much need to buy a subscription for full functionality. While this may not be feasible for all of you, it makes this all the better to use.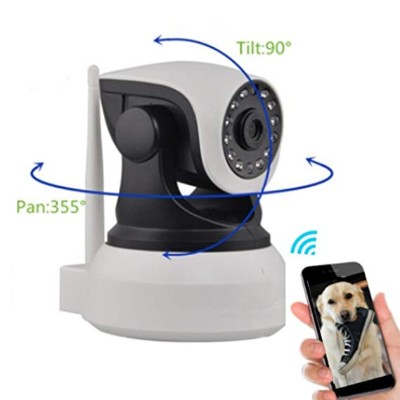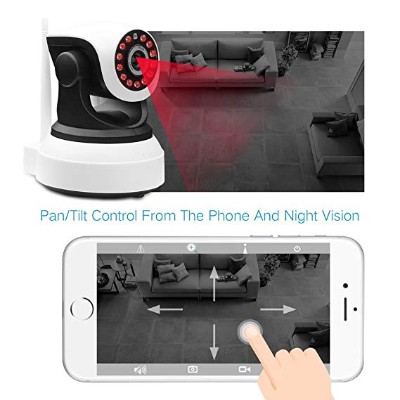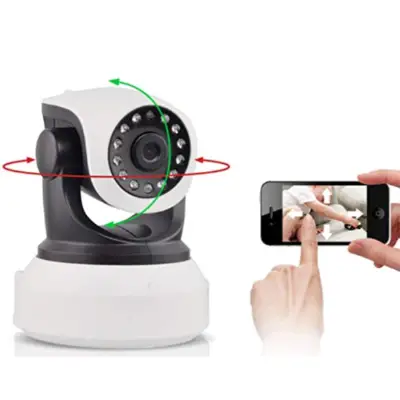 This addition from RVA is simple to set-up and simple to use. It has a 720p camera that can be controlled by your smartphone and tilted vertically by 90-degrees and moved side to side 355-degrees. This gives you a wide view of the room and a decent picture.
Read more
Design Features
This device can be mounted on a wall or set on a flat surface. It features a two-way microphone but only a one-way video. If you have ever tried to FaceTime with an animal, you already know that they don't always react to your face how you would hope.
Compatibility
Once you have downloaded the corresponding app, you will be able to view a live stream of the room that you have set up the device in. If you prefer to record a video, you can record one onto your phone, or onto a memory card up to 64GB. This app is compatible with Android and iOS operating systems. One very important fact to note here is that this monitor will not function over a 5G network. It only works over 2.4G wifi.
Advanced Features
To give you an almost complete view of the room, you can use the arrows on your smartphone screen in the app to tilt the camera up and down 90-degrees or side to side by 355-degrees. What is also great is that more than one user can log in to check in on the dog at the same time. This ensures that no one will miss out on adorable moments and lessens the chances of unsupervised bad behavior.
Effectiveness
The 720p video quality is good enough to see what your animal is doing, but not enough to brag about. There is also a night vision setting that automatically kicks in around sunset. There is an optional feature that you can turn on or off in the settings of the app that can record a short video when there is movement in the room and send it to you.
Ease of Use
Across the board, reviewers say that the set up of this device is simple. There are included instructions that explain how to connect the device to your wi-fi system.
Overall
As long as you are not looking for a clear-as-day video, this is a good choice. It is priced affordably and requires no subscription packages and comes with no monthly or yearly fees.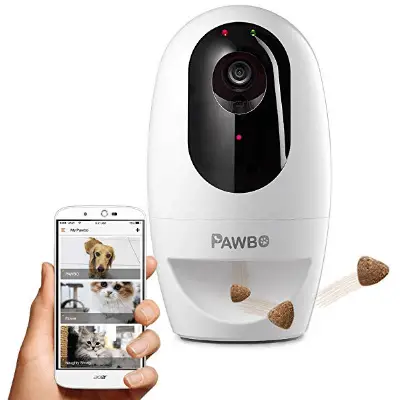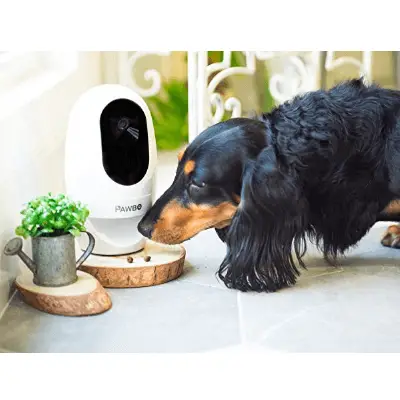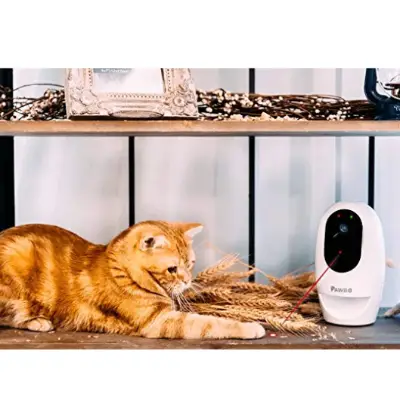 For compact and well-lit spaces, this is going to work tremendously. Of course, one of the features that would have helped here is the ability to actually tilt the camera down toward the floor.
Read more
Design Features
Looking past the fact that this can't angle downward, it is built with a microphone and a speaker to allow for two-way audio with your canine.
Compatibility
As with most models, this is designed to work with both Androids (version 4.0.3 or later) and iOS smartphones (version 8 or later) and also requires a 2.4 gigahertz Wi-Fi network.
Advanced Features
First off, a subscription plan is not going to be required so that is a plus. Also, this has the ability to dispense treats to your pooch and to also play with them with an integrated laser.
Effectiveness
For small, well-lit spaces the 720p video and 130-degree wide-angle view will work great. Oh, and this is also equipped with 4x digital zoom.
Ease of Use
Pawbo did their consumers a solace and designed their model to be as easy as possible (for the most part) to set up and operate.
Overall
Admittedly, for the price, the technology could stand to be improved. With this in mind, when looking at this from unbiased lenses, it is convenient, well-designed, and user-friendly.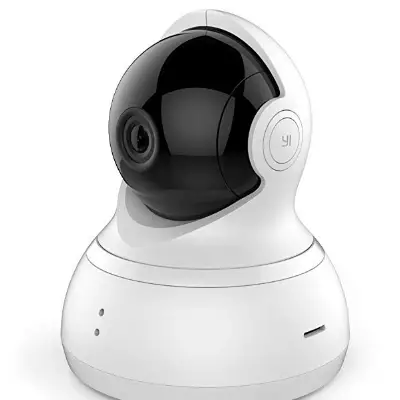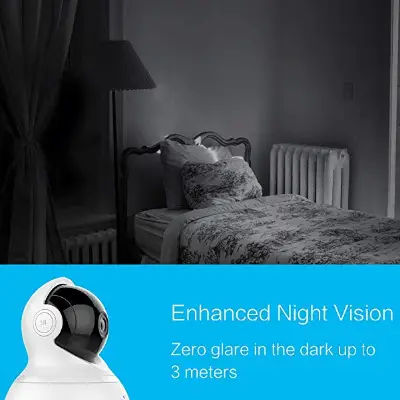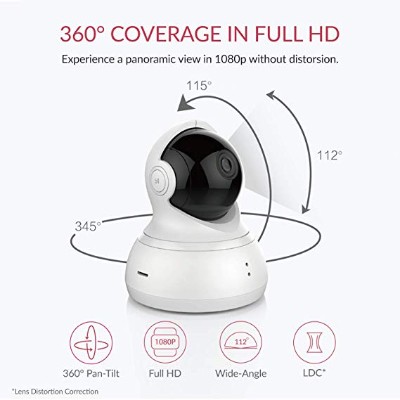 The YI Dome is arguably the most popular option on the market and one of the reasons why is due to the 360 degrees of coverage it can achieve thanks to its rotational ball.
Read more
Design Features
While the ability to actually set the motion activation area would have been nice, at least this is designed with two-way audio and advanced night vision.
Compatibility
For this device, you will need a 2.4 gigahertz Wi-Fi connection as 5.0 gigahertz is not supported. Also, the app is available for both iOS and Android users. What is disappointing, though, is that the YI Dome requires the use of this app at virtually all times.
Advanced Features
In addition to the fact that the YI Dome supports the YI Cloud, you can also bookmark your favorite positions, receive real-time activity alerts, and also scan 360 degrees (horizontally) of any room.
Effectiveness
The 360-degree coverage is really nice (115-degree vertical rotation and 345-degree horizontal) but the camera itself (720p resolution and 112-degree wide-angle lens) is not that advanced.
Ease of Use
For the most part, the user interface of the app is pretty intuitive. It is also not too tricky to customize your settings to optimize the experience.
Overall
There is a reason (or reasons) why the YI Dome is so popular and well-received. It manages to be an affordable model that is super easy to use with above-average technology.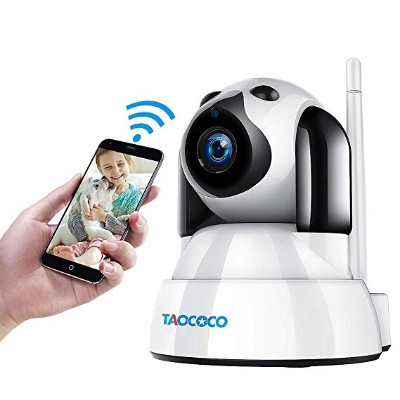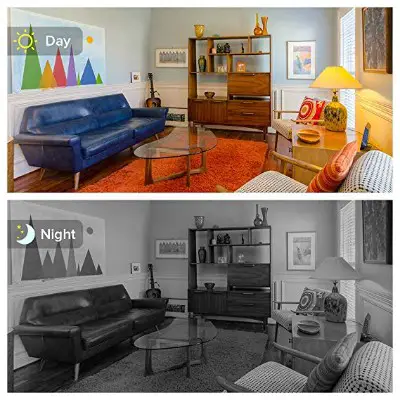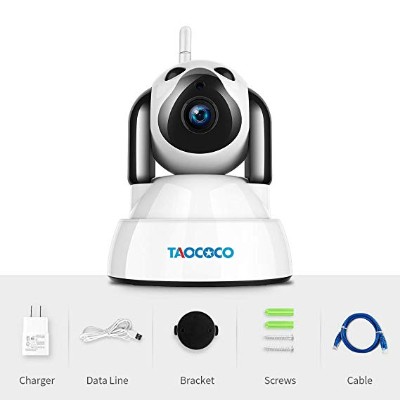 Considering the fact that you have a dog, you may enjoy the adorable design of the Taococo! This device boasts a great app that can be used by five different approved users at the same time. It is also one of the most affordable options on our list!
Read more
Design Features
Well, if you haven't noticed, which some consumers did not, this adorable little device looks like a puppy. Whether you see that as a good or a bad thing is your choice. The Taococo features two-way audio and a one-way camera.
Compatibility
Like many of the options here, this is also a model that does not support 5G wifi connection, it only functions on 2.4G wifi. With the supporting app, you can check in on your furry friends from your phone, PC, or tablet.
Advanced Features
If you have a big family, you will love the next feature. Up to five different users can log in at the same time to check in on the house and pets. You can also set up a motion recording feature that will take a short video clip at the first sign of motion in the room. One reviewer said that this feature worked TOO well and was constantly notifying her that her fan was on.
Effectiveness
Even though the camera only boasts 720p, many reviewers have been impressed with the picture clarity. The infrared night vision allows you to see up to 32-feet. With a combination of panning up, down, and side to side, you will be pleased with a combined 360-degree coverage of your room.
Ease of Use
Setting this device up is fairly simple. Some reviewers had trouble connecting to the 2.4G network instead of the 5G, but not many. You will need to download the app, set up and plug in the camera, connect to wifi, and pair the devices. To turn off the device, you will need to unplug it.
Overall
Taococo offers a one year warranty and lifetime support to its customers. This is one of our most affordable options and is a great option if you are looking to get a peek into the daily life of your pet. One reviewer mentioned that the camera is quite small and worried that her dog doesn't get suspicious of it and attack.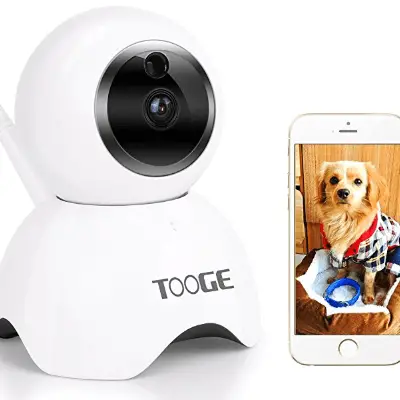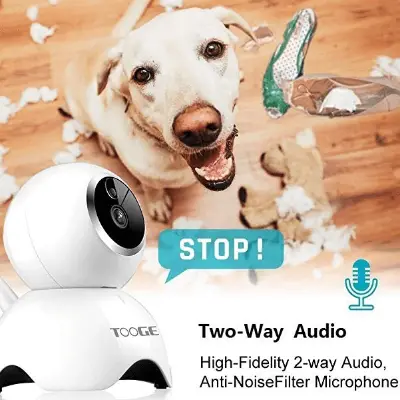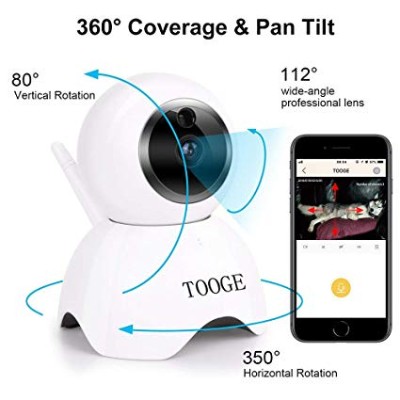 If the performance-end of things was a little better here, this would have landed even higher. But, when it is working, it is really good.
Read more
Design Features
Thanks to the 10 infrared LEDs, this can record up to 16 feet in pitch darkness. Also, two-way audio is supported to actually be able to hear your pooch.
Compatibility
Though many users have had issues getting this to stay connected on their Wi-Fi network, it is worth noting that it only works with 2.4 gigahertz Wi-Fi.
Advanced Features
This supports micro SD cards up to 64 gigabytes in size and also supports loop recording. To eliminate the issue of photos and recordings being leaked, this feature is nice.
Effectiveness
Overall, the video has latency issues when you turn the camera from the app. As for the video quality, it is a respectable 720p.
Ease of Use
Without question, the performance needs to be improved here. Too many users have complained about connectivity issues for it to be ignored.
Overall
In spite of the performance flaws, this is a nice option that can be rotated to view virtually any part of any room with fairly good quality.

Subscribe to our Newsletter