Best Portable Bluetooth Speakers
In a Hurry? Editors choice: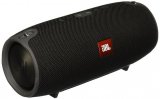 Test Winner: JBL Xtreme

One of the great joys of life is listening to music and due to the wide variety that is available, everyone can enjoy it. The amount of
devices
and outlets available for listening to music is also stunning but perhaps none of them measure up to Bluetooth speakers. Not only can these be an excellent way to liven up a party, but they can also be handy when you need background noise or even while watching a television show on your
phone
and are wanting it to be louder. Below we have listed the top ten best home Bluetooth
speakers
in the market today including detailed criteria for each product to help you decide which one works best for you.
Standout Picks
Criteria Used for Evaluation
Sound Quality
In the eyes of many, whenever you are investing in a device that outputs audio in some capacity, the most important feature is sound quality. If a speaker or a pair of headphones sound distorted, the overall experience will be greatly depreciated. You want the sound to be as crisp as possible. However, and this is more a preference, an adequate amount of bass and treble can be vital as well. Some users will want their music outputted with powerful bass to enhance the immersive feeling.
But, this is where portable models can somewhat lack, to be honest. Due to their size, the integrated drivers in the speakers themselves can't be too large. Also, you may see some models only implement one full-range driver. So, to get a little more power and sound, it may be in your best interest to look for twin driver setups. In addition to this, to account for the bass, you may see passive radiators instead of subwoofers (again, due to the size). This is where it becomes a question of what you prefer more, power or portability. You can have both, but one area may be sacrificed a bit for the other.
Battery Life
Outside of the compact nature of a Bluetooth speaker, there is one major design feature that makes them portable. Of course, this is that they are run via an integrated battery. Even though in a technical sense, a device that requires electricity from a stable power source could still be considered portable, it is simply easier with a battery. But, with this comes the limitation of power and as you are aware of, batteries will need to be recharged. The question then becomes, what is considered a good battery life?
Well, as you have seen throughout this guide, typically battery lives will range from 10 to 20 hours. However, when a manufacturer advertised their battery life, they typically include the words "up to". The reason for this is, as a whole, a battery's lifespan on one charge is largely indicative on a number of dynamic variables. For starters, how hard you make it work can decrease the battery life. In addition, how about the temperature at which you utilize it at? Ideally, you should use it in cool to partially hot temperatures. If used in chilling climates, the battery will not have as much capacity as it should.
Durability
For the most part, Bluetooth is becoming the most popular wireless protocol out there. As time continues to pass, the technology continues to improve and this is becoming a modern trend. But, one of the areas where this technology has always been handicapped is with its communication range. As anyone who has ever used Bluetooth knows, once your two devices are at a certain range, they will begin to have issues communicating. There really is no way to get around this besides keeping the two devices within the compatible range.
But, from one model to another, the range is going to differ and this is what you need to fixate on. It also depends on your needs. If you know for a fact that you will want to program and operate your speaker from a great distance, aim for a greater communication range. For the most part, you will see ranges between 30 to 50 feet. Yet, some designs will be more advanced than this (as are some of the models on this list) and offer upward of 100 feet or beyond.
Water Resistance
One of the benefits of owning a portable Bluetooth speaker is that they are extremely versatile in where you use them. They can be used indoors, outdoors, at parties, local events or even on a golf course. But, if you do plan to use one outdoors, you will need to ensure that it is built to withstand the elements. It is not as if you will want to use them in the rain, but what about at the beach or even on a boat ride? In these situations, accidents can happen and owning a speaker that is either water-resistant or waterproof can pay dividends.
This is an appropriate time to talk about the International Protection Rating Code (otherwise known as the IP Code). What this indicates is both the dust rating and water rating of a device. So, you may see, for example, an IP67 rating. The first number in this code essentially indicates protection against access to hazardous parts of the device and the second is its waterproof rating. In both cases, the higher the number the better the protection provided. For waterproofness, eight is the highest number and indicates protection against continuous immersion.
Top 10 Picks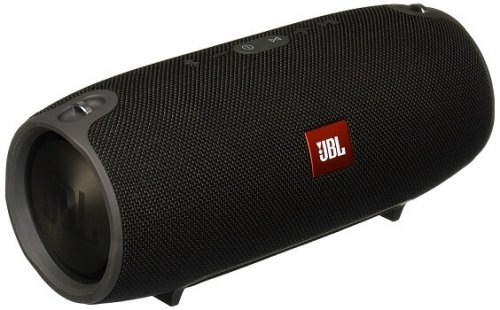 The Xtreme is like the Charge 3 in a lot of ways in that it delivers unbelievably crisp sound, but it a bit bulkier than some users may prefer. But, the impressive sound more than makes up for it.
Read more
Sound Quality
If nothing else, you know that with a JBL speaker, the sound is going to be phenomenal. Thanks to the dual external passive radiators, you can hear the bass and feel it too.
Battery Life
Though this is a bit larger in size and can pack a serious punch, the battery life is still very impressive. JBL claims that their Xtreme can run for up to 15 hours on a single charge.
Bluetooth Range
With only a 30-foot range, this is a bit more limited than some of the other top-end models in the world. But, the sound remains superb in all frequency ranges.
Ruggedness
JBL advises against submerging this in water as it is only rated to be splashproof. So, it can handle light to moderate rainfall but not overexposure to water.
Smart Features
In addition to the fact that the Xtreme can connect to three different devices simultaneously, the integrated echo-canceling speakerphone allows for clear calls.
Overall
What makes the Xtreme one of the best models out there is its sound quality, period. Though it is pretty large and the range is limited, it lives and dies with its sound.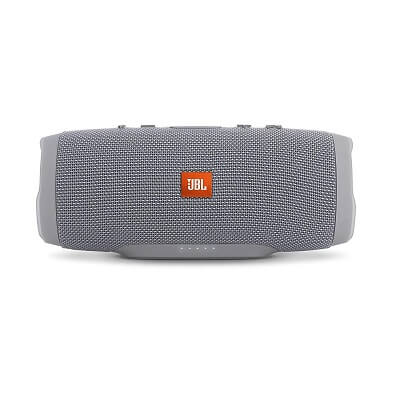 Anyone familiar with this technology should be well aware of who JBL is. They are one of the leading manufacturers of sound technology and their Charge 3, while a bit bulky, delivers rich and deep sound.
Read more
Sound Quality
From a model of its range and size, the sound and bass delivered are quite amazing. In fact, it can crank out the goods about as well as any portable model in the world.
Battery Life
The Charge 3 sports a very impressive battery life of 20 hours. In addition to this, it can also charge your smartphones and tablets via the integrated USB port.
Bluetooth Range
As many know, Bluetooth is a limited technology in regard to its range. Yet, the Charge 3 will continue to output quality sound even when your synced device is 60 feet away.
Ruggedness
One of the biggest new features of the Charge 3 is its waterproof nature. With a rating of IPX7, it can be submerged in water (down to a meter) for up to 30 minutes without being damaged.
Smart Features
In addition to everything else, this is also a smart device. Thanks to the echo-canceling speakerphone, you can even make crystal clear calls with this device.
Overall
The Charge 3 is the pinnacle of this technology (in regard to portable models). It sports an impressive battery life, a great Bluetooth range and unbelievable sound and bass.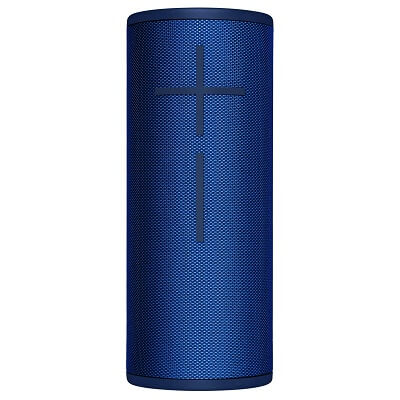 Ultimate Ears followed up their ultra-impressive Boom 2, which you will see shortly, with their Boom 3. They improved on their already brilliant design which should say something about the company.
Read more
Sound Quality
Much like its predecessor, the Boom 3 is able to deliver rich and deep 360-degree immersive sound. But, the bass and treble are balanced well for clear and crisp playback.
Battery Life
When fully charged, this can deliver up to 15 hours of battery life. Yet, if you invest in the Power Up charging dock, you can actually charge the device wirelessly.
Bluetooth Range
Utilizing the SBC codec, the Boom 3 is able to communicate with synced devices within a range of 45 meters. Anything past this may lead to distortion.
Ruggedness
First off, the Boom 3 is covered with tough two-tone fabric (the same fabric used in fire equipment). But, it is also fully waterproof and can be submerged in water for up to 30 minutes at less than one meter in depth.
Smart Features
While this is not overflowing with smart features, it can be paired with over 150 Boom and Megaboom speakers. Talk about a party for the new millennium, huh?
Overall
If the Charge 3 is the pinnacle of this technology then the Boom 3 is its twin brother. It seems the old adage that the third time is the charm is quite accurate, would not you say?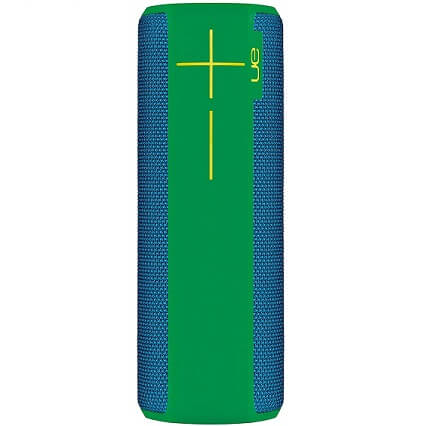 Hey, just because the Boom 2 has been overshadowed by the Boom 3 does not mean it does not deserve its own praise. After all, there is a reason why so many consumers were excited about the launch of the Boom 3.
Read more
Sound Quality
Due to the fact that the Boom 2 is designed with 360-degree immersive sound, it outputs sound in all directions. The result is crisp audio and deep bass.
Battery Life
Though the battery life is always going to vary depending on the settings of the system, Ultimate Ears claims that their Boom 2 can last up to 15 hours on a single charge.
Bluetooth Range
The 100-foot Bluetooth range, which works out to roughly 30 meters, is phenomenal. Make no mistake about it; you will love that extra bit of leeway.
Ruggedness
As this complies with the IPX7 standard for waterproofness, it is designed for adventure. This rating means that it can handle submersion in depths of water no greater than one meter.
Smart Features
A companion app works in conjunction with this model and is very handy for. But, as this is Ultimate Ears, remember that the Boom 2 can connect with other speakers.
Overall
The Boom 2 is a terrific example of a device that has become overshadowed by its successor but one that still holds up extremely well. You really can't go wrong here, let's just say that.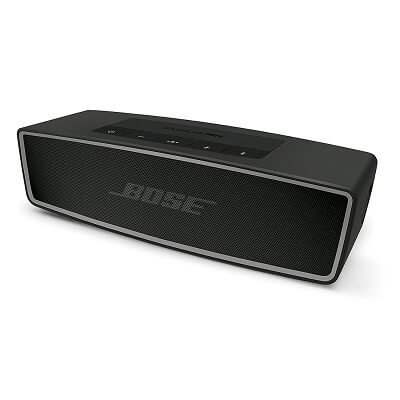 Now, it is time to highlight another dominant manufacturer. When it comes to sound, you can put your trust in Bose. They have developed a cult following over the years and their SoundLink Mini is a good example of why.
Read more
Sound Quality
Though the SoundLink Mini will fit into the palm of your hand, it can still deliver a powerful sound. As many users have raved, this is the typical sound excellence that has been a standard for Bose products.
Battery Life
On a full charge, the SoundLink Mini can last, at maximum, 10 hours. As opposed to other brands, this is not overly impressive but also not abysmal.
Bluetooth Range
As with the battery life, the 30-foot Bluetooth range is not necessarily going to blow you away. What is nice, though, is the system remembers your last eight devices and will re-sync automatically.
Ruggedness
The casing of this device is made of aluminum and to protect it from scratches, you may want to invest in an optional soft cover.
Smart Features
To make pairing your devices even easier, Bose designed their device with voice prompts. As such, you will be talked through the pairing process (though it is not hard, to begin with).
Overall
Let's just say this, Bose is Bose. Some designers just have a knack for what they do and that is Bose in a nutshell. Their SoundLink Mini is top class, make no mistake about it.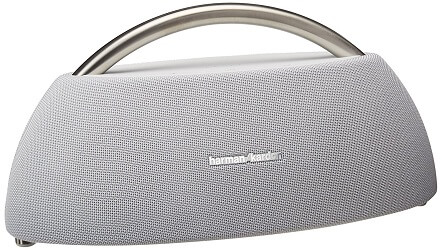 This next model is one that some of you may have never heard of before. But, after you get a glimpse of what it has to offer, that will forever be changed.
Read more
Sound Quality
Thanks to the quad drivers of the Go+ Play, this is able to output a full spectrum of sound for any type of music genre you play.
Battery Life
The battery life of this model is not the best so do not expect it to be. At its peak, it can run for eight hours at a time. But, this can lower depending on various factors.
Bluetooth Range
As one reviewer pointed out, they were able to get up to 50 feet of clear and crisp audio. All things considered, that is a pretty impressive range.
Ruggedness
Thanks to the premium materials that are utilized throughout this device, such as a fabric grill and a stainless steel handle, it is both durable and stylish.
Smart Features
The Go+ Play is another speaker that is not necessarily overpowering with smart features. Yet, it can be synced with another dual sound enabled speaker.
Overall
To be honest, with a little better battery life, this could have easily cracked the top five. As it stands, though, it is an above-average design with a limited battery life.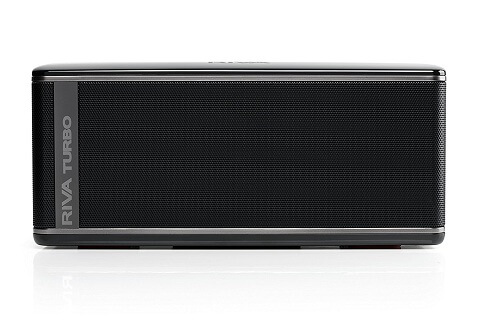 The Turbo X actually suffers from a common limitation amongst portable models. Even though the sound quality is extremely well-done, the maximum volume is somewhat low.
Read more
Sound Quality
First off, the Trillium Surround and audio technology do deliver superb sound. However, even with the integrated turbo mode, users have claimed the volume is somewhat low.
Battery Life
While the maximum volume is limited, the battery life most certainly is not. Riva claims that their Turbo X can last in upward of 26 hours on a single charge.
Bluetooth Range
Even though the balance throughout the frequency range has been commended, one user did note that the range was a tad bit limited.
Ruggedness
To ensure that their Bluetooth speaker could be a great companion for beach parties, Riva designed it to be water-resistant.
Smart Features
What is really nice about the Turbo X is that you can control it via the Riva Ground Control app. Do note that this app is available for both Android and iOS users.
Overall
Granted you are not looking for a model to blow your ears off, literally, you should be satisfied with this design. Due to its portability, its volume can be somewhat forgiven.

8

. Bose SoundLink Revolve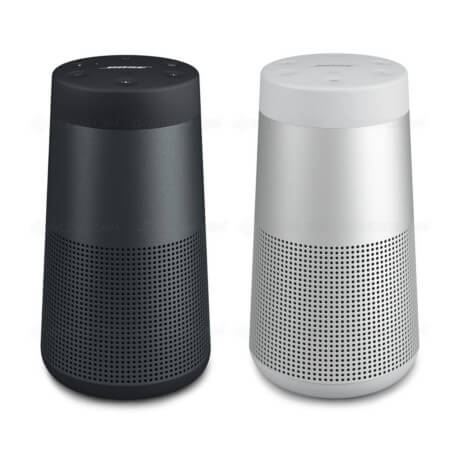 This is yet another fan-favorite from Bose and it surely is not difficult to see why. From top to bottom, the SoundLink Revolve is everything you come to expect from a speaker of its size.
Read more
Sound Quality
Again, as this is Bose, the sound quality is going to be impressive (with true 360-degree coverage). But, as with the last entry, this may not be as loud as some consumers desire.
Battery Life
As with most other designs on this list, the SoundLink Revolve is powered by a rechargeable lithium-ion battery. At its peak, it can run for 12 hours.
Bluetooth Range
For some users, the 30-foot range of the SoundLink Revolve is simply not going to cut it. Still, 30 feet is not really that bad.
Ruggedness
With an IP rating of X4, this is not waterproof but it does qualify for water-resistance. In addition to its aluminum body, it is suitable for outdoor use.
Smart Features
You can actually access both Siri and Google Now with this device, which is pretty neat. Also, voice prompts will take you through the pairing process.
Overall
It is clear that Bose was striving to make their SoundLink Revolve as portable as possible, and that is what they achieved. Though limited in some areas, it is still impressive overall.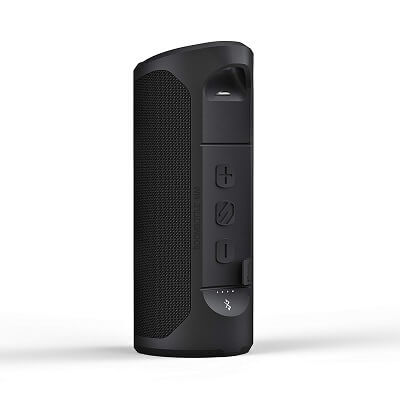 Without question, the BoomBottle is the most unique device on this list. With dual magnets on both the top and bottom, it can be mounted to any magnetic surface and can also hold your magnetic device in place.
Read more
Sound Quality
In such a small package, it is amazing that this is able to deliver the bass it does. Yet, with two passive subwoofers and audio sensing technology built-in, that is the case.
Battery Life
There are actually four separate LED lights built into this model that indicate how much battery remains. All in all, this can run for up to 12 hours.
Bluetooth Range
The standard for most of these portable units, in regard to the range, is 30 feet and that is exactly the case with the BoomBottle.
Ruggedness
Due to the integrated housing of the BoomBottle, this is actually rated with an IP67 rating. This means it is both waterproof and dustproof.
Smart Features
As you can tell, there are integrated buttons on this model that allow you to operate. While lacking in many smart features, the interface is simple.
Overall
This could just be the best-built speaker on this entire list, in regard to durability, ruggedness, and convenience. Limited performance hurts its value a little bit, though.

10

. Bang & Olufsen Beoplay P2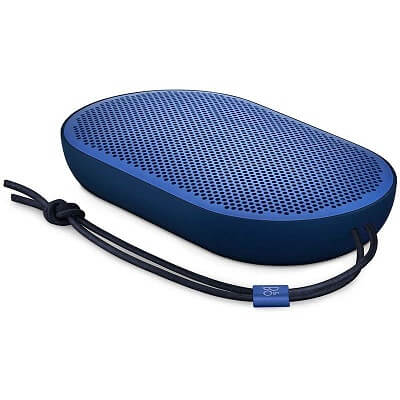 It is time to cap off this impressive list with the Beoplay P2. Though it has some issues with its interface and app usability, it still delivers the goods and does so by remaining durable on your adventures.
Read more
Sound Quality
The Beoplay P2 delivers the signature sound of Bang & Olufsen. Be wary, though, this device is probably not going to fill a large room with loud sound.
Battery Life
With a 10-hour battery life rating, the Beoplay P2 falls somewhere in the middle of the pack with the rest of the competition.
Bluetooth Range
This has a respectable range when paired with your devices. Most users note that it is not astounding but not awful, either.
Ruggedness
In conjunction with the anodized aluminum grill is the polymer frame and overall, this unit is both dust and splash-resistant.
Smart Features
While the Beoplay app allows you to match sound profiles to activities, there are also smart features built into this model including voice activation and snooze.
Overall
To say this is one of the most compact speakers in the world is an understatement. But, with this comes some limitations in volume, so be wary of that.

Subscribe to our Newsletter