Best Portable Bluetooth Speakers
In a
Hurry? Editors choice: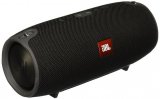 Test Winner: JBL Xtreme

One of the great joys of life is listening to music and due to the wide variety that is available, everyone can enjoy it. The amount of
devices
and outlets available for listening to music is also stunning but perhaps none of them measure up to Bluetooth speakers. Not only can these be an excellent way to liven up a party, but they can also be handy when you need background noise or even while watching a television show on your
phone
and are wanting it to be louder. Below we have listed the top ten best home Bluetooth
speakers
in the market today including detailed criteria for each product to help you decide which one works best for you.
Standout Picks
Criteria Used for Evaluation
Sound Quality
In the eyes of many, whenever you are investing in a device that outputs audio in some capacity, the most important feature is sound quality. If a speaker or a pair of headphones sound distorted, the overall experience will be greatly depreciated. You want the sound to be as crisp as possible. However, and this is more a preference, an adequate amount of bass and treble can be vital as well. Some users will want their music outputted with powerful bass to enhance the immersive feeling.
But, this is where portable models can somewhat lack, to be honest. Due to their size, the integrated drivers in the speakers themselves can't be too large. Also, you may see some models only implement one full-range driver. So, to get a little more power and sound, it may be in your best interest to look for twin driver setups. In addition to this, to account for the bass, you may see passive radiators instead of subwoofers (again, due to the size). This is where it becomes a question of what you prefer more, power or portability. You can have both, but one area may be sacrificed a bit for the other.
Battery Life
Outside of the compact nature of a Bluetooth speaker, there is one major design feature that makes them portable. Of course, this is that they are run via an integrated battery. Even though in a technical sense, a device that requires electricity from a stable power source could still be considered portable, it is simply easier with a battery. But, with this comes the limitation of power and as you are aware of, batteries will need to be recharged. The question then becomes, what is considered a good battery life?
Well, as you have seen throughout this guide, typically battery lives will range from 10 to 20 hours. However, when a manufacturer advertised their battery life, they typically include the words "up to". The reason for this is, as a whole, a battery's lifespan on one charge is largely indicative on a number of dynamic variables. For starters, how hard you make it work can decrease the battery life. In addition, how about the temperature at which you utilize it at? Ideally, you should use it in cool to partially hot temperatures. If used in chilling climates, the battery will not have as much capacity as it should.
Durability
For the most part, Bluetooth is becoming the most popular wireless protocol out there. As time continues to pass, the technology continues to improve and this is becoming a modern trend. But, one of the areas where this technology has always been handicapped is with its communication range. As anyone who has ever used Bluetooth knows, once your two devices are at a certain range, they will begin to have issues communicating. There really is no way to get around this besides keeping the two devices within the compatible range.
But, from one model to another, the range is going to differ and this is what you need to fixate on. It also depends on your needs. If you know for a fact that you will want to program and operate your speaker from a great distance, aim for a greater communication range. For the most part, you will see ranges between 30 to 50 feet. Yet, some designs will be more advanced than this (as are some of the models on this list) and offer upward of 100 feet or beyond.
Water Resistance
One of the benefits of owning a portable Bluetooth speaker is that they are extremely versatile in where you use them. They can be used indoors, outdoors, at parties, local events or even on a golf course. But, if you do plan to use one outdoors, you will need to ensure that it is built to withstand the elements. It is not as if you will want to use them in the rain, but what about at the beach or even on a boat ride? In these situations, accidents can happen and owning a speaker that is either water-resistant or waterproof can pay dividends.
This is an appropriate time to talk about the International Protection Rating Code (otherwise known as the IP Code). What this indicates is both the dust rating and water rating of a device. So, you may see, for example, an IP67 rating. The first number in this code essentially indicates protection against access to hazardous parts of the device and the second is its waterproof rating. In both cases, the higher the number the better the protection provided. For waterproofness, eight is the highest number and indicates protection against continuous immersion.
Subscribe to our Newsletter