Best Tote Bags
In a
Hurry? Editors choice: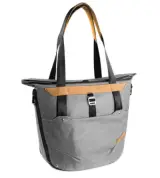 Test Winner: Peak Design Everyday Tote Bag

A great tote bag can take you
anywhere
you need to go. One reason so many people use tote bags is due to their versatility, which gives them a wide variety of uses. These
bags
not only have a stylish appearance, but they have become so popular because of their simple design, fashionable appearance, and unique ability to be used for a bevy of different uses. These
bags
come in a wide variety of sizes and shapes, and they can handle carrying just about anything you want to bring along with you to just about anywhere you want to go.
Standout Picks
Criteria Used for Evaluation
Materials
How well a bag is designed means the bag's overall structure, materials, and appearance. These bags often use different types of materials, including canvas, polyester, nylon, leather, faux leather, and cotton. The most popular types of materials you'll find include canvas, which is made to be very strong and usually costs less than some of the other types of materials you'll find. Many canvas bags are still designed with reinforced bottoms and are double stitched, so just because they might be more affordable, that doesn't mean they won't last you a long time.
Polyester and nylon are two other materials you'll find are used in these bags. Polyester and nylon are both quite strong, and they can also be constructed as ripstop fabric so that they resist tears and abrasions with ease. Also, these two materials can be easily waterproofed, so if you want something that offers weather protection, then you'll probably need to purchase a bag with these materials in them that also features a DWR coating.
Cotton isn't as popular of material primarily because it's more difficult to waterproof and unless it is combined with some other material, it won't be as durable. Manufacturers that use cotton often combine it with polyester or nylon as well to make it more durable.
You'll also find bags that are made of leather and faux leather. Both of these materials are durable but generally, they aren't weatherproof or waterproof, either. They will still be durable and offer you a more professional look and style.
Features
Totes offer a bevy of different features depending on their manufacturer and style. Some of these bags come with weather protection in them, while others do not. Whether you need weather protection or something that is waterproof is going to depend on where you plan to bring the bag, how you plan to use it, and the climate you live in. These types of bags can cost more, so if you don't need it and want to save money, then you can avoid this if you need to.
Another thing we find with many totes is that they will offer a wide variety of pockets and compartments. Some pockets come with waterproof zippers for extra protection, but whether or not you need that depends on where you live and how you plan to use the bag. Also, you'll find bags that offer several compartments as well, and sometimes these compartments are designed to protect your electronic items, and also the other things you may have packed.
Most of these bags also have shoulder straps, and some are more comfortable than others. Shoulder straps that are wide and feature extra padding are usually the best and most comfortable options. Many of these bags are also made to help distribute weight equally as well, which will help you when you carry it over your shoulders.
Durability
Durability of the tote you pick will have a lot to do with the materials used in the bag as well as the stitching. Bags that are made with ripstop nylon or ripstop polyester are usually very durable since these bags are made to be abrasion resistant and tear resistant. Also, many ripstop material bags are also made to be weatherproof or waterproof, which typically also makes them more durable.
Double stitching is another feature that adds to the durability of the bag since it makes the seams of the bag far stronger. Also, making sure the bag is reinforced at the bottom and also at the back will mean you get far more reliability as well.
Value
Many of these totes vary widely in cost, and much of this depends on how many features you need in the bag, and whether or not you need it to last for years. Several affordable totes on our list are still designed to be durable, but the most expensive product options are built to last a lifetime. Also, bags featuring weather protection typically cost more as well. Also, usually the more features, the more expensive the bag becomes.
Subscribe to our Newsletter