Best Garment Bags
In a Hurry? Editors choice: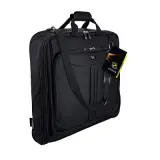 Test Winner: Zegur

Whether you are a
traveler
or has a job that requires you to move from one place to another, sometimes the only thing you would need is a garment
bag
to take along with you. Often called a suit bag, it is a flexible container for storing your suits,
jackets
, pants, and generally all the clothing you would possibly need. A garment bag protects your
clothes
from dust, smell, and dirt while sometimes keeping them from being too wrinkly to wear on important occasions. It is often more suitable to hang them inside your closets using their accompanying hangers to make them appear organized and allow you to know which ones you should be taking along with you.
Standout Picks
Criteria Used for Evaluation
Features
Features are probably the most important thing you would consider when buying a garment bag.
Garment bags have really come a long way since those clear sheets that you usually get from the dry cleaners. Nowadays, you can travel in style without risking wrinkled clothing. One of the most important features that we investigated in our research includes how easy the bag is to carry. Some models have trolley sleeves, allowing you to slide the garment bag over the handles of your suitcase making it easier to breeze through the airport and arrive at your terminal. Other models, such as the Samsonite Leverage, have wheels. If you plan on checking a suitcase and only carrying this through the airport, it is a great choice. Another carrying option that many of these bags possess is a shoulder strap. If you are packing light, this shouldn't be an issue.
As for the interior of the bag, we looked for useful features such as tie-down straps to keep everything in place, hanger clamps, and gussets. Arguably more important, also, are the separate sections and pockets that are integrated into the bag to help keep your formal wear clean, organized and devoid of shoe prints. If you are not the person who will be packing your bag, another useful feature may be a clear or mesh window so that you can view the contents.
Size
Size can differ depending on your traveling requirements.
Since each country and airline has their own set of standards for every garment bag, it is important to understand these requirements and restrictions before purchasing your own. Most people pack expensive items of clothing in their garment bags and prefer to keep them in sight. For this reason, the size of the bag is very important.
While the carry-on sizes differ slightly for each airline, the general rule in the United States is about 22 x 15 x 9. For Europe, it is much more difficult to decide on a general size because the size and weight restrictions change from country to country.
Materials
The material make-up of a garment bag helps you understand the quality and durability of the product.
It is important to know what the garment bag is made of so you can determine its longevity and performance. The most common fabrics that you will see on this list are Polyester and Nylon. While both of these fabrics are durable and easy and to care for, it has been proven that Nylon is a bit softer to touch, while Polyester, if dampened, will dry quicker. Both fabrics are water and abrasion resistant and would make great travel homes for your clothing. A few products on our list feature a blend of both fabrics, which is also a great option.
Other materials that you may want to look into include the zippers, straps, and padding (if any). You want to look for a strong zipper that won't catch on your clothes or prevent you from being able to open the garment bag. If you plan to pack your jewelry in the bag, PVC cushioning (such as in the Zegur model) will help to protect your items and add another level of water resistance. Lastly, if the bag folds up, how does it fold? Does it velcro into itself or are there sturdy clips that keep it compact?
Best Garment Bag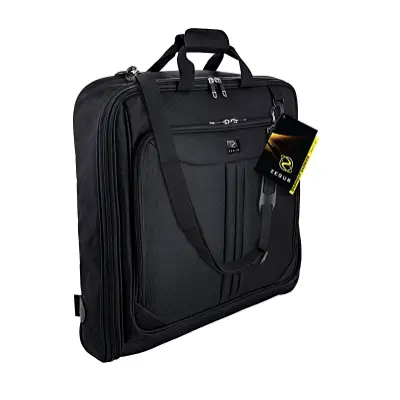 Whether you are traveling for business or pleasure, the ZEGUR Suit Carry-on garment bag is one of the best cases to organize your stuff. It is made from strong and durable material which can accommodate three suits or three full dresses. It also has convenient and roomy compartments for items like your accessories, toiletries, or even your shoes. What's great about the ZEGUR garment bag is it was made with an exterior pocket to secure your electronics or as a compartment for your travel documents.
Read more
Features
Elegantly crafted from high-quality materials, the ZEGUR garment bag keeps your clothes organized and clean. It is fashionably designed to make you look and feel great with every travel. The garment carry-on has shoulder straps which can be detached or adjusted to your needs. Built from premium quality polyester with perfectly braided sleeves and waterproof exterior, The ZEGUR suit carry-on provides the luxury and versatility you need in a garment bag.
Size
ZEGUR measures 43"x22"x4" when opened and perfectly holds three suits and including the accessories you need. It can hold your ties, belts, shoes, or even your toiletries. The exterior pocket can conveniently carry your electronic devices and can securely store your travel documents for convenient access.
Material
The ZEGUR Carry-on garment bag is made from fray-resistant polyester (1800D). It has EVA foam paddings for extra comfort and softness. Constructed with durable zippers, the ZEGUR garment bag is sure to last for years.
Style
Possibly the best garment bag out there, ZEGUR is guaranteed to make you look and feel like a professional traveler. It comes with extra features you would not find in most carry-on garment bags. It is highly functional with great quality construction that is sure to give you a lasting service. ZEGUR's style was constructed with the traveler in mind. It has multiple zipper pockets on the inside which allows you to maximize space capacity. The outside also has extra pockets and compartments to organize your travel documents.
ZEGUR carry-on suit garment bag folds neatly halfway to give you a compact carrying case for your clothes. When folded, it measures 23"x22x"4, small enough to bring with you anywhere and avoid too much luggage crowding. It neatly packs you clothing so arrive with a well-pressed and crease free pants and suits.
Durability
ZEGUR provides a 100% money-back guarantee for all its products including their line of garment bags. That's how confident the makers are with the quality of workmanship and durability they claim their products to have.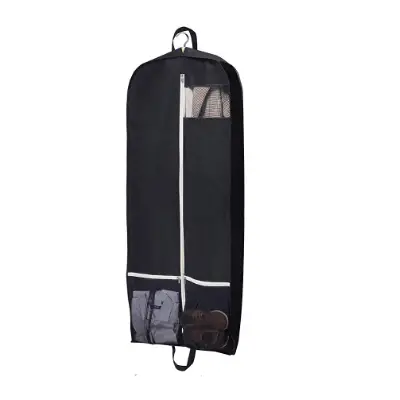 Created by Sleeping Lamb, this 54" suit cover has 2 large pockets made from breathable mesh,.This stylish garment bag with cream trimmings is sure to find its way into your wardrobe organizers. It has a touch of elegance and class that makes it one of the bestselling garment bags in our collection. It offers the portability you need without compromising space in your suitcase, RV car, or luggage compartment. It is made from durable material with heavy knit and smooth zippers made to last for a long time.
Read more
Features
Made from durable gusset cover measuring 3.4" this breathable garment bag holds 5-7 hangers all fitted with clothes inside. It has 2 large mesh pockets at the bottom to give you room for accessories matching the clothes inside. The mesh pockets can hold several items including your shoes, scarves, and ties or any particular accessories you want to match with the clothes inside. The breathable dress garment bag has a clear window at the top left-side corner allowing you to see what inside. It adds an extra layer of use so you do not have to rummage through your wardrobe when you need a quick change.
Size
The dimensions of the garment bag are 54L x 24.8 "x 3.4". It weighs about .74 pounds and an ideal company for your travel needs. It is also available in the shorter 43" variety.
Material
Created from high-quality material, the 54" breathable garment bag has a clear panel made from PVC. It has been elegantly designed with simple elements highlighting the durable zippers. It has a slit at the top for the hangers adding to an extra clothes protection. It also has handles located on both ends of the travel bag which allows you to fold it for extra space.
Style
With double handles at both ends, the 54" garment bag adds an extra punch to its use. Garments inside the bag can be folded to save space making it an extra carry-on case for your long trips. Clothes inside are well protected from wrinkling because they are neatly and orderly organized. The simple design adds to a luxurious feel of the 54" breathable garment bag which protects your clothes from smoke and dirt during your long trips.
The Breathable Garment Bag 54" Dress Suit Cover is a foldable garment traveling bag with handles at both ends to help you save space.
Durability
Able to hold a maximum of 7 hangers, this heavy duty garment bag is made from durable fabric. It has a gusset seam to give it extra support when placing extra thick clothes inside. The mesh pockets at the bottom add an extra layer of storage for valuable accessories you might need for your clothes inside.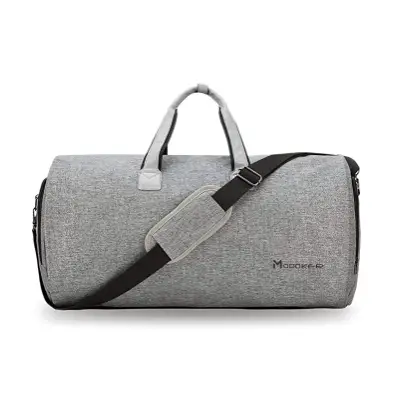 This two-in-one garment bag combines the features of a duffel and a garment bag. It is uniquely designed for people who fancy their individualism and artistic taste. Available in the Black and Gray variant, businessmen and travelers can find the ideal bag for their needs with the Modoker carry-on. It acts as a 45L duffel bag or a carry-on garment bag, making it one of the most versatile travel bags you will find in the market. It is the ideal back for weekend travels or overnight business trips.
Read more
Features
The Modoker carry-on was conveniently designed to make your travel stress-free. It quickly folds into a 45L duffel bag without creasing or wrinkling your suits and pants. Unfolded into a carry-on garment bag, the Modoker bag is spacious enough to give your garments enough room. It also has side pockets for your essential items including your ties, shoes, belts, and several other small items. It acts as a hanging garment bag without wrinkling your suits and shirts. Modoker carry-on is water-resistant and has a detachable shoulder strap for extra convenience. The Modoker Carry-on Convertible Garment Duffel Bag is anti-scratch resistant, and anti-tear and water splash resistant.
Size
The duffel bag dimensions of Modoker is 22.8" x 11" x 11.8", a size fit enough to pass airport requirements. It has soft-sides to give you extra comfort when carrying an extra protection against outside elements. When unfolded, the carry-on bag dimensions are 37.5" x 20.8" and gallantly stores your suit and several other items you need for your travel.
Material
Modoker is created using high-quality materials from Polyester Fiber & Jacquard. It also has a detachable shoulder strap so you can modify its use according to your personal taste.
Style
Able to conform to your styling needs, the Modoker 2-in-1 bag combines the features of a duffel carry-on and a hanging garments bag. It conveniently rolls into a compact sized duffel bag without creasing or crumpling your clothing inside. The bad is highly functional despite its size because it can carry almost everything you need for a 1-day trip of overnight stays. The hanging garment bag can be unrolled for the essential business trips where you need to be prepared with a wrinkle-free suit. The side pockets are excellent features giving you room for necessary things like your keys, passports, and small items.
Durability
One of the best-selling garment bags on the list, the Modoker 2-in-1 garment bag is a fashion case providing both functionality and aesthetics. It is made from durable and high-quality polyester. The garment bag also has a detachable shoulder strap that fits comfortably with your shoulders. It is scratch-resistant, anti-water splash and anti-tear resistant.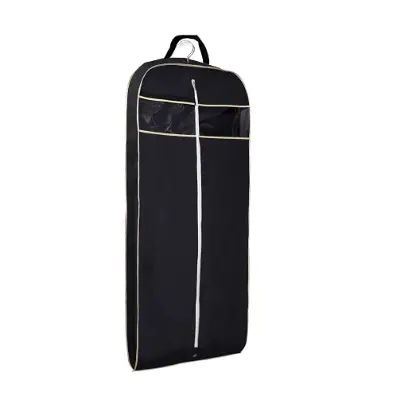 Able to hold 3 suits or a dress, the MISSLO 43 inch travel garment bag has all you need in storage. It has a hole in the top so you can put 4 maximum hangers. It also has an opening at the topmost left corner so you can see the clothes inside without opening the whole bag. It also has a side pocket on the right side for your matching accessories and favorite items. The clear plastic clearly displays what's inside and the small opening allows you to match your whole ensemble perfectly.
Read more
Features
One of the few things that set the MISSLO travel garment bag unique is its simple yet functional design. It does not have all the unnecessary extras you would find from other brands yet the product is packed with all you need. It has a durable grommet made of metal and carries handles that easily fold when traveling. It is also medium-sized perfect for plan or car rides without obstructing much space. The MISSLO travel garment bag is not just ideal for tuxedos, it is also perfect for your gowns, coats, uniforms, dance costumes, or even your jackets.
Size
This travel garment bag is 43 inches long by 22.6 inches. It comes with a 3.5" gusset and a 5.4" wide see-through panel at the left side and a plastic pouch for accessories on the right side. The full-length zipper is made from durable #5 zippers to protect your essential wardrobe inside.
Material
The travel garment bag is made from non-woven 100g thick breathable black fabric. It is rip resistant and comes with the clear plastic side pockets to let you identify contents quickly.
Style
The overall style of the MISSLO 43" Breathable Gusseted Travel Garment Bag with Accessories Zipper Pocket is clean and simple. It does not come with many non-essential features and you only get what you need with the travel garment bag. The 43" inch version of the garment bag is quite compact for short travels and overnight stays. It will not require much space in your vehicle or luggage compartment because all items are organized and neatly arranged.
Durability
Durability is not an issue with the MISSLO 43" travel garment bag because it is made from high-quality non-woven polyester. It also has anti-rip and anti-tear qualities to provide you with a lasting service. It has a metal grommet with an airtight hole at the top of the bag so you can pull the hangers through the holes and hang your clothes fully protected.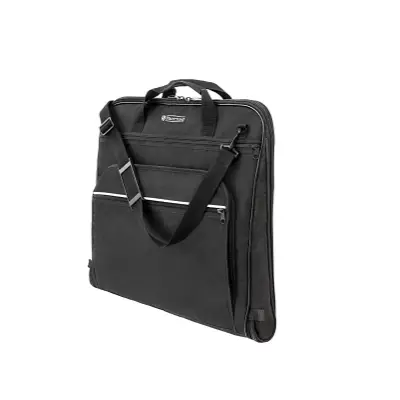 Create for business people on the go, the PROTTONI carry-on garment bag is ideal for vacations or business trips requiring you to bring full suits. It can accommodate 3 full suits including shirts to keep everything well pressed and organized. It can be folded for a compact size making this one of the most convenient and ultra-comfortable traveling partners. The PROTTONI 44" garment bag has interior hooks to secure your clothing in place and has straps to limit movements inside.
Read more
Features
The PROTTONI carry-on garment bag conveniently fits 3 full-sized suits and some shirts. It has straps to keep everything in place and limit clothing movement which sometimes causes wrinkles and creases on your suit. The interior hooks are specially designed to keep everything intact ensuring that everything is well pressed when you get to your destination. PROTTONI is also elegantly designed to give you the sophistication you need when traveling. The product is entirely made in Europe ensuring a quality design and workmanship.
Size
Product dimension of the PROTTONI 44" garment and the carry-on bag is 44 x 24 x 15 inches. Though specifications say that it can hold up to 3 full-sized tuxes, it can really accommodate a maximum of 5 garments all placed neatly inside.
Material
Manufactured with European quality, the PROTTONI 44" garment and carry-on bag is made of reinforced polyester lined with polyvinyl chloride (PVC) polymer. The PVC make-up adds to the waterproofing whilst the reinforced polyester provides the garment bag with the dexterity and superiority of the product. It is lined with high-quality zippers complete with triple stitched handles guaranteed to last for a long time.
Style
Made for businessmen on-the-go, the PROTTONI 44" clothing case has an innovative design reminiscent of the Prottoni products. It has multiple pockets on the outside for carrying extra accessories during your trip. The product also has reinforced handles that are guaranteed to make your travel comfortable and luxurious. It surprisingly fits in an airplane overhead compartment without disturbing the perfection of your clothes.
Durability
Entirely made in Europe, Prottoni offers an extended warranty protection for all their products. This includes the PROTTONI 44" carry-on garment bag. With the extended return guarantee, product owners can return their purchases within the return period so they can receive a full refund of the purchase price. The guarantee itself speaks volumes of the quality and durability of the PROTTONI 44" garment bag.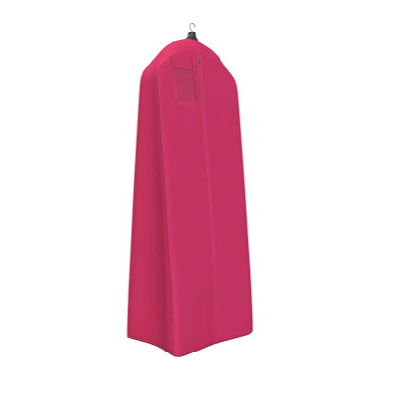 For women who are always on-the-go, this dress carry-on garment bag is the perfect companion. It has a tapered gusset measuring 20" and the bottom of the bag expands to accommodate intricately designed gowns and puffy skirts. It is made from durable polypropylene denser than most of its competitors. This dress garment bag is ideal for large dresses including wedding and prom dresses. It has a breathable construction which keeps your dresses in perfect condition.
Read more
Features
While the garment bag can only accommodate 1 huge dress with a puffy skirt, it does its job perfectly of keeping your gown in pristine condition. It does this because it has a 20" tapered gusset which expands to accommodate your dress. Other than that, the garment bag also has dual zipper sliders to effortlessly retrieve your dress from the enclosure. The Women's Dress and Gown garment bag is also available in 5 different colors – White, White & Gray, Damask Patterns (Black and White), Hot Pink, and Tiffany Blue. It also has an ID pocket so you can label the contents for easy retrieval from your cabinets and storage.
Size
The Women's Dress and Gown has s 72"x24" dimensions and weighs 15.2 ounces when shipped.
Material
Made from a non-woven and lightweight polypropylene, a non-polar partial crystalline used to make durable grocery bags, The Women's and Dress garment bag is a classy carry-on with roomy interiors for your dress. Unlike most of the garment bag in the market, this product is extra strong because it uses 80 GSM (grams per square meter) compared to most bags with only 60 GSM. It is able to resist every day use and can last for a long time.
Style
A perfect garment bag to store your wedding dress before the occasion or a carry-on to protect your prom dress, this dress storage protects your dress by keeping it upright and free from stubborn creases or wrinkles. It keeps your dress in mint condition so you can wear it neatly pressed anytime. The one-tone garment case is very pleasant and the beautifully crafted black and white damask patterns show a touch of elegance and sophistication. It is not just perfect for women's dresses, but can also be used for men's suits, tuxedos, and other clothing.
Durability
The non-woven 80 GSM polypropylene makes the garment bag durable. It is able to resist everyday use and the lightweight construction makes it remarkably convenient to use. It does a good job of keeping your clothes free from dust while maintaining its shape when traveling long distances.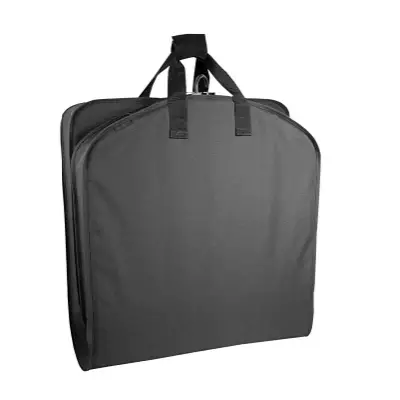 Available in Black and Navy tones, the WallyBags Luggage 60" accommodates 6 garments, enough for a week's vacation or business trip. It has hanger clamps which can secure your clothes tightly and fabric handles to neatly fold and your garments without causing crumpling or wrinkling. It is a ready-to-use organizer for unannounced trips. Simply grab your clothes from the closet and put them right into the garment bag. Unlike other clothing bags, there are no accents or additional pockets on the sides. It simply stores your clothing away from dirt and odor. The WallyBags 60" Luggage Garment Bag fits conveniently in the overhead bins of an airplane and can be used as a neat clothing storage when by car or boat. It has center zippers for a quick access and fabric handles for folding.
Read more
Features
The WalloLock Hanger Clamp and water repellant fabric is this product's strongest selling point. The clamp has a sturdy make to keep your clothes in place. It is securely fastened your hangers but can be adjusted with the clamp to fit your clothes inside. The garment bag is made from durable high-quality polyester which provides an all-weather protection. It folds neatly so your clothing is safe and secure while giving you room for other things to carry. The fabric handles also fit right within your trolley system so you can have an effortless travel.
Size
The WallyBags 60" garment bag weighs 4.8 ounces and has 60 x 22 x 3 inches dimensions and is 30 x 22 x 6 inches when folded.
Material
The garment bag is made from durable polyester which effectively repels water splashes. The polymer structure of the material used to create the garment bag provides an all-weather safeguard. It has superior construction that guarantees long use and a lasting performance. The clamping system used for this product is an original design from WallyBags which has been registered with the US Patent & Trademark Office. It has a 3-year limited warranty from the manufacturer.
Style
The WallyBag 60" Luggage Garment Bag has a neat and simple design. It does not have any extra marks except and trimming except for the full-length durable zippers. The 60" measurement is enough to fit tuxedos with the pants hanging all the way down. The patented clamps provide a solid grip to your hangers and it can be adjusted to give room to your extra clothing. The plain design gives it a professional look and something you would need for a formal business travel.
Durability
WallyBag creates some of the most durable garment bags in the market. This carry-on clothing container has superior construction made possible by its weather-proof polyester fabric. The patented clamping system is made from quality steel and adds to the value of the product. It has an almost bare design yet adds to the professional look you want to achieve. The manufacturer also offers a limited 3-year warranty for the garment bag.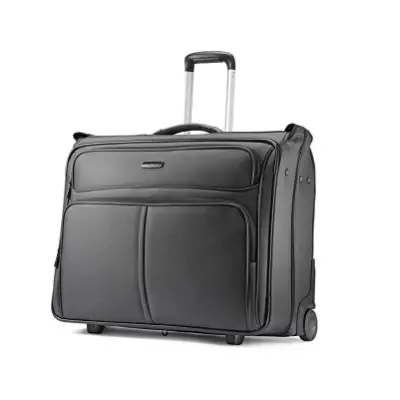 If you constantly find yourself on business travel, the Samsonite Leverage LTE Wheeled Garment Bag is the ideal companion because it can organize your wardrobe tremendously. The clothing storage has several compartments for all your needs including two corner mesh pockets and interior pockets for your shoes, ties, and other essential things. The rolling garment bag has removable hooks for hanging the bag on your hotel door or in the closet bar. It rolls effortlessly with its in-line skate wheels.
Read more
Features
Famous for several garment bags, Samsonite has a functional and attentive design to make your every travel extra comfortable and convenient. The wheels run smoothly offering effortless mobility. It has several great features including a strap for your suit to keep it in place and two corner pockets for extra shirts and other essential items. You ties also have a special spot in the middle of the case ensuring they are neatly folded and ready to use. There are two separate containers at the side of the hook so you can put your underdrawers and toiletries.
Size
The Samsonite Leverage LTE weighs 11.8 lbs and has 9x21x24 inches dimensions.
Material
The garment bag is made from durable nylon which makes it exceptionally durable. The material has anti-abrasion and anti-tear qualities to give you lasting performance. It also has a double in-line skate spinner wheels for smooth and enhanced mobility.
Style
The Samsonite Leverage LTE is reminiscent of all Samsonite garment bags. It has an outer layer that is featureless but the inside is packed with all the good things you need in a garment bag. On top of it all, the Samsonite Leverage LTE gives you the organization you need and the capacity to bring with you as many clothes as you need on a short business trip or travel. The garments bag is bland on the outside, but the inside is something you might want to brag about.
Durability
Samsonite has become a well-known name in travel over the past decade and they continue to put out quality products. The shell of this garment bag is water and oil resistant, keeping your clothes safe while traveling. While Samsonite claims that the zippers on this bag are strong and self-mending, a few reviewers have expressed an opposing opinion. However, this bag does come with a 10-year limited warranty which shows us that Samsonite believes in the product and its durability.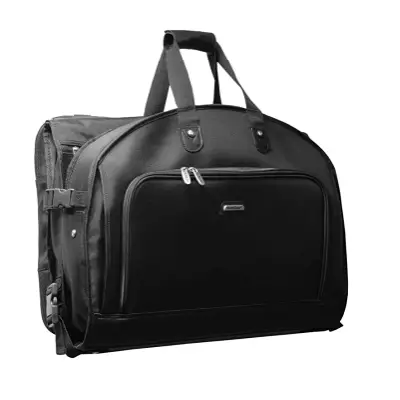 This tri-fold garment bag is something new to the scene. It neatly folds three times to give you a compact look and feel. The bag though is packed with features you need in a carry-on including its patented WallyLock clamp.
Read more
Features
With an incredible design, the WallyBags Luggage 52" GarmenTote brings in a lot of what you need in a garment bag. It has compartmentalized pockets and straps to hold the contents in place. The clothing container folds and releases with side buckles that hold the bag together. It has multiple pockets inside to provide you a well-organized travel. Zippers are made from durable material and its full-length run gives you a quick access to all the contents inside. There are no windows though so you have to take a hunch on what's inside especially if you weren't the one who prepared the contents.
Size
The WallyBags GarmenTote measures 3x52x22 inches and weight 4 lbs. without the contents.
Material
Made from durable polyester nylon material, the WallyBags GarmenTote is incredibly lightweight and durable. It also is water-resistant for an extra layer of protection. The garment bag has three pockets which can organize your extra clothing and several other items including your shoes, belts, and accessories. The double handles at each end have Velcro to fasten them together and the side buckles securely bring the three compartments together.
Style
This bag has the typical look of a hanging garment bag but also has the ability to be folded up. This makes the bag easy to stow in overhead compartments and carry through the airport. When folded, at first glance this black bag doesn't look like a garment bag, it could easily pass as a sleek carry-on.
Durability
The WallyBags GarmenTote is made to last long with its polyester make. It has a ballistic look for a professional look and feel. It has a limited 3-year manufacturer's warranty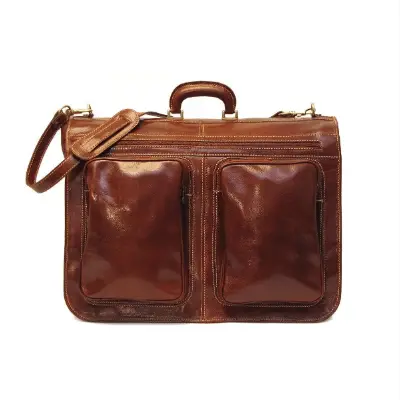 Exclusively handmade for durability, the Floto Luggage Venezia Garment Bag Suitcase is a class on its own. Perhaps the most expensive garment bag on this list, it boasts its fineness because it has been handcrafted in the wonderful city of Florence, Italy. This bag has been crafted from generations-age techniques and made from durable canvas sourced from the US and several European countries.
Read more
Features
Elegantly designed this garment bag is a premium clothing compartment. It comes in several colors including Tuscan Red, Vecchio Brown, and Black. Authentic leather is tanned the traditional way in Tuscany. The Luggage Venetia comes with 4 outside pockets, a mid-line pouch and a center compartment where you can store your clothing.
Size
When folded, the garment bag measures 17x7x22 inch and has a 37x3.5x22 inch dimension when hanged or unfolded.
Material
The Floto Luggage Venezia is made from durable and authentic leather sourced from the US and parts of Europe. It is genuinely hand stained in Florence, Italy and assembled by hand.
Style
Made from durable leather, the Luggage Venezia garment bag will never go out of style. It has a classical look which would make you a proud owner. Because it is handcrafted, the Floto garment bag is a little pricey.
Durability
The Italian polished leather is ensured of its durability because of its European production. It comes straight from the production line and shipped across the world. The calf-skin leather is sure to last for a long time because it is traditionally tanned and manufactured.

Subscribe to our Newsletter