Best Boot Bags
In a Hurry? Editors choice:
Test Winner: KULKEA

If you are a skier or enjoy that type of activity, then you know that it can be a chore to haul around all the gear you need. One of the ways to make your life easier is to purchase a high-quality
boot
bag. Now, we know what you are thinking. "There is more to carry around than just my ski boots so won't I need more than just that bag". Here is the thing; most models will be equipped with additional storage compartments that can be used to
carry
around other
accessories
. Of course, at their core, their main compartment is designed to hold boots. Now, deciding upon the right one can be a little tricky due to the various amount of features you need to look for. After reviewing this buying guide, we are confident you will know which boot bag works best for you.
Standout Picks
Criteria Used for Evaluation
Durability
You never know what kind of abuse your bag can endure so it better be durable.
Yep, it all starts with the build quality and this is determined by the overall construction of the boot bag that you are looking into. Before we talk about the fabric, which is one of the most crucial aspects, let's touch on this for a second. You want to ensure that all the components that make up the bag, including the seams, stitching, buckles, and zippers, are high in quality. If any of the aforementioned components are cheap, it can really hurt the quality of the bag. Now let's talk about the fabric.
With this, you want to pay attention to two key factors. One is the fabrics that are utilized and the second is the denier. Starting with the fabrics, you will typically see polyester, nylon, and tarpaulin used throughout. The latter is usually used at the bottom as it is a large sheet of strong and waterproof (or sometimes water-resistant) material. As for polyester and nylon, nylon is the stronger of the two. Here is the thing, the denier is as important as any other factor. This merely refers to the thickness of the fibers and the higher the denier, the thicker and more durable a material is.
Features
In regard to features, the main thing to keep in mind is the storage compartments. If you want to store more gear, having extra pockets and compartments will be nice.
At their core, any boot bag you buy is going to be able to hold your boots (typically either ski or snowboarding boots but they can be used for any other type). A lot of times, they will be able to hold much more than that. While the actual capacity will come into play (and that will be discussed shortly), this section is focusing on the storage compartments that are integrated. Much like with the construction, not all boot bags will be created equal in this case. Some models will be overflowing with pockets seemingly on every side. Meanwhile, other designs may only integrate a few pockets here and there.
It really all comes down to your needs but the nice aspect of individual storage compartments is they can allow you to store your gear. Without them, everything would be cramped into one compartment and this can make retrieving gear much more of a hassle. Plus, some models will have outside pockets for each boot (and this can be nice for organization purposes).
Capacity
This one is simple; you need the bag to hold your sized boots and all the gear you need.
Beware of the prepared cliché rhetorical question that is clearly obvious. What is the point of purchasing a boot bag that does not fit the current boots you have? As simple as this question is to keep in mind, it is vitally important and you can't, under any circumstance, allow it to slip your mind. Because (and this is important right here) not all bags will work for your current pair of boots (whatever they are for). In regard to ensuring your size fits, assess the physical dimensions of the bag. A lot of times, also, sellers will indicate what sizes will fit. For example, it may be claimed that a certain model will fit ski boots up to men's 13 in size. In this case, anything under that size will fit.
But, you may want to store your other gear inside and this is where the capacity can play a role. Due to the fact that capacity, in this case, is measured in regard to the amount of space that can be occupied, you will see models measured in volume (which will be liters, most of the time). And, you will see most models range from 50 to 70 liters so if you know you have a lot of gear, aim for a larger pack.
Portability
Any sort of carrying sack you buy needs to have certain integrations to enhance the overall portability and this is no different.
It is sort of ironic actually. A boot bag can be made with the best materials possible, a capacity that allows you to store all your gear and enough storage compartments to organize all of your gear, yet still be disappointing. How is this possible? It is simple; if it is not designed with comfortability and ease of carrying in mind, it can quickly become a hassle to transport it around. But, when you assess this portion of the design, you need to keep a few things in mind.
Firstly, are there secondary handles and are they somewhat comfortable? All models will have a main carrying option but when you need to simply get one out of your trunk, having a top carrying handle can come in handy. As for the main carrying option, it will either be a single shoulder strap or backpack straps. The latter will be the preferred option but either way, look for ample padding for your shoulders. Also, in regard to the back, look for integrated padding for even more comfort and support.
Style
Is there anything wrong with wanting to buy a boot bag that you find stylish?
Not too much time needs to be taken here as this really can be an afterthought. Then again, it is never a bad thing if you actually like the design of the products that you buy (in regard to the physical appearance). In this sense, it is nice when sellers provide you with multiple style options as everyone's preferences will be a bit different. Of course, never allow this to be the main factor and, instead, possibly use it as a great tiebreaker between two or three models that you really like.
Top Ten Boot Bags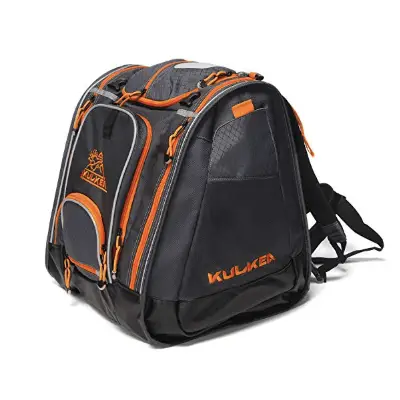 Universally, this is one of the most popular and acclaimed models out there. Though there could be some design improvements here and there, there really is not much to complain about here.
Read more
Build Quality
This is made with a combination of water-resistant nylons, polyester, and tarpaulin. The bottom is actually what utilizes the tarpaulin (with 420-denier, 840-denier and 1680-denier nylons used throughout).
Storage Compartments
While the build quality is phenomenal, the storage compartments could use some work. Although it is nice they are there, the compartments are too small to fit much of anything.
Capacity
Now, in spite of the smaller compartments, the main compartment can hold a lot of equipment. This is rated with a volume of 69 liters and can fit ski boots up to men's 13.
Ease of Carrying
Being equipped with padded and adjustable backpack straps, this is going to be comfortable resting on your back.
Style
In addition to the fact that there are several color options available, all of them are incredibly stylish. In fact, this is one of the better-looking models on the market.
Overall
For certain, you can't question the build quality, style, and comfortability of this backpack. Yes, the compartmentalization could have been improved but we digress.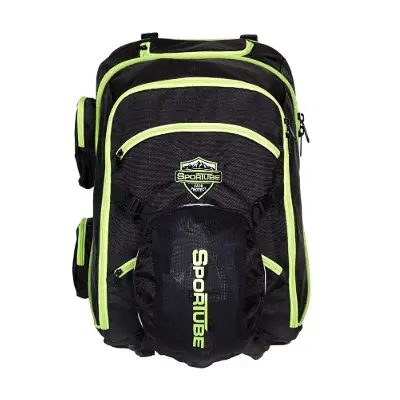 This is another beast and in spite of some inaccurate claims of the size, the Overhead from Sportube is designed to last and is ready for epic adventures.
Read more
Build Quality
Without question, this is ready to handle your adventures. Not only does it sport quality YKK zippers but it also is designed with 1680-denier polyester ballistic material for added strength.
Storage Compartments
There are accessory pockets seemingly everywhere both on the sides and on the front of this pack. Also, the boot compartment is padded.
Capacity
Interestingly enough, some buyers note the advertised claim that this can hold size 13 boots is false (as some users point out it barely fits size 9.5 and up). For the record, though, this has a 50-liter capacity.
Ease of Carrying
To improve both the ergonomics and the overall comfort of the carrying process, this has been engineered with padded shoulder straps that are contoured.
Style
There are actually only two color options available, so the variety is not the best. Still, the black and green and black and orange options are appealing.
Overall
You really do get what you pay for here and this time, that is a good thing. With its ballistic polyester makeup and heavy-duty design, this is a popular choice.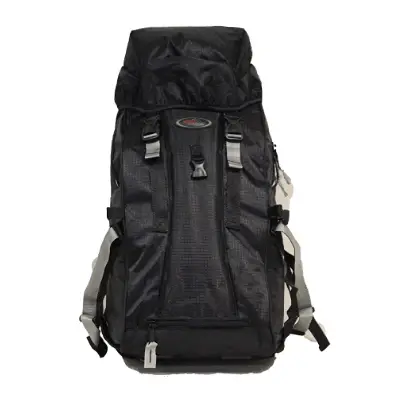 As great as this next pack as, and it really is great, we would be remiss not to mention the fact that more pockets should have been integrated. As it rests, this is ideal for your boots and maybe a few other items.
Read more
Build Quality
In spite of the semi-higher price, there have been a few reviewers who have questioned the quality. This is not cheap by any means but it is a bit on the lighter side in terms of protection.
Storage Compartments
The biggest complaint about this pack is that it lacks storage compartments. And, the main compartment gobbles up everything and makes it difficult to find your smaller items.
Capacity
This is taller than it is wide and is great for holding boots. While it is not the largest pack on this list, there is plenty of room available.
Ease of Carrying
While there could be some additional padding on the backside, the padded backpack straps and PVC carrying handle provide multiple comfortable carrying options.
Style
Overall, you could say the style of this model is fairly bland. But, there are color options available for black, red, and blue, for the record.
Overall
The drop in quality with this model is a bit noticeable but this is certainly still a worthwhile consideration.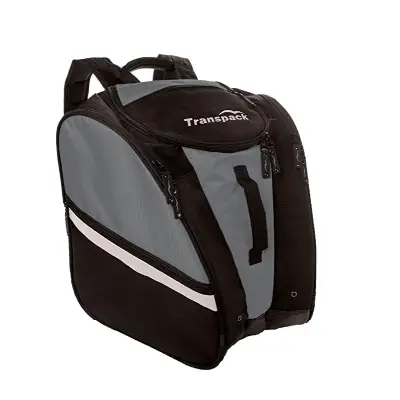 While you are going to pay a little extra for the TRV Pro, it is going to be worth it due to the high-quality durability and the incredibly spacious interior.
Read more
Build Quality
There really is no comparison here when it comes to the build quality. It is made of water-resistant ballistic nylon that is super tough and ready to handle the elements.
Storage Compartments
In addition to the side boot pockets (that also have air and water drainage grommets), this also sports an internal zippered pocket for personal items. However, it is a bit oddly shaped and does not leave a ton of room for other equipment.
Capacity
It is rated that the TRV Pro has a volume of 54 liters and measures 15 inches by 19 inches by 19 inches.
Ease of Carrying
First off, the TRV Pro comes equipped with both shoulder straps and a waist belt to ease the load. What also helps with comfort, though, is the closed cell foam padded back.
Style
Transpack designs their TRV Pro in a wide spread of colors and everyone should be able to find a style that suits them.
Overall
This is simply going to be the best option for any consumers who are serious about wanting a boot bag. It is built to withstand abuse, can account for several pieces of gear and is outfitted with comfort in mind.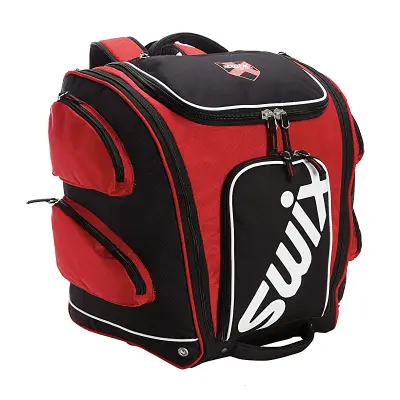 Goodness, where do you start when talking about this product? It really is superb in every major category and is going to be a suitable option for everyone, count on it.
Read more
Build Quality
As many reviewers have alluded to, the fabric composition of this tri-pack is highly durable and can handle some mild abuse.
Storage Compartments
Though the accessory pockets are not huge, they are everywhere throughout this bag with two on each side and one in the front. In addition, there are two large side zipper compartments.
Capacity
With an internal capacity of 65 liters, this is going to be large enough to hold most of your gear. Plus, the main compartment sports a U-shaped opening for easier loading.
Ease of Carrying
When this is fully loaded, it has some girth too it. But, despite the rather excessive weight, it is outfitted with S-shaped adjustable shoulder straps and also an air-mesh back panel that is padded for support.
Style
As far as this specific option is concerned, it is red and black. These two colors mesh wonderfully with one another and you can certainly notice that here.
Overall
In every sense of the word, this is a beast. Perhaps a waist strap could have been integrated to help with the weight but overall, there is little to nothing to complain about here.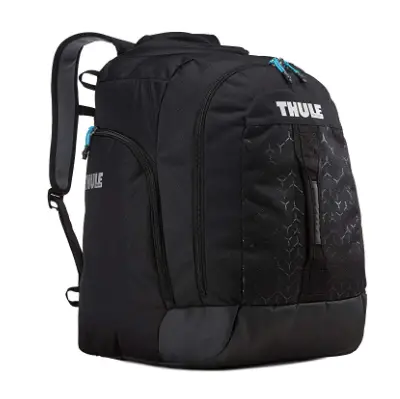 Due to the combination of the 900-denier polyester and the tarpaulin bottom, this is ready for adventure. Of course, the spacious interior also allows this to be ideal for storage purposes.
Read more
Build Quality
As just mentioned, the rugged combination of 900-denier polyester and tarpaulin makes up this backpack and provides much-needed protection and durability.
Storage Compartments
There are two spacious side pockets that allow you to store all types of gear and also interior dividers. Yet, the problem is the dividers are not padded.
Capacity
Overall, the interior is very spacious and should be suitable for most people's needs. Then again, an extra five liters or so could have allowed for even more gear to be stored.
Ease of Carrying
This is a backpack through and through and does come equipped with padded and adjustable backpack straps.
Style
With only two color options available (black and cobalt), the variety is severely limited. But, while not flashy, the two design options are quite stellar.
Overall
Though this is slightly lower on this list, it is more indicative of the quality of the other models as opposed to the issues with this because this is high-quality in every sense of the meaning.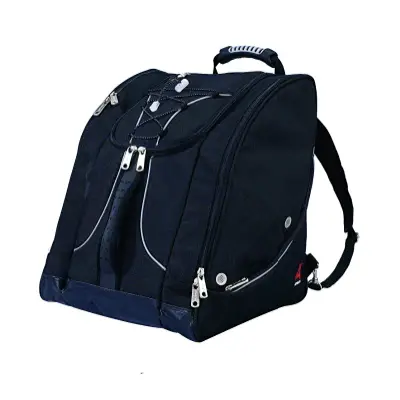 Out of all the other options on this list, this right here may be the most popular. Now, the Everything Backpack from Athalon is not the best of the best but it is without question one of the very best.
Read more
Build Quality
Overall, the quality is impressive with a waterproof PVC bottom and polyester core. But, the top handle has been crucified by reviewers for being poor in quality.
Storage Compartments
Part of the reason why this is so popular is due to the array of storage options. There are zippered side pockets for your boots along with a center section, an MP3 pocket and also clips in each pocket for small accessories.
Capacity
This is advertised to fit boots up to men's 13 in size. Also, the internal capacity is 58.5 liters.
Ease of Carrying
Despite the top handle not being built well, it does provide another carrying option. However, the true glory here is with the padded backpack straps and padded lumbar pads.
Style
Athalon offers you an extensive array of options to choose from in regard to the style. Everyone should be able to find a design that suits their style that is for sure.
Overall
It is easy to see why so many buyers have fallen in love with this model. Simply put, it is one of the best options out there (with the slight quibble going to the top handle).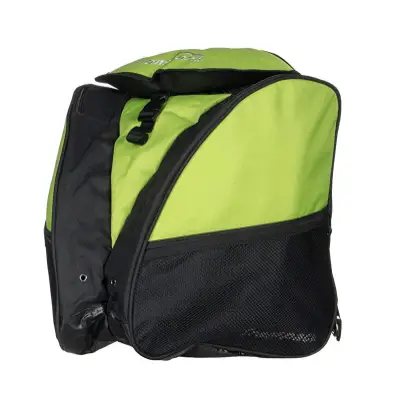 This is another offering from Transpack and while their XT1 is not quite as elite as their TRV Pro, it is still fantastic in its own right and deserves recognition.
Read more
Build Quality
The XT1 does not fall short when it comes to build quality as it is designed of durable and tough material (and many users have attested to this).
Storage Compartments
This utilizes what is known as the Isosceles Storage System. It includes an internal zippered pocket, a top lid pocket and also zippered mesh side pockets.
Capacity
With a capacity of 46 liters, this is one of the smallest capacities on this list. Still, it is not as if it is incapable of storing your gear.
Ease of Carrying
Now, while the straps are padded and adjustable, some users have documented that they are a bit floppy. What is really nice, though, is this is equipped with a sternum strap.
Style
The good news is there are quite a few color options but the bad news is they resemble each other quite a bit. So, the variety is not as great as it initially appears.
Overall
In spite of the slight issues that the XT1 suffers from, it is a high-quality bag that is designed to last with several storage compartments available.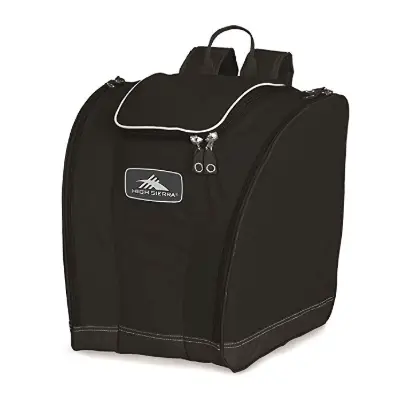 Admittedly, some boot bags can be quite steep in price and if you are looking for a nice, affordable option then you should check this bad boy out.
Read more
Build Quality
Though this is made of 600-denier ripstop Duralite material, this is not a heavy-duty design. In fact, the material could be seen as slightly skimpy.
Storage Compartments
High Sierra did not design their Trapezoid with an overabundance of storage compartments. Instead, they equipped it with two zippered side compartments that both sport drainage grommets.
Capacity
For the record, the side compartments can hold boots up to size 13. Also, the U-shaped opening provides you access to the main compartment (which is fairly spacious).
Ease of Carrying
To provide you with multiple carrying options, this includes both a webbing grab handle and also adjustable padded backpack straps.
Style
In spite of not having the greatest selection to choose from, there are still enough style options available to give you a decent variety.
Overall
If you are not really worried about your bag being ultra-tough, then you can get a lot out of this model. Its storage compartments and comfortable carrying options can attest to that.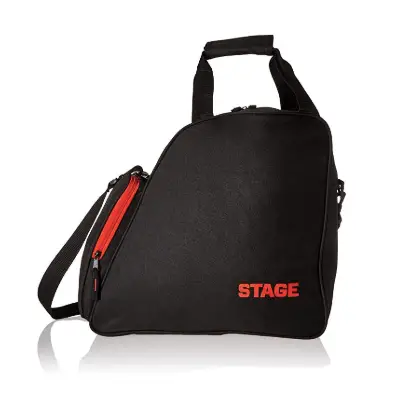 And speaking of affordable, it does not get much more affordable than this. Clearly, it can't compete with the top-end models on this list but for the price, the quality is hard to argue with.
Read more
Build Quality
The 600-denier water-resistant polyester that has been utilized here is good. But, it is not quite good enough to be classified as great.
Storage Compartments
For the price, you need to accept the lack of storage compartments. There is a front pocket, though. Albeit, it is quite thin. Though, if you go with the deluxe option, you can receive an external helmet carrying system.
Capacity
Though this is not going to be for users who need to store loads of gear, it can hold ski boots up to men's 14 in size.
Ease of Carrying
In addition to the top handle, there is also an integrated shoulder strap. However, this is devoid of backpack straps so be aware of that.
Style
The main color is black but there are a few options for the color of the trim available. Either way, this is a very stylish boot bag.
Overall
Is this overflowing with greatness and ready to handle tons of abuse? No; but you know what, it is an excellent option out there for consumers on a tight budget.

Subscribe to our Newsletter