Best Fishing Rain Gear
In a
Hurry? Editors choice: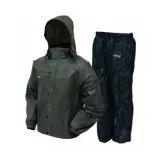 Test Winner: Frogg Toggs

It never fails. You have been working hard all week, watching the beautiful sunshine from your office window, and as soon as you have the time to break away and pack up for a little fishing trip- the sky opens up for a downpour. Bad weather doesn't have to mean that you have to cancel your plans and couch surf all weekend- not if you have the
right clothing.
Not only can a good
rain
be incredibly beautiful, especially along the shoreline or in a
canoe
in the middle of a lake, but it also means that three might actually be more fish closer to the surface. We have done our research to find some of the best
fishing
rain gear out on the market so that you should never have to cancel a much-anticipated trip on account of bad
weather.
Standout Picks
Criteria Used for Evaluation
Brand
If you are a seasoned outdoorsman, there are certain brands that you might already be familiar with, such as Frogg Toggs and Helly Hansen. Brands such as these are known throughout the out apparel world as being some of the toughest outdoor clothes out there on the market, and they generally sport a pretty affordable price tag. When we saw some of the big names come up in our research, we made sure to get them a look first. Users always feel a little bit better about their purchase when they know that they have a brand name behind them. Plus, these companies have a generally good track record about exchanges and returns- which is an inevitability when shopping for apparel on the internet without the option of trying it on first.
Weather Resistance
What we mean by weather readiness is how well it will hold up in the elements, and how it will perform in keeping you dry. We tested each designs weather readiness by looking at two distinct features- materials used, and user reviews. Materials such as polyester and nylon are great because they are incredibly durable, and they already have some water resistant properties. Most of these designs are then coated with a thin layer of PVC to ensure that water stays on the outside and doesn't even come into contact with the polyester. After we made sure that each model used superior materials to ensure that they would wick away water, we read what users had to say. Even if a brand claimed that they used the highest quality materials to keep water out, if they didn't put any extra care into the seams, water could still penetrate. That's why we read what users had to say because the proof is in the pudding. If there were an overwhelming number of past customers that claimed that water was still able to penetrate through, we typically moved on to the next design.
Comfort
No matter if it's 90 degrees and sunny, or 5 degrees in the middle of a snowstorm, you always want your clothes to fit comfortably. Just because you are braving it in bad weather doesn't mean that you aren't allowed to be comfortable. That's why we made sure to select designs that allowed for a full range of motion and has many places for users to be able to adjust the fit. Details like adding neoprene in the cuffs were something that we looked for because it meant that it would provide an excellent seal to keep water out while still feeling comfortable on your wrists and ankles. We were also drawn to design that had vents and mesh lining to keep you cool. Often, with waterproof materials, it can feel a little bit like wearing a plastic trash bag. Even though your skin is dry from the rain, the lack of circulation could have you sweating bullets. Products the utilize covered vents on the back and breast, as well as having a mesh lining will help keep air circulating to your skin while still keeping water out.
Size
Buying clothes without being able to try them on first can be a tricky endeavor. You want to be able to get the size right the first time because even though a company is generous with their return policy, no one likes to make the trek to the post office to return something. Plus, that means that you will have to wait even longer to be able to wear your new clothes. That's why we selected brands that not only had a very detailed sizing chart, but we also took a look at what past users had to say about the accuracy of the fit. Almost all of the options that we selected for this list had at least 80 percent of users feel that their product fit as expected. The other users that didn't feel that they fit right usually felt that they were too big. This may be due in part because the company intentionally made them fit a little loose to allow users to layer clothes underneath if they wanted to wear them in the winter months.