Best Backpacking Stoves
last updated:
Feb 07, 2020
If you have ever gone backpacking than you know that there is quite a bit of gear that you need to bring with you but you will have limited space to pack this gear, hence you want your gear to be compact and lightweight. Everything you need will need to fit into your backpack which once you start to pack will seem as though it gets filled quickly. One piece of gear that is important to bring with you is a backpacking stove. The reason a backpacking stove is so important is that you want the ability to cook hearty meals and recharge your energy on your trip. Backpacking stoves are compact and lightweight but provide the cooking power of a regular household stove, so if you have not purchased one yet, check out the guide below for some great options.
This is the best product on our list that is currently in stock: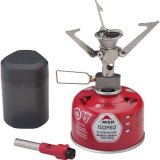 MSR PocketRocket 2 Ultralight
Why is it better?
Durable, lightweight stove
Boils water quickly
Compact design, easy-to-carry
In a
Hurry? Editors choice: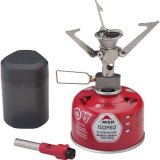 Test Winner: MSR PocketRocket 2 Ultralight

15
Researched Sources
1.5k
Reviews Considered
13
Hours Researching
16
Products Evaluated
Style
Value
Weight
Weather Resistance
By Default
Top Ten Backpacking Stoves
Criteria Used for Evaluation


Style
A source of confusion for many outdoor enthusiasts looking to purchase a good stove is exactly which type of stove to purchase. For instance, when you're doing your research, you'll come across different categories of stoves that include canister stoves, liquid fuel stoves, solid fuel stoves, alcohol stoves, and wood stoves.
Let's take a look at the three most common—canister stoves, liquid fuel stoves, and alternative fuel stoves to give you some understanding of what each type can do for you.
Canister Stoves
Canister stoves are great for those of you that prefer something that's easy-to-use and low-maintenance. Many portable canister stoves are small, fold up, and are lightweight.
You can also easily light these stoves, and you don't need to prime before lighting it. All that's required is turning the valve and lighting it with a match or other igniter. Most models include easily-adjustable flames that can simmer and cook just about anything.
Canister stoves also self-seal when you unscrew them, so you'll decrease any fear you might have about spills and leaks. Also, some of these stoves come with a built-in pressure regulator so that you always get the same level of heat, making them very effective if you're camping at high elevation points in the mountains, or in the cold weather.
Canister stoves do have their downsides, however. Sometimes, their arms aren't long enough to securely keep pots in place, and determining how much gas is in the canister can also be tricky, so you'll probably need a backup canister, just in case.
Also, windscreens don't work well with canister stoves since they can trap excessive heat and might cause the fuel on the stove to explode. Canister stoves also usually require higher-priced fuels, and sometimes waste from the canister can be difficult to dispose of correctly in the outdoors.
Most canister stoves are either integrated or remote. Below we break down each kind:
Integrated canister systems
Integrated canister systems are typically tall with a burner you can screw onto the fuel canister, an insulated cooking pot with a lid and drain or sip holes, and extra accessories you can purchase. They boil water quickly but don't typically cook foods as well as other stoves. Some of them also come with a built-in pressure regulator that makes the stove perform more consistently no matter what type of weather you encounter outside. However, these stoves are often heavier and can also tip and spill over.
Remote canister stoves
Remote canister stoves are designed to stay on their own base and use a fuel hose to connect the canister. They are smaller and lightweight, but can also weigh more than a standard canister stove.
Liquid-Fuel Stoves
If you're thinking about buying a liquid-fuel stove, know that most of these stoves need white gas to work well. Liquid-fuel stoves typically burn clean and hot, and are made to work well in below-freezing temperatures like canister stoves, but usually cost far less than to a canister stove.
Some liquid-fuel stoves are made to use many different types of fuels, and multi-fuel liquid-fuel stoves can run on all or a few types of fuels, like unleaded gasoline, kerosene, diesel fuel or jet fuel. The versatility of the gasoline these multi-fuel stoves offer to work well for those planning to travel internationally and aren't certain which types of gas might be easier to obtain.
With liquid fuel stoves, you can much more easily check fuel levels when compared to a canister stove. You'll have to purchase a fuel bottle with most of these stoves, but you also won't have to worry about discarding a canister.
Liquid fuel stoves also tend to be more stable than canister stoves, meaning you'll experience fewer spills or leaks. But if you are using a multi-fuel stove, you'll have to make sure you check the stove often when using a fuel besides white gas that doesn't burn clean.
There are a couple of downsides to liquid-fuel stoves, however. First, unlike canister stoves, most liquid-fuel stoves need to be primed, which can take some time and make lighting the stove efficiently more difficult and time-consuming.
Liquid-fuel stoves also usually need more maintenance than canister stoves. You'll need to be prepared to clean this type of stove more often, replace parts, and keep a better eye on the performance of the system overall to make sure it works whenever you need it.
Purchasing a multi-fuel stove also means you'll probably spend a bit more money than if you select a liquid-fuel stove that only burns with one type of fuel. Liquid fuel stoves also tend to weigh more than the usual canister stove.
Alternative-Fuel Stoves
There are three types of alternative-fuel stoves that tend to be great for people planning long-distance backpacking kits. The three types of alternative-fuel stoves are wood-burning stoves, denatured alcohol stoves, and solid-fuel tablet stoves.
Wood-burning Stoves
Wood-burning Stoves. These are great for those of you know you'll be around twigs and leaves since you won't have to carry fuel and simply need to burn what you can gather to run your stove. These stoves are simple to use and lightweight and may also include a USB connection that can charge a mobile phone.
Denatured Alcohol Stoves
Denatured Alcohol Stoves. These types of stoves are some of the lightest on the market, and only require a small amount of denatured alcohol, a very cheap fuel, to burn. They don't have many parts so maintenance is easy, and they are also quiet when they burn. One thing to remember, however, is that alcohol won't burn as hot as other types of fuel, so it takes longer to heat these up, and you often need a windscreen to use these effectively.
Solid-fuel Tablet Stoves
Solid-fuel Tablet Stoves. These stoves are usually ultralight and many models are so compact when you fold them up, you can put them in your pocket. They are inexpensive and easy to reuse, but also are slow when boiling water. Some of these tablet stoves also give off an odor and leave a greasy residue on the pot, which can be difficult to clean.


Value
Most outdoor portable stoves vary dramatically in pricing. Some are very affordable, while others can cost over a hundred dollars. When considering the price of a stove, remember that some of the higher-priced models will be much easier to use and last longer. If you plan on using your stove often and will be camping a lot with it, you'll probably save yourself money in the long run by buying something that is made to last longer, even if it initially costs you a bit more. Chances are, the more you spend, the more you'll get out of the stove, and most higher-priced models are designed to last for years.


Weight
Different stove types vary dramatically with weight. When trying to figure out what you can carry, think about what you need in a stove. If you need something that will burn snow, you might be carrying something a bit heavier since stoves with good power burners often weigh more. However, most hikers want something that's light and easy-to-carry, so you'll need to consider some give and take when selecting your stove. If you know you won't outside often in the cold weather, then you can probably buy a stove that is lighter in weight and doesn't have a heavy burner.


Weather Resistance
When selecting your stove, you also need to consider what types of weather conditions you'll be expecting to encounter when you camp. If you know you'll be staying overnight during the winter, then you want to purchase a stove that can melt snow for drinking water. Also, campers that plan to be out during the winter weather will most likely be using their stoves often, so if you fall into that group, you'll want to make sure you purchase a stove that can perform well even if the temperatures fall below freezing. Most liquid stoves perform better during the winter weather and are designed to melt snow. However, if you won't be outside when the weather is cold, you can probably opt out of this concern.
Many backpacking stoves can be difficult to use in windy conditions unless they are made to withstand that type of weather. If the stove isn't made to work well when it's windy, you'll find the heat you create might never reach your pot, making your stove far less efficient when you are trying to preserve fuel. If you know you will be camping often during windy weather, then you want to consider getting a stove that's made to handle this type of weather. Integrated canister stoves often work well in the wind, while some other stoves, like alternative-burning fuel stoves, don't perform as well. Some of these stoves, however, that don't perform well in windy conditions work just fine when you use a windscreen to protect the stove. Most regular canister stoves, however, shouldn't be used with a windscreen or the fuel can explode. So again, the wind is another factor to consider before you purchase your stove.
Expert Interviews & Opinions
Most Important Criteria
(According to our experts opinion)
Experts Opinion
Editors Opinion
Users Opinion
By Default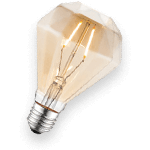 Know Your Terrain
If you are planning to spend quite some time backpacking, camping or at the beach this summer, you will want to consider purchasing an effective, efficient, and durable backpacking stove that can meet your needs and ensure you can cook on the go with ease. Most outdoors people prefer lightweight stoves that are easy-to-use, but you'll need to think about things like weather conditions (meaning snow and wind factors), terrain, as well as the type of food you plan to cook outdoors.
Make sure its lightweight
When looking to invest in a camping and backpacking stove the main factor you want to ensure is that the stove is lightweight and easily transported. This is so important as when you are packing your backpack, you do not have extra room and every pound counts. So make sure that you find a stove that will work efficiently out in the wilderness and will fit in your pack easily.
Other Factors to Consider


Safety Hazards
If you know you might be camping outside when the weather is warm and dry, then you'll need to consider how fire bans in the forest you might be adventuring through can affect your ability to cook and use a stove. In some strict fire ban areas, you won't be able to use any stove, but strict fire bans are typically not the norm. Canister stoves are usually the safest type of stove and can be used outside even when the weather is warm and dry. Occasionally, solid fuel stoves might also be allowed but you will need to be extra careful when priming them. However, in fire ban areas, you most likely won't be able to use a wood or alcohol stove at all. So, make sure you know when and where you plan to camp, and how that might restrict your stove usage so you know what type of stove to buy.
Frequently Asked Questions
q:

What Are Some Tips for Using a Canister Stove?

a:

When you first purchase your canister stove, you'll have a small amount of air near the top to bleed off which then allows the fuel to move through the system and ignite. When your stove is lit, though, be careful about tips, because you might experience a large flame-up if that happens.

If you are using a canister stove in colder temperatures, you can keep the stove warmer by keeping it in your sleeping bag at night, or backpack during the day. That way, you'll need less pressure when you start the stove.

If your canister stove comes with a pressure regulator, you should be able to burn less fuel at higher elevations, saving fuel. If you wind up cooking with this type of stove in the snow, you can use some foam at the bottom of the canister so that ice doesn't freeze to the bottom of the stove.

If your canister stove comes with a Lindal valve, then you can use different types of fuel brands, even if the stove's manufacturer recommends their brand of fuel. Also, most spent fuel canisters can be recycled.
q:

What Are Some Tips for Using a Liquid-Fuel Stove?

a:

Alcohol can really be beneficial when priming a liquid-fuel stove since you'll be able to keep the stove free from soot this way. Also, make sure you don't fill the fuel tank completely since these stoves need room for air in order to pump well, and you don't want pressure building up inside the stove.

With a liquid-fuel stove, you should consider purchasing and using a windscreen if you'll be camping on windy days. Also, heat exchangers work well with these stoves if you plan to be outside when it's colder or on a longer trip.

Also, many liquid fuel stoves use white gas, which can perform poorly as it ages, so it's best to avoid aged white gas. Also, you'll want to empty the fuel tank on the stove if you plan on storing it for longer periods of time.
q:

Are backpacking stoves really worth getting?

a:

If you plan on backpacking, camping or even visiting the beach this summer, then a backpacking stove will be a great investment. These stoves are light, compact and easy to use so they are perfect for cooking up a meal while outdoors. Most of these backpacking stoves are quite affordable and will not only last you years to come but also will allow you to pretty much cooking a meal anywhere. It will save you a lot of hassle purchasing a backpacking stove, then using a portable stove as a portable stove can be quite bulky and you can get the same result cooking on your backpacking stove.
q:

Is it safe to use a backpacking stove in my tent?

a:

Using a backpacking stove in your tent is not recommended, and some may think that there is no problem using your backpacking stove in your tent as they are quite small and portable. But this would be a big mistake as many hazards can happen using your backpacking stove in your tent such as carbon monoxide poisoning, catching your tent on fire, burns caused by cooking in tight spaces and attracting wild animals to your tent from food odor. These are just some of the major things that can occur if you decide to use your backpacking stove in your tent, so be safe and cook a safe distance away from your camp. It is always best to designate an area which will be your cooking station, this way you can cook your meal safely and if animals are attracted to the food odor it will be away from your camp.
Subscribe to our Newsletter