Best Camping Cookware
In a
Hurry? Editors choice: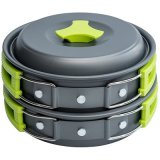 Test Winner: MalloMe Mess Kit

Many campers when camping are familiar with when it comes time to cook a meal, using solely the fire or using a
portable barbecue
, but we are here to tell you that camping cookware will open up a whole new world of cooking while camping. Breakfast, lunch, or dinner will be a whole new experience if using camping cookware as it allows you to grill, fry, or boil any recipe you can think of, and the best part is you don't need a kitchen to do it. This gear is particularly great if you will find yourself backpacking, as they are lightweight and compact to ensure that no matter how deep in the woods you go,
a great meal
can always be made.
Standout Picks
Criteria Used for Evaluation
Portability
Often when it comes to camping, being able to easily transport your equipment, food and supplies to and from your chosen campground are essential. Having a set of camping cookware that can be easily stored away and moved from place to place can help in that regard. So when we tried to find the best camping cookware on the market today, one of the first characteristics that we took a look at was the portability of the cookware.
In most cases, the items presented here on this list can either be carried easily in an individual backpack or stored away in a car or mobile home. These examples often feature the ability to nest within each other, to collapse down for easy carrying and storage. With the proper packing game of Tetris, or perhaps connected to your pack with a D-ring, you'll be able to fit one of these sets into your pack.
Ease of Use
Like it or not, dirty dishes are still a part of life, even when camping. Since most campers don't bring a dishwasher with them to the great outdoors, having a set of cookware that is easy to clean does make a bit of a difference. Characteristics such as non-stick surfaces, few unnecessary crevices and crannies, and even some included cleaning utensils can often mean the difference between a camping cookware set that gets used over and over, versus none at all.
Thankfully, the dishes contained within these camping cookware sets are designed for easy clean up overall and feature many of the characteristics that many outdoor chefs would spend time drooling over.
Materials
If you spend any time at all camping, you know that your equipment is going to go through a lot of abuse. It's just the nature of the activity. So finding a set of camping cookware that is well made and uses quality materials is a very good idea. Thankfully, with modern technology and manufacturing techniques, there are plenty of different examples of quality materials available on the market today.
In many cases, camping cookware today is made from some type of lightweight metal such as aluminum or lightweight steel that has been given a protective coating. Handles and fasteners are also sometimes treated for heat resistance and to strengthen them. When plastics are used, they are often BPA free and heat resistant, since many of the foods and liquids stored in them temporarily may be hot.
Durability
Along with the overall construction and materials, another factor that many avid campers consider when shopping for a new set of camping cookware is its durability. There are quite a few factors that come into play when considering durability including the materials used, the level of craftsmanship, the intended use of the camp cookware, and how easy it is to care for overall to name a few.
With very few exceptions, the examples presented here on this list are durable enough to take a moderate to severe amount of abuse and still keep coming back for more.
Accessories
It's the little things, isn't it? Knowing exactly which accessories are included with your cookware kit is important. Some sets include silverware and cups and others don't. Some campers have grown accustomed to using one reusable water bottle and have no need for the extra space and weight of cups. Additionally, some campers have what looks like a Swiss Army Knife of silverware. Depending on what you already own, you may not need a kit that comes with a lot of accessories. Additionally, although most sets come with pots and pans, not all come with a lid. If what you will be cooking requires a lid, that's something you should keep in mind.
Top 10 Camping Cookware Sets
Subscribe to our Newsletter