Best iPhone Cases for The Outdoors – 2021 List
In a
Hurry? Editors choice: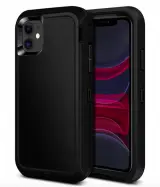 Test Winner: Jiunai iPhone 11

In recent years, our iPhone has become just as important as our credit card, car keys, and house keys. Needing to stay connected and juggling both work and home, iPhones are being increasingly used in a variety of locations. That is why it is so important to ensure that your iPhone is protected from accidental drops, scratches, and knocks. The best way to do this is to invest in a good quality iPhone case.

With the ability to capture photos and record videos, purchasing a case that protects your iPhone against external factors like water, snow and dirt is crucial. To make your life easier we have reviewed and put together a list of the best iPhone cases for outdoors on the market. Enjoy!
Standout Picks
Criteria Used for Evaluation
Protection
Protection can be broken down into several different subfields. Some of which are more important than others, but they all provide the one aspect that is vitally needed for a smartphone case. After all, many smartphones (specifically iPhones) are not cheap.
The most common form of protection that iPhone cases provide is against drops and falls. This can be accomplished by implementing advanced shock absorption technology. When you drop your phone say on the ground when you are holding it, there will be a lot of shock that is created when it contacts the surface. With a case built to absorb most of it, there is less of a chance that the phone itself will break or crack. Some other design choices you can look for are corners that are equipped with air cushioning technology and cases that are composed of highly-durable polyurethane.
There is also the convenience of having a screen protector attached to the case. Technology-based hardware, such as iPhones and tablets, nowadays put an extremely high emphasis on touch-screen capabilities. The risk of damaging your screen is heightened. With cases that have a screen protector, you no longer need to concern yourself with accidental scratches or scuffs on the screen.
Lastly, there is water resistance or lack thereof. There are a plethora of iPhone cases on this list that are completely waterproof. These literally encapsulate your phone to prevent water from penetrating any portion of it. For boating, kayaking, or swimming trips, these cases will be perfect to protect your iPhone.
Versatility
A smartphone case that does not fit your phone is like a pair of sneakers that do not fit you. As this list is all about iPhones, every single entry is compatible with an iPhone model.
Then you have the special smartphone cases that are universally designed. Typically, if a case is universally designed, the seller will specify when the tag "universal" no longer applies.
Advanced Features
If you enjoy using your iPhone as a means to watch movies or videos, it is extra convenient if a belt-clip is included that creates a kickstand for your phone. Thus, allowing you to kick back and relax without having to struggle trying to prop your phone up on its side.
How about cases that have a TPU, or any other stiff material, bumper for an added grip. iPhones can be slippery and even though cases will provide protection, it still is not good to drop your phone too many times. But, the grip can also simply provide a better feel for your hands.
For people interested in waterproof cases, there are special features for them as well. Some will come equipped with a neck or wrist strap that will easily allow you to secure it to your body. Others will be designed with a simple snap and lock, or swivel-lock, for an easy open and seal.
Best IPhone Cases for the Outdoors
Subscribe to our Newsletter