Best Hiking Hats
last updated:
Feb 06, 2020
If you are going outdoors on any adventure during any season, you want to make sure that you are properly protected from the sun. A hiking hat can be one of the best pieces of gear that you can equip yourself with to protect you from the sun as it can protect you from heat stroke, sunburns, and can even protect you in a rainstorm. Now a hiking hat is much different from a normal baseball cap as a hiking hat has a much wider brim and protects you from the sun from 360 degrees of protection. A baseball cap only protects the front of your face leaving your neck exposed to the sun, so it may not be the most stylish option but a hiking hat is definitely the safest option. If you agree, then the hats below are for you!
In a Hurry? The test winner after 12 hrs of research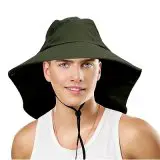 Sun Blocker Unisex Neck Flap
Why is it better?
Good sun protection
Comfortable and convenient to use
Lightweight
In a
Hurry? Editors choice: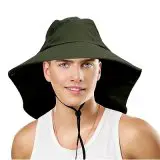 Test Winner: Sun Blocker Unisex Neck Flap

15
Researched Sources
1.3k
Reviews Considered
12
Hours Researching
16
Products Evaluated
Protection
Breathability
Materials
Value
By Default
Criteria Used for Evaluation


Protection
This is unarguably the most important factor while choosing a hat. It cannot be overstated. A staggering number of people simply overlook this when it comes to headwear and simply go for the most aesthetically appealing one or the cheapest one. This is WRONG! It is imperative that we all understand that overexposure to the sun can have disastrous consequences, skin cancer being one of them. A desire for tan or a cheaper price cannot even come close to offsetting the risk of skin cancer. This is not to say that you cannot have other factors that influence the choice of your hiking hat, but your priority should be the amount of protection it offers from the dangerous ultraviolet rays.
Whenever you see a hat, make sure you ask for the Ultraviolet Protection Factor(UPF) rating of the hat. It is absolutely essential that your hat has a UPF rating of 40 to 50+ which is considered to be in the excellent range as it blocks 97.5 to 98% of potentially harmful ultraviolet radiation. There is more on UPF in the FAQ section.
On a final note – and I have to mention this because a surprisingly large number of people seem to think this – sunscreens are not a substitute for a hiking hat. Without getting into a discussion about the chemicals in sunscreens or their effectiveness (that is for another day), a hat protects you from the sun in a way no sunscreen can. I cannot stress this enough, please make sure that your hiking hat has the best possible UPF rating.


Breathability
Another overlooked factor while shopping around is the quality of ventilation it provides. You might be wondering as to what relevance ventilation could possibly have in this context because we will be able to breathe regardless of the hat, right? Well, not quite. An ideal hiking hat should have little holes on the side called eyelets. This is to facilitate air circulation. It helps you keep cool and prevents you from sweating excessively.
Not only is constant sweat pouring onto your face irksome, but it also causes a loss of fluids. When you are on a hike, one of the last things you want is for your body to get dehydrated. Dehydration can lead to fainting, nausea and in extreme cases even death. We tend to miss the importance of such things, make sure you do not! Seemingly minor things can have far-reaching repercussions.


Materials
Hats are usually made of polyester, cotton or a blend of both. In more cases than not, it is a blend of both. Nylon hats are relatively new to the market. What material is best for you again depends on what your needs are; every material has its own set of advantages and disadvantages.
For example, polyester is washable, dries quickly, does not fade easily and tends to last long. However, it does not absorb moisture as well as other materials.
On the other hand, cotton is easier on the skin – a cotton that is unlikely to cause your scalp to itch or something of that sort if your skin is sensitive; it is breathable as it facilitates good air circulation; it makes you feel uncomfortable in hot weather. It has its downsides in that it shrinks easily and it is prone to deteriorate as a result of mildew attack. It also tends to fade more easily than polyester and is also prone to wrinkles because of its very nature.
Nylon is easy to clean and is very strong. It also tends to be light in weight – this is an advantage because you do not want your hat to bog you down on a hike. Nylon also combats mildew and fungi better than cotton does. However, it does not absorb water well.
All of that considered, which material should you go for? It must be reiterated that it really depends on the individual. However, a blend of polyester and cotton would not be a bad choice. You get the best of both worlds. Nylon is gaining popularity and has been a success though, and it is a force to be reckoned with.


Value
You may be surprised to see that price is slightly low on this list, but take it from me – a few extra dollars are totally worth the reduced risk of skin cancer and dehydration, not to mention better comfort. You should be able to get an ideal product as per your choice and specifications in the $12-$15 price range.
When it comes to looking for a hiking hat do not focus primarily on the price as the main concern is the type of protection you will get from the hat. Most of the time when looking for a hat to purchase, they are quite affordable and will not break the bank, so keep in mind what type of activities you will be doing this summer season and if the hat you are looking at will complement those activities.
Expert Interviews & Opinions
Most Important Criteria
(According to our experts opinion)
Experts Opinion
Editors Opinion
Users Opinion
By Default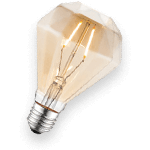 Extra Protection
Hiking hats aren't just for protection from the elements. If you plan to be trekking in an area where mosquitos and insects will be prevalent, consider a hat with the added protection of side and back neck flaps. These flaps help prevent insects and debris from getting into your clothing and hair.
Breathability is key
When looking for a hiking hat to take with you on your next adventure, make sure you make sure the hat is breathable. The reason you want a hat that is breathable is that you will be out under the sun and your head will start to sweat if it does not get the proper airflow. So make sure the hat you are looking at has some mesh pockets to allow fresh air to flow in and out.
Other Factors to Consider


Weather Resistance
A hat is not just to protect you from the sun during a hike. It may so happen that you have to hike in windy and rainy conditions. Having a hat that is waterproof and windproof will most certainly be advantageous in such cases. Hats with chinstraps are usually good enough to withstand reasonable pressure from the winds.
These are the most important criteria that you have to consider when buying a hat. In a nutshell, it has to shield you effectively from the sun, have good ventilation, be made of a fabric that best suits your needs and comes with an adjustable toggle. If it is easily cleanable, washable and foldable, then it is a bonus. If it is also windproof and waterproof, then you truly have a hat for all seasons! Some might mention chin straps or neck flaps but these are usually add-ons and not of great importance.


Adjustability
Usually, hats are "one size fits all". I am sure we all know from experience that it is not quite true. A hat should fit perfectly on your head when you are out on the trails. The last thing you want is for it to be too loose or too hat. Having to hold it all the time can also be irksome. This is where an adjustable toggle comes in. You can use it to ensure it perfectly fits your hand. Make sure the hat you buy has an adjustable toggle and also ensure that it is not flimsy.


Comfort
What good is a hiking hat that offers the best protection and breathability but is not comfortable? The comfort of the hat you are looking for should be one of the main factors you are considering as no one wants to be out this summer season and wearing a hat that is not comfortable. The best way to ensure you are getting a comfortable hat is to check the customer reviews.
By checking the customer reviews you will get a first-hand look at how this hat fit and felt for other customers who decided to go with the hat.
Frequently Asked Questions
q:

What is UPF? Why is it important?

a:

UPF is the Ultraviolet Protection Factor which measures the UV protection that a hat provides. If a hat has a UPF of 50, it means it blocks 98% (49/50) of UV rays.

It is important because exposure to UV rays could result in skin cancer. According to the American Academy of Dermatology, Skin Cancer is the most common cancer in the United States and current estimates are that 20% of all Americans will have skin cancer in their lifetime.

The problem is that a lot of people seem to be oblivious to this skin cancer threat and leave themselves completely exposed, sometimes in the attempt to get tanned. Unfortunately, exposure to the sun could cause more than just tans.
q:

What are the criteria that you should consider when purchasing a hiking hat?

a:

There is no hard and fast rule. One of the most important factors you should consider is the level of protection it offers against the sun. Adjustable toggles and ventilators are also indispensable because fit and breathability are very important. Too much sweating on long hikes could cause water loss and dehydration which could have dangerous consequences. Comfort and foldability are also important.
q:

How do you clean a hiking hat?

a:

In general, hats are best washed by hand. While some hats may allow for machine wash, there is always the risk of damage to the machine. Moreover, hats last longer if they are washed by hand. Use only mild detergent, so as to not damage the fabric. Furthermore, if you check with your particular hat's manufacturer, you will easily find out which way is best to clean your hat.
q:

Which material is the best?

a:

There is no "best" material. Cotton tends to be soft and more comfortable than other materials for example, but it also has the tendency to shrink and lose its color. On the other hand, polyester dries quickly, resists wrinkles and shrinkage but has low absorbency. Nylon hats tend to be very durable, but they also stain quickly. It all depends on which features you prioritize. Do you want the most comfortable hat or the most durable one? Do you want one that does not wrinkle and can be machine washed, or one that can only be hand washed? The answers to such questions will let you know as to which material will suit you best.
q:

How much protection should I expect if I purchase one of these hats?

a:

Really, it all depends on how you are defining protection. These hats are all designed to offer good weather protection and especially effective sun protection. In fact, protection is one of the most important things you'll need to think about before purchasing a good sun hat. While you might think that all sun hats need to have wide brims, this isn't always true. There are plenty of interesting styles and designs of these hats on the market nowadays that covers your neck and do a great job of protecting you from the sun without having to have too large of a rim.

The most effective hats should cover you all day long, and still make you feel like you look great when you have that hat on your head. Most of the hats with the best sun protection have capes that go along the back of the neck to prevent sunburns. While these capes do a great job of giving you sun protection, they don't always look great. So, you'll have to balance out that choice with style. All of the hats on our list offer some degree of sun protection, but the effectiveness does vary depending on the design of the hat.

Often times, the more protection you want or need from your sun hat, the less fashionable it is going to look. So, you might need to balance that choice out a bit if you are very concerned about style with your hat. But, if you can find a good hat with decent sun protection that doesn't make you feel terrible about how you look, then you are off to a good start. It's also good to get a hat that can withstand the wind and stay on your head without being blown off. So, look for hats that also feature drawstring cords so you can cinch that hat on you and never have to worry about using it.
q:

What do I need to know about comfort before purchasing one of these hats?

a:

Comfort is always something you'll want to think about before you purchase a good sun hat. If you wind up with a hat that doesn't feel great when it is on your head, you are probably never going to use it, and you'll wind up wasting your money. Comfortable hats really make a difference, especially when you are on the go in the great outdoors. When considering comfort, you want to make sure the interior area of the hat feels soft and good on the skin, and the hat is also lightweight when you put it on your head. Some hats that are full brimmed tend to feel a bit more uncomfortable on your head, as well as hats with stiffer brims.

So, if you are thinking about a hat that is full brimmed or has a stiff brim, you may want to try it on to see if it works well for you, or if it bothers you. Comfort is often times a matter of personal preference, but those two types of hats typically feel less comfortable to other people. Also, make sure you get a hat that has the right size for you, or at least is adjustable so that you can get the size you need once the hat is on your head. Typically, the more lightweight your hat is and the softer the internal material, the better it will feel on your head.
Subscribe to our Newsletter