Best Cooling Vests
In a Hurry? Editors choice: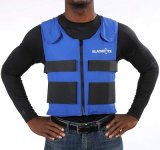 Test Winner: GLACIER TEK COOL VEST

Cooling vests are a great option for sporting events, the great outdoors, or just staying cool in that summer heat. Being in the heat poses many risks such as overheating, heatstroke, and more. With one of these products, there is no longer a concern, as long as you wear it and stay hydrated.

Our guide provides you with our top picks of the best cooling vests available, today!
Standout Picks
Criteria Used for Evaluation
Effectiveness
Do note that not all models and design types will perform the same. You need to pick the most efficient model for your needs.
Consider this the be-all and end-all of cooling vests. The first and most important consideration you need to make is the type of design that you prefer. Generally speaking, some are inexpensive and limited while others are high-end and long-lasting.
Staring things off is what is known as an evaporative cooling vest. Without question, this is the most basic design out there. You simply need to wet the garment, wring it out, and then you can wear it. However, once it dries, it becomes an ordinary vest.
Taking a step up is cold pack cooling vests. Instead of being activated with cold water, these will feature inserts that provide the chill. With nothing tying you down, this design still allows you to perform your day-to-day activities and tasks. What is also nice about them is you can swap out the inserts when they lose their chill. Another similar design type is known as a phase change cooling vest and this works much in the same nature. Of course, you also have the big boy (a cool flow vest). This will require some sort of external device (such as an air compressor or cooler) to provide relief. While arguably the most effective, this variation is mostly ideal for those who are sitting or standing for long periods of time.
Comfort
Besides cooling your body, these garments should also be naturally comfortable.
No matter what article of clothing you are in the market for, it needs to be comfortable. For starters, it is always ideal if the model you pick does not restrict your range of motion. Along the same line, you may want to look for options that are lighter in weight. Some models on the market can creep past five pounds, which is a bit much for a garment. Oh, and it never hurts to analyze the fabric blend. Certain fabrics, such as cotton, are softer and more comfortable than others, after all.
Fit
This really should be your top priority whenever you are in the market for articles of clothing.
When looking for any type of garment, fitting and comfort will go together like chocolate and milk. You need to know how a specific model is going to fit. When ordering online, this is naturally more of a challenge. See what others have had to say and if a majority of reviewers advise ordering a size up or a size down, you may want to adhere to the advice. Of course, it is also easier to tailor one to your liking if it is adjustable.
Durability
Always opt for options that are made with higher-quality materials; you will thank yourself later.
Unless you are using it for vigorous activities, the wear and tear on your cooling vest will probably be kept to a minimum. Plus, you will probably not use your vest year-round (unless you live in areas that experience intense heat virtually all the time). You should still buy a model that is crafted with high-quality materials and craftsmanship. Even if used for light use, a cooling vest that is made of cheaper materials will still break down quicker than what you want. So, look for high-quality nylon, cotton, neoprene, polyester, and various other fabrics of that stature. It is also never a bad idea to opt for rip-stop fabrics.
Features
Admittedly, there are not too many extra features to look out for. Still, there are a few.
Really, this type of garment is very simple in its design. Its main feature, which has already been documented, is the type of cooling method it employs. But there are other considerations to be had - would you rather have a full-length zipper or half of one? It is really a matter of preference but just be aware that not all models will be designed with the same style. Lastly, some sellers will include accessories with your purchase with the most notable one being a cooler bag. For cold pack models, this can be a handy accessory to have.
OUR TOP PICKS FOR THE BEST COOLING VESTS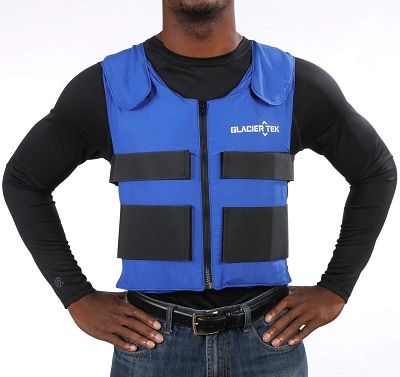 Some options out there will not break your bank but this is top-end when it comes to the price. Of course, we only recommend it because it's worth that price.
Read more
Cooling Efficiency
This is actually powered by PureTemp technology and included are eight cooling packs. In around 20 minutes, you can recharge these packs and they will last for up to 2.5 hours in blistering 100-degree heats.
Comfort
While you can feel the liquid bounce around while the packs begin to thaw, the packs are designed with horizontal cells and these conform to your torso for enhanced comfort.
Fitting
With both dual side elastic straps and adjustability over-the-shoulder, you can achieve a custom and tailored fit. In general, this garment will fit chest sizes between 29 and 52 inches.
Durability
Being made in the USA by an established company, the craftsmanship is superb. Of course, you should avoid washing it in a machine.
Features
Even though it does not appear that there are any integrated pockets, there are adjustable straps everywhere which are a nice bonus.
Overall
Though you will have to pay top dollar for this cooling vest, it will be worth it if you really need the relief from the heat. For some of you, cheap quality is just not going to cut it.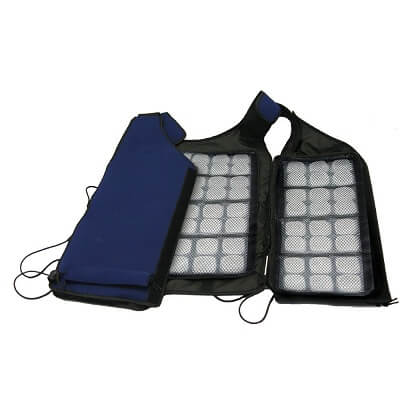 Not all options out there will be suitable for longer uses. However, with interchangeable panels, this garment is one of the better options out there for those of you who need relief for longer periods.
Read more
Cooling Efficiency
All in all, there are 96 pure water ice cubes that are used to provide cooling relief. In addition, the panels can be swapped out for new ones that are frozen.
Comfort
One of the better aspects of this design is the fact that the garment does not restrict your range of motion. Thus enhancing overall comfortability.
Fitting
Special note about the Velcro closure system: it needs to be strapped on very tightly. This is not an issue with the zipper closure system, though.
Durability
Due to the neoprene outer layer, nylon inner layer, and rip-stop materials throughout, this is an overall durable garment. Yet, one user did report that one of the panels ripped within a month.
Features
As alluded to, there are two closure systems that you can choose between (Velcro and zipper). This small nuance is actually really nice.
Overall
The sheer efficiency of this model alone makes it worth the money. Plus, you get to choose your desired closure system which is a feature you will not often see.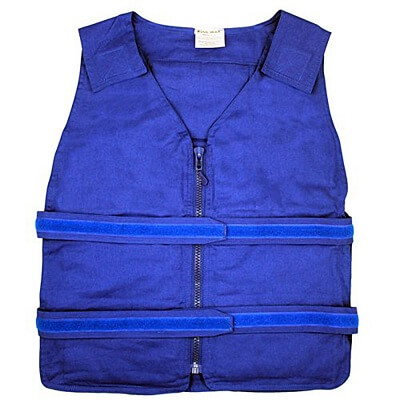 This one really has it all. Polar Products designed it with smaller cooling packs for full customization, adjustable straps to achieve a custom fit and even all-cotton pockets to protect your skin.
Read more
Cooling Efficiency
While the cooling packs offer excellent relief after they have been frozen, the outer composite fabric is insulated and directs coolness back to your body for enhanced performance.
Comfort
In addition to the fact that the pockets have an all-cotton composition to protect your skin, the overall makeup is made up of 100 percent cotton twill.
Fitting
This model can be adjusted at the shoulders, waist, and chest, allowing for a customized and tailored fit.
Durability
The aforementioned 100 percent cotton twill is not only comfortable but also quite durable, which makes for a superb combination.
Features
It was mentioned earlier but the main feature here is the pockets sport nothing but cotton to protect your skin.

Overall
Without question, this is both unique and effective. It utilizes cotton fabric to enhance the overall comfort but also relies on frozen ice packs to deliver the relief you need.

4

. COMPCOOLER BACKPACK VEST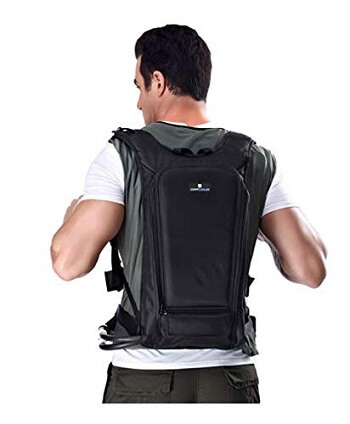 From one unique model to another, this is actually a backpack vest. Even though it is steep in price, it offers one of the most unique cooling systems you will ever see with this type of technology.
Read more
Cooling Efficiency
Due to the four-zone liquid cooling technology, this is able to evenly cool your body. What is interesting to note about this model is it does utilize a freezable quick-release bladder.
Comfort
Now, the soft stretch mesh fabric that is utilized enhances breathability and comfort. This is admittedly really comfortable. However, the bladder that is in the actual backpack will get uncomfortable after a while.
Fitting
This is reversible, which makes it unique. Additionally, the sides are adjustable and provide anywhere from 15 to 30 percent stretch expansion.
Durability
The price is a bit obnoxious but high-quality craftsmanship is worth it. All in all, durability is probably not going to be a concern here.
Features
Included with your purchase is a rechargeable battery, as this system does require it, and also the left and right water connections allow are interchangeable.
Overall
Yeah, this one is different. It really is a good kind of different, however, and the bladder system is pretty ingenious. This means, though, you will need to deal with an actual backpack when you wear this.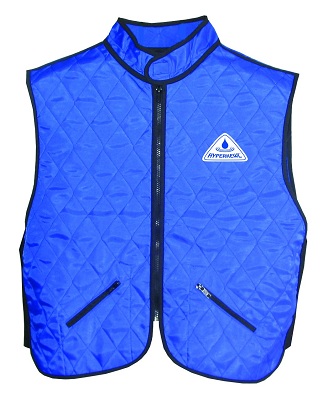 Though this option can be a bit bulky and heavy, it performs its designed purpose very efficiently. At the end of the day, that is the most important function that you can ask for.
Read more
Cooling Efficiency
What sets this option apart from the rest is the patented HyperKewl cooling fabric. After you dunk it in cool water for an appropriate amount of time, it can last anywhere from 5 to 10 hours.
Comfort
Initially, this is very wet due to the fact that it needs to be soaked beforehand. Unfortunately, it takes some time for bulky and heavy feelings to go away.
Fitting
As one user pointed out, you may want to err on the side of caution here. They mentioned ordering larger than you normally would.
Durability
Overall, high-quality materials were utilized in the making of this garment. Also, no slimy residue will result and no crunchy chemicals were used, additionally.
Features
As opposed to various other cooling vests, there are two zippered pockets that have been integrated. Additionally, this sports a full zipper.
Overall
It really is hard not to be impressed with HyperKewl and its innovative design. Sure, it can be quite heavy initially but most users will be able to forgive this.

6

. THERMAPPAREL UNDERCOOL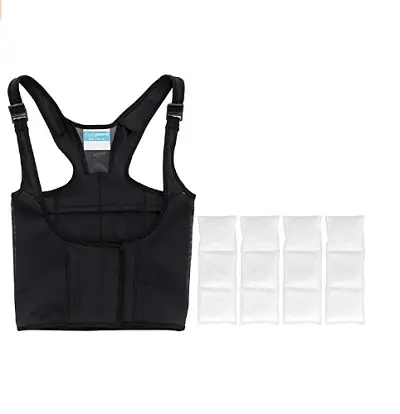 Even though the cooling efficiency of this next model is not perfect, this has been optimized for comfort and that is the main reason it is so high. So many other options lack in this area, so this is a huge bonus.
Read more
Cooling Efficiency
This garment cools from the back, which works well but loses a little efficiency because of that.
Comfort
Good luck finding a model that is lighter than the UnderCool (at less than two pounds). In addition to this, the ice packs offer fantastic flexibility and the nylon and spandex blend is very comfortable.
Fitting
Per the seller themselves, it is advised to order a size smaller than you normally would for a T-shirt. There are adjustable shoulder buckles, also.
Durability
The nylon and spandex blend makes for a durable composition and this has been made in the United States.
Features
Overall, this is a very simple design and there really is nothing wrong with that.

Overall
Comfort is as big a part of the success of a cooling vest as anything and it is absolutely nailed here.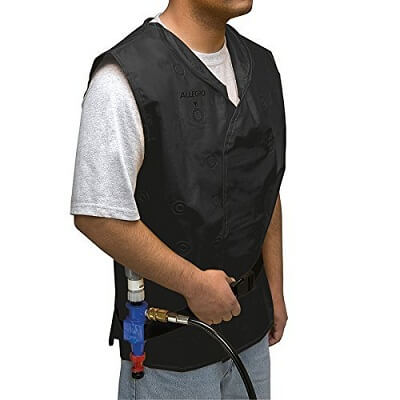 Let's just say that this one is different. While most of the other garments on the market utilize cooling packs, this actually requires an air compressor. Due to this, it is best used for commercial purposes.
Read more
Cooling Efficiency
Truth be told, this works phenomenally. However, as mentioned, it is going to require the use of an air compressor as you literally need to connect one to this vest. This allows for better, adjustable cooling, although efficient might not be the best word for it.
Comfort
Though it may feel odd to have a hose connected to your garment, it is comfortable overall. This is thanks to the full range of motion that can be achieved with it donned.
Fitting
The hook and loop closure system helps you achieve a customized fit. The extra-large size is outfitted to fit workers over 200 pounds.
Durability
To reduce the weight, this has been made with thinner material. Subsequently, however, this means that it is prone to wear down quicker and to develop abrasions quicker than thicker models.
Features
Really, the main feature is the integration of the air compression system. And, without question, this is going to be the deal-breaker for your purchase.
Overall
If you are looking for casual wear, you may want to look elsewhere here. It is more equipped for commercial use due to the air compression system.

Subscribe to our Newsletter