Best Cooling Vests
In a
Hurry? Editors choice: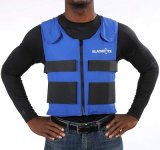 Test Winner: GLACIER TEK COOL VEST

Cooling vests are a great option for sporting events, the great outdoors, or just staying cool in that summer heat. Being in the heat poses many risks such as overheating, heatstroke, and more. With one of these products, there is no longer a concern, as long as you wear it and stay hydrated.

Our guide provides you with our top picks of the best cooling vests available, today!
Standout Picks
Criteria Used for Evaluation
Effectiveness
Do note that not all models and design types will perform the same. You need to pick the most efficient model for your needs.
Consider this the be-all and end-all of cooling vests. The first and most important consideration you need to make is the type of design that you prefer. Generally speaking, some are inexpensive and limited while others are high-end and long-lasting.
Staring things off is what is known as an evaporative cooling vest. Without question, this is the most basic design out there. You simply need to wet the garment, wring it out, and then you can wear it. However, once it dries, it becomes an ordinary vest.
Taking a step up is cold pack cooling vests. Instead of being activated with cold water, these will feature inserts that provide the chill. With nothing tying you down, this design still allows you to perform your day-to-day activities and tasks. What is also nice about them is you can swap out the inserts when they lose their chill. Another similar design type is known as a phase change cooling vest and this works much in the same nature. Of course, you also have the big boy (a cool flow vest). This will require some sort of external device (such as an air compressor or cooler) to provide relief. While arguably the most effective, this variation is mostly ideal for those who are sitting or standing for long periods of time.
Comfort
Besides cooling your body, these garments should also be naturally comfortable.
No matter what article of clothing you are in the market for, it needs to be comfortable. For starters, it is always ideal if the model you pick does not restrict your range of motion. Along the same line, you may want to look for options that are lighter in weight. Some models on the market can creep past five pounds, which is a bit much for a garment. Oh, and it never hurts to analyze the fabric blend. Certain fabrics, such as cotton, are softer and more comfortable than others, after all.
Fit
This really should be your top priority whenever you are in the market for articles of clothing.
When looking for any type of garment, fitting and comfort will go together like chocolate and milk. You need to know how a specific model is going to fit. When ordering online, this is naturally more of a challenge. See what others have had to say and if a majority of reviewers advise ordering a size up or a size down, you may want to adhere to the advice. Of course, it is also easier to tailor one to your liking if it is adjustable.
Durability
Always opt for options that are made with higher-quality materials; you will thank yourself later.
Unless you are using it for vigorous activities, the wear and tear on your cooling vest will probably be kept to a minimum. Plus, you will probably not use your vest year-round (unless you live in areas that experience intense heat virtually all the time). You should still buy a model that is crafted with high-quality materials and craftsmanship. Even if used for light use, a cooling vest that is made of cheaper materials will still break down quicker than what you want. So, look for high-quality nylon, cotton, neoprene, polyester, and various other fabrics of that stature. It is also never a bad idea to opt for rip-stop fabrics.
Features
Admittedly, there are not too many extra features to look out for. Still, there are a few.
Really, this type of garment is very simple in its design. Its main feature, which has already been documented, is the type of cooling method it employs. But there are other considerations to be had - would you rather have a full-length zipper or half of one? It is really a matter of preference but just be aware that not all models will be designed with the same style. Lastly, some sellers will include accessories with your purchase with the most notable one being a cooler bag. For cold pack models, this can be a handy accessory to have.
OUR TOP PICKS FOR THE BEST COOLING VESTS
Subscribe to our Newsletter